Since inception, sunglasses have always had their time in the spotlight when it comes to eyewear. Think James Dean, Audrey Hepburn, Tom Cruise, and Bono. Wearing sunglasses helped shape their status as icons and vice versa. Regular prescription eyeglasses on the other hand haven't faired so great in the past when it comes to the cool factor. Think Napoleon Dynamite,  Urkel, and 5th grade you looking into the mirror with your first pair of glasses on. You get the picture.
Because of this many of us four-eyes jumped boat years ago for contacts the second Mom said it was okay. Some of us probably still have our first pair of frames and only wear them at home before bed or when we're sick. The apocalypse would have to be upon us before we would even consider stepping foot outside our house in our lame-o prescription glasses. Even then, most would probably still take a moment in to put their contacts in before they ran for the hills.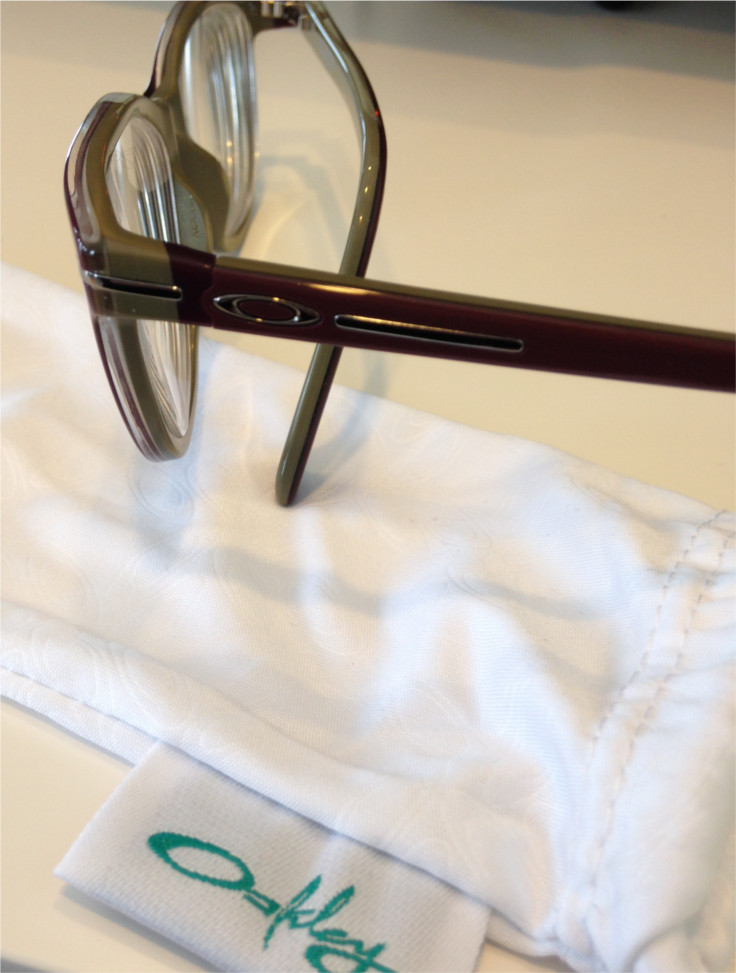 However, the days of eyeglass wearing shame are now behind us. Glasses have evolved from the snores and fashion blahs they used to be to the statement pieces of the moment. Even Jay Z is rocking statement shades and we're pretty sure he doesn't even need them. Hova has spoken.
As a leader in eyewear, Oakley has taken note of the trend in prescription eyewear while still putting their own iconic spin on it. Our pals at Oakley sent us a pair of their Oakey Stand Out eyeglasses to try on and give our take. A little foreshadowing – we stepped outside with them on. More than once.
Key Features:
– Full Rim Frame –
– Acetate –
– Heat Adjustable, Wire Core Stems –
– Spring Hinge Frame –
– Available in 6 Colors –
Oakley Stand Out Review Breakdown
Design:
The Oakley Stand Out eyeglasses are a full rim, slightly cat-eye shaped frame made of acetate which makes them super lightweight and very durable. It's loaded with a spring hinge for comfort and the heat adjustable, wire core stems makes it easy for your eye doctor to properly size them for you.
The Oakley Stand Out was this reviewer's first time wearing a pair of glasses in the real world in a really long time. Their design is very accessible even for those of us taking our first dip in the bold eyewear pool. They are easy to clean and have managed our clumsiness when we have dropped them or shoved them into our purse. The material is easily wiped clean with eyeglass cleaning spray or warm water and a cloth. We haven't found a scratch on the frames after putting them through the paces for more than two months now.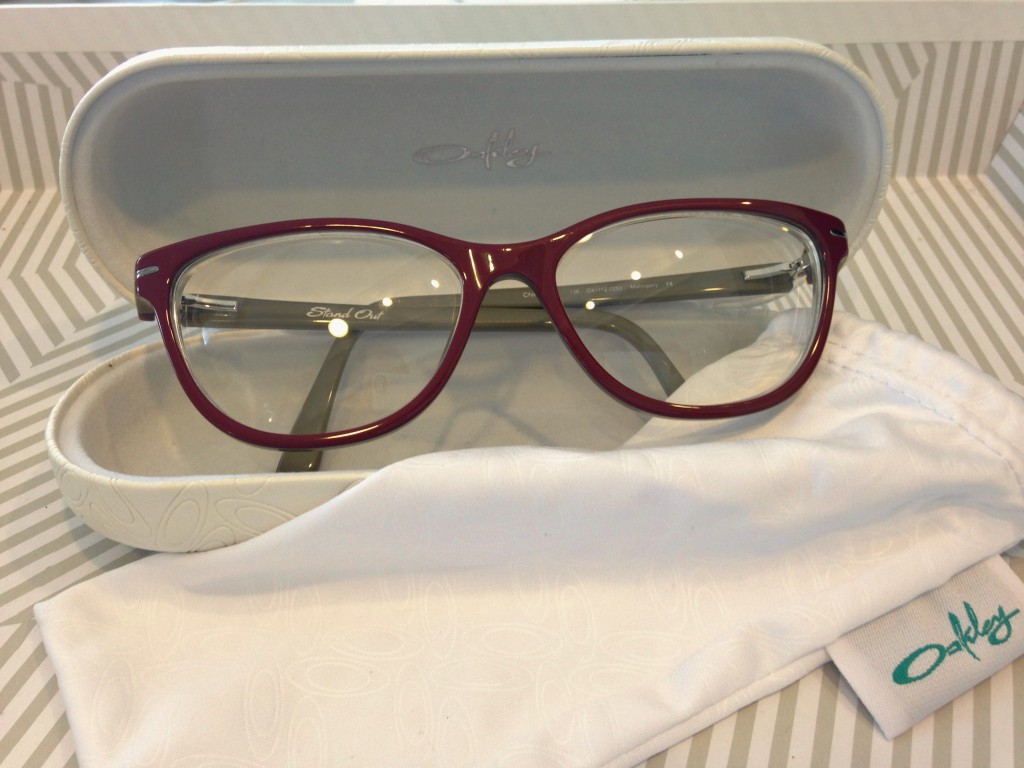 Comfort:
The Stand Out's acetate frame allows their look to be bold without feeling bulky. The spring hinges allows them to move with you without losing their hold on your face. Thanks to the heat adjustable, wire core stems the frames allow them to be fitted to your head and ears saving them from constantly sliding down your nose.
This reviewer found the Oakley Stand Out frames to be comfortable right out of the box. When we brought them to our optometrist she threw them in her magic heat machine to adjust them even more perfectly to our face. We've been so far out of the eyeglasses game that it didn't even occur to us that this was an option. After wearing the Stand Outs for a bit, we did have to pop by our optometrist's office for another adjustment since they started to slide down our nose constantly. With another quick trip to the glasses sauna they were better than before and we were on our way. Most optometrists offer this service on the fly and at no charge if you are already a customer.  Also as an avid contact wearer for the past 17 years, it has been such a relief to break away from having to take my contacts in and out every day. My eyes have been getting some much needed rest especially when working on the computer.
Style: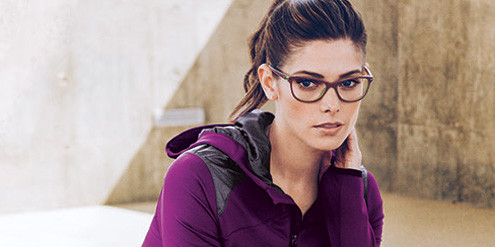 The Oakley Stand Out's look is so on point that we started wearing them around the house, contacts in, before even making it to the optometrist for proper lenses. The full rim frame with the slight cat-eye style makes them a fairly universal fit for any face shape. Top it off with the fact that the Stand Out comes in 6 color schemes and now you're talking. You can go with a classic black frame or make it pop with Illumination Blue.
This reviewer fell in love with the Stand Out in Mahogany which is more like a deep purple on the outer frame and a taupe-ish grey on the inside of the frame. We cannot tell you how many compliments we've received while wearing these glasses. The Oakley Stand Outs are an easy way to change your entire look while being actually functional at the same time. This feat can be hard to achieve when it comes the world of fashion. Needless to say, these eyeglasses are on a heavy rotation when it comes to our daily look.
Value:
Let's face it when it comes to eyeglass frames – these things are never cheap. And if you find a super cheap pair, they will soon be a scratched-up, horribly fitting mess in a couple months. Oakley has proven to the world that they know how to make high quality, durable eyewear and we can attest to that. The Oakley Stand Outs are top notch frames that will last longer than your current eye prescription and beyond. At around $180 plus the cost of lenses it may feel a little pricey but there are far more expensive frames available. But you know, it's only your sight and style. Not that important (#sarcasam)
Buy Now: $180 or, find a store near you!
Oakley Stand Out Eyeglasses - RX Review
Ladies, the Oakley Stand Out eyeglasses are the frames you have been looking for to change up your look and break away from shoving contacts into your eyes every day. With their classic design meets Oakley style, you'll make a statement without going all avant-garde. These frames are perfect for every day life, the office, and a night out on the town. What are you waiting for?
Pros
6 Color Combinations
Heat Adjustable, Wire Core Frame
Lightweight
Cons
Little on the pricey side but worth it
Tend to slide down your nose if not fitted properly