We've been in this battle before…Race day. When the gun goes off, something happens inside of us that most people could never understand. We put one foot in front of the other, proceed to push our bodies further than we could ever describe in words, and we chase down a finish line that is miles and miles away. It's time to go to work! But there's so much more to this story. The tools and preparations we must commit ourselves to in order to perform our best are vital, and the foundation of an epic race is in the shoes we put on our feet. This year we took our racing game far beyond any place we've ever attempted by participating in the 2017 Fifth Third Riverbank 25K with the new Mizuno Wave Sky running shoe.
Key Features:
All new Mizuno SmoothRide: New maximum cloudwave technology coupled with full length, articulated U4icX midsole delivers a plush, flexible ride
New thicker and premium anatomical sockliner for improved fit and comfort
U4icX strobel lining for added comfort
Mizuno DynamotionFit: 3 panel upper construction with skin-like seamless midfoot and minimal forefoot for a disappearing fit
Mizuno Wave Sky Review Breakdown
Out of the Box:
We've had some experience with some of Mizuno's previous lines of running shoes and they've ranged from basic design concepts to what could be considered riskier looks over the years. With the Wave Sky though, we are happy to report that Mizuno has found the perfect balance of simplicity and flare. In all of our years of running, this is hands down one of the slickest looking shoes we've ever encountered without attempting any over-the-top statements. The closest They come to pushing the threshold on appearance is in the chrome reflective logos on all sides, but this is a tasteful choice on what may at first glance appear to be an average looking running shoe. The real aesthetic genius in the case of this shoe, however, are the fine details in it's surface construction. A tightly webbed material overlapping reflective skin makes for a magnificent combination of color and function.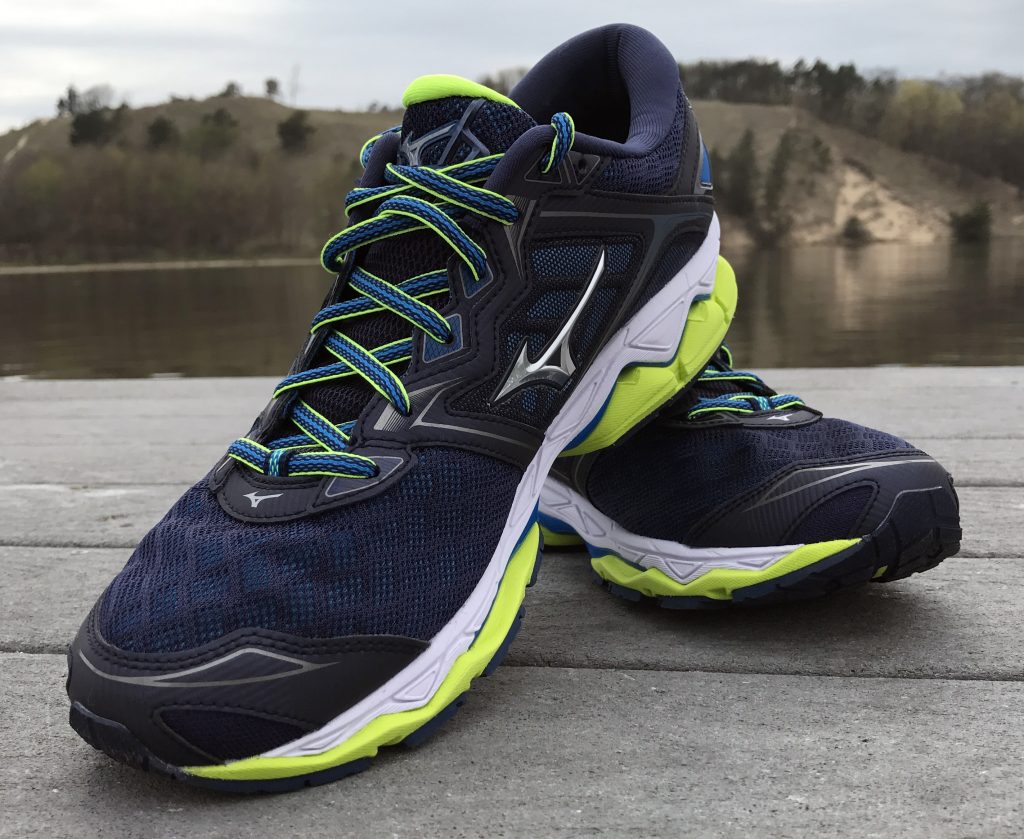 Breaking In:
One of the toughest parts of race day preparation is typically in those initial few weeks wearing a new shoe. In this case, however, Mizuno has made the "break in" phase one of our more pleasant experiences yet. Without getting into the science of how the new SmoothRide technology works, we will say that it delivers a comfortable and forgiving fit while the Mizuno Wave Sky adjusts itself to the shape of our feet. We started running in these shoes only a few weeks before the biggest race we've ever tested in, and we knew that came with a real risk. Thankfully though, it's a risk that payed off in the end, free of any of the common issues one might expect.
Training:
As we've mentioned, our training phase was short lived before our big race. We have, however, continued testing the shoe throughout the months after. We started wearing the Mizuno Wave Sky with a few lingering blisters from our last shoe that had lived out it's lifespan. Since trading up, we've been thrilled with the responsiveness that not only has protected our feet on those longer runs, but also given them the opportunity to heal from our previous training. We took the Mizuno Wave Sky up to half marathon distances in preparation for race day, and they handled all of the elements of the road in stride. This is a shoe built for neutral runners looking for maximum cushion as well as comfort and these particular shoes have not let us down.
Race Day:
Not only is the Fifth Third Riverbank Run one of the biggest racing events in the nation, but I'd never run a full 25K in my life…not even in training. A lot was on the line this time, and I would be relying on these shoes heavily to get over the finish line.
The first 8 miles I found a solid pace, much stronger than I expected going into the event. The weight of 11.2 oz does make for quite a heavy shoe, but it's a price that returns its value in cushioning and responsiveness. During the first half of the race, I must admit the Mizuno Wave Sky gave me the confidence I needed to actually gain more ground as I progressed, and I managed to drop time with each mile split I passed.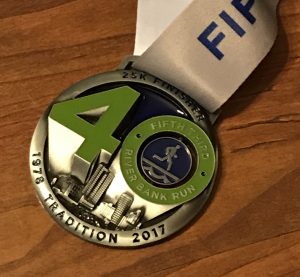 My goal was to maintain an average of 6:45 splits for the 15.5 mile distance, and my fastest came at Mile 7 with a 6:07, much faster than I had originally intended and a strategy that could cost me big time down the road. I give great credit to the soft ride of the Mizuno Wave Sky in helping me surpass my expectations at this point of the race. The double layered foam construction, composed of a bottom designed to deliver soft landings and a top that provides an underfoot responsiveness, benefitted my race by saving my body the labor of each impacting stride.
It was around the 9th mile where the course morphed into an uphill progression, and the weight of the Mizuno Wave Sky made itself apparent. The next few miles were brutal as I began to feel my pace slip away, but I was committed to finishing as strong as I could with less than half of the race to go. It's here that the Mizuno Wave Sky proved that it is a performance shoe that will go the distance. I used every last bit I had in the tank over those last few miles just to keep my legs moving, but my feet weren't suffering in the least as I crossed the finish line well under the goal I had set for myself. I am confident that the Wave Sky will become one of Mizuno's flagships in distance running in the years to come, and that it will outperform plenty of other well established competition in the industry.
The Road Ahead:
With tremendous results we had not anticipated, the real test in a shoe is in its ability to take the many miles of the races to come. Now, a few months after the biggest race we've ever attempted, we are thrilled to say we are still hitting the road with the Mizuno Wave Sky on a regular basis, and we have all the confidence in the world it will continue to provide top notch performance for multiple races to come. The segmented soles show very little sign of wear or cracking that one might expect, any they are still delivering the cushion and responsiveness we had the day of the race. This is a shoe that has gone the distance in every way possible.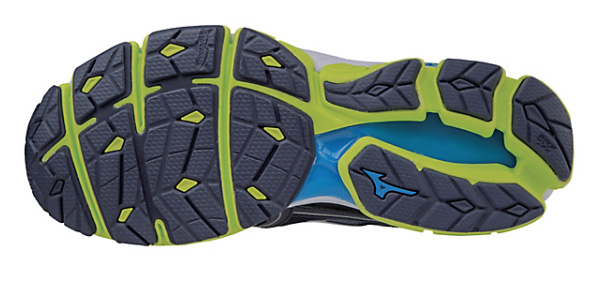 Value:
Yes, the Mizuno Wave Sky is a pricey shoe, but it lands in exactly the same price range as other distance shoes it was created to compete against. We've tested some of these shoes too, and by our approximation the Wave Sky has outperformed and outlasted them. Mizuno should really be proud of this one, and we have no issue endorsing it as one of the best, and easily worth the asking price.
Buy Now: $149.99 or visit Mizuno.com
Mizuno Wave Sky – Fitness Review
A shoe designed for maximum cushion with precision responsiveness for the long haul, the Mizuno Wave Sky does it's job well from the moment they're laced up for the first time, throughout training, and all the way to the finish line. This is a shoe where we expect to see amazing longevity, both out on the road and as one of the best in the market.
The Good
Slick Design Without Overstatement
Impeccable Cushion and Response
Amazingly Durable