You purchase it every year, likely the day it comes out, but honestly… do you ever feel like you're playing the same game year after year – over and over with the only foreseeable change being additional (rookie) players and a $60.00 hole burnt in your pocket? Well, this year EA Sports and the Madden franchise are promising new exciting gameplay, unique storylines and social media integration. We've seen the screen shots and a few teaser videos and we're actually pretty excited for  Madden 13! In fact some critics are even touting this year's installment as the biggest upgrade to the franchise ever.  From what we can tell the graphics look great, the physics are excellent and the new Infinity Engine which powers the game is quite impressive. Here's a few screen shots to get your blood pumping…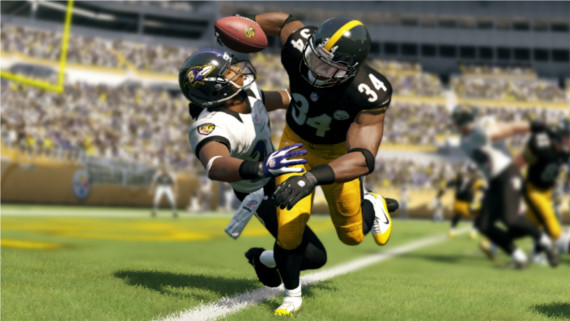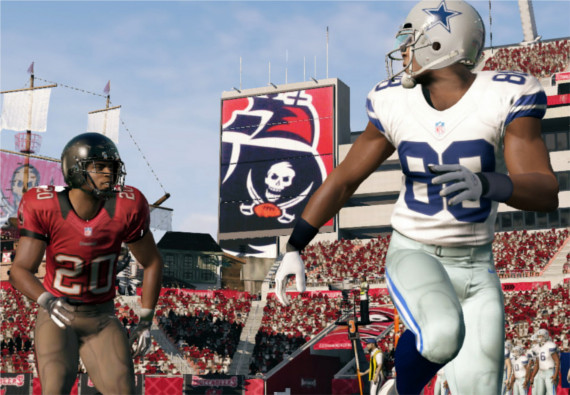 Wondering what exactly is new for 2013, well… we've compiled a few bullet points that might peak your interests including some game play improvements and some key features that stick out at us.
Gameplay:
Enhanced passing system – Changes to the way quarterbacks, receivers and defenders react to the ball. Plus the new "Infinity Engine" completely changes how players interact on the field.
 Offense – The new Total Control Passing mechanic lets players lead receivers into open space and put the ball exactly where they want it to go. Also, revamped passing trajectories, quarterback dropbacks, and play action improvements make airing out the ball more appealing than ever.
Defense: Defensive coverage AI has been completely rewritten thanks to the new read and react defensive AI. Conversely, defenders now disguise their coverage so users won't know if the defense is in man or zone until the snap, creating a chess match between the offense and defense.
Presentation – Commentators Jim Nantz and Phil Simms are at the helm… need we say more?
Key Features:
Audio – Authentic quarterback cadences from players like Aaron Rodgers, Cam Newton, Tom Brady and Ben Roethlisberger, and a sweeping new Madden NFL theme all create a game that sounds just as good as it looks.
Infinity Engine – The new Infinity Engine brings realistic physics-driven animation, ensuring that no two plays every look or feel the same. Play outcomes are now unpredictable with factors such as mass, velocity and momentum considered into every play.
Connected Careers – Connected Careers lets you play your way, all while keeping users engaged in a connected, online experience.
Stay tuned for our in-dept review coming soon! Until then remember that Madden NFL 13 is scheduled to hit the selves on August 28th for Playstation 3, Xbox 360 and Nintendo Wii. Make sure to check out the embedded video to get a behind-the-scenes look at EA's game play improvements in action!