Ah parenthood. A never ending parade of worry, choices, research, and opinions. It's been said ad nauseam but when you have your first kid you tend to go overboard. Each kid after that gets much more sensible treatment that doesn't border on psychotic paranoia. I know this is/was true for me and for pretty much everyone I know who has kids.
One of your first big decisions when you have a newborn is the car seat. It will be the first piece of equipment used as you transport your baby home for the first time from the hospital and you want them to be safe! There are a lot of car seat brands out there ranging from relatively cheap to mind bogglingly expensive. There are also a lot of types – infant, convertible, booster, etc. You'll be doing plenty of research and checking brand reputation until you settle on a brand and type.
It's tempting to say that you want to buy a good infant seat since they are designed specifically for that period of time, and then buy a bigger one down the line a couple years. That's the route we took. What you learn however is that you need several car seats and bases to support the variety of people who might need to cart your kid around. When the baby outgrows the infant seat, now you need to buy another set of car seats for the toddler. When they get even bigger, you now need to buy a set of booster seats until the kid is big enough to use a seatbelt normally (which is like 8 years old). That's a lot of car seats and expense.
Wouldn't it be great if there were one car seat to rule them all that would last for the entire car seat period? Enter the Graco 4Ever™ All-in-1 Car Seat – every car seat you need from start to finish in one package.
Key Features:
Steel Reinforced Frame
4-in-1 seat grows with your child
From 4lbs. to 120lbs.
6 position recline adjustment
One-hand 10 position height adjustment
Latch System for quick installs
Integrated harness storage
Side-impact tested
Built-in bubble level
2 cupholders
Graco 4Ever™ All-in-1 Car Seat Review Breakdown
Design:
The Graco 4Ever™ All-in-1 Car Seat was built to adapt to each major stage of child growth as it relates to a car seat. It is clear that a lot of thought went into the design of this product to make it as functional as possible every step of the way.
The cushions are very premium feeling and looking, much more so than most seats out there. Very comfy. They are also easily adjustable and removable, but they fit securely and stay in place. They spot clean quickly and, in addition, they are machine washable for when the inevitable barf explosion occurs.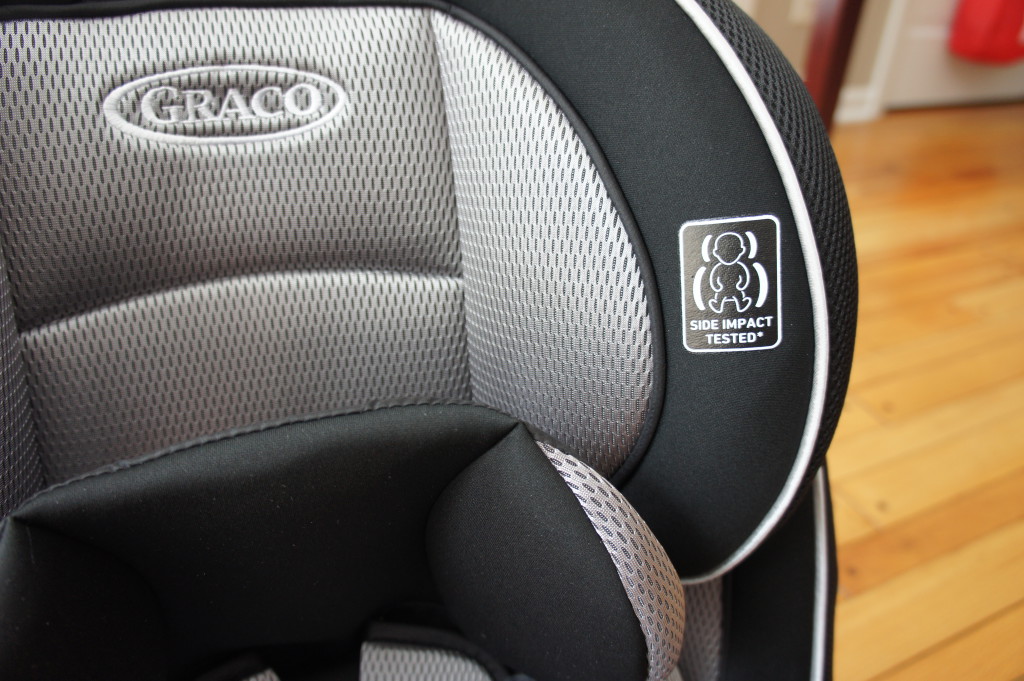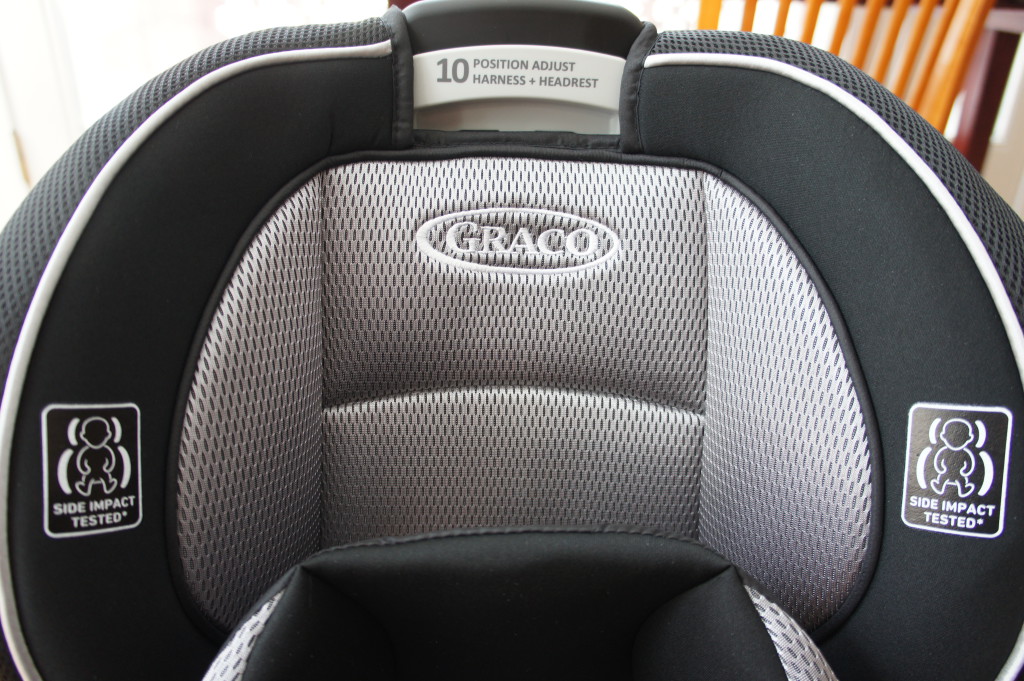 2 cup holders make it easy for toddlers to grab a drink and keep a spare for when one gets chucked on the floor. They are removable when you don't need them such as with an infant and they pop in and out with ease.
Both the recline adjustment and the height adjustment work extremely well and can be maneuvered with just one hand. This makes it a breeze to adjust the harness straps to the right height and to change the recline position for different cars to keep things leveled out. An integrated bubble level lets you know you've got it right at a glance.
Functionality:
Beginning with the infant configuration, the seat comes pre-configured with the infant harness insert installed. This extra cushion is designed to cradle the baby's head and snuggly surround the body.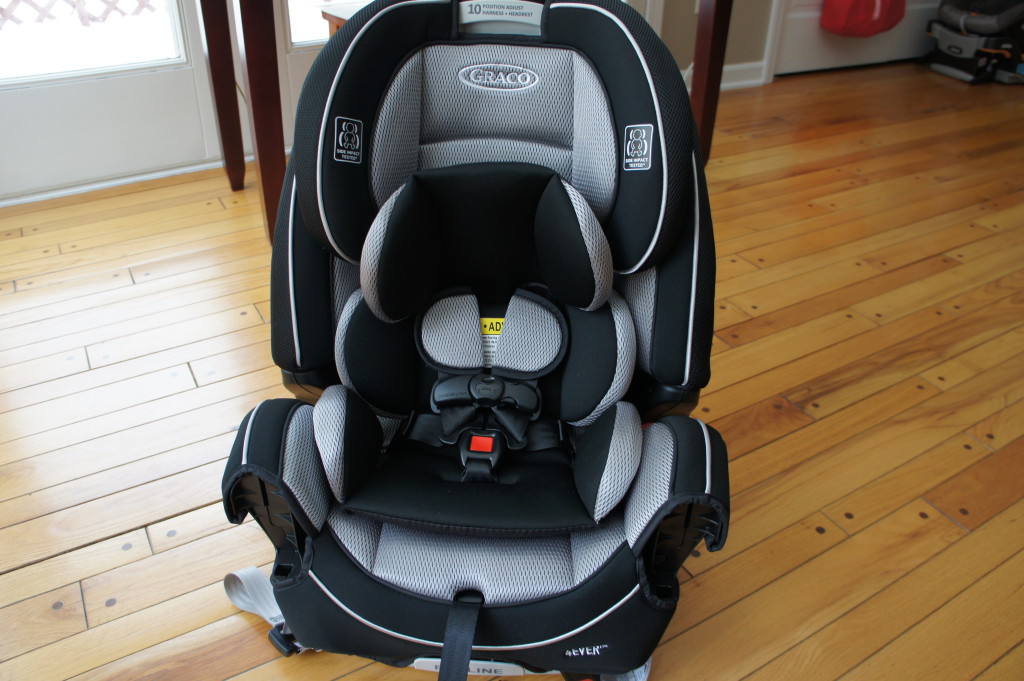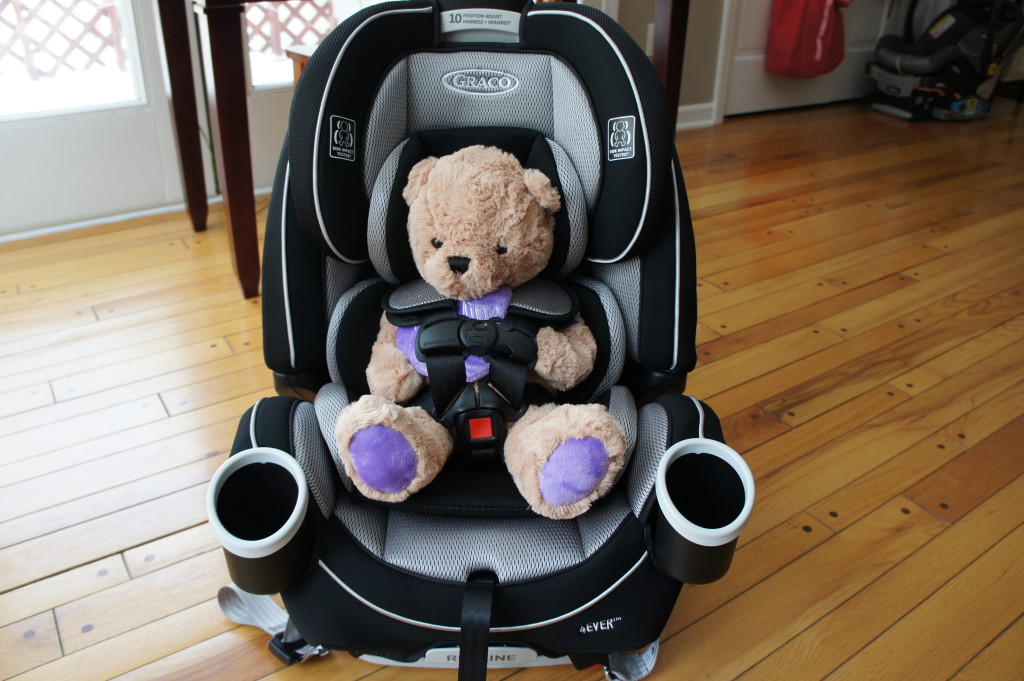 Of course, you won't be putting an infant in sitting straight up (they can't sit up duh) or facing forward. Using the 6 position recliner adjustment you easily move the seat into the fully reclined position and you have an excellent infant car seat.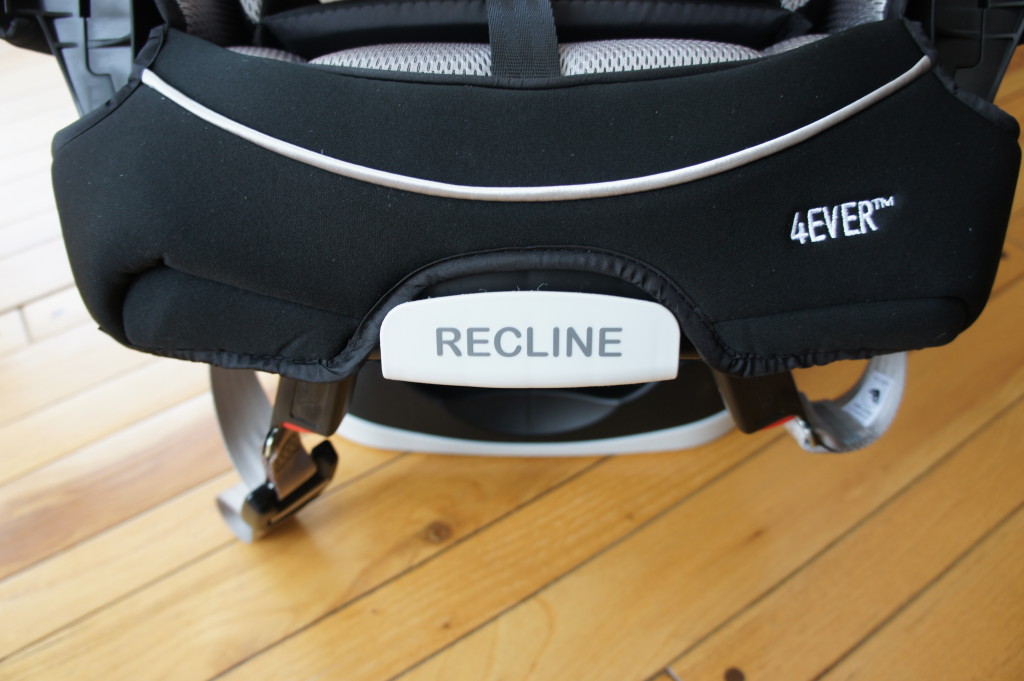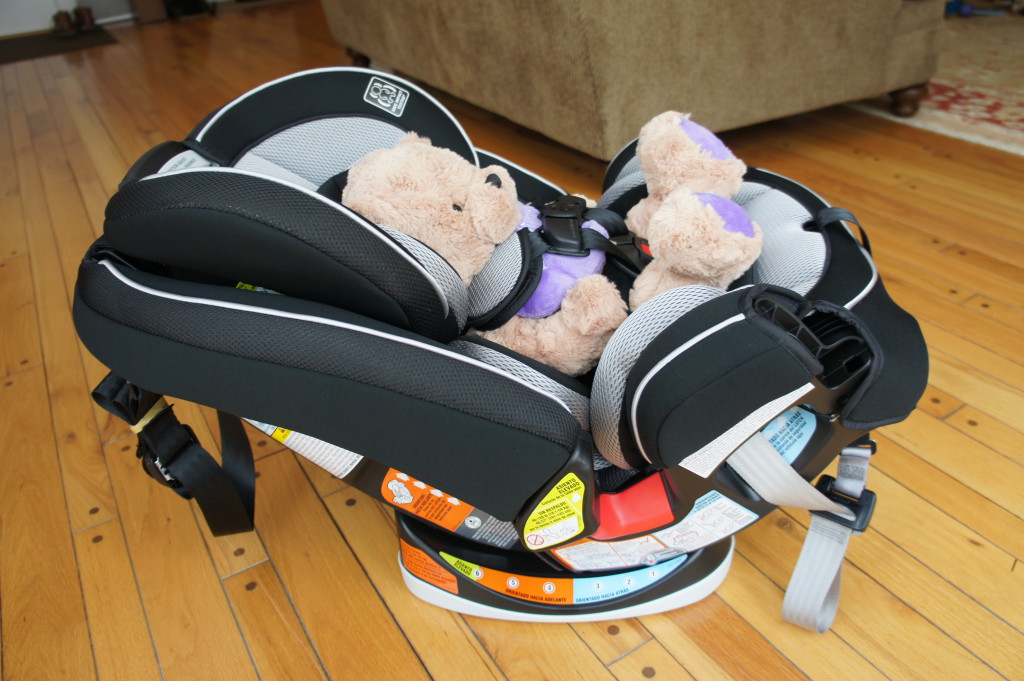 When it's time to switch the seat into toddler mode / forward facing, there isn't a lot you need to do. You adjust the recline so that it's upright again and then remove the infant cushion insert which simply pulls straight out away from the harness. Raise the height adjustment with your kid in the seat so you can see where the harness rests in relation to their shoulders. The last thing you need to do is to move the latch buckles to the forward facing position (in the rear of the seat) if you intend on using them, which you can up to 45 lbs. If you don't move the latches to the back of the seat, they won't reach when you try and install the seat as you can see below.
The easiest way to move the latch belt and buckles is to simply pull the entire belt and buckle out one side of the seat, then run it back through the back of the seat. Moving the latch belt isn't really described in the instructions so take it from me.
Finally, when it's time for booster seat mode, you can remove the harness from the car seat. This is a simple as disconnecting the harness straps from the union on the back of the seat. You can then pull the harness out.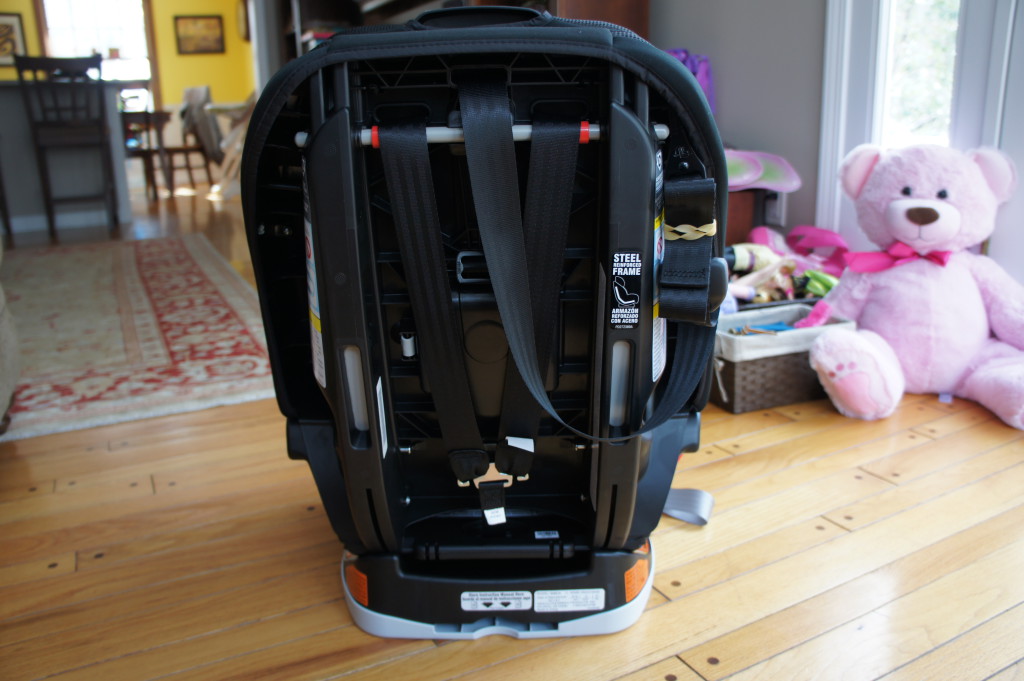 If you want to leave the back of the seat on, you can, and then just use the car's seatbelt and route it through the shoulder guides. When it's time to remove the back entirely you can release the locks which are behind the seat cushion and pull the back off to leave just a booster seat for your now big kid.
Ease of Use:
For me the things that make a car seat good (beyond safety) are its ease of use and the conveniences it offers.
One of those conveniences is weight. We have a couple of Britax car seats that weigh a ton, are very bulky, and are a nightmare to move between vehicles – and they are only single use car seats! Amazingly the Graco 4Ever All-in-1 is lighter, more compact, and far easier to transition despite that fact that it's 4 car seats in one.
Another important item is installation speed and fastening speed. The build quality of the Graco is superb. The buckles and clasps are premium and the rear tether retention is very convenient to operate. Likewise the latch system takes just a couple of seconds to secure. The chest clasp is quick and easy for an adult to lock/release but difficult enough that a child can't undo it. Getting our 18 month old in and out of this seat has been the most pain free and easy process of any seat we've ever used.
The simplicity of removing the cushions for washing will be appreciated by parents everywhere. One of my favorite touches is that it has dedicated storage bars for the latch buckles and the rear tether buckle. I know that sounds minor but if you've moved seats around a lot that don't have this feature, you're familiar with heavy metal bashing into the side of your car and windows.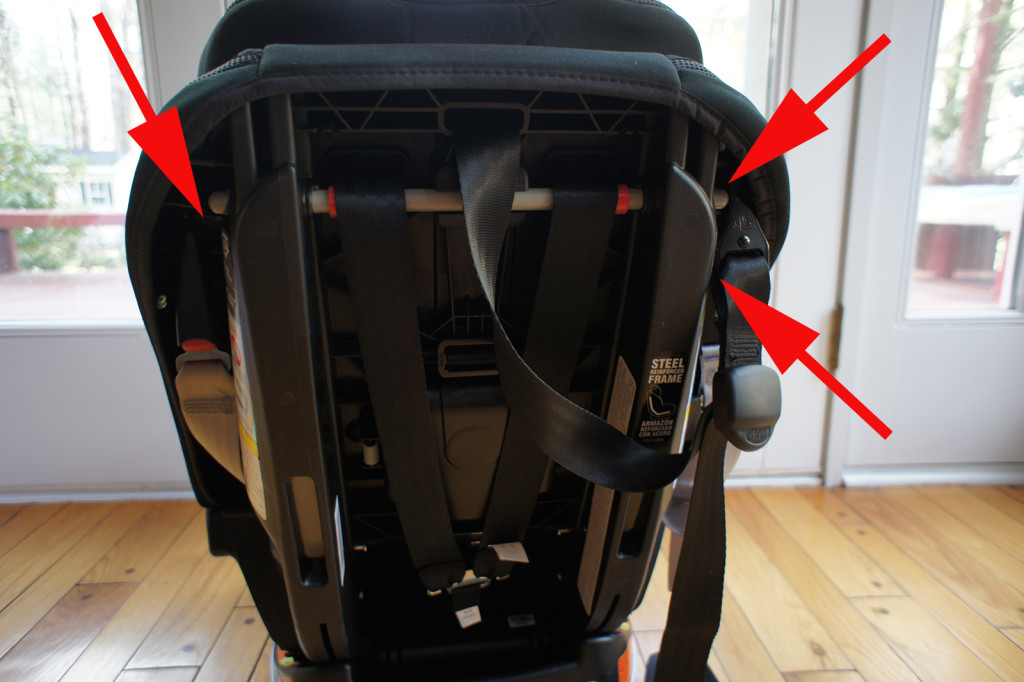 Value / Conclusion:
The value of this car seat system is off the charts. For the price of some single purpose car seats at each stage, you get a top notch seat at all 4 stages for under $300! If I knew then what I know now, I would only own this seat for my two girls. I'd probably have 4 of them but it sure beats the situation I'm in now where I have 4 seats in use, 2 of which can't be converted to boosters, and 2 in the basement outgrown, which means I still have to buy 2 more boosters. Ugh.  And to be honest the build quality, fit, and finish of this seat beats all of the other seats I have for a lower cost and will never be outgrown. It's hard to give a better endorsement than that.
Buy Now: $299.99 or to learn more, head over to: Gracobaby.com
Graco 4Ever All-in-1 Car Seat Review
It doesn't get much better than the Graco 4Ever All-in-. A single car seat that will serve from start to finish.
The Good:
One seat to rule them all
Excellent build quality
Relatively Compact
The Not so Good:
Slightly Expensive
Instructions can be confusing
A little heavy