For more than 100 years, Eureka! has been involved in outdoor gear and tech, from the tent used by the first Americans to scale Everest, to the A-frame style Timberline Eureka! knows a think or two about tents, and a wide range for gear from chairs, to sleep systems, to cooking in the outdoors. This summer we got the chance to spend some time in a Suite Dream 2 and here is what we discovered…
What's in the box:
Suite Dream 2 Tent
Poles
Stakes
Fly
Footprint
Instructions
Specs:
2 person
2 doors
large vestibule
Square boxed Gear loft
Mesh pockets
Bathtub floor
Fits a queen size air mattress
Did I mention the included Footprint?
Design:
It's bright and it's big. The Suite Dream 2 has some really cool features that separate it from your standard 'dome' tent. First, is the dual entrance, there is a rear/side door and a front door. The front door is covered with a fairly large vestibule for more gear storage. The tent includes a footprint, which while adding weight, is something I always pack anyway. It's really nice they included one that exactly fit the tent. It's a dome, but it isn't square, there is an extra point off the back, so getting a tarp to fit just right would be really hard. Also, the gear loft inside? Most tent manufactures that include a gear loft just provide a flat mesh loft. This one has some depth to it, so items don't roll out if you (or the wind) jostle the tent.  The clips are color coded so you know which clip goes on what pole. The storage bag comes divided into 2 main parts with a place for stakes also and has a shoulder strap, organization was easy, and there is extra room in the bag for people that forget how to roll up a tent the same way every time.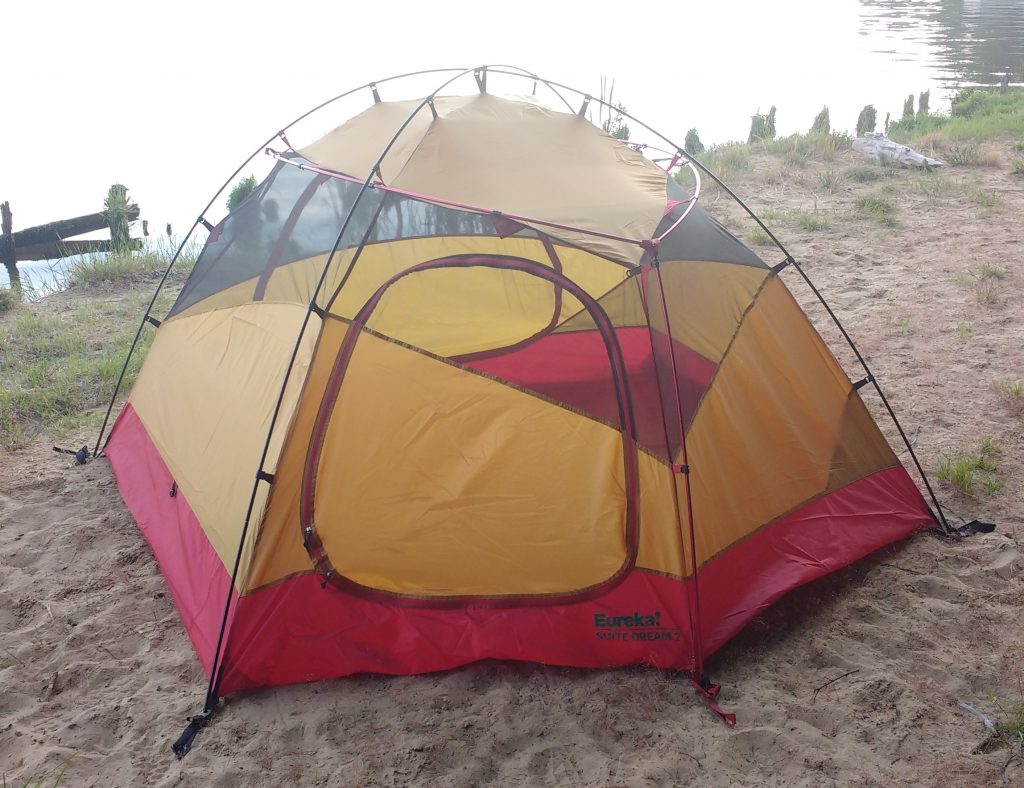 Weight and Size:
This is not a backpacking tent. For 7lbs 2 oz, it's roomy, and it's accurate to say it's a 2 person tent with some room for gear inside, and room for gear outside. It's just too heavy for backpacking. At this weight and size, it's great for a backyard, car camping or a base camp. The floor size measures 84×60 with a 4′ interior height which made changing clothing nice. It claims 2 vestibules, but the back/side one is only 2 square feet and that's being generous. still, it was could store or protect a pair of boots for one of the two people. I also set my water bottles back there for easy access. The front vestibule is a large 14 square foot area with enough room for packs, but then you'll have to use the back door to get out.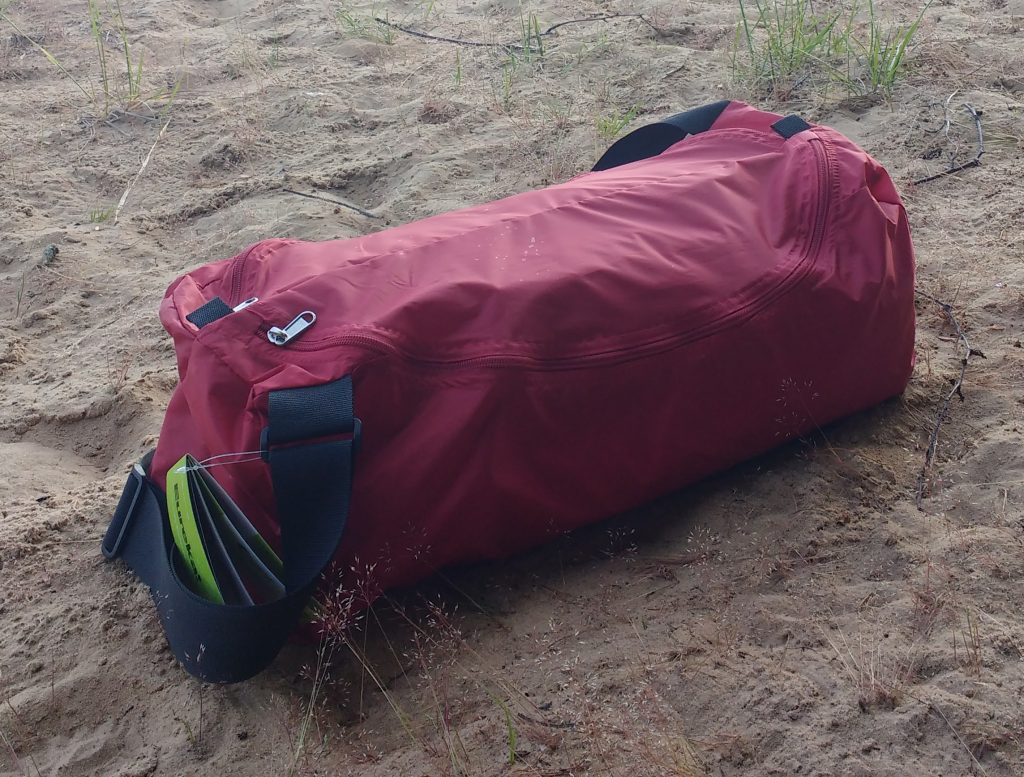 Setup:
Read the instructions. That's key, but after the first time, it's a no-brainer. The order the poles go in are important, but also obvious after doing it.  The poles are strong and easy to put where you need them, but with the height and size of this tent, they are long, so you'll need some room to do your setup. It isn't a fast tent to setup, but we've seen worse.
It's got a lot of clips to hook up, and it requires a lot of stakes to setup with the fly which could make it tougher on hard ground.  Take down was easier than setup, especially with the extra room in the storage bag. The dividers in the storage bag were nice because you can roll up the fly, foot print, and tent separately. There are 2 little pop-up vents on the top.
Usage:
Once setup there was a lot of room in this tent. Not all 2 person tents are 2 person, this one is. The head room is nice, and the way the front poles hold out the top creates a very roomy tent. Without tying out the guy lines, and pitched in sand, the tent held up to a lot of wind before tumbling off into the forest and if I hadn't been holding down someone else's tent, I would have been able to get to it before the Suite Dream 2 blew away. That said, it really held up tumbling through the woods. High winds weren't expected so I didn't use the guy lines and as I watched it hit the tree line I expected the worst. Upon inspection though, I didn't find any rips or tears in the fabric or mesh. That was really impressive.
Now for the not so good. There was very little ventilation. If you opened the vestibules and the solid parts of the doors, I'm sure you'd get good air flow, but with rain threatening I kept everything shut. The rain fly is so tight fitting that there just isn't enough air flow. In the summer, that's not good. In the spring and fall, it will help keep you warm at night and I didn't have any problem with condensation.
Value:
At $249.95 it's a very sturdy, well built 2 person tent. Lots of pockets, great gear loft, and 2 entrances. This is a good tent for state parks, back yards, and long term base camps. It's a step up from the basic dome tent, and with the inclusion of the foot print, that helps the longevity of the tent.
Buy Now: for $249.95 or read more at Eurekacamping.com
Eureka! Suite Dream 2 - Gear Review
It's a good solid, long lasting, well built tent. Limited on ventilation when fully closed, but well protected from the weather.
The Good
Includes Footprint
Roomy
Well Built
The Not So Good
Limited ventilation when fully closed
Weight