For some folks a garage is just a place to park the car and store your junk. To others, like us, the garage is as important as the house itself. You spend countless hours in the garage wrenching on vehicles, working on projects and tinkering with tools. It only makes sense to outfit your garage with all the comforts of home and more. In this article we're sharing several products you should consider when upgrading your garage this Spring. These are the items we've found to be most helpful, functional and down right awesome.
Enough talking, let the scrolling begin!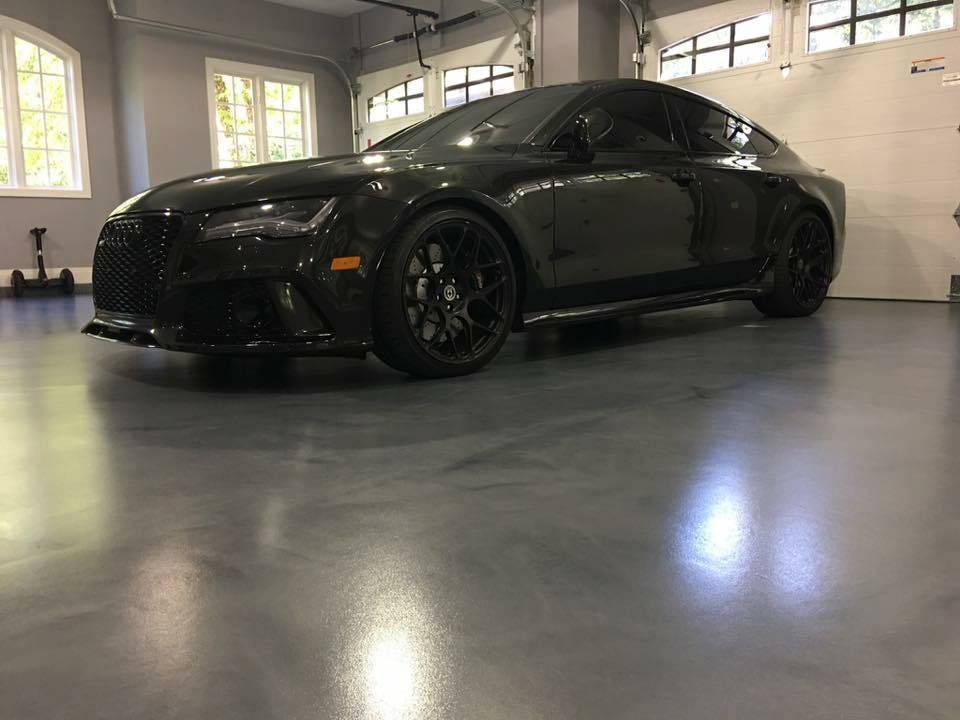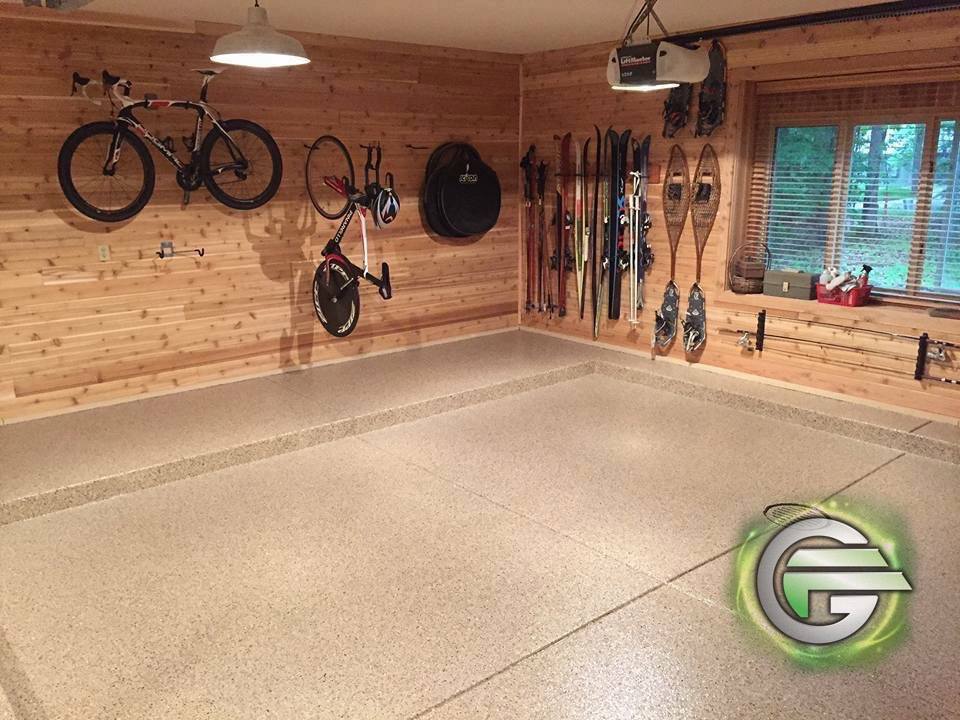 Garage Force is a garage flooring specialist. Their professional installers will arrive at your house in the morning and leave with a completed product in the afternoon. You can drive on your floor the next day. Garage Force only uses the best products in the industry made by Citadel Floors, these products are made in the USA and built to withstand the changing climates, our products can be installed from -20F – 120F.
Sound good? Well they also offer a LIFETIME WARRANTY! Their systems are also 100% UV Stable and VOC FREE!
Garage Force floors look outstanding. It is durable, handsome and you'll get a lot of complements. This flooring is no joke.
Stack-On Garage Organization System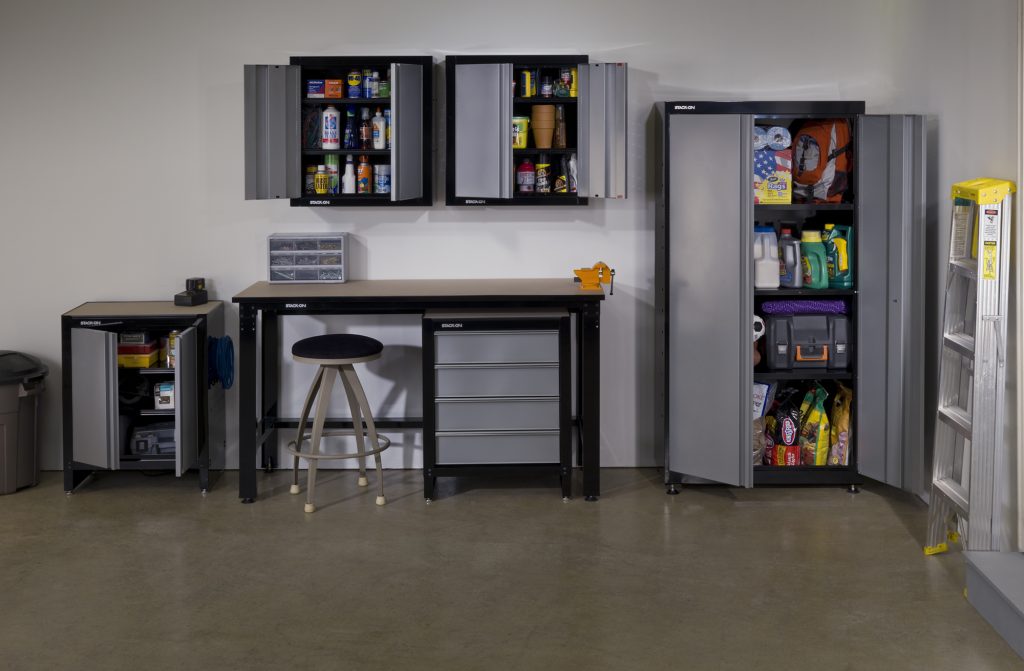 This six piece organizational system from Stack-On is ideal for larger garages with space for a work bench, large locker cabinet, two wall cabinets and two floor cabinets. Designed from steel, this set is heavy duty and built to last. If you're building out your dream garage organization is key.
After going hands-on with this system we walked away with much praise for the build quality and materials used. The workbench is solid and has plenty of work space. All the cabinets have magnetic door closures that work nicely and stay closed! We also liked the two floor cabinets that are easy to move around.
The Stack-On Garage Organization System is a must have to keep your garage looking its best.
Buy Now or to learn more, go to: Stack-On.com
Kobalt 3000 Series Steel Tool Cabinet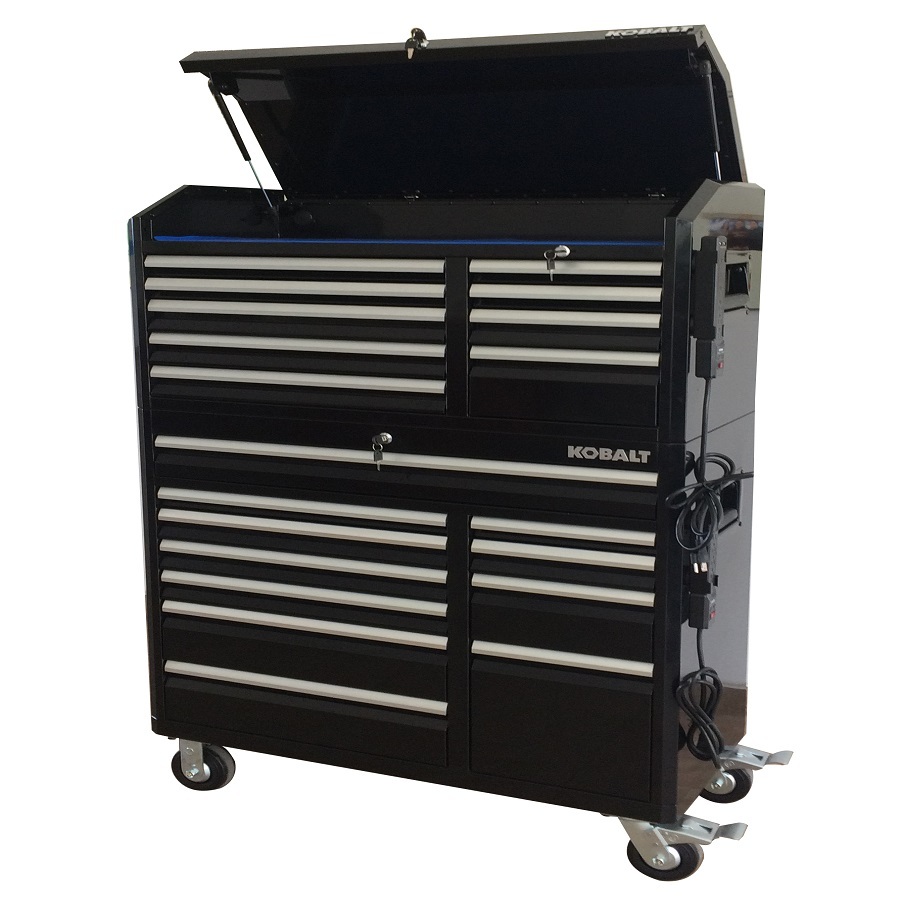 If you're like us you have hundreds of tools in several tool boxes and it can be hard to remember which tool box has the hammers, which one has the wrenches and which one has the speed square. Why can I never find the speed square!!
With the Kobalt 3000 Series Steel Tool Cabinet you can ditch all the tool boxes and keep all your tools organized neatly in one place. This tool cabinet is massive. With 20 drawers and a huge top compartment finding your tools has never been easier.
Each drawer comes with a foam liner to keep your tools from sliding around and to keep them looking good. Each cabinet (top and bottom) has a key to lock your tools. There is also in an integrated power strip for keeping your power tools and devices juiced up.
This tool cabinet is a must have for anyone with lots of tools. However, be warned… there is so much room in this tool cabinet you might not fill it, leaving you hungry for more tools.
Buy Now: $498 (lower unit) / $435 (upper unit)
Bissell Garage Pro Wet/Dry Vac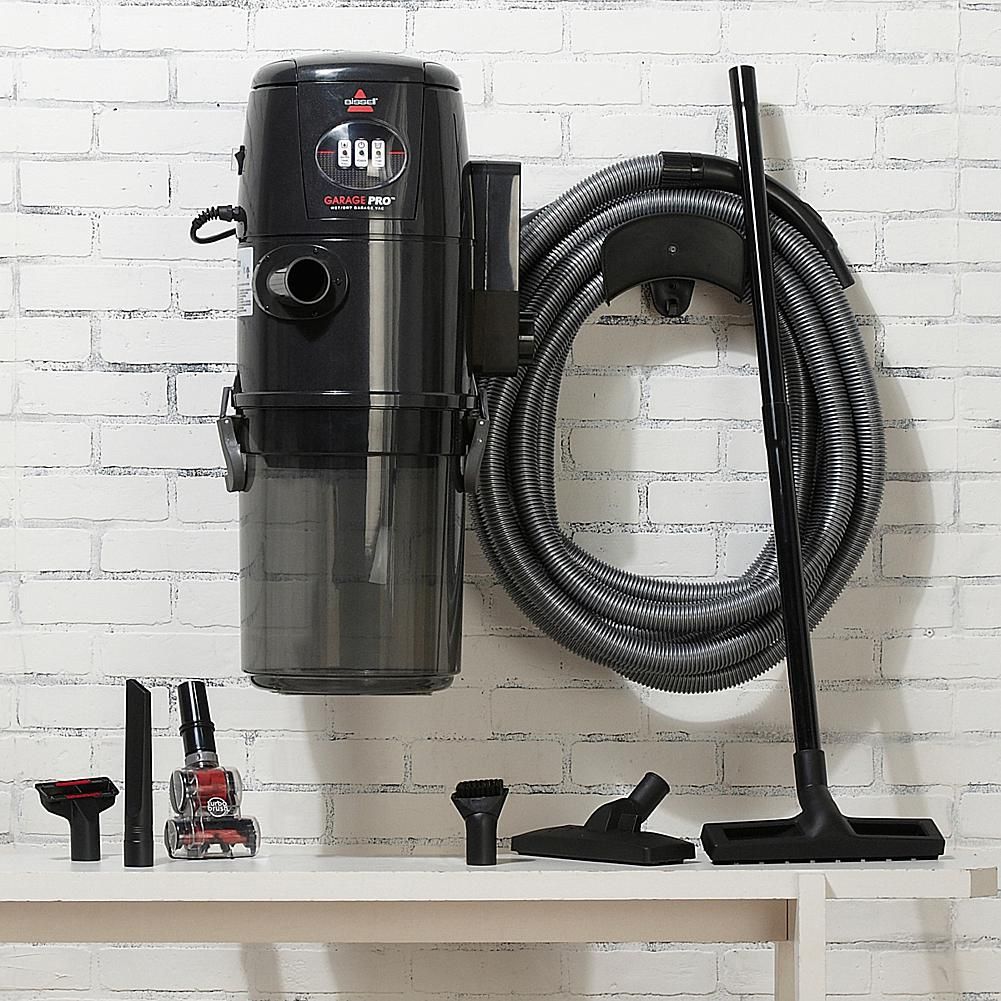 This wall mounted wet/dry vac is essential for any garage . The garage is a place were big messes happen, and often. Whether you're just parking your car in there with snow, slush and dirt on it or if you're constantly working on projects that make a mess. No matter what the mess is, this vacuum is ready for it.
Bissell's Garage Pro comes with 7 attachments and a 30 foot hose. It works great for cleaning up messes on the floor of the garage or detailing your car. And if you're looking for a shop vac with serious suction… this one sucks! Well, I mean it has plenty of suction.
Throughout testing we put this vacuum through the paces cleaning up while a remodel was underway. It was a lifesaver for cutting down on dust and keeping our work spaces clean. We also had to put it to work in the basement when a flood of water came in after 24 hours of rain. The vacuum worked great for both dry and wet messes. We really liked the ability to mount this vac on the wall and keep it up and out of the way. If you need to take the vac off the wall it is as simple as lifting it up and it comes off the mount.
If you want to keep your garage looking its best we highly recommend the Bissell Garage Pro Wet/Dry Vac.
Craftsman 30 ft. Cord Reel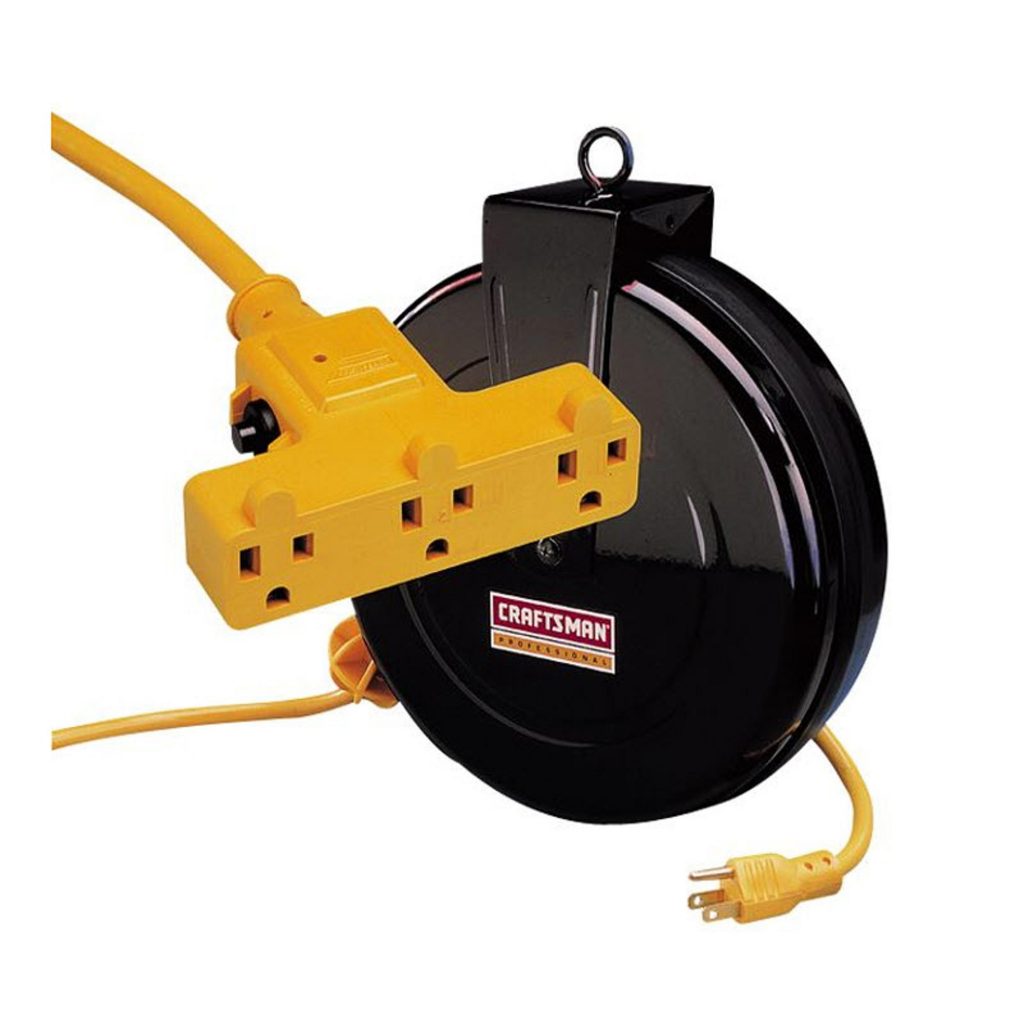 The Craftsman professional 30 ft. cord reel features a 14-gauge cord and 3 grounded outlets so you can run the electrical hook-up you need at any job site. Designed with a retractable extension reel, this electrical cord is ideal when working outdoors, around the house or in the garage. It comes with a handy hook so you can hang it from a nail in the garage so it's always to ready to go when you need it.
We mounted this cord reel to the ceiling where it is out of the way and always accessible. The only thing we want more than this one… is another one!
Retractable Craftsman Levelwind Hose Reel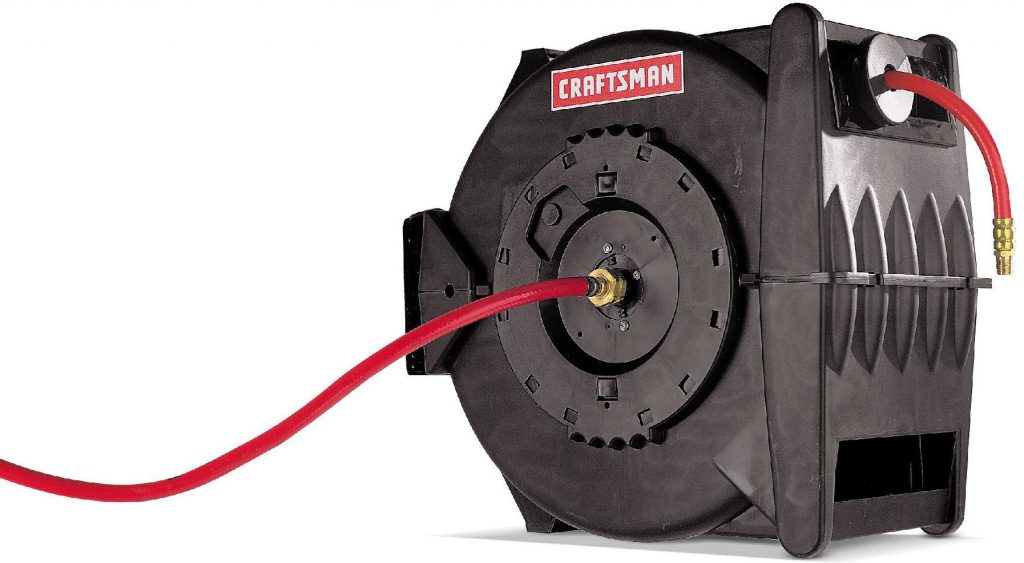 This hose reel is a must have for anyone you loves their air tools. Stop hand winding your air hose. Just stop it, right now! With this hose reel you don't have to worry about cumbersome hoses that don't want to lay flat or untangling the hose before getting started. You want hose? Just pull. Each click you hear is a stopping point. Pull out as much hose as you need. When you hear a click stop and you're locked in. When you want to put the hose away, just give the hose a pull and the reel will start retracting.
Mounted to the ceiling or wall in your garage this hose reel is killer. It saves space, time and you never have to mess with a tangled air hose again!
Husky 4-Tool Air Tool Kit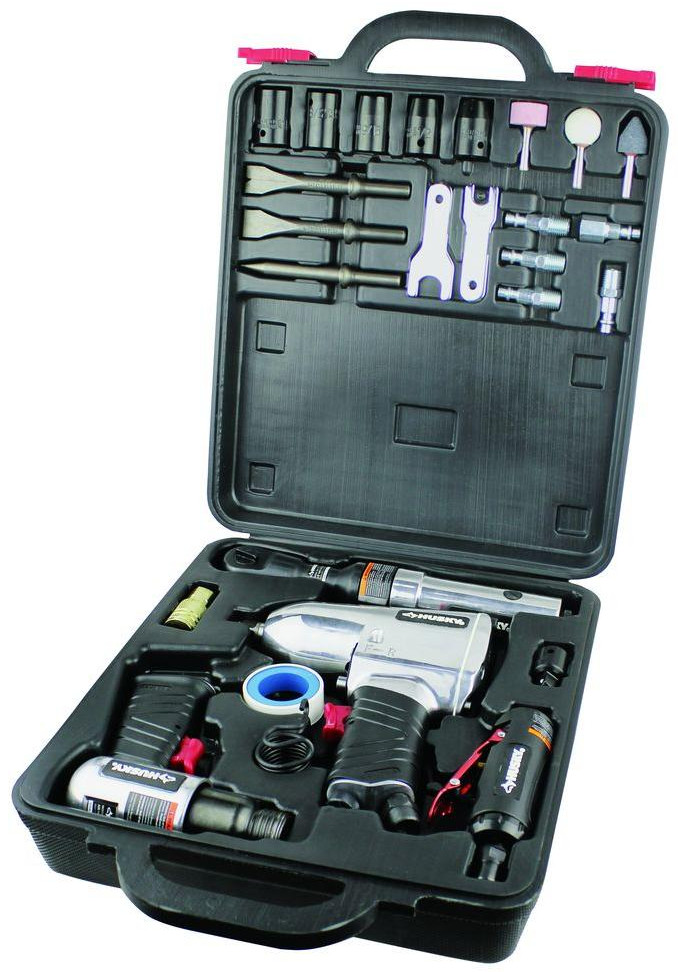 What is a garage without proper tools? To go with your hose reel you really need some air tools. For that, we suggest Husky's 4-Tool Air Kit. This kit comes with 4 tools and 19 accessories. The kit features (1) 1/2 in. impact wrench, (1) 3/8 in. air ratchet, (1) 1/4 in. straight die grinder and (1) air hammer. The kit also features (6) impact sockets, (3) chisels, (3) grinding stones, (4) male nipples, (1) female quick connect, (2) adjustment wrenches and a blow mold storage case.
This heavy duty set of air tools is perfect for anyone who works on cars, motorcycles or anything that goes vroooom.
Sunex 3-Ton Aluminum Service Jack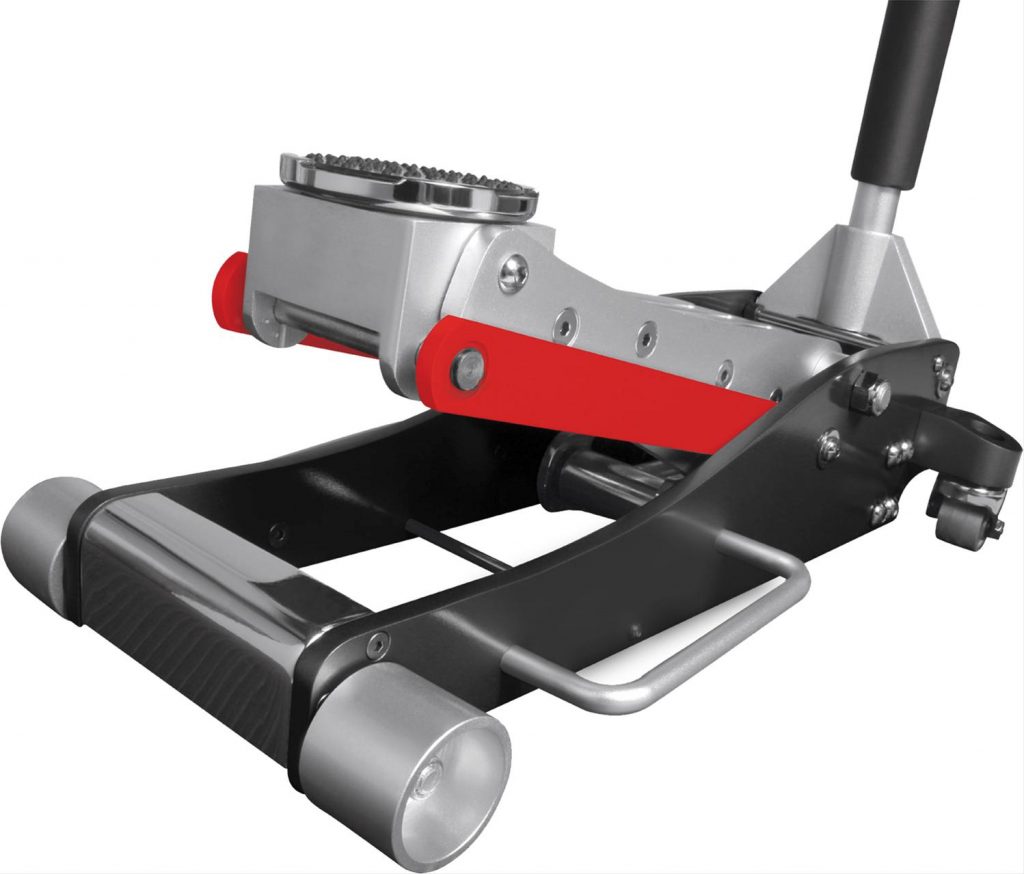 The Sunex Rapid Rise Technology reaches max height of 19.3 inches in 7.5 pumps. Side mounted handles for easy jack positioning. Wide track wheels for easy maneuverability. Rubber saddle pad and foam bumper pad protect vehicle. Thick frame side plates and reinforced lift arm for added strength, chassis torsion control and durability. Wiper seals protect hydraulic system from contaminants. Overload and bypass safety valves prevent the jack from being used beyond its rated capacity and ram over extension. Ball bearing mounted rear swivel coaster wheels and wide track front wheels for easy maneuverability. Two piece handle for storage; quick lock feature for engagement and disengagement of handle halves.
What is a great garage if you don't have good lighting? The Big Ass Light is made in the good ol' USA and throws out a ton of light. We're talking about 13,000 lumens of LED pure white light – rated to last up to 70 years! Not only is it super bright, but it is ultra rugged. How rugged? They drove an F350 over one and it didn't even scratch it. On top of that this light is comes with a 7 year warranty.
We've had a lot of different lights in the garage over the years, but nothing compares to the Big Ass Light. It is simply the brightest, toughest, and coolest light you can get.
Rubbermaid Deluxe Tool Tower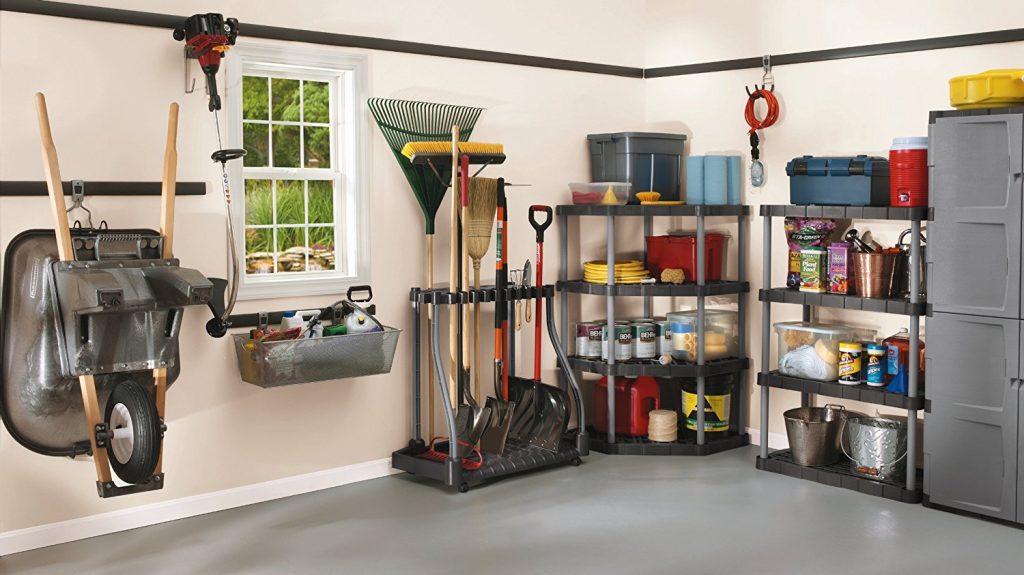 Keeping all the rakes, shovels and brooms organized for us used to mean pushing everything in one corner of the garage, which was fine for putting everything out of the way, but finding them again was a hassle. That was before we knew about the Deluxe Tool Tower from Rubbermaid.
This plastic tool tower holds a ton of tools and keeps it well organized. It can store up to 40 tools. It has a molded-in weed trimmer and electric cord holder. Casters make for simple mobility. Easy to assemble with no tools required, it will not rust, dent, rot or peel. What more can you ask for?
Rubbermaid FastTrack 8-Piece Kit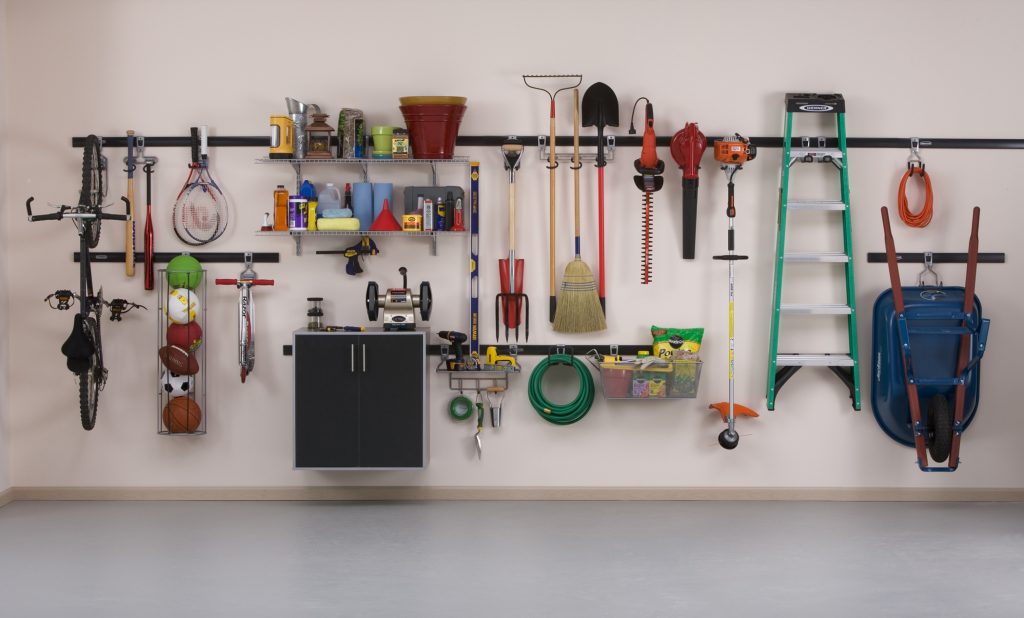 Whether you want to build an entire garage storage system or just get a little more organized, the FastTrack All-in-One Rail and Hook 8-piece Kit is an easy way to get started. This kit adds valuable storage space to any garage and assembles in minutes with common household tools.
The Rubbermaid FastTrack Garage Storage System allows you to organize your space according to how you use your tools and other equipment: keep lawn equipment nearest the garage door in summer and move it back in the winter, keep your tools together and closest to where you use them most, and arrange cleaning and painting supplies in the areas that make the most sense.
This kit is great for keeping your tools, bikes and hoses off the ground and on the wall where they don't take nearly as much space. We can't recommend it enough!
Mr. Heater 60,000 BTU Hero Heater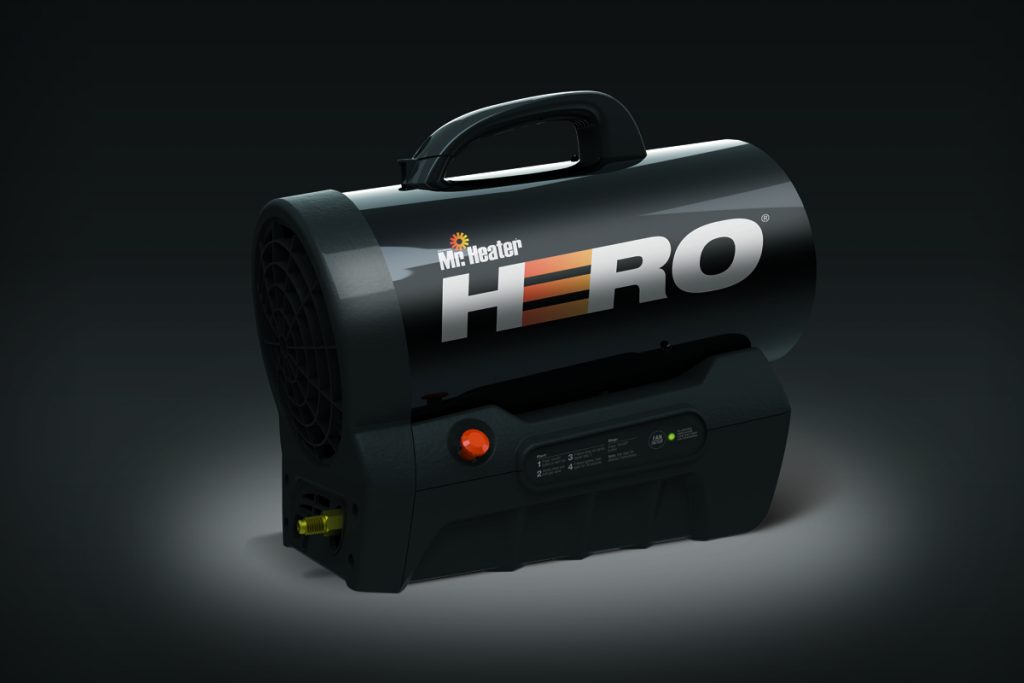 When the weather takes a turn for the worst it is always good to have a heat source on the ready. Unfortunate not all of us have the luxury of a heated garage. And that's where Mr. Heater's Hero Heater steps in with its 60,000 BTUs. This heater is pretty small, but delivers lots of heat. In fact it can heat up to up to 1,500 sq. ft no problem.
Simply hook it up to propane and plug it in and it is ready to rip. As an added bonus the Hero Heater's fan runs on battery too. So if you don't have a electrical socket near by you can run the heater for up to 4 hours on battery!
When it gets cold this heater is amazing. It turns a frosty garage into a comfortable tool palace where you can work on your projects in comfort. If you live in a cold climate, where winters take their toll, we highly recommend this heater for your garage.
50-250 ft. lbs. 1/2 in. Drive Torque Wrench

The Husky 1/2 in. Click Torque Wrench is made of alloy steel construction for strength and long-lasting performance. Its ergonomically designed handle easily turns to set torque. The finish provides resistance to corrosion and wipes clean easily.
This tool is critical for any work you're doing on vehicle. We use it most commonly for wheel rotations, but it come in super handy for many projects in the garage.
Kobalt 1.8-HP 20-Gallon Compressor
No garage is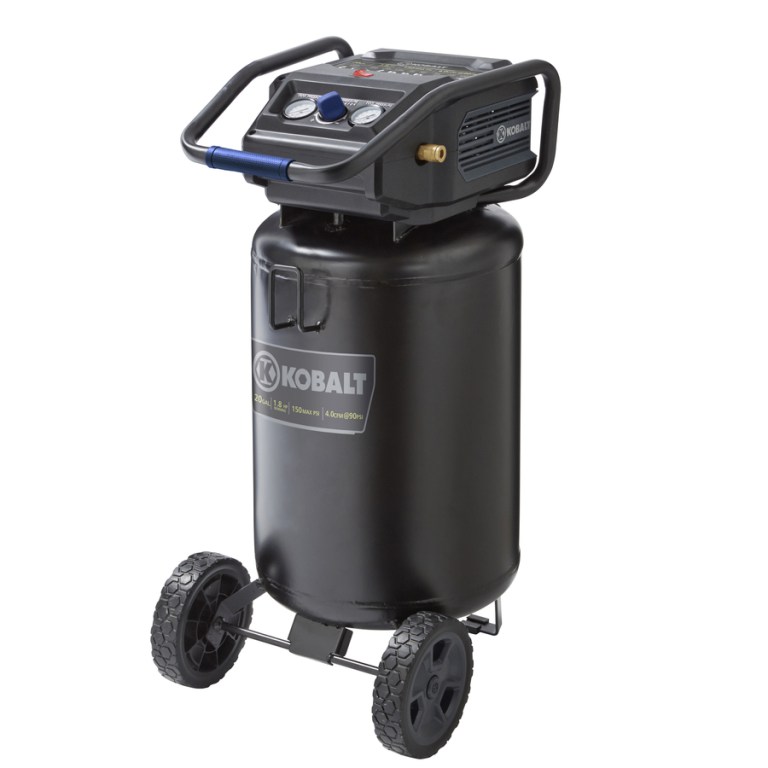 truly complete without a air compressor. This air compressor from Kobalt is capable of powering air tools, nail guns, impact tools, and a slew of other pneumatic tools as well.
Recently we utilized the Kobalt 1.8-HP 20-Gallon Compressor to remodel our in-home bar. Using it to power a nailer made putting up new trim quick and painless. We also have used this compressor for every day tasks like filling tires and cleaning out air filters. It's simple tasks like this that make a compressor so nice to have at your disposal.
Where this compressor truly shines is when it is hooked up to air tools like impact wrenches. With the use of impact tools your vehicle repair projects become quick and easy. Brake jobs and oil changes take no time at all with the use of pneumatic tools.