The engineering team at Black & Decker recently launched their new vacuum, the PET 2-in-1 Cordless Vacuum. Black & Decker touts this new vacuum cleaner as your floor to ceiling solution that can attack any mess. If you live in a home with pets, you know that messes just seem to appear around every corner. To keep the house looking pristine you need a good, versatile vacuum cleaner that can quickly scoop up dirt and hair. The Pet 2-in-1 is designed to fulfill all of those needs and offer much more. Recently, Black & Decker sent over their new vacuum and we sent it to a house with a puppy that loves to bring dirt, sticks, and leaves from the outside and spread them all over the house. How did the vacuum hold up? Here's what we discovered…
Key Features/Specs:
Battery Type: Lithium-Ion
Charge Duration: 5 hrs
20V MAX lithium-ion battery
Dustbin Capacity: 16.9 oz.
Dimensions: 11.4 x 10.5 x 29 in
De-fur furniture fast – motorized brush grabs on to stubborn pet hair
Power through kitty litter, kibble and more with strong, long lasting suction
Crevice tool extends for hard to reach areas
Black & Decker PET 2-IN-1 Cordless Lithium Stick Vacuum
Design:
The Black & Decker PET 2-in-1 Cordless Stick is designed to be a versatile, two-in-one vacuum for floor-to-ceiling cleaning. It features a detachable hand vacuum that allows you to easy access hard to reach places or use on furniture, providing great functionality. The vacuum features a lightweight lithium-ion battery that provides strong suction power, long-battery life and cord-free convenience that allows you to freely move about the house as you do your cleaning. No more getting caught up in the cord or having to plug-in every 20 feet. The vacuum also features a scented pre-filter that leaves your home smelling fresh and clean after each round of cleaning.
The vacuum also features anti-tangle rubber bristles that are designed to quickly lift out hair trapped in deep in carpets and hard floors. One of the coolest features on the Black & Decker vacuum is the SMARTECH Sensing Features which are designed to make your cleaning easier. The AUTOSENSE automatically adjusts suction from bare floor to thick carpet to optimize run-time. The vacuum also contains BATTERYSENSE which shows you how much battery remains and also the FILTERSENSE which alerts you when its time to clean the filter.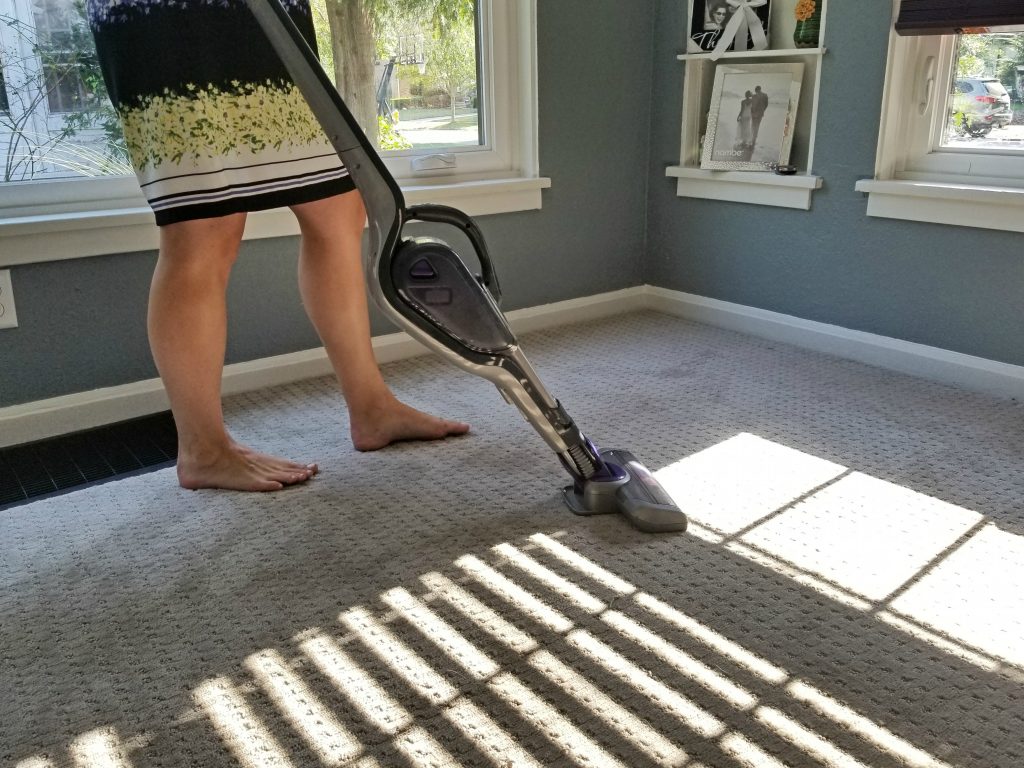 The POWERBOOST feature is basically a function that operates your vacuum on steroids as it maximizes the suction levels that allows you to get the toughest of messes quickly cleaned up. The vacuum is easy to move around the house and features 180 pivot steering to allow you navigate tight angles or corners so you don't miss a spot. Overall, the Black & Decker two-in-one cordless stick comes packed full of impressive technology that is lightweight, versatile, and effective.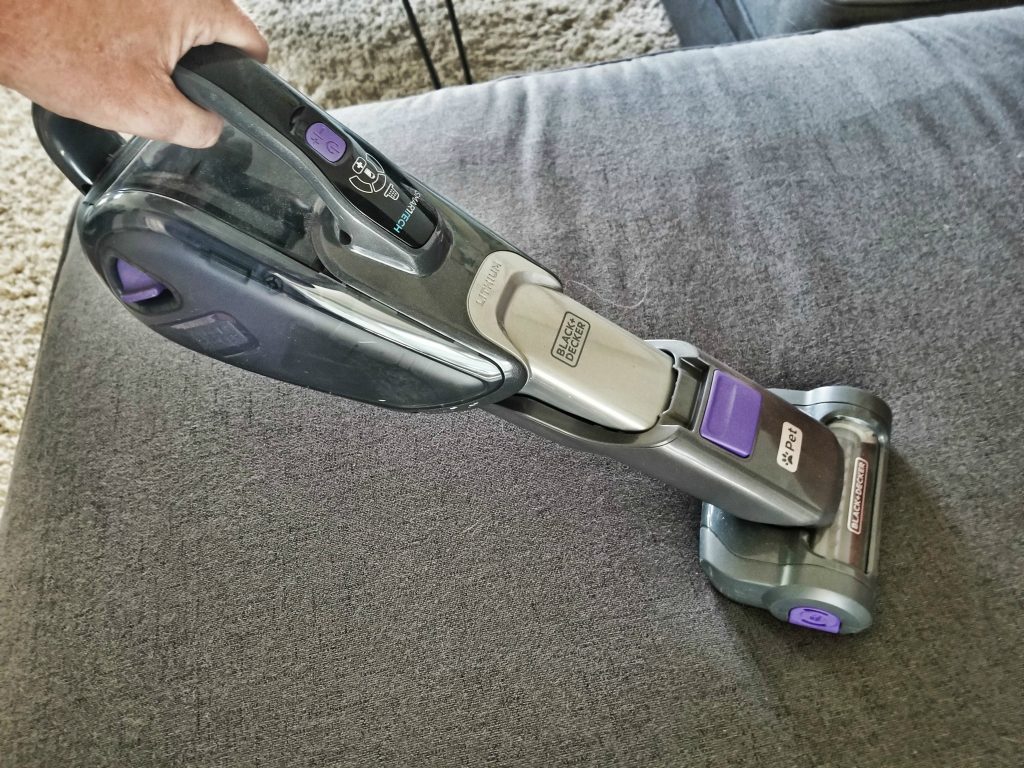 Cleaning:
If you have a pet, then you know the pains of fur in the house. Fur seems to find their way into every nook and cranny of your home. The pet 2-in-1 cordless vacuum is a really nice addition to your cleaning life as it seamlessly scoops up fur but also other crumbs and messes that appear on your floors and furniture. The really nice part of the vacuum is the versatility that it offers. By being able to pull out the handheld unit it makes multi-dimensional and gives you cleaning options.
The handheld is great for furniture and stairs, where fur loves to collect. The variety of attachments gives you even more flexibility to get fur off of your furniture. The bristles are firm but do not tear at the fabric on your couches. The Powerboost feature is really nice if you have fur that is tough to get out. We ended up using Powerboost for the majority of time as it is more efficient, but it does drain the battery faster.
The vacuum does struggle on longer carpet or shag type rugs. The vacuum because difficult to maneuver and it can get stuck. It makes for an awkward vacuuming experience, while you can still get it clean we would prefer if it be easier on shag carpet and rugs.  However, the suction power is pretty impressive and rivals most Dyson vacuums, so you are getting good performance on the appropriate areas.
Battery Life:
Battery life will vary depending on if you use the POWERBOOST or if you just use the regular mode. Overall, we got on average of 25-35 minutes of continuous run-time. The BATTERYSENSE indicator will give you an indication of how much life you. You  should be charging this after every use to make sure your battery is fully charged. However, if we were doing a quick cleanups we didn't see the need to re-charge it and could get 4-5 uses out of it before it died. The unit will charge back up in about 5 hours, which is a good charge time for a vacuum at this price point.
Value:
Priced at $199.99, we like the value that the Black & Decker PET 2-in-1 Cordless Vacuum offers. However, this  vacuum is not for everyone. If you have mostly hardwood floors or short carpet and pets, then this is a great option for you. If you have longer carpet, then this probably is not the best option for you. The vacuum offers good battery life, and great suction to clean up all sorts of messes around your house. The versatility and the ability to have a handheld unit make the vacuum a great value for your house.
Buy now for $199.99 or visit BlackAndDecker.com for more information
Black & Decker PET 2-IN-1 Vacuum - Tech Review
A versatile vacuum cleaner that will clean up after your pet and do much more! The Black & Decker Pet 2-in-1 Lithium Stick is just what you need to chase your the dirt away from your house. Offering great functionality and versatility that has impressive 20V power that will surely suck up all the crumbs and fur around your house.
The Good:
Good performance for hardwood and short carpet
Great versatility and find every crevice of your house
Good price point
The Not So Good:
Doesn't work for long carpet or shag rugs