Let's be honest here. We are not dog owners…our dogs own us! Day after day, we get up and we set out on our routines so that we can make the bucks it takes to keep our dog well fed and comfortable. For those of us that have come to terms with this reality, we do the best we can to make our dogs as content as possible, because a happy dog makes for a happy human. Over these past few months, we've been putting the new Casper Dog Mattress to the test in the hope that at the end of the day, the dog in our home will be made as comfortable as they can possibly be.
Features:
Removable Cover: The durable cover is easy to remove and machine wash.
Fortified Construction: Designed not to sink, slump, or sag over time.
Easy Clean: The nylon fibers in the cover are heat bonded, creating a slick barrier that's practically impenetrable to fur.
Hidden Zippers: Sewn-in pockets hide the metal zippers, so they won't scratch your floors.
Casper Dog Mattress Review Breakdown
Order / Delivery:
Casper Mattress has become famous over the past few years for their innovative delivery and return services. Much like their regular mattresses, the Casper Dog Mattress can be ordered online or via telephone and shipped right to your door for FREE and no signature is required. The box it comes in is large, but not so large it isn't easily manageable for one person to carry inside on their own.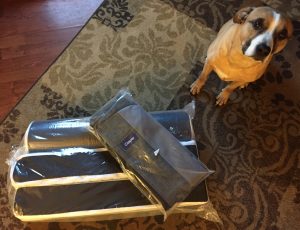 Casper has established a stellar reputation for satisfaction, but should you feel the Casper Dog Mattress is not up to your dog's standards, Casper has provided a 100 night trial for returns with a full refund and free return shipping. Whether it's coming or going, any delivery needs are well taken care of here. A dog toy is also provided as a nice little extra added bonus.
Assembly:
The Casper Dog Mattress arrives in 6 pieces: the main mattress, four supportive side bolsters, and the cover. The main mattress and bolsters have their own compartments within the cover that they zip into, so it's not hard to figure out what goes where. The whole thing was easily assembled within 5 minutes of opening the box, so our dog was able to enjoy its comforts almost immediately. Although the bolsters fit in snuggly, we have had some issues with the front bolster the dog usually leans on falling sideways and flat. It's not entirely aggravating though. It can be adjusted back to position in seconds, and the dog doesn't seem to mind the shift all that much when it does happen.
Comfort: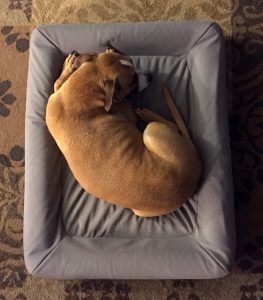 Dogs spend about half of their lives sleeping on average (did we mention they are the kings of our castles?), so they deserve the best we can give them. Built with the most similar makeup to a human bed we've ever encountered, the Casper Dog Mattress is built with a combination of pressure-relieving memory foam and durable support foam. We're not gonna lie, we rested our head next to our pup just to try it out and we found ourselves snoozing right alongside him pretty quickly.
It's no mystery that our dogs naturally prefer to squeeze into tight spaces. It's an instinct they've maintained from their ancestors in order to seek refuge from predators in the wild. Fortunately, the side bolsters on the Casper Dog Mattress don't only work as a nice headrest, but also as a barrier to give our dog that little extra added sense of security for the perfect night sleep or afternoon nap.
Aside from solid construction and a design built to cater to their basic comforts and instinctual tendencies, size DOES matter. The Casper Dog Mattress is available in three separate sizes: small, medium, and large. These options can make all the difference in giving your dog exactly what they need for a perfect slumber.
Durability:
Have you ever noticed how dog's turn and scratch as they settle into sleeping position? This is another instinct that they inherited from their wolf ancestry, because brushing away debris and burrowing down in the cool dirt was most comfortable. We've gone through a lot of dog beds over the years and it's this behavior that seems to have worn them down the fastest, but the strong bonded microfibers that make up the cover's exterior have shown absolutely no signs of wear that we can see so far.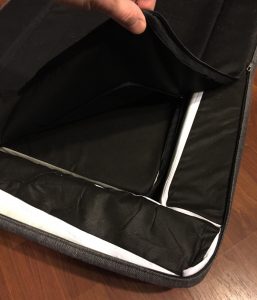 Because the padding is zipped in, it can be removed in seconds from the cover for a machine wash. This easy cleaning of embedded dirt that would normally wear at the fiber material over time will certainly add more to the life of the Casper Dog Mattress.
Value:
At first glance, yes, the Casper Dog Mattress seems to be on the pricey side compared to the competition that averages around $50-$100 at the local pet store. However, with its solid construction, easy cleaning, and durability that adds a huge amount to its lifetime, we see this as a bargain. Add the free shipping straight to your door and the amazing return policy, there's no reason not to let the little fur ball that runs your house give this luxurious mattress a try.
Buy Now: $125 – $225 or to learn more, go to: Casper.com
Casper Dog Mattress - Gear Review
Our dogs are the kings of our castles, and it's up to us to make sure they are well satisfied with their sleeping quarters. With free delivery right to your door, comfort that doesn't quit, and durability that will outlast the competition, the Casper Dog Mattress will ensure your dog has every luxury they deserve while resting their little heads for a solid night's sleep.
The Good
Incredibly Comfortable
Easy Cleaning
Easy Ordering and Assembly