Yamaha is a global leader in musical instruments, music production equipment and professional audio accessories. The new HPH-MT Series are professional monitor headphones with a goal of delivering consistent, high fidelity sound and accurate response. The MT8 is the best in the HPH-MT class with &  for a broad frequency range. Recently we were given the opportunity to put these headphones to the test. Here's what we discovered…
 Key Features:
45 mm custom drivers
CCAW voice coils
Closed-back, circumaural design for excellent isolation
Protein-skin leather and large low-resistance cushions ensure stress-free wearability and high levels of isolation
Three-dimensional arm pivot construction and adjustable slider length alleviate fatigue when working for extended periods
Durable ABS housing and rigid die-cast aluminum support-arms for use in the toughest working environments
Moveable earcups allow single-ear monitoring
Folding arm structure and carrying case
Yamaha HPH-MT8 Review Breakdown
Design:
These aren't made to be used when you are out struttin' your stuff in the street, but rather for mixing or at home listening to your audio collection. That being said, these are nice looking, sleek headphones have an appealing matte look that is rather handsome, while still feeling quite sturdy. The earcups also move so you can leverage single-ear monitoring if you'd like.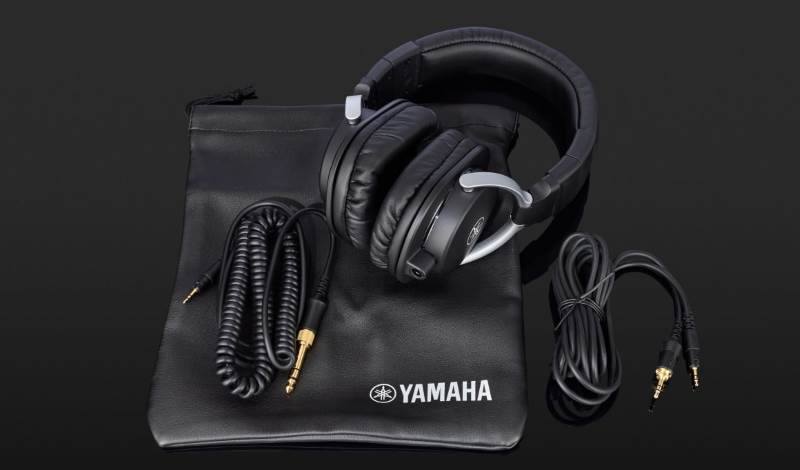 A fantastic feature of these 'phones is the ability to swap between two cords – a 1.2m Coiled Cable and a 3.0m Standard Cable. Even better is a quick change 1/4″ adapter from the standard 3.5mm connector to use across all devices. Simply screw the adapter in and you are off from your phone to the studio!
Included with the MT8's is a soft faux-leather sack with drawstrings. It doesn't offer much from a protection or organization standpoint and I'd have preferred to have seen a shelled case with some organization.
Acoustics:
The mission of these closed back monitor headphones is to deliver accurate response with high-res sound. Overall, these earphones do a good job. They aren't for the user who is looking for the ultra-bass experience, but for the person looking for accurate sounds.
The highs are crisp and clear (if not a wee bit strong)  and the mids thrive in the MT-8s. The bass is fine & accurate, but not super deep & weighty – just a solid true sound.
These aren't noise cancelling, but are closed loop so you won't hear much. When testing these in an office environment, co-workers were unable to hear my music – even at a loud volume.
You'll not only catch every note, but you hear them in HD. Listen to your favorite guitar solo with the MT-8's and you'll be sold.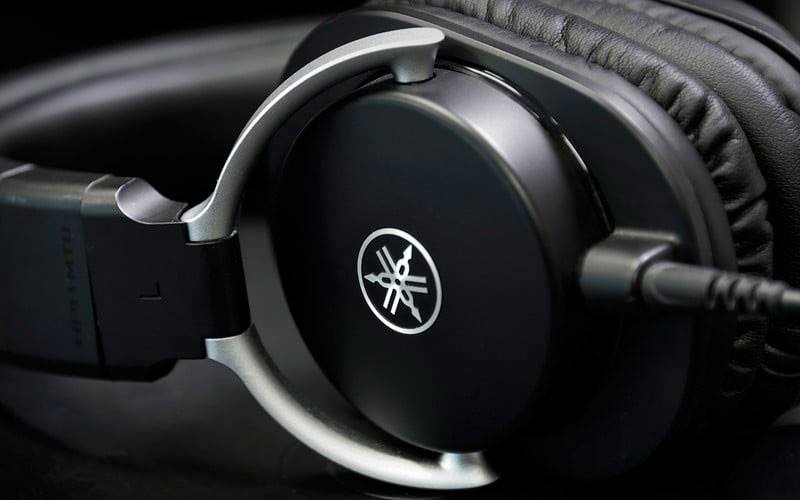 Comfort and Fit:
My biggest issue with the MT-8's is that they aren't  comfortable (at least on my head). I don't have a large head, but they put too much pressure to the front and back of my ears down to my jawbone. It isn't overwhelming, but after 15 minutes or so, I start to get an nagging ache and have to take off.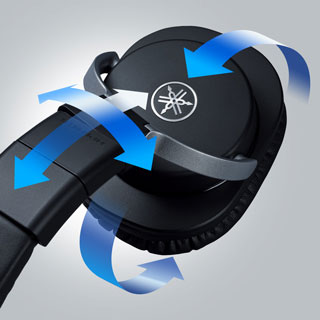 The fitting is great, they rotate in 3 different directions and you can find a mix that lines up on your head well. But even with the adjustability, there is simply too much pressure for my head. I've worn regularly now for roughly 3 weeks and I can't get acclimated to the feeling — I just find myself needing a break every 15 minutes. For this reason alone, these won't ever be a go-to pair of headphones for me (or you if you don't like a good amount of pressure).
Value:
Coming in at  $199,  The Yamaha HPH-MT8 Studio Headphones price point is high compared to others in the industry.  You won't be buying these for the value, but instead if you are looking for ultimate accuracy and clarity. Just make sure that your head is stronger than mine and can accept the physical pressure that these headphones can place on your head.
Buy Now: $199 or to learn more, head over to: YamahaAudio.com
Yamaha HPH-MT8 Headphones – Tech Review
The Yamaha HPH-MT8 Monitor Headphones are incredibly accurate and will be loved by audiophiles everywhere. Watch out however, as the extra pressure may be too much for some.
The Good
Precision
Variation of Cords
Quality
The Not-So-Good
Tight Fit May Not Be Comfortable
Top of the Line Price
Flimsy case