You want to get noticed at the office, impress your co-workers, and make some new friends?  Buy a Varidesk!  The minute this was delivered to this reviewer's office, I had people stopping by to inquire.  They wanted to know how it worked, see it in action, stand behind it themselves . . . it became a conversation piece. Any time someone would walk by when I was standing behind the Varidesk Pro Plus, I had a visitor.
I don't have a bad back, or chronic back problems, the Varidesk Pro Plus wasn't recommended to me by a doctor or chiropractor, although I think it would be if I were to ask.  I had been having some extreme carpal tunnel issues (waking up with numb hands), and after just a week of alternating between standing and sitting, those issues started to go away.  That was one HUGE benefit.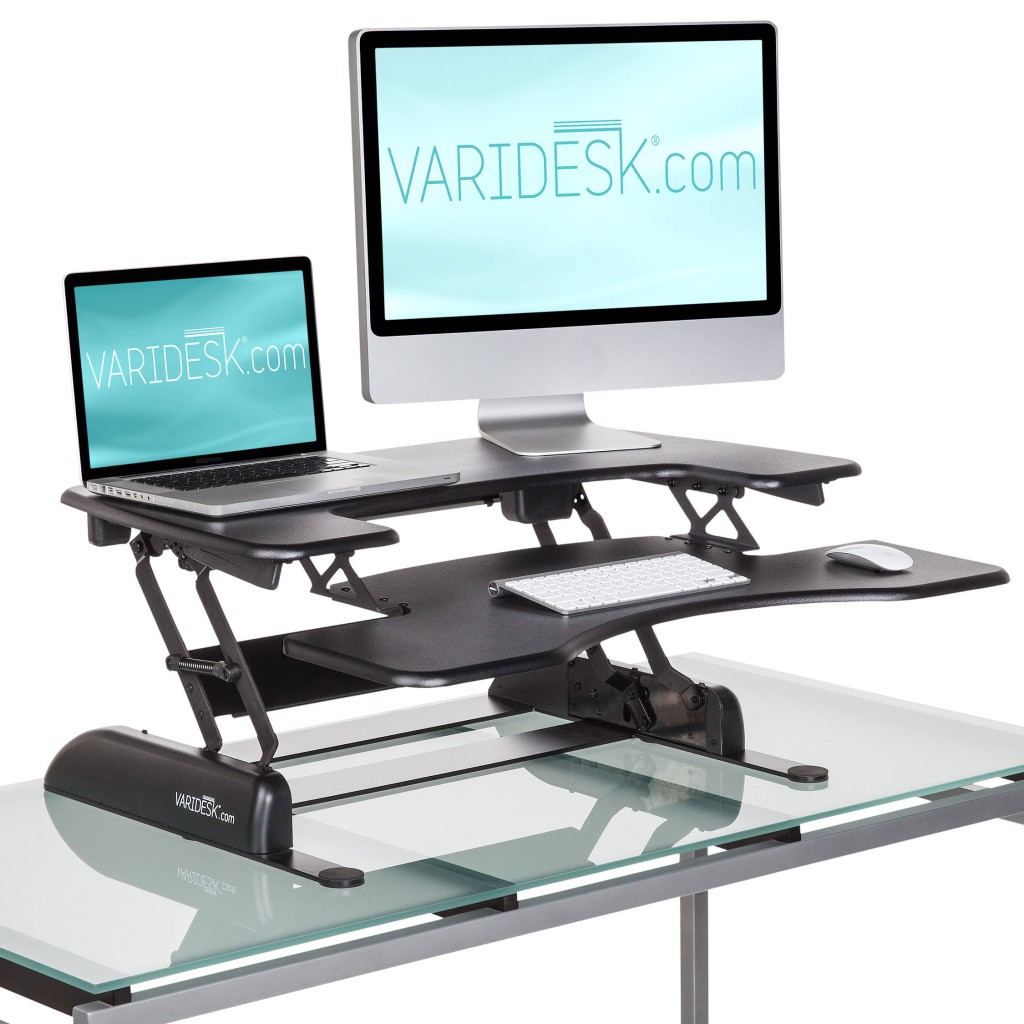 Personally, I hate sitting still and do not like sitting at a desk all day.  The Varidesk resolved that.  It helps me feel refreshed when I can jump up and within seconds be back to work, but standing up. I truly feel this increased my productivity.  For all the desk jockeys out there, treat yourself to a Varidesk!  If you own a company, you should offer this as an option for your employees.
Key Features
Keyboard Deck lifts with the display surface: all one piece
There is a companion app that gives you sit and stand alerts so you don't stay in one spot too long!
Switch from sitting to standing in just three seconds!
Ergonomic design adjusts to most users' height
Fully assembled for easy set up
Varidesk Review Breakdown
Design:
For review, we were furnished with a Varidesk Pro Plus, which has two levels.  The top tier has room for one monitor and a laptop (which I used as a second monitor), and the lower level fits a keyboard and mouse . . . both levels had room to spare!  The Varidesk accomodated a small file, a drink, cell phone, pens, post-its, and other basic office items.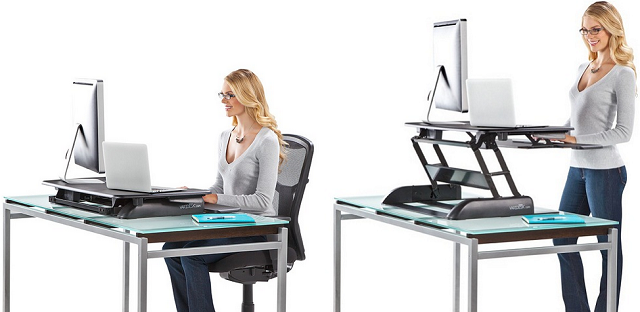 We LOVE how easy the Varidesk is to lower and raise.  There are two levers on each side that you simply squeeze together and then gently lift up.  It is spring loaded so you do not have to lift very hard for it to come right up.  You can lock it in at various levels too, so it adjusts to different heights.  I am about 5'7" and it worked for me wearing flat shoes, or a 2" heel.
The only thing that was a minor problem for this reviewer was that I felt like if I needed to type the level that I needed to have it at for my keyboard was lower than what I liked my monitor to be.  I would need to lower the Varidesk for my hands to be at a comfortable level, and then I would be looking down at my monitors.  However, this was VERY minor and just inches off of what I would normally prefer.
There are a variety of different sizes available that you can check out on varidesk.com.  They make a more narrow option for people that just use one monitor, and then sizes in between that and the Varidesk Pro Plus 48, which is the largest model.  You should be able to find one to fit your specific needs.
Overall, the Varidesk is well made, easy to use, and comes in a variety of sizes to fit your needs. Check out the embedded video below to see the Varidesk in-action…

Setup:
When we saw the huge box that had been delivered, and that it was only about 10 inches wide (if that), all we could think was "this is going to be a mess to put together!"  Much to our surprise, the Varidesk shipped in ONE PIECE – all we had to do was open the box, slide it out, and plop it on my desktop.  While one person was able to do this all on her own, it would have been easier to have one other person to help lift it – since the desk is all in one piece, and very sturdy, it was not light.
Once we had the Varidesk on the desk top, we took it for a test drive and saw how easy it was to raise and lower!  To complete the setup, we simply put the computer equipment where we wanted it, ran the cords through the back, and was ready to work.  We would say it MAYBE took 20 minutes to get it out of the box, on top of the desk, and everything hooked up and in place.  Easy peasy.
Durability:
While we only have been using this for about a month, there is no doubt that the Varidesk will stand the tests of time.  We knew this as soon as we tried to lift it out of the box – weighing in at 52.65 lbs, you know the Varidesk is SOLID and very well built.  The hinges and springs are all thick metal, and there was almost no wobble when you lifted it to max height.  The upper and lower levels were made of a thick material that was obviously sturdy and durable – we're not talking particle board here folks!
Functionality:
In this reviewer's job, a lot of time is spent working with files, and taking phone calls.  When in the standing position, it was very difficult to accommodate a large file (although pieces of a file, or smaller files were fine).  Additionally, when receiving phone calls, it would require either quickly lowering the Varidesk down  to sit and take the call, or just leave it up and take the call without looking at the computer.  Both of these things can be solved in one way or another (putting the phone on the Varidesk, getting a longer cord or wireless headset for the phone), but it did decrease the functionality of the desk a bit.
Hands-on Photos: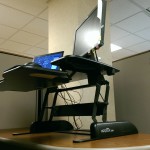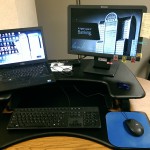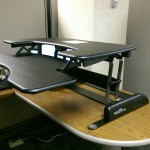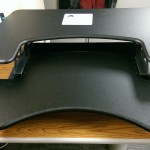 All that being said, when we were just typing or doing work on a computer, the Varidesk was fantastic – no issues at all.
Value:
Most of the team at the Busted Wallet HQ agreed that $350 for the Varidesk Pro Plus was a great deal.  A few said they wouldn't pay that, but when informed that there were smaller versions at lower prices, that generally got everyone on board!  Personally, I think this is a GREAT value.  It is well made, easy to use, nothing to be put together, and made me more productive and healthier.  If that doesn't all come out to a great value, I don't know what does!
VARIDESK Pro Plus - Office Review
If you spend the majority of your day at your desk and hate sitting, you owe yourself the treat of a Varidesk. It is functional, well built, easy to set up and easy to use. If you're like us, it will help your productivity and overall health - a perfect way to start out 2015 . . . or any time!