Tullamore Dew - Drink of the Week
Skillfully blended with a trifecta of malted barley, un-malted barley and pot-still whiskeys, Tullamore Dew is a distinctly Irish whiskey dating back to 1829 where it was first distilled in the heart of Ireland… aka Tullamore, County Offaly. While Tullamore Dew is no longer produced at the historic Tullamore Distillery (closed in 1954,), its current distillers (at the New Midleton Distillery) still abide by time honored traditions set fourth by whiskey visionary Daniel E. Williams (D.E.W) almost 130 years ago. Traditions that call for a unique triple blend and triple distillation process as well as a maturation process which takes place over the course of 12 to 15 years in old bourbon or sherry casks.
Now the world's second largest selling Irish whiskey, Tullamore Dew is widely acclaimed by whiskey connoisseurs and most recently won five awards at the prestigious International Wine & Spirit Competition (IWSC), including 'Gold Best in Class' for its highly acclaimed Tullamore Dew 10 Year Old Reserve. Over the past 10 years Tullamore Dew has won an impressive record of 29 gold medal awards… enough to keep Michael Phelps on his toes!
Tullamore Dew Original isn't the only whiskey to carry the Tullamore name, in fact they now have 5 expressions to choose from including: Original, which we're reviewing today, their 12 year special reserve, a 10 year single malt, a limited edition bottling named "Phoenix", and the Old Bonded Warehouse – a special bottling developed to mark the reopening of the Tullamore Dew visitor center on the grounds of the original distillery in Tullarmore, Ireland.
Speaking of the visitor center… if you're ever so lucky to be in Ireland with some time on your hands, it's open to the public and has tours for novices and aficionados alike. You can book reservations online or over the phone. Having just re-opened in 2012 I hope to someday make a stop if I ever get so lucky to vacation on the emerald isle. That, and a trip to McSorley's Old Ale Houe for a few pints of course!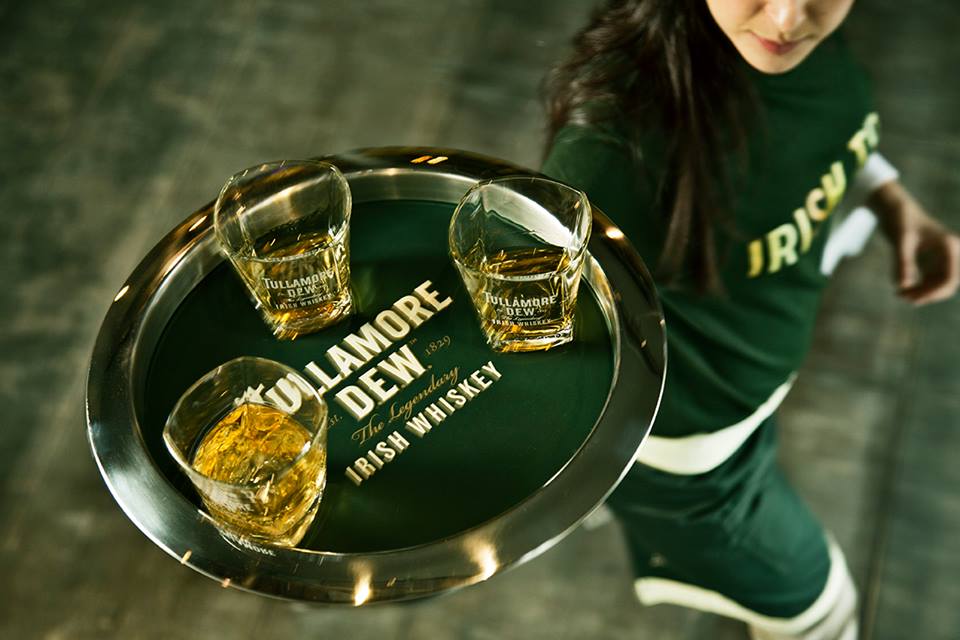 With all our experience tasting and reviewing the new, the exotic, expensive and popular we were pumped to have the chance to evaluate a spirit with so much history and heritage. Though one thing had us scratching our heads… and that was that none of us had ever heard anything that good about this particular whiskey, but then again, we really hadn't heard much about Tullamore Dew at all… ever!
Not having much knowledge of the brand going into our review, our tasting panel wasn't quite sure what to expect. With a $20 price tag we knew it could either be hit or miss, but after learning of the blending process and additional distillations that take place to produce Tullamore Dew we were rather eager to get started once the samples arrived. As you can imagine bottles were popped, poured, tested, tasted, sniffed, swished and mixed (in that order) and today we're happy to share our findings with you… so without any further delay here's exactly what you can expect from a bottle of Tullamore Dew. Cheers!
– Tullamore Dew Review –

Proof: 80 (40% ABV)
Age: 12 to 15 yrs. Blened
Appearance: Rich bronze tones
Nose: Vanilla, caramel, oak, subtle traces of fruit
Flavors: Sweet vanilla, spice, citrus and oak
Price: $20.00 USD (750ml.)
The Bottom Line: Scoring an impressive 8.8 out of 10 from our tasting panel, Tullamore Dew is an Irish whiskey for the ages! Our panel absolutely fell in love with its truly sip-able profile, which is mystifyingly bold yet smooth simultaneously. Way-back-when, Daniel E. Williams knew what he was doing with this whole triple distillation/triple blend process. Who knew? And unlike the more popular names in the game (looking at you Bushmills and Jameson), Tullarmore Dew takes the bite out of sipping Irish whiskey for a truly enjoyable experience, and best of all without the inflated expense.
Don't fancy yourself sipper of whiskey? No fear, Tullamore Dew does one thing better than getting poured neat… and that's served up mixed in a iced-fill cocktail. Tullamore's smooth profile and sweet complexities make it an dangerous ideal option for simple concoctions like whiskey and coke… or this tasty diddy we worked up below.
MIX IT UP… "Apple D.E.W."
Ingredients: 2 oz. Tullamore Dew, 6 oz apple juice, dash of bitters and a lemon wedge.
Directions: Into a tall ice-filled glass, add the Tullamore Dew, top with apple  juice, garnish with a lemon wedge and enjoy. Bottoms up!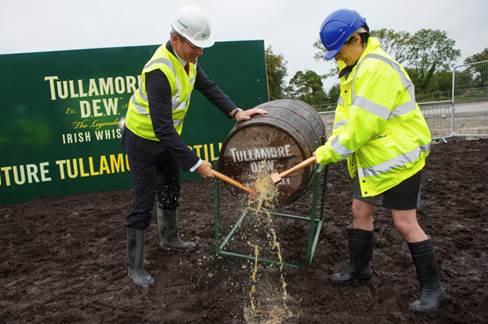 UPDATE: William Grant & Sons Ltd. (parent company to Tullamore) have broken ground and put construction underway on a brand new state of the art Tullamore distillery back where it belongs… in Tullamore, Co Offaly with plans to open in Fall of 2014. The new distillery will bring whiskey production back to the town exactly 60 years after the original distillery closed in 1954. The initial investment of €35 million will meet the long-term production demands for Tullamore Dew, which is currently growing by over 20% annually. Cheers to that!!