The summer is upon us and its time to get to work! With so many projects to be done outside this time of year, we can't let ourselves be bogged down by the hassles of that basic task in yard maintenance that is mowing the lawn. This spring, we took to the yard with Toro's new 22″ Recycler SmartStow Mower to find out if it's possible to make the job an easier and all-around better experience.
Key Features:
Toro 22″ Recycler SmartStow Lawn Mower Review Breakdown
Design: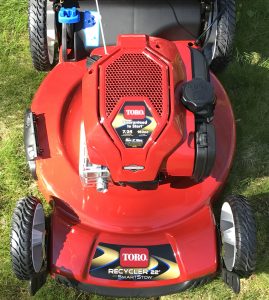 The Toro 22″ Recycler is equipped with a Briggs & Stratton 7.25 ft. lb. gross torque engine with ready start. Built for simplicity with power, this engine requires no prime or choke to get it running. Any possibility of flooding has become a thing of the past, and we've found absolutely no difficulty getting it up and running with a single pull of the recoil every time. The engine is also designed with a "check and add" feature, meaning that nasty job of draining the oil every spring is unnecessary. All it takes is a quick check of the oil and the addition of more when needed. That's it! If you do happen to overload the oil, the fill tube on this model is at a slight angle for easy draining. We will say however, that re-capping the oil tube can be tricky because of the precarious angle, and we highly advise double checking that it is completely secured after each check.
The Toro 22″ Recycler uses a single steel atomic blade with a front throw chamber to do the cutting, so grass clippings are lifted, suspended, and recut to a fine mulch before being sent to the bag or recycled back to the lawn for a more environmentally friendly, healthy, and lush looking lawn. For anyone more interested in bagging, we were amazed at how much less bagging was required thanks to the ultra fine clippings that were produced. The grass bag itself is also beyond simple to remove and reattach. With 9 cutting positions ranging from 1-4 inches, we have no complains when it comes to the customization available to cut the yard just the way we like it.
Functionality: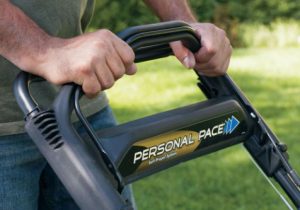 Years ago when mowers were first built with forward drive capabilities, the job was made much easier. When it comes to the 22″ Recycler however, Toro has taken this function to a whole new level with the personal pace self-propel system. Instead of the traditional "start or stop" only options, the personal pace system adjusts to the pressure applied by the operator, and moves at exactly their preferred speed. Taking it a bit more slowly on precarious turns and then going to full speed on the straight-away requires only a slight shift in pressure, which also reduces the risk of spinning out and damaging the lawn with fast starts and stops.
Durability:
We'd been using a much older Toro mower years before heading out with the 22″ Recycler this spring, and the good news is that the build hasn't changed all that much. We know from experience that these mowers are built tough, and we see no reason to see otherwise this time. We did run into the issue of a loose rear wheel right out of the box, causing the self-propel system to disengage, but a few turns of the socket wrench later we were back in business. While we'd normally chalk this off to a factory oversight, we've heard other consumer reports of the same issue, so we'd recommend making sure everything is strongly secured the first time out.
Storage: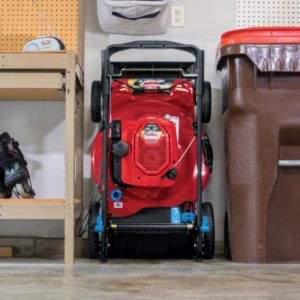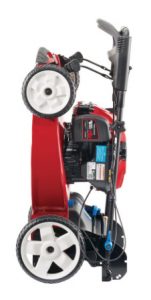 Let's face it, storing our lawnmowers have been a huge irritation for decades and decades…until now! The Toro SmartStow feature on the Toro 22″ Recycler is as innovative as it is simple to engage. The Briggs & Stratton engine is engineered to prevent oil and fuel leaks, allowing the mower to be stood upright. All it takes is a turn of the handle locks, folding, and relocating, and Toro 22″ Recycler is ready to be stored in a fraction of the space that was required with a traditional mower. This also gives easy access to the underside for cleaning or blade changes if needed.
Value:
At $399.00, the Toro 22″ Recycler lands somewhere in the middle of the pack for expense, but perhaps on the higher priced end for its size. But, throw in it's low-maintenance needs, SmartStow for ultimate space savings, customizability for mulch or bagging, and the ease of use provided by its personal pace self-propel system, and this particular mower is a no-brianer. Did we mention the manufacturer 2-year full warranty and 3 years guaranteed to start? All of these things combined make the asking price more than reasonable in our opinion.
Buy Now: $399 or to learn more, go to: Toro.com
Toro 22" Recycler SmartStow - Mower Review
With its SmartStow storage space savings, personal pace self-propel system, low-maintenance upkeep, and a variety of customizable mowing options, the Toro 22" Recycler mower is so much more than we ever imagined possible when our parents sent us out to mow the grass as kids.
The Good
Smart Stow Efficient Storage
Personal Pace Self-Propel System
Customizable Cutting Options
The Not-So-Good
Angled Oil Cap Fastening
Had Issue With Loose Wheel from Factory