Here at Busted Wallet we are always on the lookout for exciting new brands providing great products. About a month ago we caught wind of Shady Rays Sunglasses and their "break 'em or lose 'em" replacement policy. As you can imagine this grabbed our attention and we needed to learn more. So we did, and then we reached out to see if they had anything new in the works for 2017. As luck would have it, they did!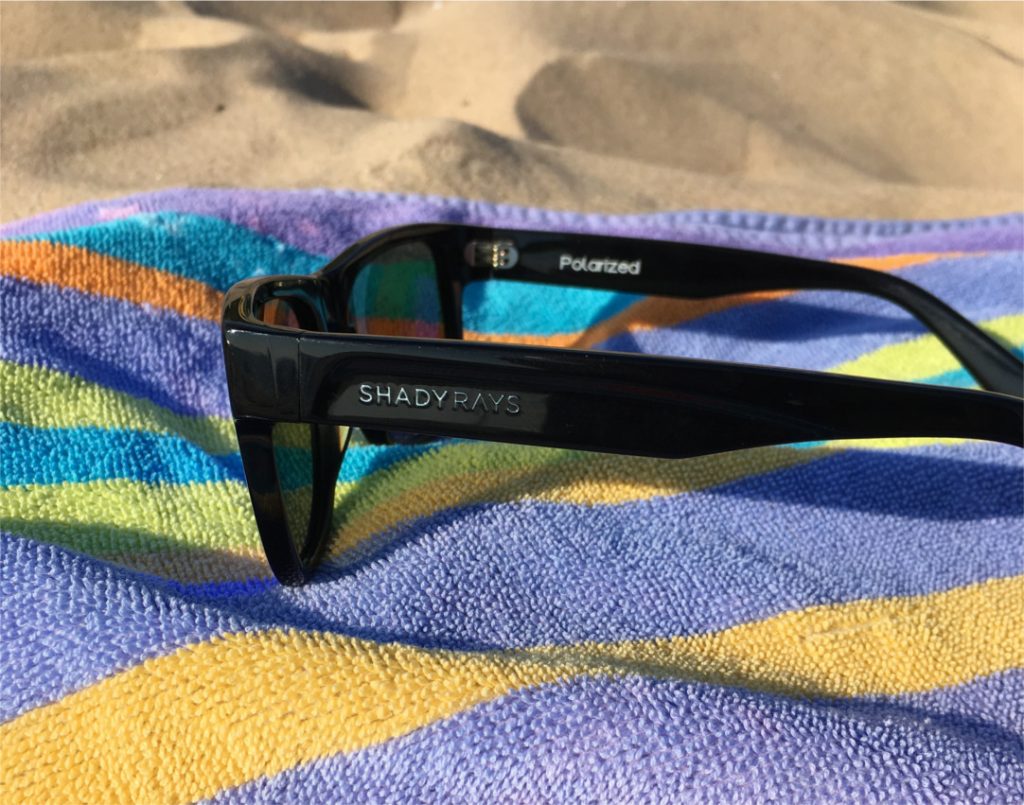 Without hesitation the good people at Shady Rays decided to let us take their all new Ventura Series shades for a test drive. Throughout testing we found out that Shady Rays are cranking out some great frames and lenses and they have the balls to back it up! Shady Rays mission says it all…
"Live hard. We got you."
Key Features:
Free Replacements for broken or lost shades
Shatter Resistant Frames
High Visibility Polarized Lenses
Affordable
Every Pair Helps Feed the Hungry
Includes microfiber cleaning pouch and semi-rigid storage case
Shady Rays Ventura Series Review Breakdown
Replacement Guarantee:
Let's just start right off with Shady Rays greatest selling point – their "Official Live Hard Warranty." This guarantees  if you break or lose your sunglasses they will replace them no questions asked. This is amazing because I lose everything. All you pay is $8.89 for shipping. There is a warranty card in the box with an email address for any replacement needs. Per pair purchased you get two replacements but they must be the exact same pair you bought, no problem.
Design:
The Ventura Series is an all new design for Shady Rays. We've been wearing these shades for a couple weeks now and have already put them to good use while hiking, playing beach volleyball, boating, and walking around town.  The Acetate frames are made of a shatter resistant material that help ensure you may never need to use that replacement guarantee. The frames and lenses feel as well made as any high end sunglass frames I've worn in this style. The Ventura Series is also offered in an array of colored lens mirrors. We tested the black frame with royal mirror lenses and love it. We are the FIRST to get our hands on this color as Shady Rays will not be releasing this color right away!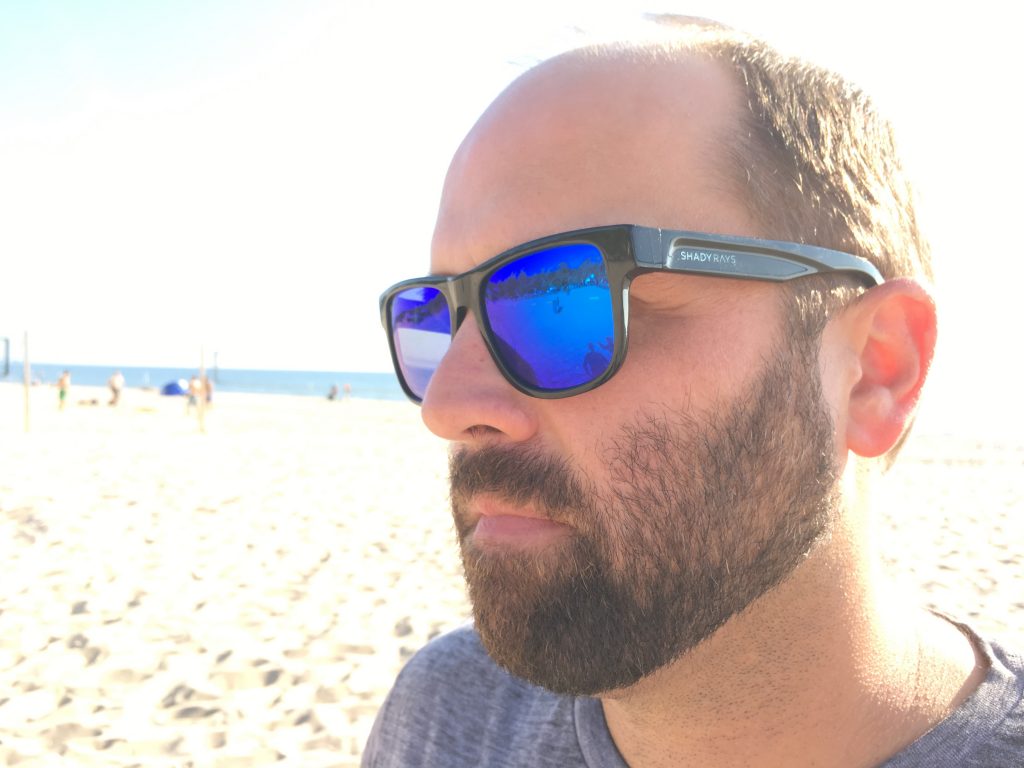 Optics:
The high visibility polarized lenses are great. Looking through they have a slight carmel / yellow tint to them which I didn't mind. One thing about the Ventura Series I didn't care for was that the inside of the lenses have the same mirror coloring finish as the outside. So if the sun is shining behind you it reflects off your face and thus you get a colored reflection in your lenses. Overall the lenses make the environment look vivid and my eyes felt relaxed.
Comfort:
The frames fit well on my face and didn't slip off to easily like some sunglasses can. I have a wider nose and I am a regular glasses wearer with a chronic problem of glasses being painful on my nose. The bridge of these sunglasses fit me just fine. Over a long four hour road trip the Ventura Series did feel somewhat heavy on my nose but nothing terrible. I personally wouldn't recommend doing highly active things where you are moving your head quickly as they will slip off, but they aren't marketed for that type of active use. I guess I do a lot of quick head movements and they flipped over my head backwards a few times but still stayed on my head. Overall they are pretty comfortable.
Style:
The style of the Ventura Series is classic Wayfarer which I enjoy. The high gloss black acetate frame looks great. The Shady Rays branding is not just screen printed on the side it is metallic and embedded in the limbs as well as Shady Rays branding etched in the corner of the lens. This gives the shades a high end feel, but only you know they are offered at a bargain price. These sunglasses are perfect for anything from a day on the boat to a summer sunset party.
Like the Shady Rays style but need prescription lenses? No problem! You can also order a frame only option for just $38.00.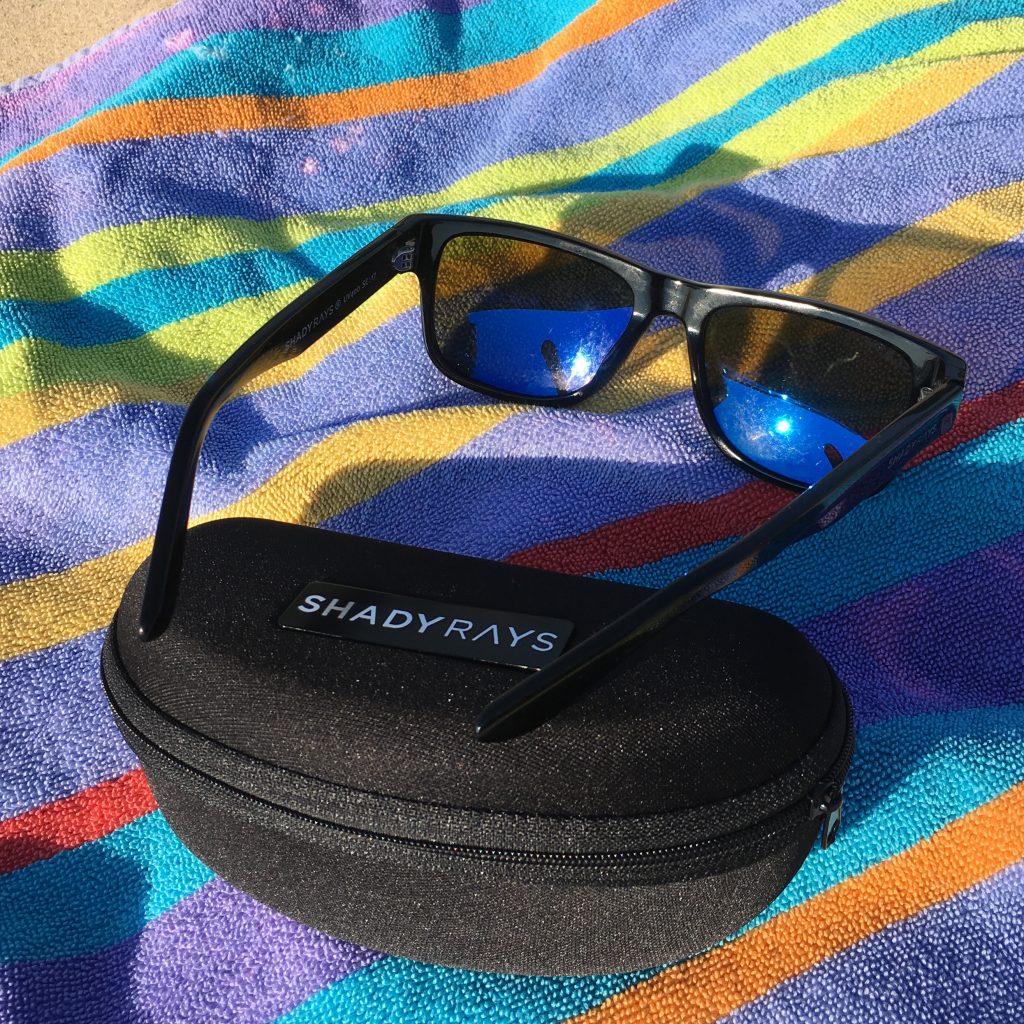 Value:
With a free replacement guarantee you would think these would be pricey but no. Very affordable. The Ventura Series retails for $72.00. Still too pricey for you? Shady Rays offers a wide variety of quality shades in the $45.00 range also. On top of that every pair sold provides 11 meals to fight hunger through Feeding America. Even better, you get great shades and people in need get some chow.
Buy Now: $72 or to learn more, go to: ShadyRays.com
Shady Rays Ventura Series - Style Review
Shady Rays brings you a quality pair of shades at a great value with an amazing free replacement guarantee.
Pros
Lost or broken replacement! What more do you want!
High end feel
Polarized Lenses
Cons
Don't like the colored mirroring on the inside of lens
No Rx lenses