Russell's Reserve Rye - Drink of the Week
For this week's installment of Drink of the Week we have a very special rye whiskey on hand; Russell's Reserve Rye 6 year from the Austin Nichols Distillery.  You probably recognize the distiller name as they are the makers of the Wild Turkey brand.  When you think of Wild Turkey there is one name that any bourbon enthusiast will have instantly pop in their head; Jimmy Russell.  Labeled as the "master distillers' master distiller".  It is impossible to discuss any Wild Turkey product without Jimmy Russell, a true living legend.  As the story is told, Jimmy grew just five miles from the distillery, and he chose to follow in the footsteps of his father and grandfather, learning the trade craft of the bourbon industry in Kentucky. He trained under Bill Hughes, Wild Turkey Bourbon's second master distiller, and Ernest W. Ripy, Jr., the son of the original owners. Jimmy has a reputation of selecting the best grains and his attention to detail during the distilling process is impeccable.
You have probably seen an abundance of rye whiskey over the last 5 years as sales have skyrocketed.  Previous to prohibition, whiskey from rye grain was more common. After prohibition was repealed, bourbon, made from corn, became more popular. Corn is easier to grow and allows for a sweeter taste. While bourbon must be at least 51% corn, distillers often add rye to the mix to add flavor, spice to create a more complex mix.  To be labeled an American rye whiskey, there must be at least 51% of rye in the mix. Rye is an expensive and difficult to use grain so the amount in a rye whiskey will vary after they hit the 51% threshold.  After the grains are mashed and fermented for Russell's Reserve Rye 6 Year, they are distilled to a lower proof by using less water that is used to dilute the whiskey before it is matured and bottled. The rye is then aged for a minimum of six years in American oak casks that have been charred with a #4 char. There are various levels of charring which will have different effects on the spectrum of compounds and flavors the oak will pass on to the maturing spirit: more vanilla, lactones, spice characters, and tannins, etc. A #4 cask means that the Russell's Reserve rye is aged in the heaviest char and in turn that should release the most complex of flavors in to the maturing spirit.  Once the rye has aged for a minimum of six years, Jimmy and Eddie Russell will hand-select individual casks of rye whiskey to combine and the whiskey is then brought to proof and bottled.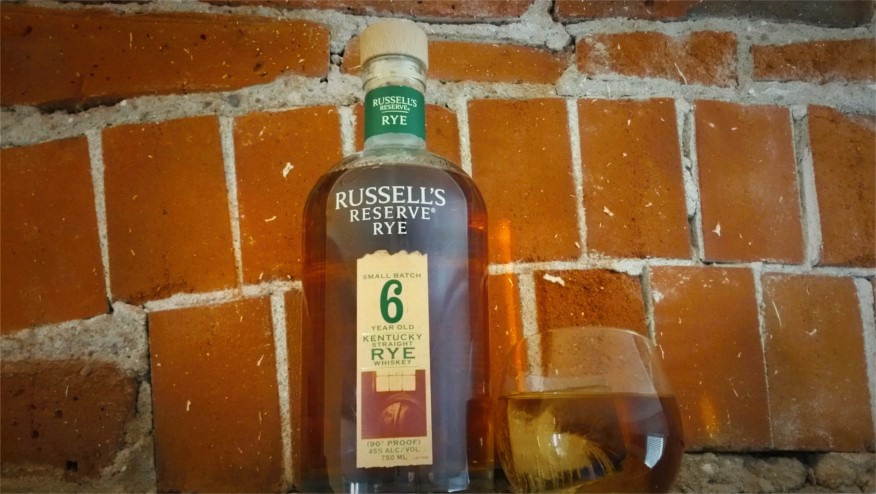 We were luckily enough to receive some samples recently and we took them to our thirsty tasting panel for their notes.  Read on for the full review!
Russell's Reserve Rye Review Breakdown
Proof: 90 (45% ABV)
Age: minimum 6 years
Nose: spice, oak, vanilla
Flavor: vanilla, spicy oak, roasted nuts
Price: $39.99
Scoring an impressive 8.9 out of 10 Russell's Reserve Rye 6 year was a big hit among our tasting panel member.  This rye features a very spicy nose and an initial sharpness on the first taste.  Slowly the flavor will transition into some sweetness as it lingers on the palette. Along the way you'll taste some notes of spicy oak, some gentle vanilla notes and some roasted nut flavor that is a bi-product of the heavy char barrel that the rye whiskey was aged in.  Overall, this is an extremely pleasant rye whiskey that mixed well in a perfect Manhattan.  The flavors will be able to shine through in the cocktail with the spice really being complimented.  If you are looking for a crowd pleasing rye for the home bar, then look no further, you and your guests will certainly be pleased.
MIX IT UP WITH… "Greenpoint

"
Ingredients: 2 oz Russell's Rye, 1/2 oz yellow chartreuse, 1/2 oz sweet vermouth, 1 dash angostura bitters, 1 dash orange bitters.
Directions: Add all the ingredients to a mixing glass and fill with ice. Stir, and strain into a cocktail glass. Garnish with a lemon twist.
Buy Now: 39.99 to learn more, go to: WildTurkeyBourbon.com