Russell's Reserve 10 Year: Drink of the Week
Afew weeks ago we published a drink of the week article featuring Russell's Reserve 6 year rye whiskey and we couldn't wait for another Jimmy Russell creation, Russell's Reserve 10 year bourbon.  As you will recall, Jimmy is the master distiller for Wild Turkey of Austin Nichols Distillery, and is a legend in the distilling world.  We were extremely impressed by the 6 year rye and we were anxious to get our hands on the 10 year bourbon.
The process for distilling the 10 year is highly selective as each batch of Russell's Reserve 10 year old bourbon is crafted from only a handful of casks, each of which is personally selected by Russell and his son, Eddie. The casks that are selected are from the center of Wild Turkey's rickhouse, which Russell believes is the best area for maturing bourbon. Similar to the 6 year, the bourbon ages in the deepest no. 4 char, or alligator charred barrels for richer color and deeper flavor, but stays in there for at least 10 years.  Traditionally, in Kentucky the consensus is that aging for four years is the minimum, five to six is better, eight to ten is optimum.  After 10 years you can still get a superb bourbon but it gets more temperamental.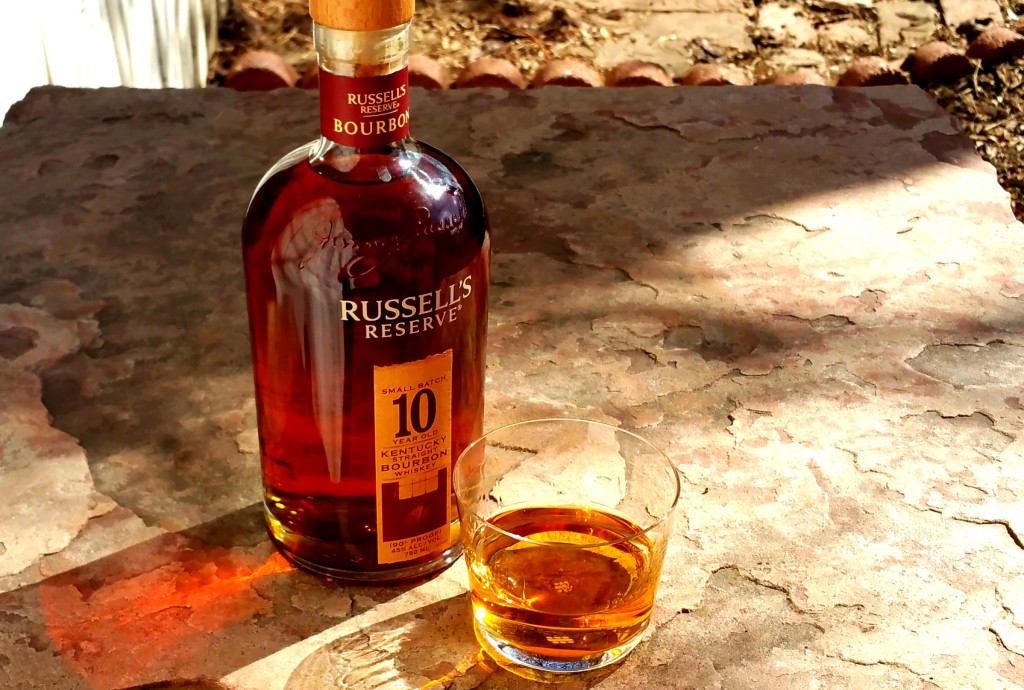 In Summary, Russell's 10 year uses the best grains, the bests casks, ages for the perfect time and has the one of the best distillers of all time running the show.  Did we forget to mention that we love our job? Read on for the full review!
Russell Reserve's 10 Year Bourbon Review Breakdown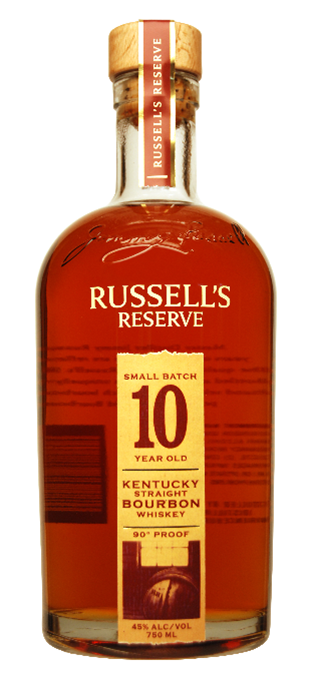 Proof: 90 (45% ABV)
Nose: cinnamon, vanilla, honey
Flavor: spice, vanilla, caramel, oak
Price: $29.99 (750 ml)
Scoring a 9.2 out of 10, Russell's Reserve 10 Year Bourbon is quite simply a fantastic creation.  On the nose you'll experience hints of vanilla and a heavy dose of delightful cinnamon.  We also picked up on a touch of honey. The overall the scent was fantastic. We kept going back for extra whiffs as we were having trouble capturing all of the aromas.  Upon first sip you will enjoy a flavor profile of spice, vanilla, caramel, and some toffee notes. This is what good bourbon is supposed to taste like. It has a very classic flavor profile and the 10 year aging process makes for a mature taste.  The bourbon finishes very smooth and has little burn on it's way down.  The 10 year flavors are delightful.  While tasting, our panel jotted down about 15 different flavors we each experienced. This bourbon is truly complex.  Priced at $29.99, Russell's Reserve 10yr would be great addition to your home bar or as a gift for a bourbon connoisseur. This bourbon is great neat or with an ice cube but can also be an integral part of your next cocktail.  No matter how you choose to drink it, be prepared for a high-quality and great tasting bourbon.  Cheers!
MIX IT UP WITH… "Kentucky Mule"
Ingredients: 2 oz Russell's 10 year, ginger beer, lime juice.
Directions: The Kentucky version of the Moscow mule.  In a copper   mug add ice and pour in the Russell's 10 year. Fill up the rest of the mug with ginger beer and add some fresh lime juice.  Stir and enjoy!
Buy Now: $29.99 for more info: WildTurkeyBourbon.com