If you've seen the latest review on Monster Firecracker, then get ready for Firecracker's bigger, badder, brother, on rainbow colored STEROIDS!  The Monster Superstar Ravebox is a magnificent beast built to P-A-R-T-Y.  We at Busted Wallet love to party like "Superstars".  Lucky for us, we got to experience everything the Ravebox has to offer!  From the deep bass to rich highs and psychedelic light show, we agree… for a good time, call on the Monster Superstar Ravebox!
Key Features:
Indoor and Outdoor EQ Modes

Powerful Sound for Large, Open Spaces

Waterproof and splash-proof

Bi-Directional Driver Design

F

ull range drivers in angled 360

⁰

orientation

Down-Firing Integrated Powered Subwoofer

Synchronized Light Show

Pure Monster Sound®

Built-in Phone Charger

NFC For Quick Pairing

USB Charge Out

3.5mm Aux-In, to connect any Audio Source

3.5mm Microphone Level Input makes the Blaster a portable PA system

Integrated Handle

Rechargeable battery for up to 12 hours of continuous listening
Monster Superstar Ravebox – Review Breakdown
Design: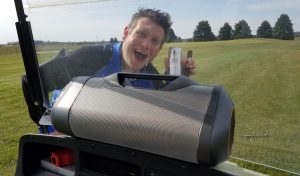 Boding a massive list of key features, the design is simple but powerful.  The Bi-Directional Driver Design with full range drivers allows for a full 360⁰ orientation.  That means P-A-R-T-Y all the way around!  This design also allows for some beast mode bass, most noticeable when placing it on a flat surface (thanks to the Down-Firing Integrated Powered Subwoofer).  I love the heavy and durable structure, which proved useful even when tossing this on our golf cart without straps.  The Ravebox stayed in place and kept the party going… (FIY, you might not make friends when brining this to a golf course, but like I said… we like to party).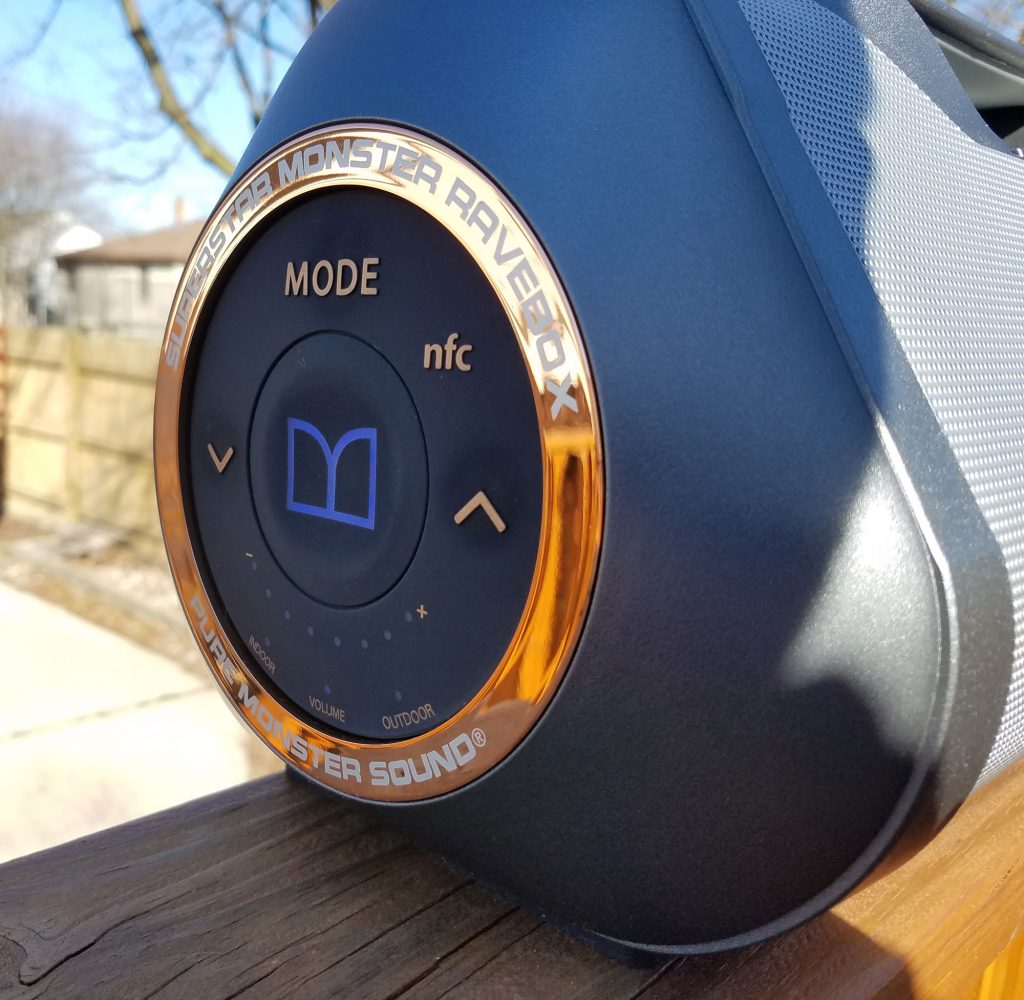 The waterproof and splash-proof design is great even in the elements.  Not even a torrential downpour will stop this party!  Plus the EQ Mode for Outdoor helps push out more sound in all directions.  The buttons are big and simple.  There isn't much to think about, just turn the music up (or down… if you're lame), and change the mode from Indoor or Outdoor.  Even setting it up was a breeze.  Simply enable NFC on your phone and Ravebox, then let the Monster connect and get the party started.  Seriously, one of the easiest setups and connections I've ever experienced.
The Synchronized-kaleidoscope light show is a very fun feature that is proven to get everyone in dance mode. The lights pulse in sync to the beat and your wicked dance moves.   
Acoustics:
Aside from the sweet light show, the acoustics are where it's at.  The bass is powerful and carries the "Monster" sound throughout your house or backyard.  The mid-tone and highs are well balanced and help carry that rich sound even further.  We were super impressed with the sound the Ravebox produced.  The Indoor and Outdoor EQ modes are noticeably different and help produce the right amount of sound for each environment.  The Ravebox is also equipped with a Aux-In, USB Charge Out, and a Mic in for a quick PA system.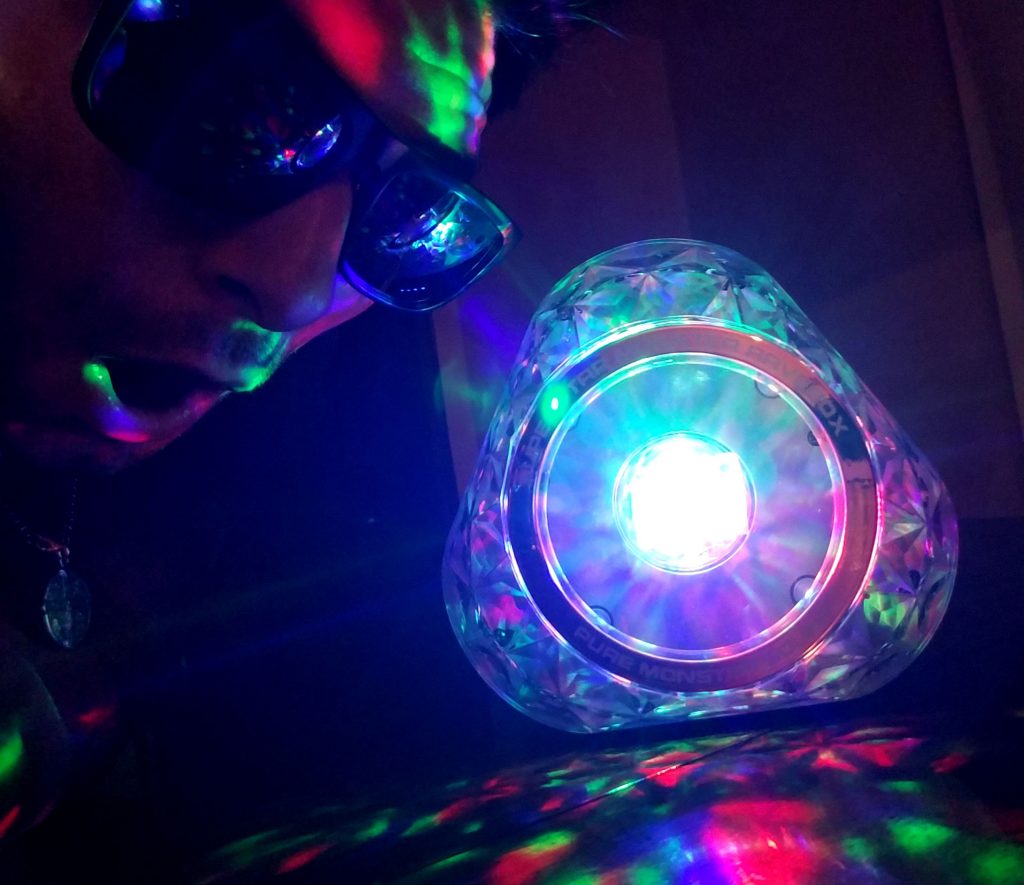 Battery Life:
Battery life is excellent.  Monster claims the Ravebox gets 12 hours of continuous listening and we would have to agree.  After charing the Ravebox once, it lasted me all week (1-2 hours per day, plus a half day of fun) before having to re-charge again.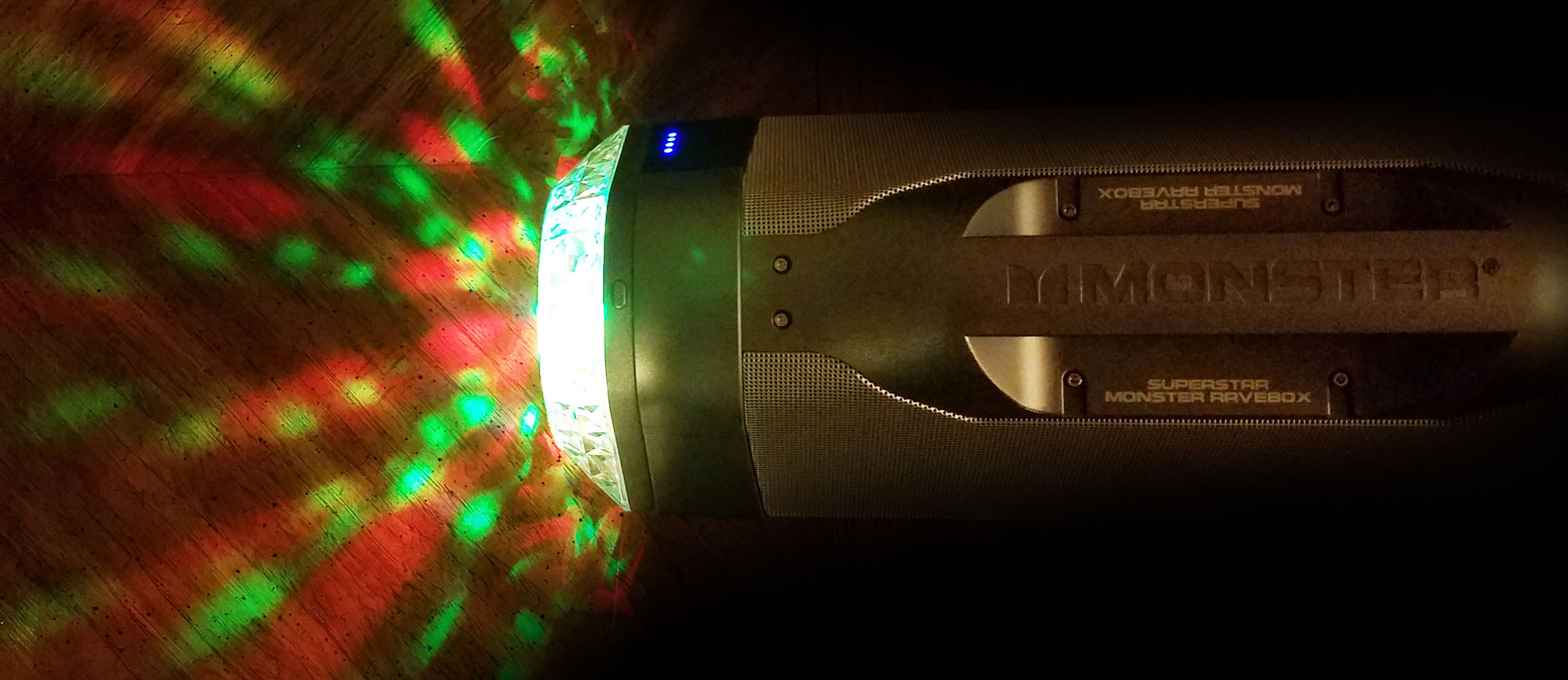 Value:
With a price tag of $449.95, it is a bit on the pricey side, however, you get a portable party that can go anywhere.  All kidding aside, we were very impressed with the Monster Superstar Ravebox.  It packs a Monster size punch acoustically and shines a vibrant fun light with its synchronized light show.  If it's a party you're after, or just appreciate some great sound with a little "light" fun, we highly recommend the Monster Superstar Ravebox.
Buy Now: $449.95 or to learn more, check out: MonsterProducts.com
Monster Superstar Ravebox
From the deep bass to rich highs and the psychedelic light show, the Monster Superstar Ravebox is a magnificent beast built to P-A-R-T-Y!
The Good
Monster sound, excellent bass and highs
Synchronized Light Show
USB Charge Out & Strong battery life