So you've taken the plunge, dug deep into your pockets and purchased a quadcopter, learned to pilot it and captured amazing footage and photos. How awesome is that? Welcome to the club! Flying a quadcopter is a seriously fun hobby but as you know it is also a really expensive one. Especially when you consider the average quadcopter setup will run you north of $1k. That doesn't even include extra batteries, memory cards, chargers, accessories or spare parts for unforeseen mishaps. If you're anything like us you take extra precautions to protect your bird for the long haul. In the air it is smart to keep your distance from trees, power lines and any other obstacles that might bring your drone crashing down. But what about on the ground? If you think your drone can't and won't be damaged during routine travel and transport you are sorely mistaken. If your drone came with a (hard) carrying case consider yourself one of the few lucky ones out there. More than likely your drone came packaged in cheap styrofoam surrounded by a chintzy cardboard box. While this setup works alright for about a month it's not a permanent solution for transporting your quadcopter.
Enter the Lowepro DroneGuard CS 400 case. Designed specifically for DJI Phantom, 3DR Solo and similar sized drones, quadcopters and flying cameras, this case is built to protect your investment for the long haul. Recently we were given an opportunity to fully test and review this rugged case ourselves. We spent the better part of two months with the DroneGuard CS 400 taking it on road trips, flights and the occasional back country hike.  Now that our testing is complete we're ready to share our thoughts. Here's what we discovered…
Key Features:
The perfect, out-of-the-box solutions for carrying, organizing, storing and protecting your drone gear and all essentials.
Designed by serious quadcopter pilots at Lowepro for serious quadcopter pilots.
FormShell™ technology with lightweight, yet sturdy composite-shell construction offers superior protection for gear without adding weight or bulk.
A lightly padded backpad includes attachable backpad straps. Use for treks out to your flying location, or detach and pack away for less bulk or for long-distance travel.
Patent-pending DroneGuard system of organization features flexible dividers and compartments for all large and small accessories.
DroneGuard system is easy to customize. Change your flight plan; change your set-up!
Includes dedicated storage for blades, props, GoPro or other action video camera, batteries, cables, chargers, mounts, manuals, etc.
Handled and removable storage panel with accessory straps helps to keep small and fragile parts secure and neatly organized. Easy to grab, go and fly.
Exclusive, tactical "fractal camo" print on top of case for a rugged and unique aesthetic.
Ideal for storing in a trunk of car for transport or in garage, closet or workshop for an organized storage option.
Lowepro DroneGuard CS 400 Review Break Down
Design:
The composite-shell construction of this case is pretty impressive. It's not a hard case and it's by no means a soft case either, it falls somewhere in between. Here's how I'd classify it… rugged enough to protect your drone from a fall off the truck bed, but you wouldn't want to sit on it. It is flexible yet seriously rugged.
The exterior is covered in molle loops and several carrying handles. This looks great and is also ideal for attaching extra gear that won't fit inside the case. The case features a military-grade look to it which is easy on the eyes and screams durability.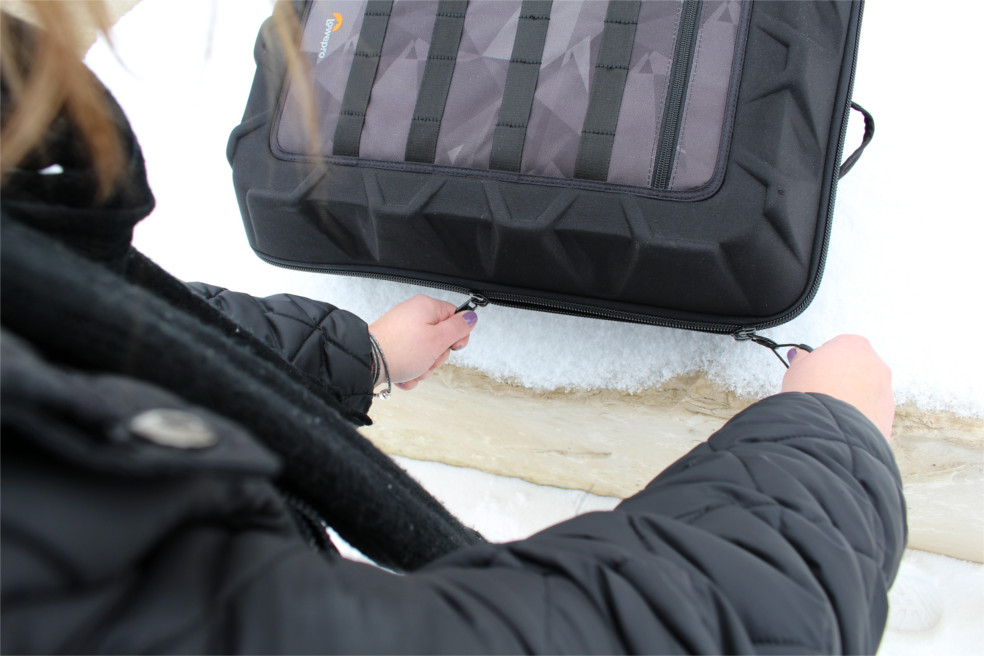 Storage:
Inside the DroneGuard CS 400 you'll find enough space for most medium sized drones, a ground station, extra batteries, charger, several props, and a slew of accessories. Basically everything you need for a day of flying. While this case is specifically built for the DJI Phantom line-up and the 3DR SOLO we were able to fit our Chroma 4K nicely. We did however have to remove the plastic legs to make it fit. It was just a fraction too tall for the case. If you plan to purchase this case online (for anything other than a Phantom or Solo) we'd suggest taking measurements to make sure your quadcopter will fit. The internal dimensions are as follows: 36 x 21.8 x 54.4 cm (14.17 x 8.58 x 21.42 in)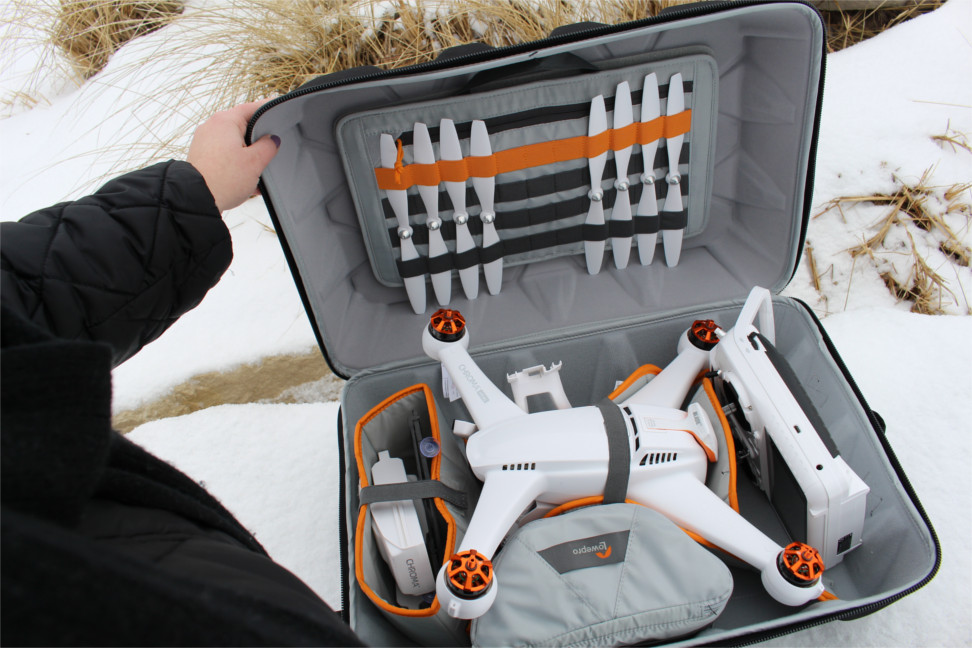 The interior of the case is well thought out. Removable (Velcro) dividers make it easy to snugly fit your drone into place and keep it secure. We also really enjoyed the prop bungees which make it easy to store and find the correct props quickly. There is also a soft case for valuables, a zippered pocket on the inside for miscellaneous items and a tiny zippered pocket on the outside of the case as well – good for SD cards or other small items. Overall, this case it very well thought out and has a good amount of storage options.

Comfort:
When warn as a backpack we found this case to be pretty comfy. It's not going to take the place of your favorite hiking pack, but for what it is, it's quite nice to get around with. The shoulder straps are adjustable, padded and fit as you would expect. The back panel even has some nice padding too. If you don't want to carry the case on your back there is an additional strap for shoulder carrying. We preferred the backpack method, but both are excellent ways to transport your quadcopter gear.
Protection:
As I mentioned earlier this isn't a soft case and isn't really a hard case either – it falls somewhere in between.  Throughout our time testing this case we've dropped it (intentionally and unintentionally) several times. Thrown it in and out of the Jeep and even neglected to strap it down in the back of the tuck on some back country roads. Throughout all of this our drone and the case remain pristine.
Using the flexible Velcro dividers keeps the drone firmly in place even on bumpy trips. The only time we could see serious damage taking place is if the case were smashed under heavy pressure or if it was dropped from a tall height. Overall we found this case to be more than adequate protection for our quadcopter gear.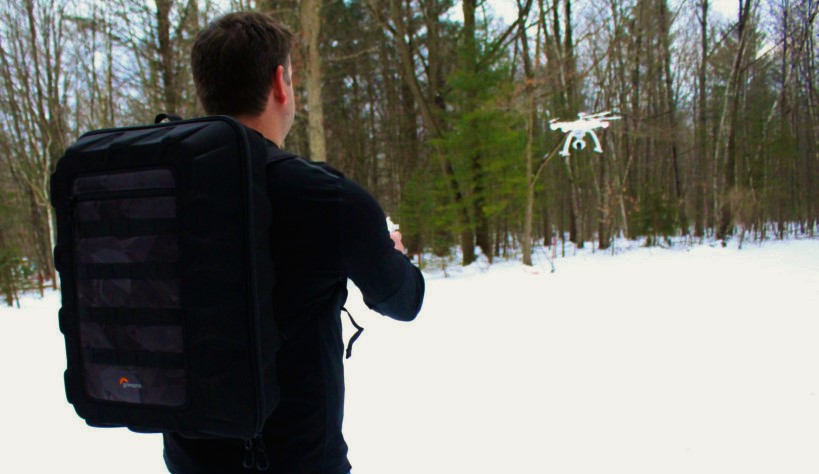 Value:
Reasonably priced at $149.95, the Lowepro DroneGuard CS 400 price tag is easily justified the first time you drop it. It's like a crib for your drone… you'll sleep tight knowing your baby is protected.
Beyond its rugged protection it also offers excellent storage options. If you're going to drop more than a thousand dollars on a quadcopter you really should invest in a case to protect it. The Drone Guard CS 400 is a very good option in our opinion.
Buy Now: $149.95 or to learn more, go to: Lowepro.com
Lowepro DroneGuard CS 400 - Gear Review
If you're interested in protecting your quadcopter for the long haul the DroneGuard CS 400 is a wise choice. It is designed for the DJI Phantom and 3DR Solo, but can also fit other medium sized drones as well. Its rugged exterior and thoughtful interior are a perfect pair for keeping your quadcopter protected during transport. You've already purchased the drone, it would be foolish not to protect it. Do yourself a favore and check out the Lowepro DroneGuard CS 400 yourself. We think you'll be impressed too.
The Good:
Variable Storage Options
Rugged Construction
Thoughtful Design Perfect For Quadcopters
The Not So Good:
Case can be 'smushed' under heavy pressure