If you're in the market for a fairly priced and user friendly indoor security system, the Logitech Alert 750n Indoor Master System might be right up your alley. You may be paranoid about possible intruders. Your kids may have reached that age where the babysitter is no longer necessary, but you still prefer to keep an eye on them just in case. Or if you're like me, you have a mischievous puppy dog that gets all over everything after you've left for the day, and you just want to know what he gets up to.

When you consider the usual labor and expense of installing traditional home security systems, the Logitech Alert 750n Indoor Master System is the whole package in one box. Setup and installation can be done within an hour, and without the help of any professional service. Once the included software is installed on your Mac or PC, you're ready to manage all of the features right from that computer.  If you're often on the go, don't fret. For remote viewing, Logitech has a free app available for most smartphones and devices. You can also log into Logitech's secure website from another internet-connected computer. The system is easily expandable to include up to six cameras with outdoor cameras also available.  
Key Features:
HD video and wide-angle lens: High quality video (960 x 720 @15fps) makes it easier to recognize people and other objects. Our 130-degree, wide-angle lens also gives you twice the viewing area compared to standard cameras. See videos captured by Alert cameras
Free web and mobile viewing: Log in to our secure site and watch live camera feeds from an Internet-connected computer, anywhere in the world. You can even monitor your system on the go—simply download the free app on your iPhone, iPad, Android, or BlackBerry device.
Built-in microphone: Your camera not only records video, but can be enabled to record audio as well.
Commander software: Easily configure your video security system, watch live video, store video on your computer and review recorded video.
Simple 3-step setup:

Just install the Logitech Alert software, connect your HomePlug network adapter with your router, and plug in your cameras.
Motion Zones: For more precise motion detection, and to reduce false alarms, you can specify up to 16 motion-detection zones within the frame—such as doors and windows.Motion Zones. For more precise motion detection, and to reduce false alarms, you can specify up to 16 motion-detection zones within the frame—such as doors and windows.
– Logitech Alert 750n Review –
Design: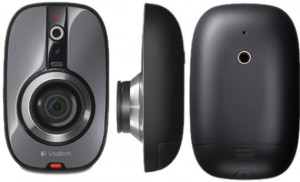 (8 out of 10) The hardware isn't at all visually unappealing, but you may find it difficult to install it in a way that it is concealed. The camera itself is quite obviously a camera to anyone who notices it, and while the signal from the camera to your computer is wireless, the camera still needs to be plugged into an electrical outlet. Both the power adapter and the network adaptor that makes the wireless connection are somewhat bulky, so you may find some difficulty plugging them into a power strip if you don't have room on a wall outlet.   The camera comes with a variety of mounting options. You can go the traditional route and mount the camera to a wall or ceiling. If you're not interested in making permanent alterations in your home, a desktop stand and suction cup are also included.  The desktop stand works, but it only allows one viewing angle which can really limit placement options.  The suction cup works as long as you clean and wet the glass surface before application. The camera is really light weight, and I've had no problems with it loosing suction over time.  
Installation: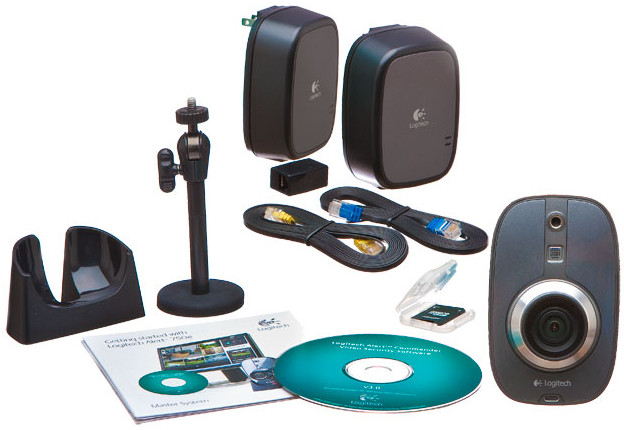 (9 out of 10) Installation is a breeze with this system, so you won't need to hire any service to do it. Basic instructions are included to plug in the network adaptor and camera. Mounting the camera to a wall or ceiling will take a few basic tools, but all of the mounting options are fairly simple. Once all of the hardware is set up in your home, just plug the installation software into your home computer, click "next" a few times, accept the terms of service and you're in! The software will automatically scan for your camera and connect to it. Even if the camera becomes unplugged or the signal becomes lost, the software will automatically re-detect it when it comes back online.  
Functionality: 
(7.5 out of 10) So you have the software installed on your computer and now it's time to play around with the features. All of the features are accessible from the computer software, so you don't have to spend time fiddling around with the camera after it's been mounted.   The camera is equipped with a wide-angle lens capable of a 60-130 degree viewing angle, so you can cover an entire room from the right angle. Adjustable volume controls are available with a built in microphone, but the sound quality is sub-par accept in the close range of about 5 feet from the camera. Automatic night vision is built in, and is probably one of the most impressive features with a 50 ft range in pitch black conditions. The video being recorded is motion sensitive and completely customizable based on sensitivity and where the motion takes place. This is great if you're like us and your dog is constantly moving around. In that case, you can set the motion sensor to only react when movement takes place on the top half of the viewing area.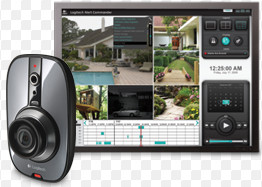 When it comes to storing the recorded video content, the camera has a 2GB microSD card installed. However, you're better off saving the files directly to your computer. You can set the amount of space the video is allowed to use on your hard drive, and when it exceeds that limit it will record over older content. You can also set the system to alert you by e-mail or mobile phone when motion is captured. A free app is available for iphone, ipad, Android, and Blackberry devices. The app is extremely limited though. I've noticed that even with my 4G network, the video streaming can be delayed or lock up completely. If you have a wireless plan with limited usage, watch out! The streaming can be a killer. Other than streaming, the only other function the app provides is the ability to take snapshots that are saved to your device. If you don't have the app available, you can stream from the secure site, but that requires Flash software, which means it won't work on most tablets or phones through the website. All remote access does require a username and password, but if you're really worried about security you can also create a key code of your choice.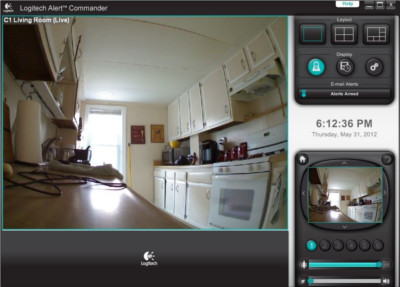 After you've come home and you want to check on things that happened while you were gone, playback mode is a single mouse click away. This includes a timeline of when motion was captured with fast-forward and slow-motion options. There is a catch here that may be one of the system's biggest flaws. If you don't have your computer and software running constantly at all times, the software will need to re-establish connection with the camera and download the content that was taken. Since we're using this system to spy on the dog who is constantly triggering the motion sensor, it can take an entire hour to download the recording that was taken in a span of 4 hours. This is really tedious when we're trying to find out when something got knocked over or chewed on. There are also random occasions when the content is just not recorded even when you know motion was taking place. This means you have to decide whether to constantly run your computer which is not good for its lifespan, or be faced with the possibility of not being able to recover any recorded content which kind of defeats the purpose of a home security system.  
Value: 
(9 out of 10) With a price tag of $299.99, this system is well worth it. With the exception of energy and internet costs to operate the system, you don't have to deal with hiring installers and there is no monthly service fee. Once you have everything properly installed, you're up and running. With free remote access via the app or internet… well that's just a really nice bonus to tack on.  
Bottom Line

:
If you have the practical purpose of home security in mind, or you're just plain amused by watching your dog's daily routine, this is a great system on a budget.  Installation and content management from the home computer is about as user friendly as it gets. We haven't had any home intruders to catch in the act, which is fortunate. On the other hand, we did discover that the dog likes to climb up on the kitchen table and have a seat if the chairs don't get tucked in. Without the Logitech Alert System, who knows how often we would be eating on a soiled table.   Buy Now: $299 or go to: Logitech.com