K2 has been around since the '60s, getting its start in Washington state making some bad ass skis – the company added snowboarding gear to it's pallet, and did a damn good job to say the least!  The 50+ years of experience have given K2 the know-how to make a high-end product, and the Hurrithane bindings are just that. For this review I went from bindings that were old back in 2003, to the state-of-the-art K2 Hurrithane bindings and was blown away by the versatility and lightweight durability.  These bindings are so high tech that I had to solicit the help of a pro boarder to point out all the unique features.  They are as versatile as you can get, and made with light-weight and super durable materials – what more could you ask for in bindings?!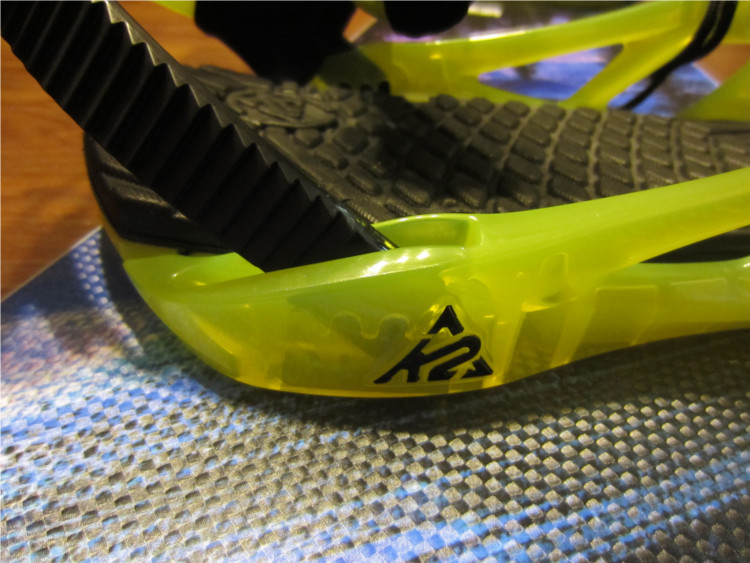 Key Features:
PRO-Fusion PC Chassis
Tweekback FS Airlock Highbacks
Custom Caddi Ankle Strap
Hinge Mount and Cam-Lock Centering Straps
Tool-Less Universal Toe Strap
MARSHMELLOW Vibration Force Field
K2 Hurrithane Bindings Review Breakdown
Design:
The Hurrithane bindings were designed with versatility in mind!  You can adjust these to maximize the responsiveness from these top of the line binding. For a close-up look at the Hurrithane check out the embedded video below which is narrated by a hilarious Christopher Walken sound-alike who gives you the complete rundown on this impressive binding…
If you look at the pictures on the K2 webpage and really zoom in, you will see that you can adjust every area that you would want to adjust.  This includes not just the ability to make the ratchet system straps shorter or longer, but the placement of the toe strap (2 notches available to move them forward or back), gas pedal slide out (so bigger feet won't have toe drag), and the forward lean on the highback.  The toe strap is also able to be used over the top of the foot, or to cup the toe, which many people prefer to give you a better response in all types of conditions.
The Hurrithanes also boast the K2 HARSHMELLOW vibration dampening system.  I had these bindings mounted on a pretty felxy board and that I pointed down a pretty steep slope with serious choppiness, and I have to say that it was noticeable how much control I felt I had in my feet.
After the adjustability, my other favorite design feature is the urethane highbacks.  They are super light and ultra durable. My old bindings had a very stiff highback that would hurt your calf if you were really carving hard, but Hurrithane Tweekback FS provides that little bit of flexibility adding to the comfort without sacrificing control or response time.
Comfort:

I had read other reviews where people thought that the ankle strap started to dig in a bit, and I found that there was a little pressure there, but nothing to really cause me to be in pain.  Honestly, I like to feel the pressure (not pinching, big difference) of the straps – for me it's like a seat belt, if I can feel it I know it is working for me; same with the straps on my bindings, I like to know where they are hitting my feet and ankles so that I know that I will have the response I need at the smallest movement of my foot.
Durability:
I was pulling and pushing and tugging on these things like crazy to get them set just right and they just flexed and moved with me.  The day that I was really putting these puppies to the test was a pretty nippy day here in the Midwest, with wind-chills dipping down near zero degrees ferinheight.  Anyone that has been in those temps knows that stuff starts to get pretty brittle as the temp dips; I did not notice any give or weakness at all in any part of the binding in the 4 hours that the board was outside (after being on a roof rack over night and for a 1.5 hour drive). The K2 webpage states that this is the binding that "started the urethane highback movement 5 years ago."  Obviously it's working or they wouldn't keep using it and improving it!
Value:
The phrase "you get what you pay for" is never more true that when you are buying gear!  The K2 webpage lists the Hurrithane bindings for $179.95, which I believe is very reasonable for use on an all mountain board.  If you want good gear, you have to pay for it – and these are great bindings that will serve the majority of the people that use them.
Hands-on Images:
My Only Beef:
So I've never done this before in a review, but this just has to be said . . .  As I stated above, these things are adjustable to the max and pretty freaking awesome! However, the instructions on how you can adjust them down-right suck! Sorry for my bluntness, but I felt like I had slipped into the movie Idiocracy when I looked at the instructions . . . it is a series of rough pictures consisting of such helpful gems as "A=A" or simply smiley faces or frowning faces. If these were just your run-of-the-mill bindings with the only adjustable options being the highbacks and straps, a smiley face would be sufficient, but when you can adjust in as many ways as these can be adjusted, you need a bit more to get the full benefit. I know, I know, who reads the instructions anyhow, right? ME! And probably a few others! Ok, end rant: Bindings = 🙂 Instructions = 🙁
K2 Hurrithane Snowboard Bindings - Gear Review
These are cutting edge, high tech, super versatile, and generally bad-ass bindings! They will serve you well for many different terrains and conditions, and likely outlast your board!
The Good:
Adjustable to the Max!
Surprisingly Comfy
Highly Durable
The Not so Good:
Terrible Instructions on Adjustability