Recently, our good friends at JBL recently launched their new JBL Boombox. JBL touts it as one the most powerful portable speakers they have ever produced. The JBL Boombox is built to deliver monstrous sound and 24 hours of playtime. That's right, the speaker has been produced to deliver epic sound from sunrise to sunrise. We all have that friend that stays up into the early hours of the party and refuses to go to bed. Well he now has a companion in the JBL Boombox!
"We're excited to give consumers yet another way to have a powerful audio experience, now in a massively portable package. As leaders in the space, we're thrilled to offer a speaker that provides epic, long-playing sound, setting the standard for power in all future portables in the industry." -Andy Tsui, VP & GM, Smart Audio Business Unit.
Key Features:
Wireless Bluetooth Streaming: Wirelessly connect up to two smartphones or tablets to the speaker.
High-capacity 20,000mAH rechargeable Battery: Built-in rechargeable Li-ion battery supports up to 24 hours of playtime and charges devices via dual USB ports.
IPX7 Waterproof: Take Boombox to the beach or pool without worrying about rain, spills or submersion in water.
JBL Connect+: Amplify your listening experience and rock the party by wirelessly connecting more than 100 JBL Connect+ enabled speakers.
Sound modes: Enjoy deeper bass and richer sound in indoor mode; switch to outdoor mode for expansive sound with strong bass and longer playtime
Monstrous Sound and Bass: Incorporated with four active transducers and two JBL bass radiators
Designed to produce high-quality sound and last forever, we took the Boombox out for a few adventures to see how it held up. Here's what we discovered…
JBL Boombox Review Breakdown
Design:
Simply put, the JBL Boombox is designed to party! This portable Bluetooth speaker is also built to deliver exceptional sound and hard-hitting bass. In addition to great sound, our favorite feature of the JBL Boombox is that it can keep your tunes rocking for up to 24 hours, thanks to a powerful, long-lasting battery. The JBL Boombox comes equipped with a host of technology to bring some serious music to the party. It is also one of the biggest portable speakers on the market, weighing in at over 11 pounds and nearly 20 inches long.  It reminds us of those 80's Lasonic boomboxes everyone would throw their shoulders, except with much better sound and technology. The speaker comes equipped with four active transducers and two bass radiators.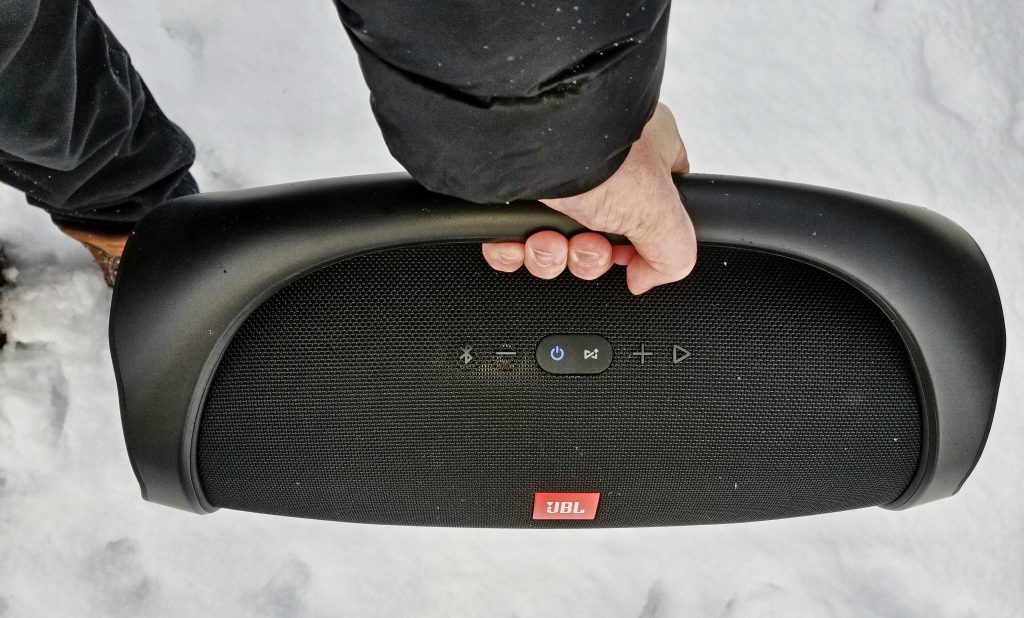 Since the speaker is portable, long-lasting, and has great sound you will find yourself taking it everywhere. Got a pool party coming up? No problem, the speaker is IPX7 rated for an excellent waterproof design. The Boombox is built to withstand any weather conditions. If you own multiple JBL products you will be delighted to know that the Boombox can connect to more than 100 JBL Connect+ enabled speakers within Bluetooth range. This means your party can get even bigger and louder.
Finally, the JBL Boombox is designed to provide a party round the clock experience. This is because JBL threw in a ridiculously huge 20000mAh battery that provides 24 hours of continued playtime. The Boombox also features a dual charge out so you don't have to worry about your phone dying before the speaker- because it will! You can simultaneously charge your smart phone while playing music so that you never miss a beat.
Sound Quality:
My one word review: WOW. The JBL Boombox produces insane sound quality. The bass is deep and provides a rich acoustic feel, but is not overpowering. The sound is clear, crisp and is some of the best we have heard from a portable speaker. Also, don't be afraid to take your party to the water.  The JBL boombox is waterproof and can float on water. If you position the speaker to sit front side up in the water you will be able to continue your listening experience on the water.
To give you an example of how impressive this Boombox is, let me share a quick story. On New Year's Eve, we hosted a gathering of friends. I have a wireless Bluetooth system throughout the house but for some reason it wasn't connecting via Bluetooth. Not wanting to ruin the party, I grabbed the Boombox and set it on top of the stairs and started playing. I got compliment after compliment about how great the sound quality was. People then kept going upstairs to check it out and couldn't believe a portable speaker could produce that great of sound. Wherever you take the speaker, it is sure to impress people with its exceptional sound.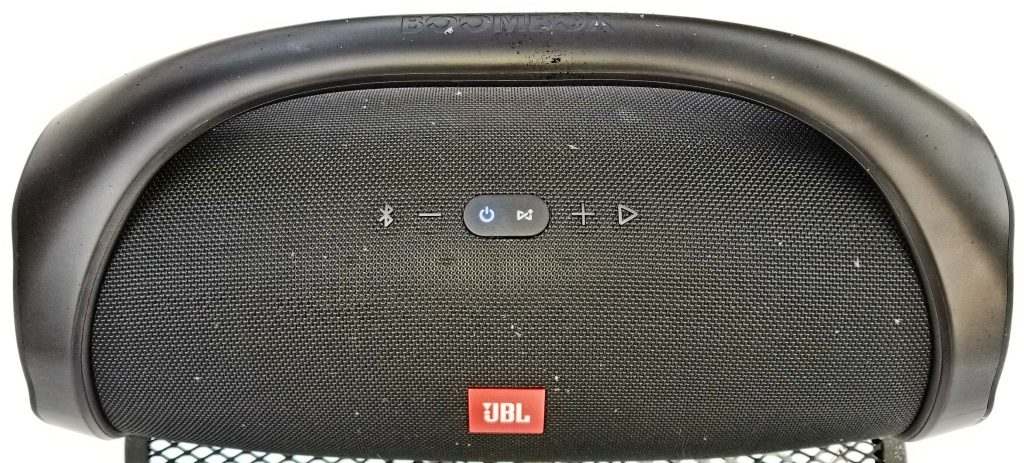 You can download the JBL Connect app for extra features, but it isn't necessary for operating the Boombox. In the app, it gives you different modes such as Party mode or Stereo mode. You are also able to switch between indoor and outdoor modes. One thing missing is there is no equalizer feature in the app. This will disappoint some of the music purists out there. Overall, we didn't really use the app that much as the standard settings were quite good.
Battery Life/Bluetooth:
As advertised the speaker produces some of the best battery life we have ever seen. We are exhausted trying to keep up with the Boombox. It is quite impressive.
After the first un-boxing, we used the speaker for 5 consecutive days for multiple hours in each day and it still didn't die. We ended up throwing it on the charger because the speaker proved its point, it's got endurance. I am sure you can get 24 hours out of it but it will vary on volume as other portable speakers do.
Bluetooth connectivity was as simple as it gets to set up. After you are connected the first time, everything is easier after that. When you use the speaker again it recognizes your phone and you are powered up and ready to go in seconds. The Bluetooth range was about 30-40 feet with no barriers in the way. Down to about 20-25 feet if walls or other structures were in the way, which is plenty. Your phone will most likely be near the stereo as you will be charging it as you listen to your tunes. The speaker will outlast your phone, that we can guarantee.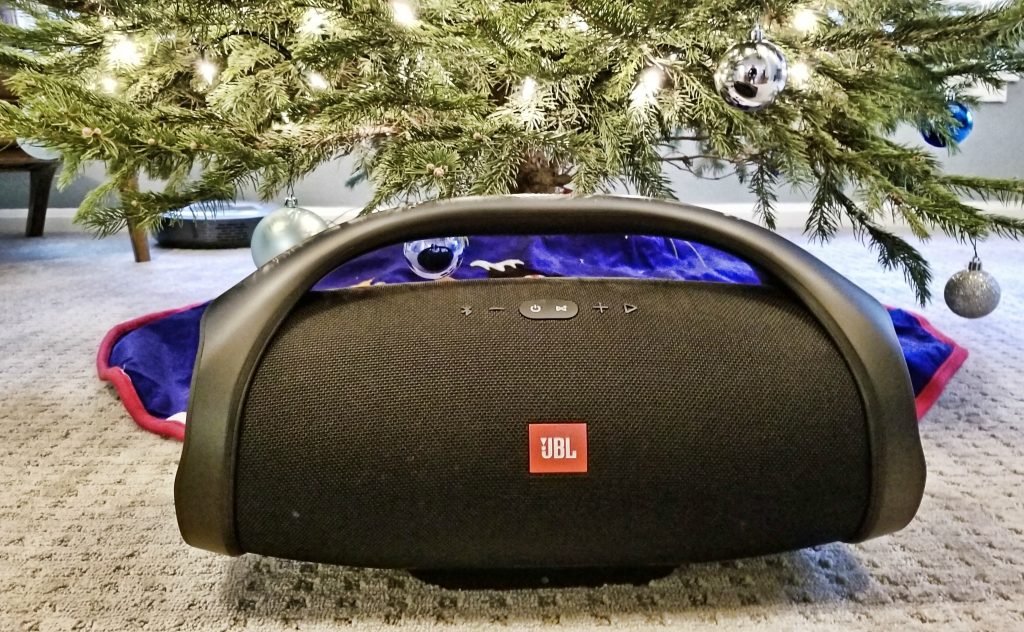 Value:
In addition to packing a punch on the sound quality, the JBL Boombox packs a punch to the pocket book. Priced at $449.95, the Boombox is expensive but in our opinion, very worth it if you have the money burning a hole in your pocket. If you want one of the best portable speakers on the market then you need to look at the JBL Boombox. The sound quality is tremendous. While it is bigger and a little heavier than most portable speakers, it's because it has a great system inside to produce world class sounds. If you are looking for a simple portable Bluetooth speaker, then this is not for you. If you are looking for something that is the best, and will last all night while you party into the early morning, then the JBL deserves your consideration.
Buy Now: $449.95 or visit JBL.com for more information
JBL Boombox - Tech Review
If you want the best portable Bluetooth speaker on the market, then you should consider this JBL Boombox. A throwback speaker to the 80's and 90's that delivers the boom with it's superior audio quality and long lasting battery life. If you are looking for all day tunes that sound amazing, then look here.
The Good
Battery life is ridiculous
Dual charge ports so you can keep your smart devices charged up
Exceptional sound quality
The Not-So-Good
Price point will scare some off
No equalizer setting in the app