Whether we're at work or play, every experience we have can be made a bit better with our favorite music playing in the background. Fortunately, we live in an era where technology makes life's niceties more accessible than ever, and we have an almost unlimited supply of ways that we can make our experiences a bit more fulfilling through music. For those of us that live life a little harder than most, we need something tough that will survive the adventure, and for the past month we brought the EcoXGear EcoCarbon Bluetooth Speaker along for the ride.
Key Features:
Rugged, Waterproof and Floating Bluetooth Speaker
Integrated Full Range Stereo Speakers
Stainless Steel Speaker Grill Cover (Black)
Bluetooth: Universal A2DP Core 5 by CSR, connects to any Bluetooth device like your smartphone or Lap Top.
Top Panel Control Buttons: Power, Bluetooth Pairing, Volume +/-, and Speakerphone Answer
Built in Battery: Lithium Rechargeable, 12 hour play or talk time (actual time varies)
Power Adapter (AC): USB to AC 100-240V, 5V 1.0A
Stereo 16W (2 x 8W) Speaker Drivers
Aux-In
What's in the Box:
ECOCARBON
USB cord
USB to AC USB Power Adapter
Carabiner Clip
Integrated LED Flashlight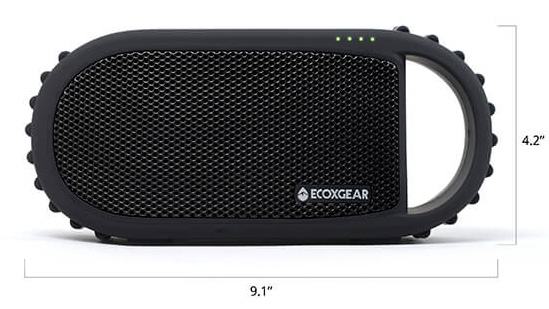 Size & Weight:
Height: 4.2″
Width: 9.1″
Depth: 3.1″
Weight: 1.9 lbs
Input & Output:
Micro USB speaker charge jack
USB Type A device charge jack
3.5mm AUX IN jack
Power:
Powered by Rechargeable Built-in Lithium Battery
Charging time approx. 3 hrs.
Includes USB to AC Adapter Wall Charger
12+ hours of Playtime at average volume setting
EcoCarbon Review Breakdown
Design: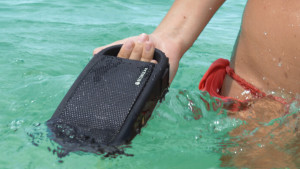 At first glance, everything from size to functionality is pretty much standard issue with the EcoCarbon Bluetooth Speaker. What makes this particular speaker stand out though, is the fact that it is built waterproof, shockproof, and dustproof, and ready withstand earth's elements no matter where it goes. Submersible up to 6.6 feet, and capable of flotation, the very slim possibility that this speaker might be permanently damaged put us at ease very quickly.
Not only does the EcoCarbon Bluetooth Speaker stand up to the stresses of nature, as an extra added bonus EccoXGear has built in a clip and a 1/4″ universal screw mount, so it is capable of being secured to other objects. It also comes equipped with an LED flashlight and handle, which came in handy at times we least expected.
Bluetooth Connectivity:
Everywhere you look there are Bluetooth connections that surround us these days. There's no surprise that these connections can be made confusing and difficult, but we have had no such problems with the EcoCarbon. After the first connection to our mobile device, turning on the power to the EcoCarbon is all it takes for the Bluetooth feature to automatically pair. We've estimated that the Bluetooth begins to loose connection at a distance of approximately 40 meters, which isn't bad from our experience with similar bluetooth speakers.
Fun Fact: Bluetooth doesn't travel through water! We were able to quickly determine that the EcoCarbon's Bluetooth connectivity does not work under water (more than 1-2 feet), but it was the water tightness of the of the EcoCarbon that made us capable of discovering this, and we would have never learned this without this most impressive feature.
Acoustics:
With the good generally comes the bad, and in the case of the EcoCarbon Bluetooth Speaker, it's rugged design and proofing from the elements seem to created some minor issues with the acoustics it is capable of producing. The sound quality isn't terribly sub-par by any means. We've never experienced and tinny white noise or breaks in the sound, even after the speaker was entirely submerged in water. However, the sound does lack the rich, crisp sound that we have found in some other speakers that are out there. We should also note that the volume does not quite reach the levels of other speakers that share a similar size. If you're looking to crank up the volume, you might be a tad let down with this speaker.

Battery:
The EcoCarbon Bluetooth Speaker is touted by EcoXGear as capable of over 12 hours of play time. On top of that, this speaker can be used as a power bank, capable of recharging other devices in the event you are away from the usual charging stations. While the availability of these features can be very helpful along the way, we have found it very easy to push the EcoCarbon Speaker past its limitations, and find the battery drained by morning. While regular home use and quick outings are no problem, if you do intend to rely upon this speaker for a power source on full weekend excursions, you may find it unable to make the distance.
Durability:
We've been nothing but pleased with the EcoCarbon Bluetooth Speaker's ability to withstand our many stress tests. Waterproof and shockproof, we've dunked this speaker, tossed it down a few flights of stairs, left it in a snowbank for hours, and it continues to work the same as the day we un-boxed it. We have noticed a very small amount of wear to the rubber exterior after very harsh use, but otherwise, this speaker appears as though it will stand the test of time.
Value: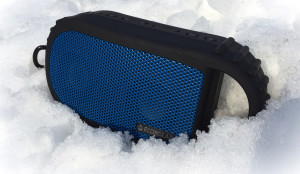 With the EcoCarbon Bluetooth Speaker, its all about ease of mind for the adventurer who loves to take the music with them. Any alternative speaker with noticeably better sound quality would easily go for twice the asking price of the EcoCarbon. With a variety of features beyond what is available in a conventional Bluetooth speaker, and more than likely a much longer lifespan, we have no problem whatsoever recommending this as a good purchase.
Buy Now: $129.99 or to learn more, go to: EcoXGear.com
EcoCarbon Bluetooth Speaker - Tech Review
Some good tunes always make for good times, and with the EcoCarbon, you'll be able to take those good times pretty much everywhere. Durable and dependable, if you enjoy a lifestyle of pushing it to the limit, it's very nice to know that your favorite music will be with you the entire way!
Bluetooth Connectivity
9.5
The Good:
Waterproof and Rugged
Smart Bluetooth Connectivity
Loads of Extra Features
The Not So Good:
Battery Runs Out Easily While Powering Devices
Less Than Desirable Accoustics