Say hello to Jaguar's most extreme performance SUV this year ever. This handsome beast is the supercharged 550HP Jaguar F-PACE SVR by Special Vehicle Operations. In this newest model you will notice subtle aerodynamic enhancements as well as upgraded chassis and an F-TYPE inspired Variable Valve Active Exhaust System; providing not only a charismatic soundtrack, but also increasing exhaust gas flow!
If you're a fan of speed, space and luxury, this is the SUV you've been waiting for. However the nearly $80k price tag might have you reaching deep in to your pockets if you want to own it. Here's what you can expect from the new Jaguar F-PACE SVR.
Key Features:
Supercharged 5.0-liter V8 gas engine developing 550hp and 502lb. ft. of torque
0-60mph in 4.1 seconds (0-100km/h in 4.3 seconds) with a top speed of 176mph (283km/h)1
'SVR' aerodynamic package features unique front and rear bumpers, lower body sides and a rear spoiler to enhance cooling, reduce lift and drag, and aid high-speed stability2
SVR-tuned chassis features upgraded shocks with front and rear spring rates increased by 30- and 10-percent respectively
Lightweight 21- and optional 22-inch forged wheels with staggered width front to rear assist with handling and traction2
Standard rear electronic active differential optimizes power delivery
Larger 15.5-inch front and 15.6-inch rear disc brakes feature two-piece construction
Specially tuned variable valve active exhaust delivers powerful Jaguar SVR soundtrack, is 14.5lbs lighter and aids performance by reducing back pressure
Standard slimline performance seats in the front and rear feature Jaguar signature lozenge quilting and embossed SVR logo
A new SportShift Gear Selector – like in the F-TYPE – replaces the rotary gear selector; special SVR steering wheel adds aluminum paddle shifters
F-PACE SVR receives bespoke calibrations for the 8-speed Quickshift transmission, Electric Power Assisted Steering (EPAS), Adaptive Dynamics, Torque Vectoring, Dynamic Stability Control and All-Wheel Drive systems2
"The F-PACE SVR delivers the handling and agility to match its performance. Everything from the steering to the bespoke suspension set-up has been tuned specifically for our performance SUV and the result is a vehicle that lives up to the promise of both the F-PACE and SVR names." -Mike Cross, Chief Engineer of Vehicle Integrity at Jaguar Land Rover.
Now that you know the in and outs of this sporty SUV lets take a look at the beauty shots…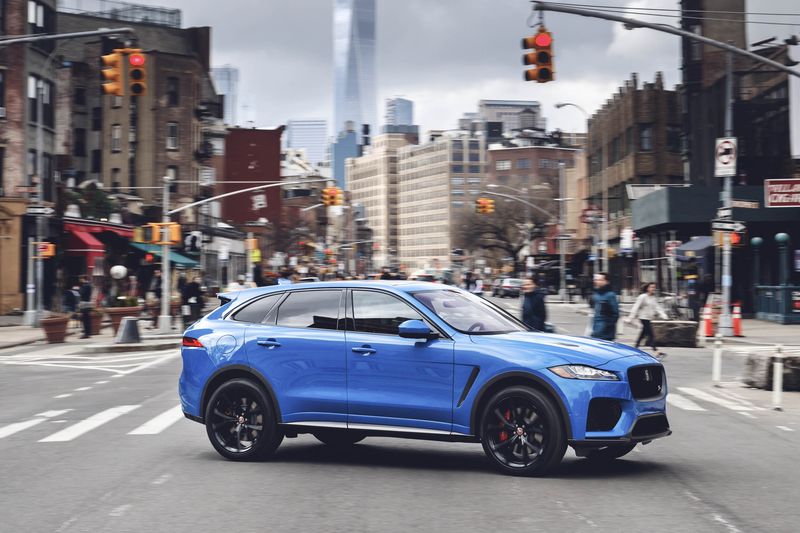 The new 22-inch wheels are 5.3lbs lighter on the front and 3.7lbs lighter on the rear and are designed to deliver greater airflow to the larger 15.5-inch (395mm) front and 15.6-inch (396mm) rear brake discs. The brake discs feature an advanced two piece construction on the front and rear, and when combined with the lighter wheels reduce unsprung mass, further contributing to the new car's agile handling.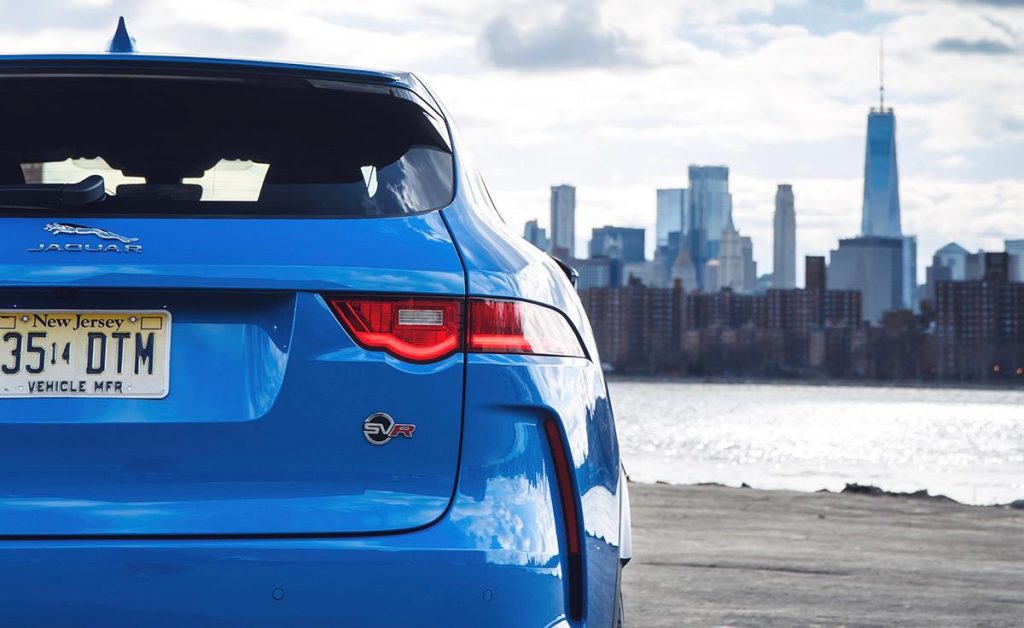 At the rear, a unique spoiler is joined by a new bumper housing the Active Exhaust system's quad tailpipes. The bumper incorporates side strakes designed to aid aerodynamic performance by smoothing airflow away from the rear of the vehicle.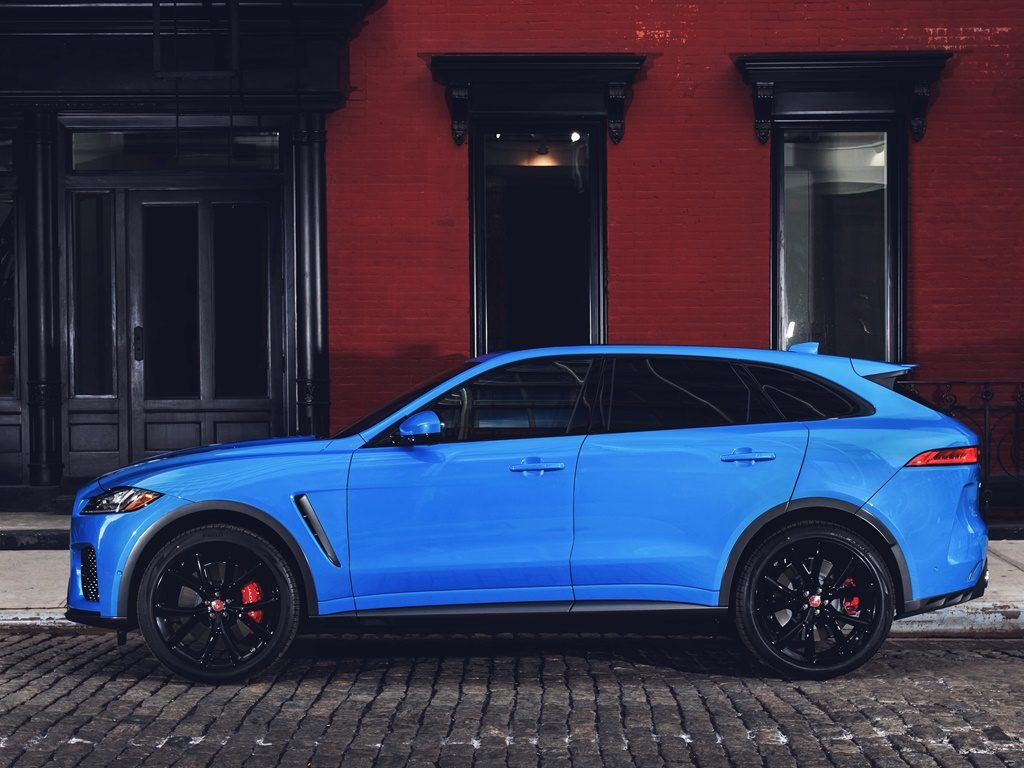 Aerodynamic enhancements include larger air intakes at the front and side fender vents that lower pressure in the wheel arches, reducing lift and providing additional cooling while also assisting with high-speed stability. In addition, unique wheel arch extensions and lower body moldings provide a low-slung muscularity that sets the SVR apart.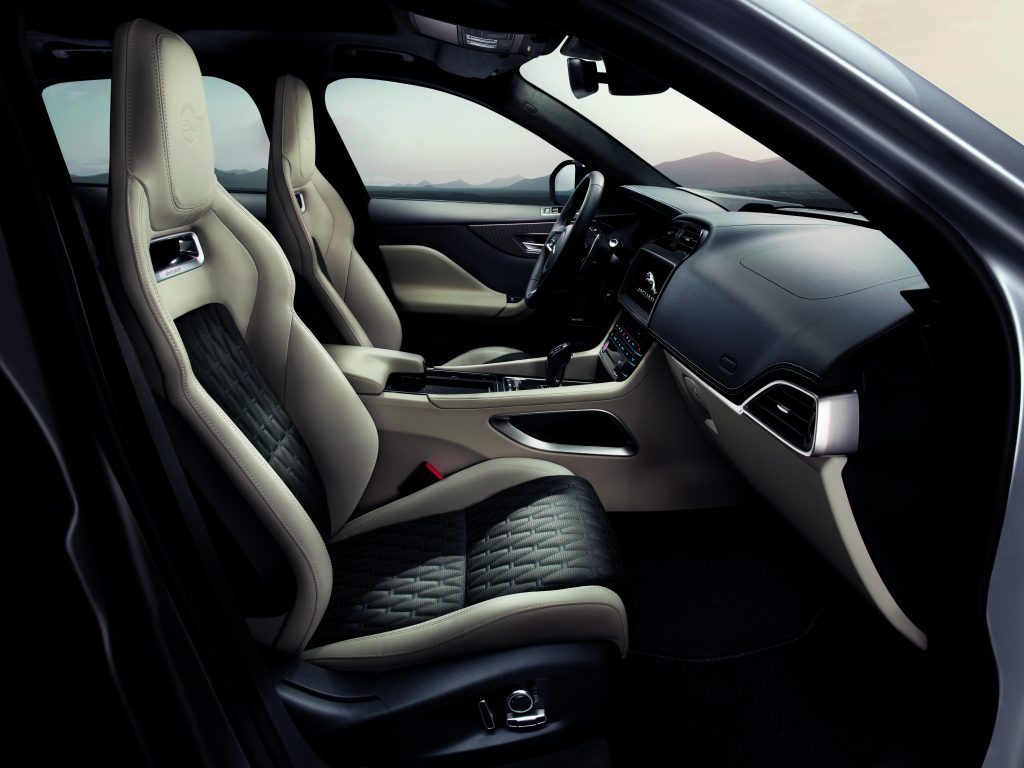 Inside, the F-PACE SVR features slimline performance front seats that provide enhanced lateral support and have the signature Jaguar lozenge quilting and embossed SVR logo. In addition, unique rear seats echo the heavily sculpted designs of the seats up front, while the SUV's sports car character is underlined by a SportShift Gear Selector like what is found in the F-TYPE sports car. Finally, the SVR branded steering wheel is enhanced with tactile aluminum paddle shifters.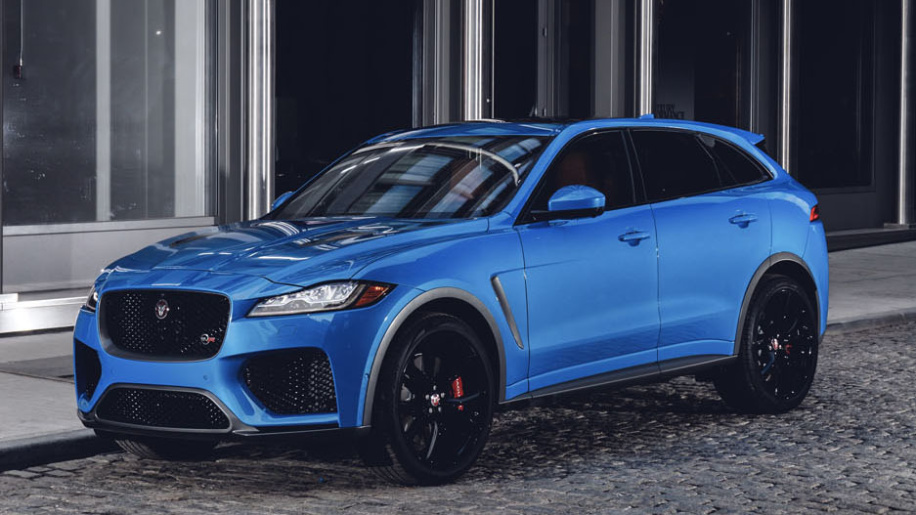 The F-PACE SVR will be priced from $79,9903 when it arrives in retailer showrooms Summer of 2018. To learn more head over to: JaguarUSA.com