Long gone are the days where you buy a set of headphones and use them for every activity in your life.  Now with companies putting in the man hours on research and development, we are getting headphones designed for every situation we encounter.  The Jabra Sport Wireless+ was designed specifically for those who love a good, aggressive work out.  When un-boxing your Jabra Sport Wireless+ headphones the first thing you will notice is; NO WIRES.  As you hold these headphones in one hand and your music player/phone in your other hand, you say to yourself: "FREEDOM."

For some of the reviews we write pictures simply don't do the product justice. That being the case once again, you'll instead want to take a gander at the embedded video below, in which Jabra's Product Manager "Joe" shows you everything the Jabra Sport Wireless+ has to offer.     A few weeks ago, the kind folks at Jabra sent us over a set and we let our workout gurus at Busted Wallet do what they do best; get active and report back.  The first feedback we received from each tester was their absolute love for the wireless design.  However, that is not the only thing that makes the Jabra Sport Wireless+ headphones fantastic, lets get to the details!  
KEY FEATURES:
Wireless Bluetooth connectivity, Bluetooth version 3.0
Music streaming from a source, such as smartphone, Bluetooth enabled laptop, tablet, or MP3 Player
Omni Directional noise filter microphone
Battery life: Up to 4 hours talk time.  Standby- Up to 120 hours.
Built in FM radio
Powerful bass
Adjustable strap to find the perfect fit
– JABRA SPORT WIRLESS REVIEW – 
DESIGN: 
(9 out of 10) Jabra states that they designed the Sport Wireless+ for the most intense workouts and after our team finished testing, we do not disagree! We were concerned about how these would hold up in extreme weather.  However they were designed to be rain, shock, and dust proof resistant to US military standards so a few of our runners who love to run in the rain got great joy using the headphones in adverse weather.     What we found interesting with these headsets is that they are built with an FM radio function.  This a feature that you do not widely see anymore on headsets.  While we didn't think we would get any use out of it, it actually became a favorite for a few of our sports fans.  They were able to tune into the local sports games on their ESPN FM stations and enjoyed listening to the ball games while finishing up their workouts.    The Jabra Sport Wireless+ was also designed to be able to take phone calls with a built-in microphone and allows you to answer calls with a simple click on the headset.  While working out and talking on the phone usually don't go hand in hand, we did find this to be a great addition to the headset.  Runners receiving calls were able to take it with a simple click to the headset without interrupting their workout.  In addition to taking calls from the headset you can control volume and skip tracks by using the headset which allows you to avoid distractions and focus on your workout.   If you don't want to take our testers word for it, listen to Craig Alexander (5x Ironman Champion)!    
COMFORT & FIT: 
(9.5 out of 10) The headset is designed to lock in so you have peace of mind knowing the headset will stay nice and snug in your ear.  A couple of runners had issues with the headset coming lose but then they discovered the 7 different eargels that come stock with the headset that allows you to find the custom fit that is right for your ears.  After some adjustments, all issues of stability were put to bed.  We put the headset through a variety of workouts including; running, mountain biking, weight lifting, and cross fit.  We found the comfort and fit to be tremendous in all workouts.  The only issue we received back from the field is that those who workout with sport glasses will have issues with the wrap around headset and had to adjust their glasses to make it work.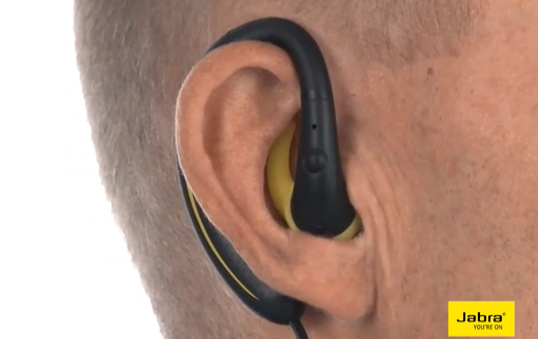 AUDIO QUALITY: 
(8  out of 10) Headsets designed for working out typically are not known for their sound quality.  They focus on functionality and design to reduce interference with your workout.  Knowing this to be industry standard, we feel like the developers at Jabra took this personally and were determined to give us great sound in addition to great functionality.   With the Jabra Sport Wireless+ designed to inject sound directly into your ears with noise isolating eargels you can really hear and feel the bass and the high quality audio which lets you lose yourself in the music and absorb your mind and body into your workout.  While these are no Beats by Dr. Dre in terms of bass and rich audio, they are at the top of the list when it comes to sport headphones.  The only issue we had was with a few instances of sound briefly cutting out during the workout (likely a bluetooth connectivity issue).  While this wasn't excessive it did pop up a few times and anything that causes an interruption takes attention away from the workout.         
VALUE: 
(9 out of 10) Priced at $99 the Jabra Sport Wireless+ headphones are a great value when you consider the design and the sound quality.  While shopping for comparable sport headphones we found them to be the best value in their price range.  There are some cheaper options but then you sacrifice the sound quality and durability.  There are some more expensive options that give you similar options along with a few more bells and whistles but then you are in the $150-$175 dollar range and that seems a bit too expensive for sport headphones.   
THE BOTTOM LINE

:
Durability, great functionality, and quality sound really make the Jabra Sport Wireless+ a great option for all you workout phenes.  Bluetooth connectivity reduces excess wires and clutter from your workout and allows you to focus on your fitness.  With the ability to custom fit the headset to your own personal preference these really have a home with just about anyone leading an active lifestyle.    Buy Now: $60 (ON SALE) or go to: Jabra.com