In a tech world where everything seems to be shrinking and size is valued over performance, the folks at Jabra are bucking the trend with their release of the Solemate Max. While it is nice to have a portable speaker that can fit in your pocket, are you really getting the performance you want? Well, Jabra has made a commitment to restore that quality audio you want while still delivering an extremely portable speaker.
In fact, Jabra touts that the Solemate Max delivers a jaw-dropping 110 decibel (max volume) listening experience. Where you can listen to your music in rich Dolby Sound. While the Jabra Solemate Max is bigger than most portable bluetooth speakers on the market, and smaller than most hi-fi stereos the MAX surprisingly packs the type of acoustics you'd expect from a much larger speaker. Jabra recently sent over their rugged Solemate Max to go through the thorough Busted Wallet review process, and today we're happy to share our findings.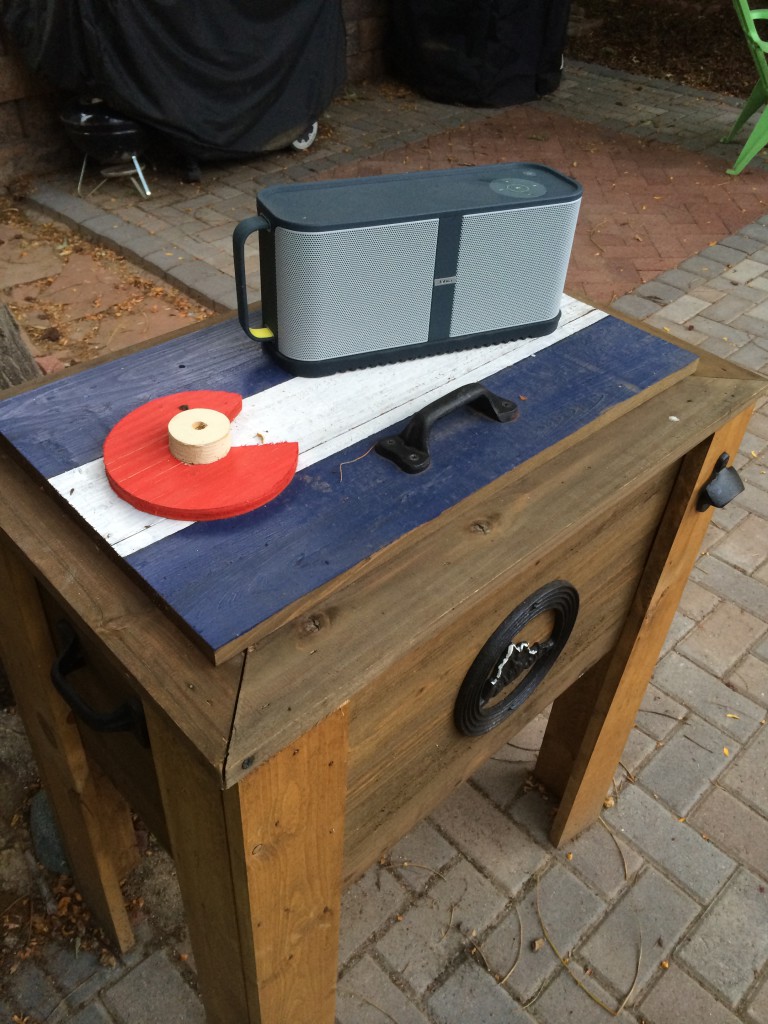 Technical Specifications
Talk Range (feet): Up to 33 ft.
NFC Near Field Communications
Amplifier Power: 90 watts
Maximum dB @ 0.5m: 110 dB
2 Tweeters
Passive Bass Radiator
Speakerphone Capability Speakers
Standby Time: Up to 3120 hours
Music Play Time: 14 hours
Weight: 6.6 pounds
Jabra Solemate Max Review Breakdown
Design:
Jabra hypes the Solemate Max as the portable speaker that will keep the partying going by playing louder and longer. We applaud the effort and focus by Jabra to make sure the party never stops. To pump out some good quality sound they built a big rugged portable speaker that packs some good punch in regards to the sound. The Solemate Max measures in at 5.5 by 11.9 by 4 inches (HWD) and weighing in at around 6.6 pounds, making the Solemate Max one of the bigger and heavier portable speakers we have reviewed in a while.
On the top of the box there is a simple panel which features controls for playback, volume, track navigation, and even a dedicated button for answering phone calls. You can also click that button to get a status update on the battery life. Inside the box, the Solemate Max features two 15W tweeters and two 30W woofers, and a custom-designed proprietary bass radiator that cranks out a nice, rich quality sound.
On the right side panel, you will find a connection that allows for NFC or Perimeter Pairing which is an easy pairing functionality that connects two devices that are in close proximity to each other. You will also find a 3.5mm auxiliary input, a micro USB port for direct playback from your computer, a USB port for charging other devices, and a Bluetooth on/off switch. While the Solemate Max is larger than a lot of boxes on the market it is still extremely versatile and easy to carry around, especially with the built in handle.
Audio Quality: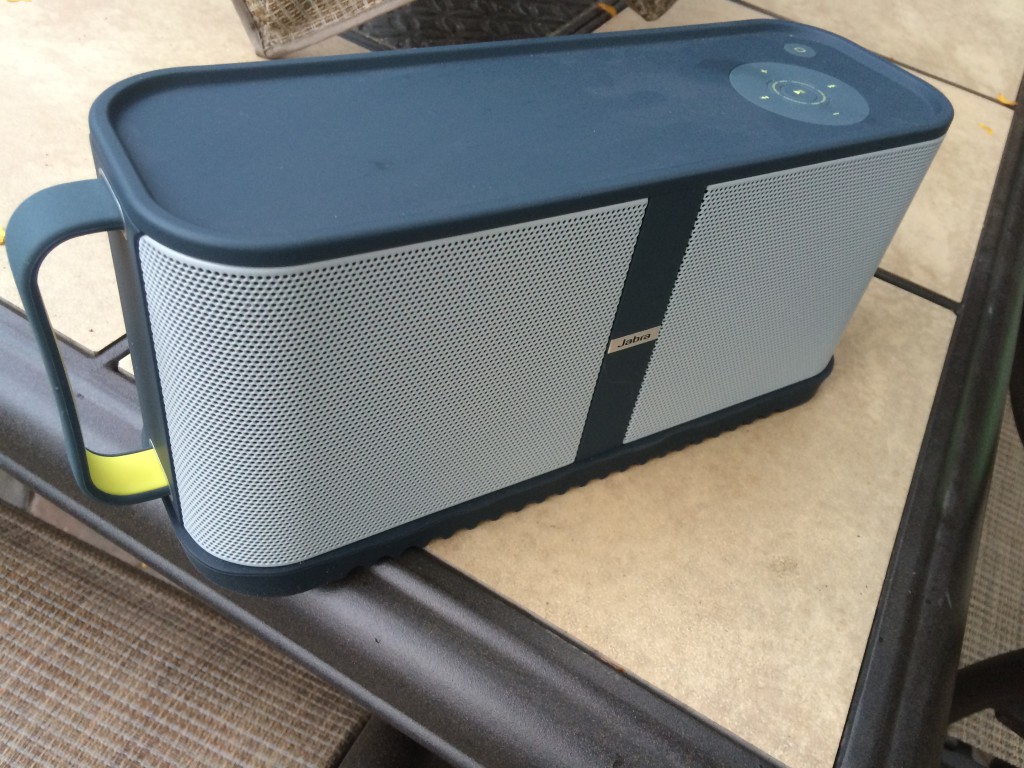 Given the recent trend of Bluetooth players getting smaller and more compact it was a surprise to review something the size of the Solemate Max. However, the Solemate Max plays much louder, offers much fuller bass, and just sounds bigger and richer overall than many of the other devices we have reviewed. By being able to pack good sized speakers in the Max, the folks of Jabra really produced a quality sound. The Max is great inside or outside and we found ourselves having to turn it down to not upset the neighbors as it gets loud. The audio quality is very impressive and quickly became a go-to portable speaker for us.
Bluetooth Connectivity:
The Bluetooth connectivity was very easy to get connected and now when we turn the box on it automatically connects as long as the Bluetooth is enabled on our phone. Jabra states Bluetooth connectivity up to around 33 feet and we would have to agree with this. Anything outside of that range we really saw a slip in connectivity quality. We also experienced some issues if we put the box outside and went inside and were about 25 feet away. Overall, this is comparable to most other devices on the market.
Durability/Battery Life:
The Solemate Max features a very rugged design, and it isn't just for show. While you can't slam dunk it in a body of water it is resistant to splashes, dust and can handle a short fall or two. Throughout the testing process the speaker held up well and took some good licks.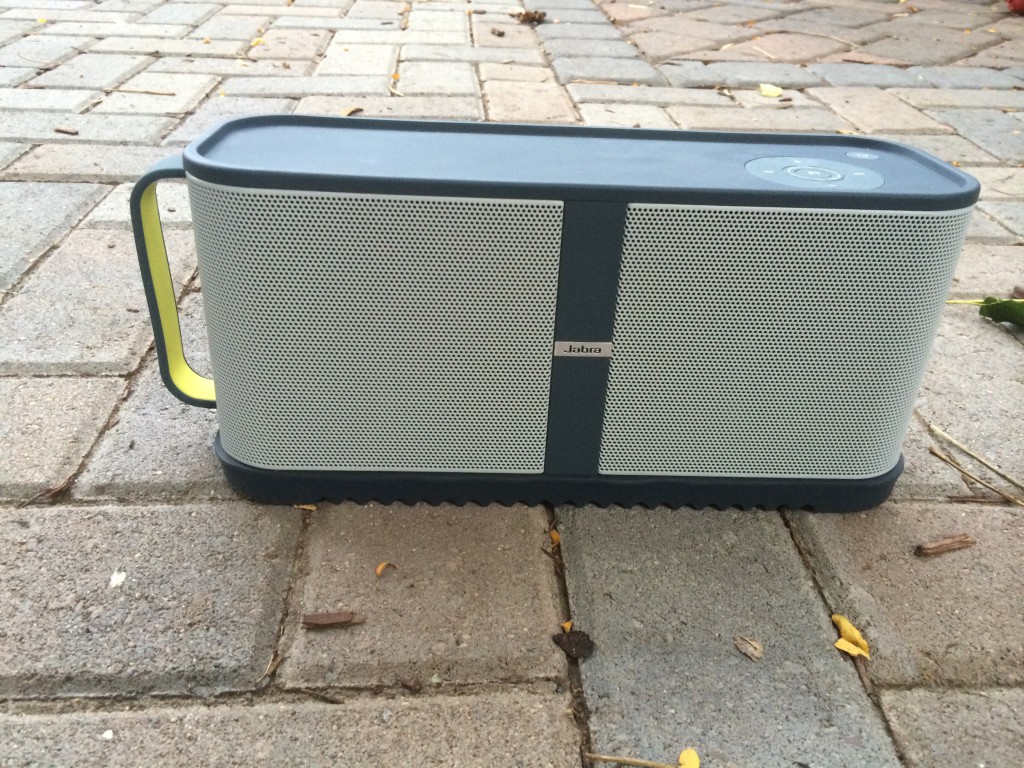 On the battery front, The Solemate Max comes with a power adapter that connects to the rear panel, along with a USB cable. When fully charged Jabra estimates a battery life of roughly 14 hours for music playback or talk time, and a standby battery life of up to 400 hours. The first 3 battery tests we ran the Solemate Max went for 16, 13.5, and 14.5 hours before shutting down. This device is able to provide music all day for any event and we were extremely impressed with the overall battery life.
Value:
Priced at $299.99 the Jabra Solemate Max is on the higher end of Bluetooth portable speaker market but is comparable to competitors. The price has actually come down from when it was originally released and we believe this is a fair price for all the features and the sound quality that you get. The sticker price will scare some away but for people who truly care about sound quality, they will find a nice companion with the Solemate Max.
Jabra Solemate Max - Tech Review
If you are looking for a portable device that will deliver crisp, loud, and rich quality sound, then the Jabra Solemate Max definitely deserves your consideration. We like to have a good time at Busted Wallet and we love devices that offer great performance while being able to keep up with us. With the rugged design, great audio performance, and the long battery life, the Solemate Max was definitely able to keep up! Enjoy!
Durability/Battery Life
9