Henry Ford said it best, and we couldn't agree more… "Chop your own wood and it will warm you twice." Back in those days fire wood was an absolute necessity for cooking and heating. Today things might have changed quite a bit, but wood is still a necessity for many of us in cold regions of the US, who enjoy camp fires, lighting up the fireplace and stoking the wood stove in Winter time. If you're like us, forking over cash to a logging service that will cut, deliver and stack your wood is simply not an option. Why pay someone else to do what you can do on your own, and in most cases for FREE?  All you need is a little get-up-and-go, an axe, some wedges, a splitting maul and a trusty chainsaw.
Introducing the Husqvarna 562 XP Chainsaw. Developed for professional loggers and skilled landowners, the 562 XP is a powerful chainsaw that's packed with features for efficient and convenient operation. With a large air filter, bar options up to 24″ and an X-Torq engine pumping out 4.7 horse power, the 562 XP delivers more power where you need it, with up to 20% less fuel consumption and 60% less exhaust emission.
As you can see the 562 XP is built on a sleek and slender design. The slimmed-down height and width of the saw chassis makes it easier to handle in almost any application. Not only that, but the distance between the front and rear handle has been optimized for efficient, comfortable operation. The innovative design also incorporates a lowered front handle with an overmold grip.
On the inside, the 562 XP takes advantage of Husqvarna's revolutionary reduced gyro force technology. This is where the chainsaw gets really interesting. You see, by reducing the weight of the saws key moving parts – fly wheel, crank shaft and piston – there is less interior movement in the engine, which creates less gyration. These unique features, inside and out, provide for the ultimate in control. Not only does the saw look good, it's also smart.
Another exciting feature is "Revboost." This feature allows for acceleration in chain speed over short periods to increase efficiency during cutting, specifically in de-limbing. Revboost is controlled by the ignition and enables users to increase to maximum RPMs for about two seconds. It is designed to provide an optimum ratio of power to RPMs without having the engine run wide open for extended periods of time.
And that's not all that the 562 XP has to offer either – let's breakdown all the key features right here…
Key Features:
X–Torq – Delivers lower fuel consumption and reduced exhaust emission levels in accordance with the world´s most stringent environmental regulations.
AutoTune – Produces optimal engine performance throughout automatic engine setting. No time spent on carburetor adjustments. It compensates for different fuels, altitude, humidity, temperature and clogged air filter.
RevBoost – Rapid acceleration and higher chain speed for best limbing performance.
LowVib – System designed to reduce vibration levels to the operator, which lessens fatigue.
Flip-up tank cap – The flip-up tank cap is easy to open and close when refueling.
Air Injection – Centrifugal air cleaning system removes larger dust and debris particles before reaching the air filter. This results in reduced air filter cleanings and improved engine life.
Magnesium three-piece crankshaft: For maximum durability.
Specs:
Cylinder displacement: 59.8 cc
Power output: 4.7 hp
Maximum power speed: 9600 rpm
Fuel tank volume: 21.98 fl oz
Fuel consumption: 494 g/kWh
Torque: max 3.65 Nm/8100 rpm
Sound pressure level at operators ear: 106 dB(A)
Chain pitch: 3/8″
Recommended bar length, min-max: 15″-28″
Chain speed at max power: 69.9 fts
Weight: 13.01 lbs
Husqvarna 562 XP Chainsaw Review Breakdown
Design:
We've worked with our fair share of Husqvarna tools over the years and one thing stands out in the design of each and every product they put to market… build quality. And the 562 XP is no exception! Husqvarna has dropped the weight, added features, new technology and amped-up the handsome good looks of this chainsaw, but they didn't slack on materials. After un-boxing this chainsaw for the first time it was very apparent that we were dealing with a high quality piece of wood eating machinery.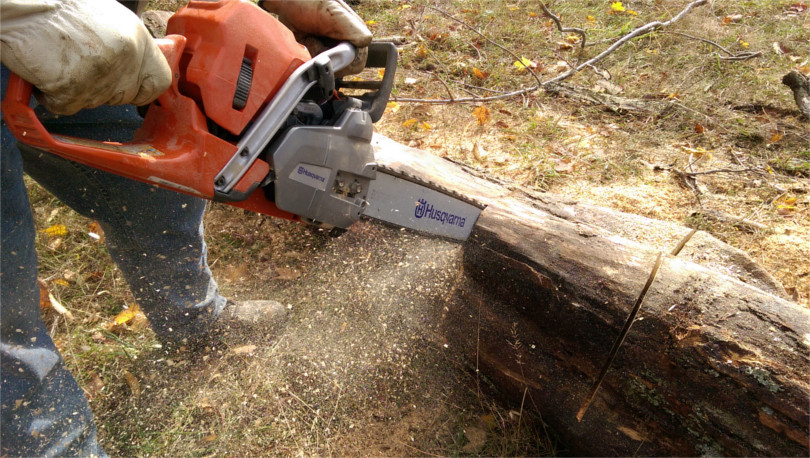 With almost too many features to mention, the 562 XP is an absolute beast of a chainsaw. The model we tested was outfitted with a 20 inch bar, 3/8 inch pitch, .050 inch gauge.  Throughout testing we were truly impressed with its ability to run full-out for long sessions of cutting logs without even as much as a hiccup in the pace. The X-Torq engine runs smooth and with integrated springs throughout the frame to reduce vibration, cutting for hours on end hardly felt like work at all.
Ergonomically this chainsaw is also a dream. Holding the saw vertically, horizontally or anywhere in between is simple and feels secure. We also feel enjoyed the thoughtful placement of the oil and gas screw caps. The ability to lay the saw on its side and fill each reservoir is great. The screw caps themselves feature a unique design that make them easy to screw and unscrew.
Overall, the design of the 562 XP is beyond what we could ask for. It has all the power you could ask for and all the creature comforts you didn't even realize you wanted. Packed with technology for fuel economy and safety, this chainsaw has by far one of the best designs we've ever seen.
Assembly / Setup:
Right out of the box assembling the chainsaw is actually quite simple. Since its a two-stroke engine you'll want to fill it with 50:1 mixed gas. You'll also want to add bar oil to the oil reservoir. Bar oil is ultra important! Don't use motor oil for this application. Bar oil is specifically designed to work well with wood and help prevent premature chain wear at both low and high temperatures.
As for installing the bar and chain, we'd suggest watching the embedded video below. Visually, this is a much better description than our words can provide…
Once you have the bar and chain installed, the saw filled with gas and bar oil, there's nothing left to do except start cutting wood.
Starting:
Starting the 562 XP is extremely easy. Throughout testing we rarely needed to pull the starter cord more than 3 or 4 times. If you've ever ran a chainsaw that's actually quite an amazing feat. To start the saw make sure the chain brake is activated by pushing the hand-guard forward. Then you just need to press the air purge about 4 times, pull out the choke and give'r a rip. If it doesn't start on the first few tries, you'll want to press the decompression valve (located on the top) which reduces the pressure in the cylinder and makes starting easier.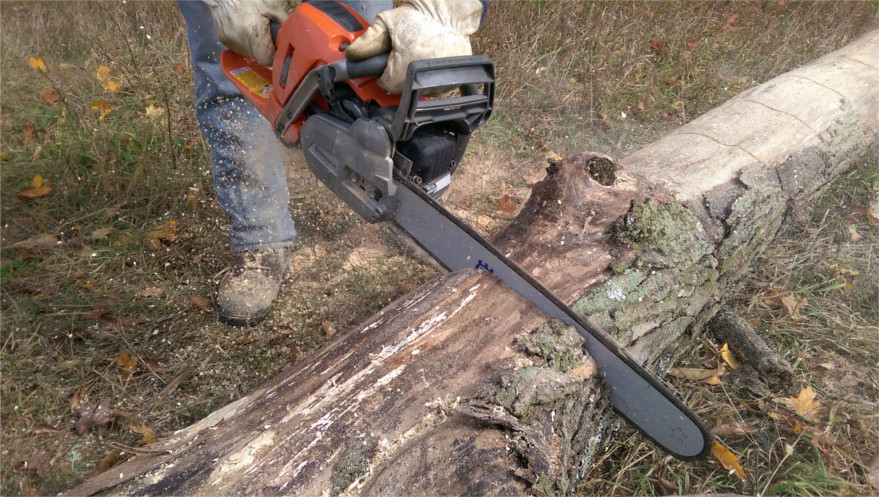 Workload:
Throughout our testing sessions with the 562 XP we were truly impressed with its ability to cut through wood with ease. Even on the hardest maple we could find the 562 XP cut through it like a warm knife through butter. Hilariously during testing we put the 562 XP up against an under powered homeowner chainsaw from the big-box stores. Needless to say the 562 XP came out victorious. In fact, after the 562 XP laid down eight cuts to one on a 40″ maple tree. We put the other chainsaw to rest and blasted through the rest of the tree in no time.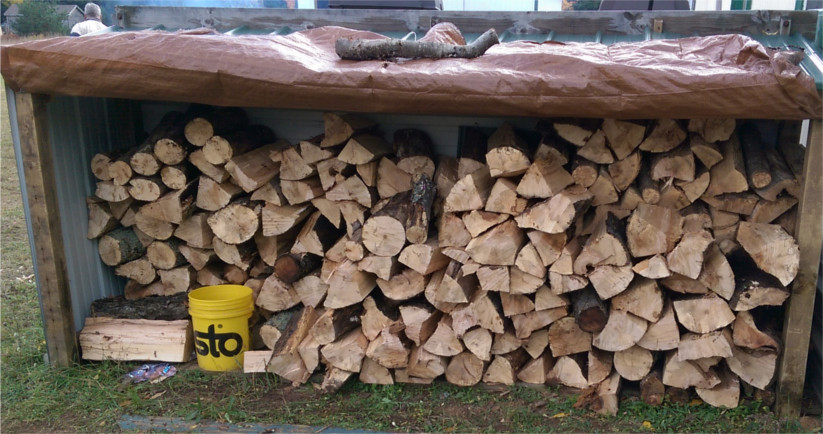 For homeowners looking to buy a beefy chainsaw what won't let them down, the 562 XP will not disappoint. Just be careful who you use it in front of, because they'll likely want to borrow it… all the time!
Value:
Priced slightly above $700 in most stores and online, the Husqvarna 562 XP is a serious piece of equipment at a serious price. Our testing proved that this chainsaw is well worth the price of admission. It is highly capable of handling anything a homeowner would come across. And for those of you logging pros out there harvesting trees on a consistent basis, the 562 XP will also keep you in business for years to come.
One of the best things we can say about Husqvarna is that they build quality products. The 562 XP is no exception and it proved its merit in the field for us. We're happy to recommend it to anyone with some serious work cutting trees ahead of them!
Husqvarna 562 XP Chainsaw - Tool Review
This chainsaw comes highly recommended from our staff. It's not all that often that we all agree on something, but the 562 XP is a product we all can get behind. We tested it for several days and it never disappointed. If you're in the market for a new chainsaw with some serious power and amazing features the 562 XP from Husqvarna is a great chainsaw to consider.
The Good:
Ultra Powerful
East to Start
Superior Build Quality
The Not so Good:
Rather expensive
Hard case sold separately