Because we can… and because you know you want it, we're giving away the most bad-ass hunting kit ever put together. It's the brand spankin' new Gerber Myth Kit from Gerber Gear and it includes everything you need for a successful hunt! We're talking knives, flashlights, multi-tools and more. Whether you hunt for big game or small game – whitetail, elk, moose, waterfowl or wild hogs… this kit has you covered with the tools you need for field dressing, butchering or carving up the Thanksgiving turkey in a pinch.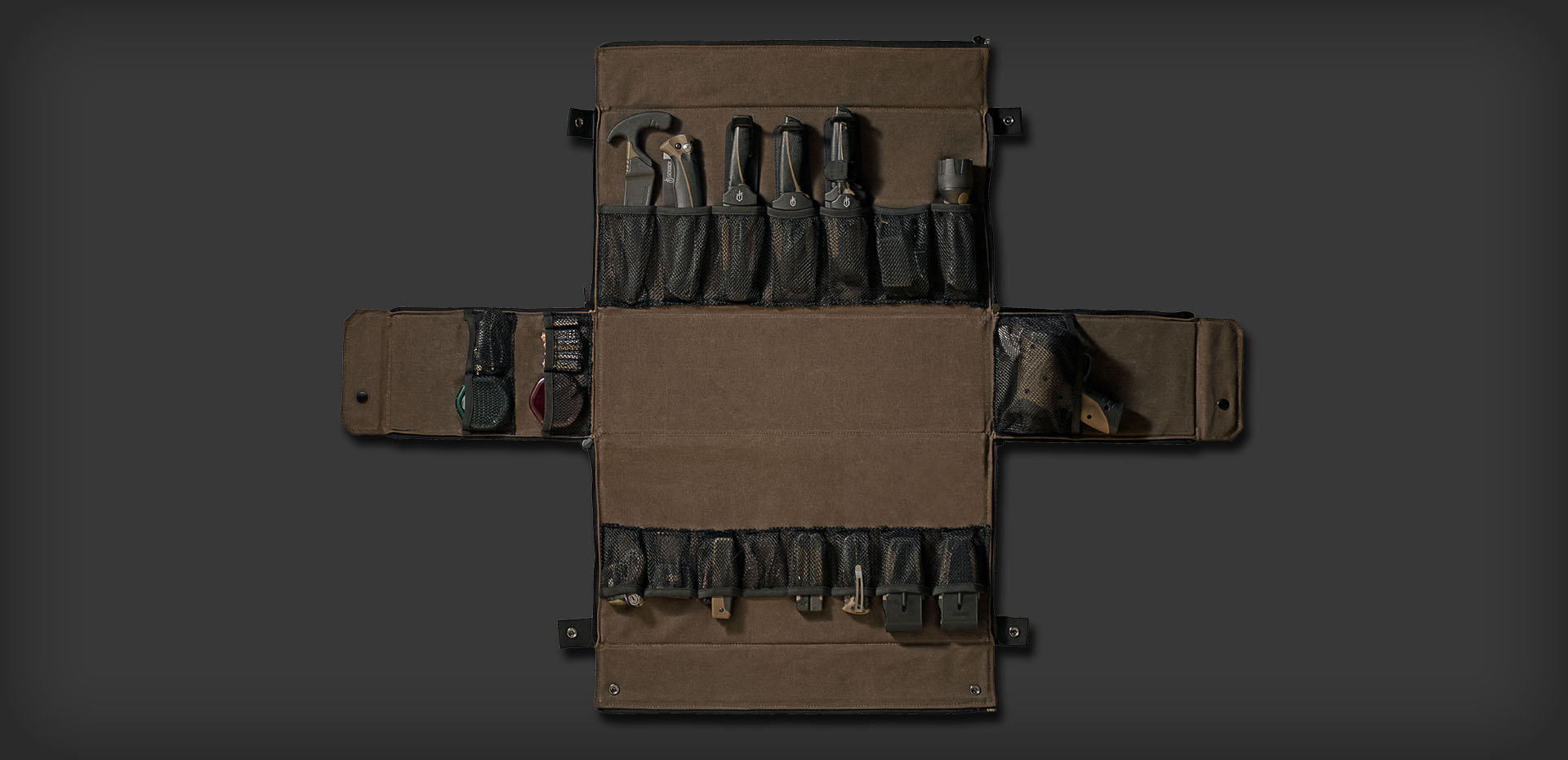 Inside the Myth Kit exists an entire pegboard worth of hunting tools and gear: both the bag and its contents address each of the specifics of game hunting needs. The kit lets you cherry pick and carry along in the bag what will tackle the job of caping and dressing, depending on the season and the location of your hunt, as well as the type of game you seek. Unsnap the top flaps and open the zippers along the sides to get inside and work with the kit like a roll bag sheath. The elastic-lipped pockets all along the interior will securely hold the Myth tools you need for your trip and leave room for whatever additional items you decide to include. Store the entire series inside the kit for dust- and dirt-free protection until you're ready to head out on your next game-seeking adventure.
The Myth Kit Includes:
Myth Field Dress Kit ($84)
Myth Fixed Blade Pro, Drop Point ($69)
Myth Folding Sheath Knife, Drop Point ($58)
Myth Folding Sheath Knife, Gut Hook ($58)
Myth Pocket Folder ($48)
Myth E-Z Open ($37)
Myth Shotgun Multi-Tool ($42)
Myth Fixed Blade Saw ($23)
Myth Folding Saw ($32)
Myth Field Sharpener ($21)
Myth Hands Free Light ($27)
Myth Spotlight ($84)
Myth Blood Tracker ($62)
Myth Cap Light ($20)
Waxed Canvas Bag
The Myth Kit runs $500.00 online, but could be yours totally free!! If we choose you as the lucky winner you'll pay nothing and be the envy of all your hunting pals!
*This giveaway takes place on Facebook and ends on Friday February 28th, 2014 at 2:00 pm EST. One (1) winner will be drawn at random and notified via email. Shipping, handling and all other expenses will be paid for by BustedWallet.com. Enter now by clicking the button below which will bring you our Facebook giveaway page. Good Luck!!
UPDATE: [2/12/14] To up your chances and earn extra entries, we've opened the Myth Kit Giveaway to fans on Twitter as well. To enter on Twitter follow these two simple steps: 1.) Follow both @Gerber_Gear and @BustedWallet on twitter, and 2.) SEND THIS TWEET. Its just that simple, good luck!