The G-Drop is another great offering from the folks over at G Project Gear who are known for their affordable, yet well performing speaker systems.  You might recognize them from other Busted Wallet product reviews such as the G-Boom Rugged Bluetooth Speaker.  The G-Boom came through with high marks when it came to portability and value, but it seems for the G-Drop, the product engineers wanted to build a speaker that could not just go anywhere, but a speaker that could perform everywhere.  A nail they clobbered right on the head.
The G-Drop is a product of a lot of technical terms that is for certain.  A feature list that reads like a laundry list of scientific bragging rights includes 2.5" speaker driver, passive bass radiator, IPX7 certified, elastomer coating, lithium-ion, A2DP Bluetooth and more.  The end result is a completely waterproof and weatherproof Bluetooth speaker that takes durability to a whole new level.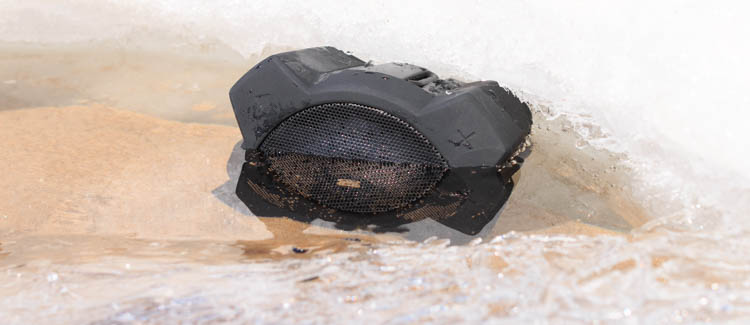 Design:
First impressions out of the box of the G-Drop are everything you would expect from a Bluetooth speaker.  Pleasantly surprising features included a handy hook for hanging the speaker if you have a carabiner and surprisingly lightweight.
The outer portion of the speaker has a nice elastomer coating that gives it a rubberized feel and provides some grip to help let nature hold the speaker for you.  The speaker is somewhat round but with 4 tabs on the sides that allow it to sit on its side or lay on its back.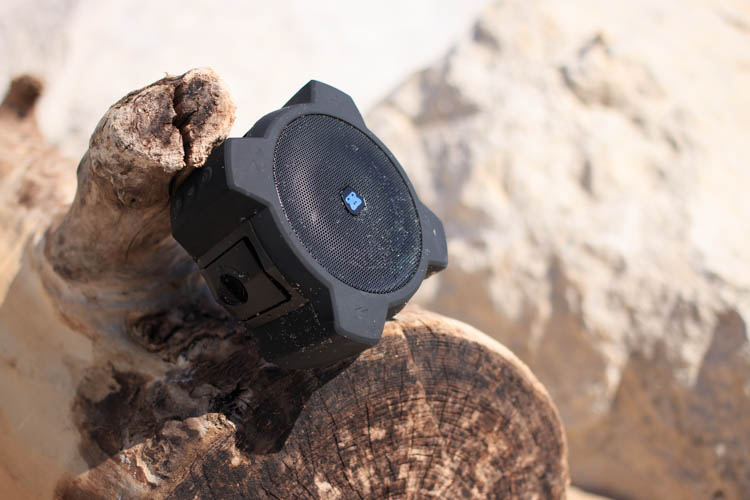 The 4 tabs are not just for positioning though, each has a button for various functions.  Volume Up, Volume Down, Play/Pause & Skip Song.  These features are great to have in an easy access place that lets you control your tunes but keep your phone safely stashed away from the elements.
With your phone stashed away, you'll find that not only are the buttons useful for controlling music, but the speaker also handles incoming phone calls over Bluetooth.  Pressing the play button during an incoming call will activate a built-in microphone and turn the G-Drop into the most rugged speakerphone you've ever come across.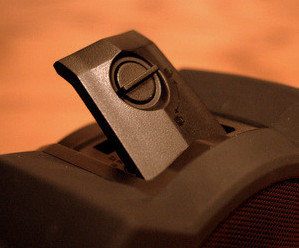 For the overall design, everything is very well thought out with the exception of the hatch that covers the USB charging port and line-in stereo input.  There is a small dial that locks the plastic cover down to protect the ports, but it seems that small piece of plastic just didn't get the same attention the rest of the speaker did.  It didn't have the confident feel of a waterproof device and it requires being in just the right position before it opens.  If it isn't aligned just so, it will look unlocked but won't open.  A minor annoyance in an otherwise stellar design.
Durability:
Durability is what sets this speaker above any other in its class.  G-Project advertises this speaker with the quotes:
"With G-DROP, we sought to design a speaker that, above all else, wouldn't flinch in the face of water."

"We made sure G-DROP can keep up with any weather thrown its way."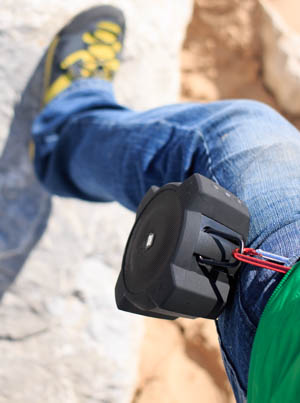 So time for a series of experiments.  The G-Drop is rated as not just rugged but fully submersible to 3 feet underwater for up to 30 minutes and can also endure temperatures from -14F to 122F.  We were lucky enough to receive this product during a cold snap where temperatures approached -10F so we connected to the speaker, cranked up the jams and literally threw it outdoors into a pile of snow.  After 15 minutes, well, nothing happened.  It just kept on playing!
On to the next test which took place in the bathtub.  We filled up the tub and immediately took the snow-covered speaker and threw it into the hot water tub.  To our surprise, it floated perfectly on the surface and the music just kept on going.  This feature would be fantastic for a swimming pool because the speaker is extremely buoyant.
But floating on the water surface is not underwater, so we held it completely underwater at the bottom of the tub.  Now if you plan to listen underwater, science does win because Bluetooth radio does not go through water, so the music did finally stop when submerged more than a couple of inches.  But 10 minutes later we let it float to the surface and our music picked right back up again.
Shooting water out of the speaker elements, it was once again time to push more limits and so the water filled speaker was again thrown into the sub-zero snow bank for a session of freezing.  Again, nothing.  The music just kept on.  For durability, we tried our best to break destroy the speaker but it continues to jam.
Acoustics:
For a small form factor Bluetooth speaker, you cannot expect full surround sound at a techno rave, but the 2.5" speaker driver is certainly no slouch either.  Loud enough to fill a room in a small party atmosphere but performs best when sitting near you.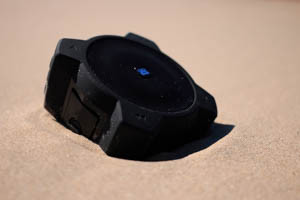 The positioning features come into good use also as it is a rather directional sound.  It does not fill the space around you which may not be great in groups but perfect for sitting next to you on a towel at the beach.
At full volume there is very little distortion and it seems tuned well to stay within its own limits.  At extremely cold temperatures and when filled with (frozen) water, the bass response does drop off, but after a few minutes it did return to normal.
Next to the power button you will find an equalizer button that allows you to switch between two modes.  The modes seem best fit for 1) Music and 2) Audiobooks but that is personal preference and the differences are quite subtle.
Call quality was average for a speakerphone.  Listening was clear but the person on the other end could definitely tell it was a speaker phone and it did pick up a good amount of background noise.
Bluetooth/Battery Life:
Near the power button you will find the Bluetooth button which will turn the Bluetooth on and off depending if you would like to connect wirelessly or opt to use a stereo cable and access the line-in port.  Bluetooth connection was easy to initiate and surprisingly strong.  Typically advertised at a 30 foot range, we were able to wander nearly 50 feet away without any signal loss.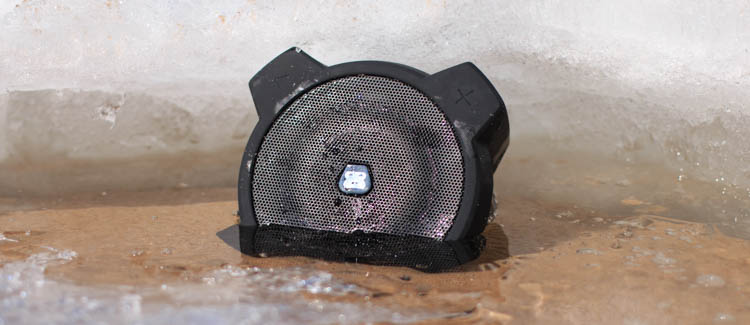 Battery life also seemed strong and played for about 4 hours at about 75% volume in temperatures well below freezing which usually shortens battery life, but it never hit the end of the battery.  Once the speaker finally died, it was somewhere around 7 hours of play time spread over a few days.
Value:
At a retail price of $50, I don't see what else you could ask for when looking for a speaker that you can rely on for always working no matter the conditions.  This speaker seems to outperform and outlast it competitors all while being at a lower price point.
Buy Now: $50 or to learn more, go to: gprojectgear.com
G-Drop Waterproof Speaker - Tech Review
Bottom line, if you want a speaker for the beach, in the pool, in the snow or just a speaker for the mud that can be hosed off and cleaned, this is the obvious choice. Of course if you just want to set it on the couch next to you, well that's fine too, but don't forget it is always ready for a bath.
Bluetooth/Battery Life
8.9
The Good:
Insanely durable
Doubles as a speakerphone
Plenty loud and clear for close range use
The Not So Good:
Port hatch is hard to open
Directional sound