This one is for all the dads.  We are well into the month of June and nearing the third Sunday of the month.  You know what that means –  FATHER'S DAY!  In the past it was only mothers who were recognized for their role in the family.  Finally, though, you were given a day that is meant just for you – the fathers, dads, pops, papas and every other honorable title you were given.  Sure, it may have taken 58 years after Mother's Day became an official holiday to get recognized, but now the day is yours.  Don't let it slip by unnoticed.  We hope you will be showered with love, appreciation and maybe even something from our ultimate gift guide.
The most important thing we want you to do, though, is take this one day a year to put aside that to-do list and sit back with a relaxing beverage and maybe even a nice cigar.  What better way to celebrate than to treat yourself to a delicious, yet manly, cocktail.  Here's a list with some of our recommended favorite drinks that we're sure you will enjoy.
Glenlivet on the Rocks
INGREDIENTS:
PREPARATION: In a short glass, pour scotch, add ice, swirl, sip and enjoy!
---
Templeton Lemonade
INGREDIENTS:
PREPARATION:  In a pint glass, squeeze juice from and add half lemon and spirits. Next, add ice, fresh lemonade and a splash of lemon lime soda. Cover with mixing tin and shake once to incorporate.
---

Suit Up
INGREDIENTS:
6 ounces Q Club
2 ounces scotch
1/2 ounce tart cherry juice
Rosemary sprig, for garnish
Maraschino cherry, for garnish
PREPARATION: Fill a highball glass with ice. Add scotch and cherry juice. Top with Q Club and garnish with a rosemary sprig and maraschino cherry. Gently stir.
---
Cruzan Mango Sunset
INGREDIENTS:
1 1/4 parts Cruzan® Single Barrel Rum
3/4 part Cruzan® Mango Rum
1 1/2 parts fresh Lemon Sour
1/2 part Mango Puree
1/2 part Pomegranate Juice Lime Wheel Pomegranate Seeds
PREPARATION: Shake all ingredients, except the pomegranate juice, with ice until well blended. Strain into a chilled cocktail glass. Slowly pour pomegranate juice into the center of the cocktail so that it settles to the bottom. Garnish with a lime wheel and pomegranate seeds.
---
The Contemporary
INGREDIENTS:
2 parts Sauza 901 Tequila
¼ part agave nectar
2 dashes Angostura bitters
2 dashes Angostura orange bitters
Orange peel for garnish
PREPARATION:  Combine all ingredients in mixing glass. Stir well. Pour over ice in a rocks glass. Garnish with a piece of orange peel.
---
Tennessee Mule
INGREDIENTS:
Squeeze of of fresh lime juice
3 parts ginger beer
PREPARATION: Stir and serve over ice, garnish with a mint sprig.
---
Papa's Old Fashioned
INGREDIENTS:
2.0 oz of Papa's Pilar Dark
1/2 tsp Demerara or Turbinado
3 dashes Angostura bitters
splash soda water
orange peel
1 large ice cube
PREPARATION: Build in an Old Fashioned glass. Muddle ingredients. Add rum with large ice. Spritz with orange peel and rim the glass. Garnish with orange peel.
---
Basil Hayden's Dad's Bourbon Mary
INGREDIENTS:
2 parts Basil Hayden's Bourbon
¼ part Jalapeño Juice
½ part Homemade Bloody Mary Mix* (or pre-bottled Bloody Mary Mix of your choice)
1 tsp. Lemon Juice
2 dashes Celery Bitters
2 dashes Tabasco Pepper Sauce
Cracked Black Pepper
Black Sea Salt (for rim of glass)
Bacon (for garnish)
Basil Leaf (for garnish)
Lemon Wedge (for garnish)
PREPARATION:   Add Basil Hayden's Bourbon, jalapeño juice, homemade Bloody Mary mix, lemon juice, celery bitters, Tabasco, cracked black pepper and ice to a cocktail shaker.   Shake vigorously and strain into a chilled cocktail glass rimmed with black sea salt.  Garnish with a slice of cooked bacon, clapped basil leaf and lemon wedge.
*Homemade Bloody Mary Mix:
¼ part Tomato Juice
¼ part Beef Stock
½ tsp. Horseradish
Add tomato juice, beef stock and horseradish into a mixing glass and stir well.
---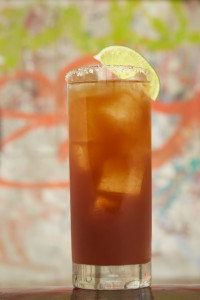 Father's Day Fiesta
INGREDIENTS:
 1 ½ parts Hornitos Plata Tequila
5 parts Mexican lager
3 dashes hot sauce
8 dashes Worcestershire sauce
½ part lime juice
PREPARATION: Combine ingredients in a pint glass or pilsner glass and serve. Garnish with lime.
---
 Two-One-Two
This drink is great for a dad that likes to drink something a little sweeter.
INGREDIENTS:
1 oz Aperol
2 oz pink grapefruit juice
Ice
PREPARATION:  Combine ingredients in a cocktail shaker and fill with ice. Shake well until chilled, about 10 seconds. Strain into a rocks glass filled with fresh ice.
Here's to all of you fathers!  Grab a glass, find a comfortable chair and leave the yard work for another day.  Don't forget to be a good roll model and drink responsibly.