Dry Fly Gin - Drink of the Week
The latest craze in the restaurant business is  the farm-to-table concept.  Farm-to-table is a movement concerned with producing food locally and delivering that food to local consumers, as fresh as possible.  The folks at Dry Fly distilling have decided to extend that concept to the their distilling process and take a farm-to-bottle approach to their distilling process.  Dry Fly produces every drop of liquor it sells from only raw materials grown locally by sustainable farms. They are very adamant that they do not purchase bulk alcohol as that goes against the spirit of true craft distilling.  What does this mean for you the consumer? It means the freshest botanicals and grains that give Dry Fly a truly unique and distinctive flavor to their products. We recently got the opportunity to sample their award-winning gin.
Dy Fly  was started by Kent Fleischman and Don Poffenroth, former marketing executives, who created the company so that they never had to go to a meeting again or pay for alcohol! What is very clear about Kent and Don is they set out to make a unique and distinctive liquor in their gin.  Since Dry Fly is distilled in Spokane, Washington there is one distinction you will definitely find in this gin; Apples.  Given the Pacific Northwest location of their distillery the inclusion of apples makes complete sense.  Upon the first smell you will get that nice apple scent, which is unique when compared to other gins.
For a little more insight into how Dry Fly operates day-to-day take a look at the embedded video below, where Patrick Donovan, Dry Fly's Master Distiller will take you through their process – from harvesting the grain, through distilling and finishing with the volunteer staffed hand bottling assembly line…
Now, on to the full review!
Dry Fly Gin Review Breakdown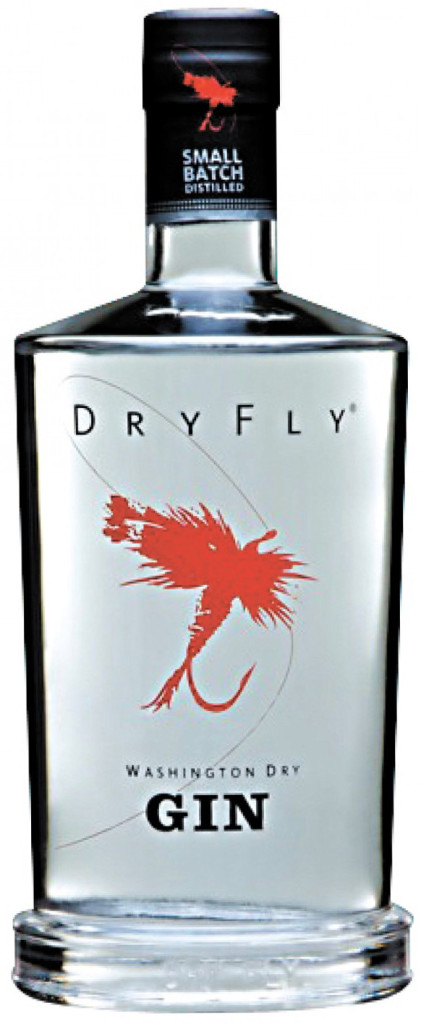 Proof: 80 (40 ABV)
Appearance: Crystal clear
Nose: Apple, light juniper, pepper, floral
Flavors: citrus, spices, pepper, lavender
Price: $32.99 USD (750ml.)
Scoring a well-respected 8 out of 10, our tasting panel thoroughly enjoyed this unique gin. If you are looking for a gin that compares to that old bottle of London Dry Gin in your father's liquor cabinet then Dry Fly will be surely surprise your taste buds. The taste is smooth and very drinkable but we found it finished with a little bit of a spice, hence where we got that pepper taste. You will notice a taste of citrus, apples (granny smith) and the finish is clean and cool. We found the overall tasting to be very complex and unlike any other gins we had recently tasted. We enjoyed the taste of the Dry Fly Gin because it has a unique sweetness and cleanness to it and it also extremely well distilled. This is a modern gin and you will notice a reduction in the juniper flavor that distinguishes many gins to your pallet.
When mixed we found that Dry Fly doesn't give you that traditional taste you would recognize in some of your favorite cocktails. For example, the gin and tonic was almost completely unrecognizable and that peppery spice really was evident. It didn't make the gin and tonic bad, it just made it different. We liked the new flavors but will take some getting used to for most drinkers. We really enjoyed this drink the most when poured over rocks and topped off with a hint of lemon juice. This made for a very clean, smooth, and drinkable cocktail that was quite refreshing.
MIX IT UP… "Gin Jimmy"
Ingredients: 1 1/2 oz of Dry Fly Gin, Ginger ale, lime.
Directions: Very simple; Pour over rocks, garnish with a lime and simply enjoy!