Drink of the Week: Piehole Whiskey Pecan Pie
Here at Busted Wallet we take great pride in scouring the world for the latest and greatest beer, wine and spirits.  Our tasting panel has come across a wide range of infused liquors in our day, but the folks at Piehole Whiskey brought us a creation we have never tasted before; Infused flavored whiskey.  Piehole sent all three of their creations of whiskey for sampling; Pecan Pie, Apple Pie, and Cherry Pie.  While we sampled all flavors, Pecan Pie quickly became our favorite. Upon first sniff you get that image in your head as a kid waiting on Grandma's pecan pie to cool down so you could devour it.  Now the booze god's have blessed us with a liquid version of Grandma's pie that will also give you a nice buzz!
Over the past few years, the increase in infused flavored liquor has steadily been on the climb in the United States.  While picking up supplies for a a recent holiday party, I was looking for just plain ole regular Smirnoff Vodka. I was so inundated with the different flavors of Smirnoff  and other vodkas that it took me a few minutes before I could find the regular vodka.
There are two schools of thought when it comes the advent of these flavors.  The first being from the traditionalist group that believes cocktails should be made the exact same way they always have been.  The second group being the revolutionists who are continuing their pursuit of looking for the next great cocktail recipe.  Neither group is wrong, some cocktails should be made the exact same way forever and some recipes deserve freshening up.  A great example would be the Bloody Mary.  Spurred by a variety of infused vodkas our morning hangover cure has exploded to be a brunch staple over the last few years that continues evolving with new great recipes everyday.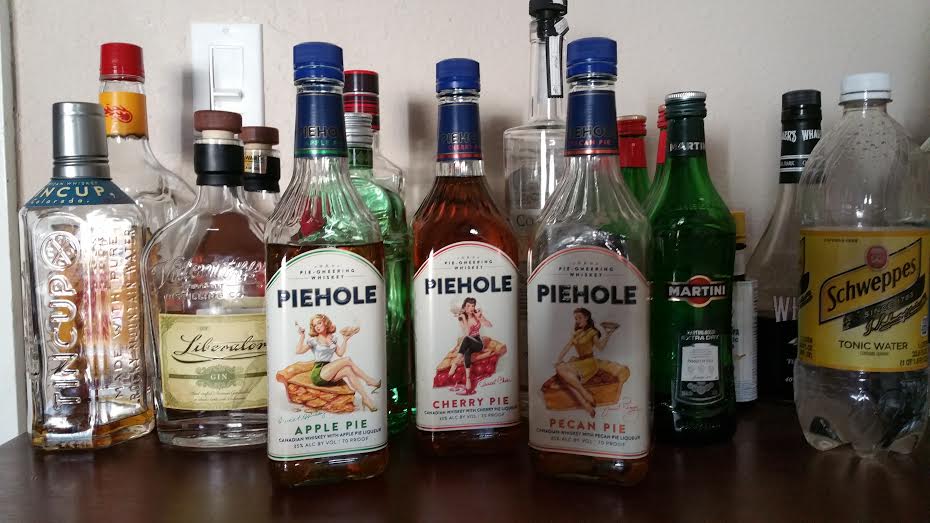 Well, this is the part where we get down to the nitty gritty… the good, the bad and the ugly. Keep reading below for our full break down of the Piehole Pecan Pie Whiskey.
Piehole Pecan Pie Whiskey Review Breakdown
Proof: 70 (35% ABV)
Appearance: Light Brown
Nose: Pecans, Spice, Vanilla
Flavors: Pecans, vanilla extract, brown sugar
Price: $16.99 USD (1 liter.)
The folks at Piehole Whiskey state that their creations are designed to be a tempting blend of premium whiskey  and delicious pie-flavored liqueur.  When the bottles arrived, our tasting panel was concerned that the end product would be an overpowering pecan syrup that would be hard to drink.  We were pleasantly surprised to still get notes of the Canadian whiskey with a finish of that buttery vanilla pecan pie flavor that we all know.  The apple and cherry flavors all had very solid taste and none were too overpowering.  All three flavors have strong notes of their traditional pie flavors but don't destroy your palette in the process and allow you to still enjoy the whiskey but also gave you a splash of desert on each sip.
Our tasting panel all agreed that the Piehole flavors are best served in either a shot or mixed drink.  However, one panel member did take some pecan pie whiskey and poured it over a couple of ice cubes and really enjoyed sipping on the whiskey as a nice after dinner drink.  The whiskey also works great if you like making boozey milkshakes as all the flavors blended nicely with a variety of ice creams.
While the traditionalist group of whiskey connoisseurs will scoff at that the thought of blending quality Canadian whiskey with pie flavored liqueurs, we can appreciated this fresh approach to this classic whiskey.  While you won't be blending this cocktail with your traditional mixers anytime soon, you will find a lot of fun in discovering that perfect drink recipe. Which will also allow to hone your mixology skills along the way.  The folks at Piehole also developed their own set of recipes to help get you started.  We found Piehole Whiskies to be great to keep on hand for guests who like to try new things and for those less experienced whiskey drinkers to give them a different whiskey experience than they have had in the past.  Enjoy!
Mix it Up…."Pecan Sour"
Ingredients: 1.5oz Pecan Pie Whiskey, 1.25oz sour mix, splash of OJ, dash of bitters, 2 lime wedges
Directions: Add ingredients into mixing tin, squeeze lime into tin, shake thoroughly, strain over ice.
As always, please drink responsibly.  Enjoy.
Buy Now: $16.99 or, learn more at PieholeWhiskey.com