ODDKA Vodka - Drink of the Week
ODDKA Vodka is the newly minted and undeniably whimsical brand from Wyborowa distillers of Poland. What may appear at first glance to be another fly-by-night, here-today-gone-tomorrow addition to the vodka fray is actually anything but. In fact, ODDKA Vodka has some strong international backing from the big dogs at Pernod Ricard… you know, the folks who purvey and import a little known brand by the name of ABSOLUT Vodka.
While there's very little… or no info on the exact production methods of ODDKA that we could find. What we do know is that it hails from the birthplace of vodka – Poland, and is represented by a fictional hype-man who goes by the moniker of "Witt Oddski." A self proclaimed charismatic, classy and handsome fellow – Witt describes his brand as "fresh, elegant, and smooth." And as we found out it's hard to argue with a 2D line drawing, so we'll spare you the details of that one-sided conversation.
Launched in 2012 and now available in original and in five unconventional flavors, including Apple Pie, Electricity, Fresh Cut Grass, Salty Caramel Popcorn and Wasab, ODDKA isn't you grandpappy's vodka… not by a long shot!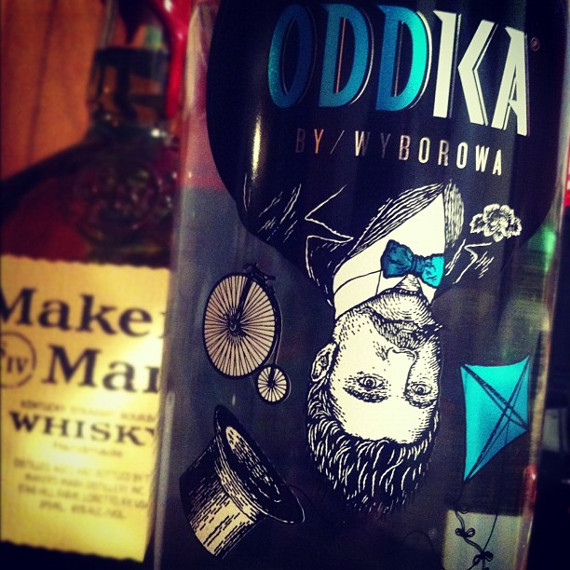 The introduction of ODDKA is something we have been looking forward to for some time, the experimental qualities of this new brand allow us to broaden our footprint in the vodka category and continue to push the industry's flavor profiles, expanding beyond the sweet and savory into experiential flavors that provoke curiosity. -Daniel Lundberg, Global Marketing Director at Wyborowa
In its infancy ODDKA was launched in select U.S. states and is now enjoying global distribution in nearly every nook and cranny of the business. When we were recently invited to participate in a tasting and review session of ODDKA's original (80 proof) vodka we weren't sure exactly what to expect, but we went into it with open minds and thirsty mouths. Here's what we discovered about ODDKA…
ODDKA Vodka Review Breakdown

Proof: 80 (40% ABV)
Age: Un-aged
Nose: Neutral
Flavors: Neutral
Taste: B (Good)
Mix–ability: A- (Excellent)
Buzz Factor: B (Good)
Price: $16.99 USD (750ml.)
Overall: We give ODDKA Vodka a B (Highly Recommended) As a base for mixing delicious cocktails ODDKA received some of our highest marks. Its crisp, slightly oily texture is predictable and tasty when utilized for mixing some of our favorite iced-up drinks. As a straight shooter we have to admit we've tasted smoother examples. It's not so bad, but a ways from the smoothness we'd like to enjoy while sipping vodka. This is one of those spirits that tastes like it smells… somewhat stinging. Overall the price point is dead-on the packaging is curiously eye catching and the product within is killer for mixing up mouthwatering cocktails that anyone would enjoy.
MIX IT UP… "Odd Époque" 
Ingredients: 2 oz. ODDKA Original, 1⁄4 oz. Absinthe, 3⁄4 oz. Raspberry Syrup, 1⁄2 lime, 8 Mint leaves, 4 Raspberries.
Directions: Muddle mint, raspberries, lime and raspberry syrup. Add ODDKA, Absinthe and crushed ice. Stir, top with more crushed ice and garnish with raspberries. Cheers!