Touted as Cooper's most advanced and extreme tire to date, the Discoverer STT PRO is a tire that is built for off road rugged fun and on-road comfort. Utilizing 3-Ply Armor-Tek3, silica tread compound, an aggressive 3-2 center rib design and side-biters these tires are as beastly as they come from Cooper. Designed for exceptional traction and performance in some of the harshest terrains on Earth the STT PRO begs you to push your limits and "discover" what your vehicle is truly capable of.
Recently our pals at Cooper asked us to put a set of their Discoverer STT PROs through the paces as only we know how. To get the job done we mounted these bad boys on to a 2015 Chevy 2500 HD fire breathing diesel with 20″ rims. The tires arrived in winter and carried us into spring. Now that we've had a few months behind the wheel running these tires through every condition imaginable we're finally ready to share our thoughts with you. Here's what we discovered about the Cooper Discoverer STT PRO…
STT PRO Key Features:
"ARMOR-TEK3®" Carcass Protection provides 50% more protection against impact damage than standard 2-ply tires.
The inner tread ribs alternating 3-2 pattern provides a number of significant performance benefits like: reduced road noise, increased stability and handling, superior soft surface (trail) and mud traction.
The "flex groove" provides a smoother ride by helping to dampen the impact generated by inconsistencies in pavement, potholes and gravel.
The Discoverer STT PRO features large, specially-designed cleats of rubber (side biters) on the shoulder area of the sidewall, to enhance traction and grip.
The asymmetrical scallops on alternating lugs direct mud into the mud scoops to allow the tire to pull through muddy terrains with ease.
Cooper Discoverer STT PRO Review Breakdown
Handling:
For such a beefy tire we were quite impressed with the handling both on and off road. Obviously the STT PRO handles best on dry pavement but didn't fair too badly on snow, sand, mud or dirt either. They stand tall and provide incredible stability when cornering. They aren't the most nimble tires we've ever tested but if you're looking for something agile you're really not interested in these tires in the first place.
Traction:
From their aggressive tread pattern you might have guessed that these tires were built for grippin' and rippin', and we can attest, they are. Over the past several months we've tested these the STT PROs on snow, ice, mud, sand, dirt and the occasional highway in between. On every trip these tires proved themselves and left our crew very impressed. In the winter they chew up the snow and handled ice quite nicely. In the mud is where these tires truly shine. They are able to walk through slippery wet conditions with relative ease. On dry dirt they never showed signs of wavering.
If you're running factory tires on your truck or SUV right now and are considering upgrading to the STT PRO because of traction alone, you'd be making a fine decision. These tires are ultra rugged and have yet to let us down on any surface we've encountered.
Road Noise:
If you're used to a quite peaceful ride it's going to take some time and patience to get accustomed to these tires. While they're not wildly loud when compared to similarly rugged tires on the market they are however a bit noisy on surface roads. Most factory tires are designed to help sell the vehicle so they are whisper quite and lack the teeth it takes to get off road and return safely. With the STT PRO what you lose in the quite ride department you quickly make up for in the off road and slippery condition department. The trade off for use is well worth it.
Fuel Economy: 
This isn't a section we normally cover when testing tires, but it probably should be, especially when we're talking about tires as beefy as these are. Throughout our time testing the STT PROs we realized our fuel economy took a hit. Nothing devastating, however before we slapped on the STT PROs our 2015 Chevy 2500 HD was averaging 14.5 MPG as a daily commuter. Since we installed these new tires that average has dropped to 13.4 MPG. The aggressive tread is incredible for off-roading but will take a slight toll on your wallet in the form of more fill-ups.
Durability:
We've had these tires on for over 4 months now and they still look brand new. Even after their fair share of off road adventures, lead footed doughnuts, and a few burnouts. Time will tell how durable these tires truly are, but if Cooper's track record is any indication we're excited to see how many years we can get out of this new shoes.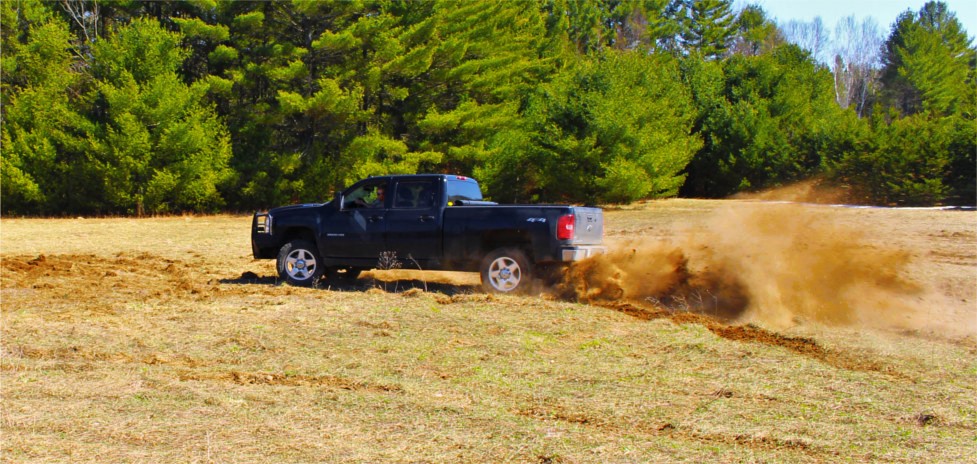 Value:
Depending on your rim size the STT PRO will run you roughly $165 – $570 per tire. If you've ever spent any time pricing out all-terrain tires you know they don't come cheap and neither do these. That being said, they are worth every last dime in our opinion. Someone who will see the full value in these tires is someone who doesn't want to be confined to pavement. Someone who likes to take the trail less traveled. Someone who owns a truck or SUV that they don't mind getting dirty.  The Cooper Discoverer STT PROs are like combat boots for your truck. Wherever you want to go they are ready.
Buy Now Find A Retailer Sizing & Specs
Cooper Discoverer STT PRO - Tire Review
The Discoverer STT PRO from Cooper is an extreme tire for adventurous drivers, and as it turns out it was the perfect tire for our Chevy 2500 HD. While you'll notice some added road noise and a slight decrease in fuel economy the capabilities of these tires both on and off road are what truly make them incredible. If you're in the market for a tire that handles it all we highly recommend checking out the STT PROs for yourself.
The Good:
Very rugged and handsome on the rim
Excellent traction on and off road
Haven't been stuck in the snow or mud yet!
The Not so Good:
Fuel economy took a drop
Road noise was a factor, but expected from a tire this rugged