If you're anything like me you love mixing it up in great the outdoors. Whether it be fishing, snowboarding, camping or hunting – I simply love being outdoors, but sadly like most people, I live about 70% of my driving life on pavement either flying down the highway or stuck in gridlock. For this, a set of traditional road tires is perfect, but what about that extra 30%… when you want to bust-out on the trials, through the snow and venture to places most vehicles never go? For that you need something with a little extra bite. Something more aggressive…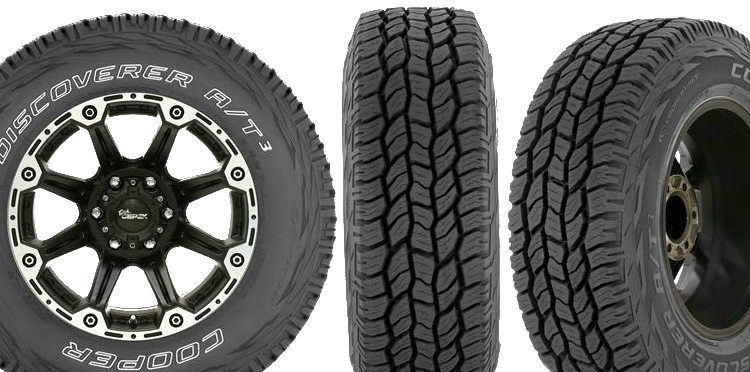 Meet the Cooper Discover A/T3, named so for its "All Traction. All Terrain. All the Time" branding. Designed for SUVs and light trucks, the A/T3's aggressive tread design (outfitted with chevron grooves, lateral groove protectors and a 5-rib all terrain design) is said to significantly improve off-road traction without sacrificing highway performance.  A hybrid tire if you will. A tire that fills the gap between road tire and full-blown off-road. A tire that seems perfect for weekend warriors who can't wait to hit the trails, dunes and rocks.
Want more details? Check out the embedded videos below to get a up-close look at what makes these tires so versatile, capable and down right sexy!
For our testing sessions we outfitted a 2005 Jeep Grand Cherokee (5.7L HEMI) with 17″ (235/65/17) Cooper Discover A/T3 Tires over the course of 64 days. During that time we drove over 4,000 miles and spent more than 400 of those on dusty trails, muddy bogs and snow covered back country. In the end results were positive, our Jeep a little worse for the wear and the tires left hungry from more.
Cooper Discover A/T3 Review
Handling: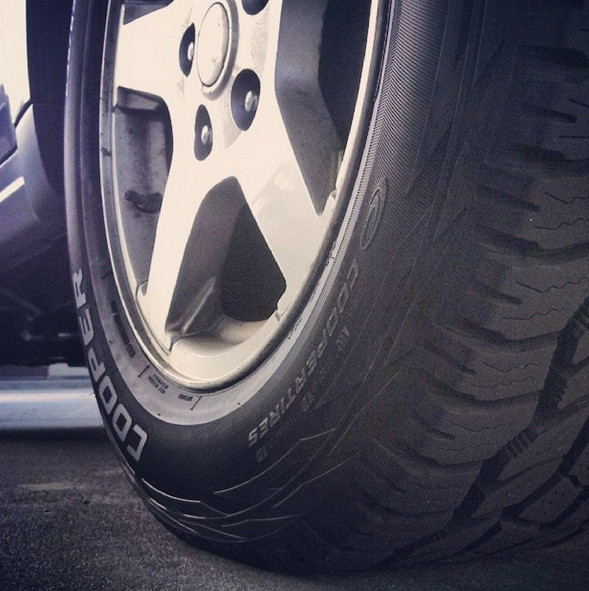 Both on and off-road the A/T3's proved to be very stable, even in wet conditions. Transitioning from some rather bald, not so aggressive tires to the A/T3's was a noticeable upgrade in the handling department for me. Especially in snowy conditions. On the highway and city these tires deliver a smooth ride free from any shaking or turbulence. I wouldn't say they're made for high-speed cornering, but I was rather impressed with their overall agility. Especially when you consider their aggressive tread pattern.
Traction:
These tires (much like my favorite golfer) grip it and rip it! Throughout testing both on and off-road myself and the rest of our crew were truly impressed with amount of traction the A/T3's provided. No matter what we came across (sand, rocks, mud or snow) these tires kept our Jeep firmly in contact with the ground… even if at some moments it was only with three out of four tires.
On-Road: Traveling city roads and the highway are absolutely no challenge for the A/T3's. These tires easily handle rain with very little hydroplaning and actually handle snow incredibly well. Making starting and stopping in slippery winter conditions a stress free experience instead of a white-knuckled adventure.
Off-Road: We expected the aggressive tread of the A/T3's to hand the road with no problem, but we weren't sure how they'd grapple with rocks and muddy conditions. So we put them through everything our test Jeep and it's 8.5″ ground clearance could handle. That means sand, snow, mud and rocks. We threw everything we could think of at these tires and they guided us through it without fear. We never got stuck, but did have a few close calls in off-road snowy conditions, which if you ask me are some of the worst you can encounter, but alas the A/T3's were able muster up enough traction to keep the jeep rolling.
Road Noise:
I don't quite know what it is with Jeeps, but they can make even slightly aggressive tires sound like mudders. Needless to say, we did experience some above average road noise produced by these tires. Most noticeably on the highway and that can be attributed to their aggressive treads and styling. Every vehicle is different (sound proofing, etc…) so what sounds a little loud in our test Jeep might sound perfectly normal in your F150. That being said, the road noise we experienced was noticeable, but not annoying overall.
Durability:
Touted with a generous 55,000 mile warranty the Discover A/T3's were engineered to keep you on the road for a long time. During our testing sessions (lasting just over 2 months and 4,000 miles) we experienced very little wear and tear and no noticeable cracking or defects in the rubber – which is saying a lot after all the off-road work we put these tires through.
Value:
Ranging in price from $135 to $175 ea. (depending on size) we found the A/T3's to be a very good value. Especially for outdoors men and women who need the dependability and fuel efficiency of road tires and the aggressive versatility of off-road tires. The A/T3's are in our opinion an ideal combo of both, making them the best of both worlds – with very little compromise.
Buy Online: $135 – $175 ea. Fit Your Vehicle Locate Dealer
Cooper Discover A/T3 Tires: Road Review
If you're an SUV or Light Truck owner in search of new tires that look outstanding, glide on pavement, but have the teeth to keep you moving no matter where the trials might lead you - do yourself a favor and checkout the Cooper Discover A/T3's for yourself. They may look aggressive, and that's because they are, but not so aggressive to ruin your fuel economy or make you feel like your riding the ruble strip. Who says you can't have your cake and eat it too? With the A/T3's there's no reason to be locked to the road. Your SUV or Truck was built to go off road... as long as it's equipped with shoes that can handle it, so why not give it what it wants? Let'r eat!
The Good
Preforms Great Both On/Off-Road
Handles Surprisingly Well For an Aggressive Tread Pattern
55,000 Mile Warranty