This weekend your friends at Busted Wallet are setting sail for Orlando, FL to assist Captain Morgan in launching their newest concoction – Cannon Blast Rum and bear witness as Brian Miser, "The Human Fuse," is launched from cannons (yeah, CANNONS!) between multiple bars – marking the most epic bar crawl in history!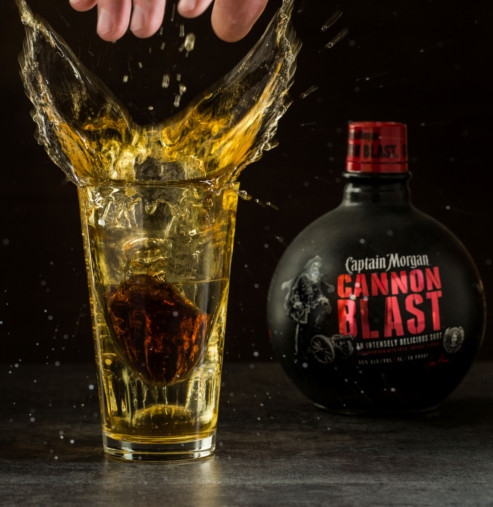 First things, first – what is it and how does it taste? Cannon Blast is an intensely delicious shot of Caribbean rum with spice and sweet citrus. Bottled at 70 proof, in a cannonball decanter, this concoction is meant to be consumed as a shot, but we're sure you can find countless ways to create your own signature Cannon Blast cocktail.
Don't fancy yourself a mixologist? Let us introduce you to the incredibly tasty Blasted Brew:
Ingredients:
3/4 oz Captain Morgan Cannon Blast
6 oz Red Stripe Lager (in a pint glass)
Method: Balance the shot over the beer. Slam the table and make it drop in. BOOM! Drink! Enjoy!
Speaking of things that go 'Boom', Captain Morgan has out done themselves when it comes to launching this new rum. They are kicking things off right by hosting the only bar crawl of its kind… in HISTORY! That's right, Captain Morgan's 'Cannon Blast Bar Crawl' is coming up on Saturday, October 17th in Orlando at Wall Street Plaza complete with Brian Miser, world renowned human cannon ball, leading the way from bar to bar the best way he knows how…from a flipping cannon.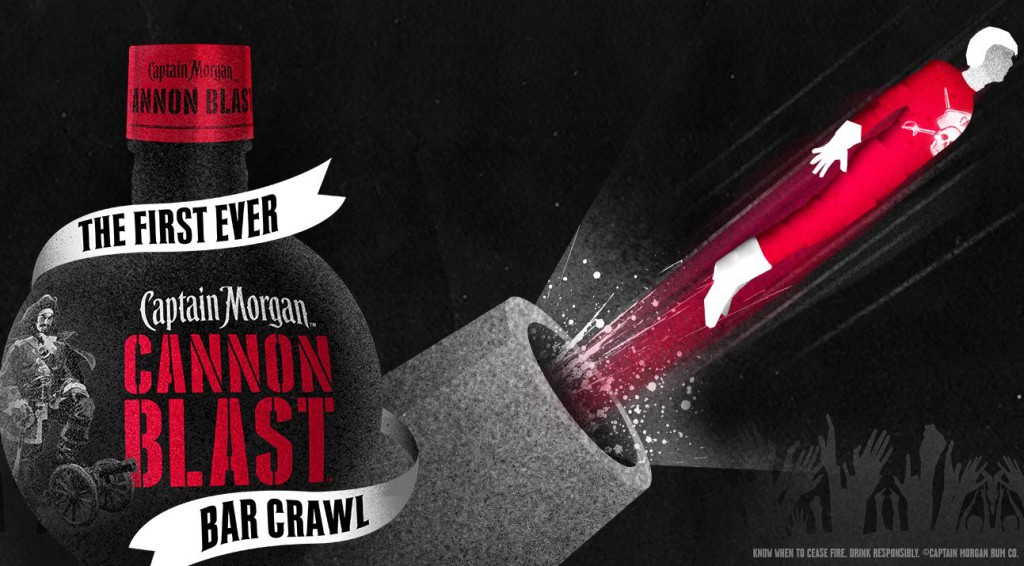 Needless to say we're pumped to be joining the festivities but the best part is, you can too! If you're in the Orlando area this weekend, check out the First Ever Cannon Blast Bar Crawl event page and head over to Wall Street Plaza around 5:30pm. Not in the Orlando area? No problem! Follow us on Facebook, Twitter, and Instagram as well as #CannonBlastCrawl and #HashtagBoom and live vicariously through our posts.
Stay tuned for more coverage of Captain Morgan's Cannon Blast and the 'Cannon Blast Bar Crawl'. Cheers!