As we grow up, so do our tastes. A sheet of plywood, 12 cups and a couple ping pong balls don't make a tailgate anymore. Sure the peace and quiet of rustic camping still has its tranquility, but what if you could still have that little crutch we all lean so heavily on…POWER! The P2200 PowerSmart Series Inverter Generator from Briggs & Stratton was designed with those luxuries in mind. "Quiet, lightweight and efficient power to easily enjoy the little conveniences of home anywhere you are."
With the reliability and performance backed by over 100 years of innovation, Briggs & Stratton is a name you can trust. We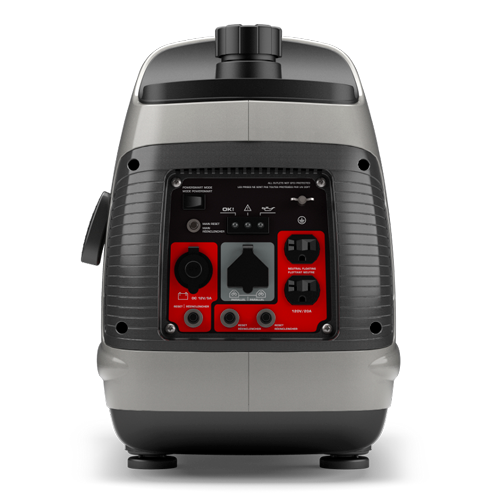 were asked to evaluate our camping and tailgating experiences over the past few weeks, here's how it played out.
Key Features:
Inverter technology
Convenient carrying
Built to go anywhere
Your pick of outlets
PowerSmart Series portable power
Expandability that's built in
Quiet portable generator
Safe for sensitive electronics
Specs:
Watts: Running 1700 / Starting 2200
Amps: Running 14.16 / Surge 18.33
Displacement: 110 cc
Fuel Capacity: 1 gallon
Dimensions: 21" (L) x 12.5" (W) x 17.35" (H)
Weight: 54 lbs
Design:
The P2200 was made with campers and tailgaters in mind, and it shows.  The sleek (dare I say sexy?), lightweight design is not only easy on the eyes, but incredibly easy to transport.  Coming in at only 54 lbs and supporting the H-handle design it's quite easy for one person to move, and offers enough room for two people to share the load.
It feature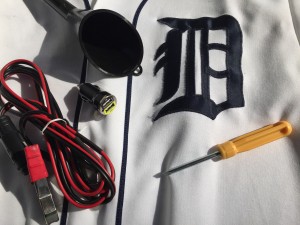 s two 120V outlets and a 12V DC outlet (included in the box is an adapter supporting 2 USB ports).  With the choice of outlets and the PowerSmart technology  we didn't have to sacrifice charging the cell phone while blending up some delicious cocktails AND catching the pregame on the TV.  Also included is: a set of alligator cables to fit into a 12V outlet, engine oil, a plastic funnel (thank you B&S, in others we've seen only apaper funnel), and a screwdriver.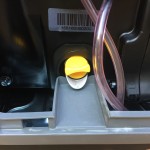 Another simple yet very useful feature of the P2200 is that the oil fill has a drain off tray in case of dribbles while filling.  This is a small touch, but a big bonus when draining oil for oil changes.
Setup:
Let's put it this way, setting up the P2200 is easy enough an accountant can do it  (because one did).   Briggs & Stratton provides an easy set-up guide to walk you through.  Everything needed to get the generator up and running is provided in the box.   Just remove the two screws on the easy access panel, fill up the oil, gas up the bad boy and its ready to run.  Pretty simple process to have power at your finger tips virtually anywhere.  One very slight knock is the filter in the gas cap.  We're sure it provides a useful function, but it makes it impossible to tell how much gas you have actually put in, so overflow is a good possibility.
Starting:
After completing the setup process it's time to get P2200 fired up.  We slid the choke switch to the ON position and 4 pulls later it was humming a beautiful tune.  After turning the choke OFF we switched the generator to the auto-idle mode and we were ready to rock our first tailgate of the season!
The distance doesn't only come into play for the noise level, because it could be a lot closer and still not be disruptive.   As technology continues to increase and these power producing gizmos get better and better, they can still produce toxic fumes and can cause carbon monoxide poisoning.  Keep them at and distance and learn more from the Take it Outside campaign.
When we were testing out the P2200 we always kept it 7 to 10 yards away, providing a very quiet experience at the tailgate and campsites.  Even when it kicks in to supply more power for the blender, heater, or ever so important coffee maker, it was still a very slight rumble in the background.
Power:
Oh the ever so important subject of power.  This compact and quite quiet little guy is capable of producing 1700 running watts and 2200 starting watts (hence the name).  You're not going to be powering an AC unit or microwave, but tailgating in the Midwest this time of year, there is no need.  Elsewhere, check out his big brother, the P3000, which we have also put to the test.  If you are looking for an even stronger source with built in parallel outlets that lets you connect to another PowerSmart Series generator, whether its the P2200 or P3000.

The P2200 brought  our tailgate to life.  We ran lights, a 42″ big screen, speaker, blender and even a hot plate.  Of course not all at the same time, but we were able to have all the necessities one needs and more.  With the power save mode turned on it only ran at full power while the blender or hot plate were running.  Then there is this: 5.5 hours of tailgating, and still had gas in the tank.
Value:
Sure, being in the actual stadium is a great experience, but with the Briggs & Stratton P2200 PowerSmart Series Inverter Generator watching the game from your tailgate may just be a better one.   Comfortable seating, cheaper (and better) food and drinks, watching the game in crystal clear HD, you could make up what you spent on generator all while still hearing the roar of the crowd!  Currently being listed at $649.00, we don't have any regrets after spending a few fall weekends  cheering on our favorite teams!
Buy Now: $625.79 or to learn more, go to: BriggsandStratton.com
Briggs & Stratton P2200 - Generator Review
Whether you are camping or tailgating The P2200 from Briggs & Stratton is a fine piece of equipment. It's not going to power a whole trailer for days, but it will certainly bring many of life's luxuries to the woods or parking lot. Compact, incredibly portable, and hundreds cheaper than it's competitors, we think it's a home run!
The Good:
Quiet, yelling not required
Setup, starting, and transporting is a breeze
Safe for sensitive electronics
The Not so Good:
12V outlet only delivers ~5 amps, not fast for charging batteries...
It was hard to find one.