Produced from Nicaraguan tobacco through and through, the Blanco NINE is a full-bodied cigar that utilizes an Oscuro Corojo wrapper, that's been aged for a minimum of 3 years, and then blended with a Triple Ligero filler and an exquisite binder from the world famous Jalapa Valley. Sounds delicious, right? Let's light-up! But hold on a second, why and the heck do they call it the "NINE?" Well, that's because it took Cesar and David Blanco and their crew nine blends before they hit the mark… giving birth to a brand that's received high praise throughout the industry – and is described by it's purveyors as complex and sophisticated stick with the taste and aroma of a full-flavored and full-bodied cigar –  delivering a smooth draw with clouds of rich smoke.
For a closer look at the NINE check out the embedded video below, where you can see the construction and burn pattern throughout one of our recent smoke sessions.
What's inside? 
Wrapper: Oscuro Corojo (Nicaragua)
Binder: Jalapa (Nicaragua)
Filler: Triple Ligero (Nicaragua)
Always excited to get our hands on unique and interesting brands we jumped at the opportunity to taste and review the Blanco NINE. For testing, David Blanco himself hooked us up some Robustos (5.0″x52) and it didn't take long be for the foots were toasting. Here's what we found out…
Blanco NINE Review Breakdown
Construction:
The Oscuro Corojo wrapper on the NINE is a beautiful chocolate brown with a mildly oily sheen that is completely free of any imperfections. While it's a little toothy, we were impressed with the construction, which is obviously hand crafted and expertly rolled.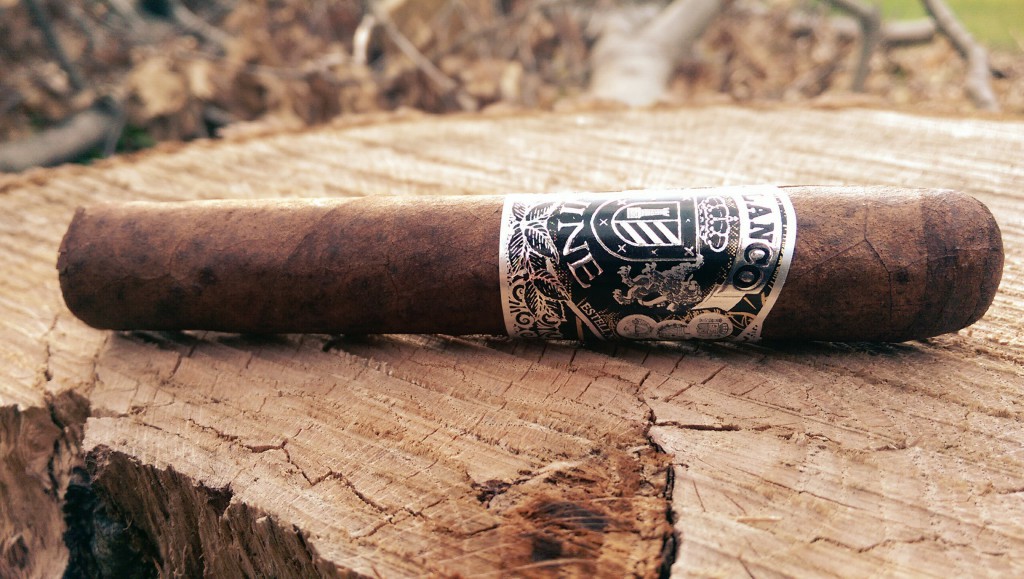 The cigar itself feels dense and very well rolled. The robusto size which we tested had a great feel to it – light, but not cheap in the slightest.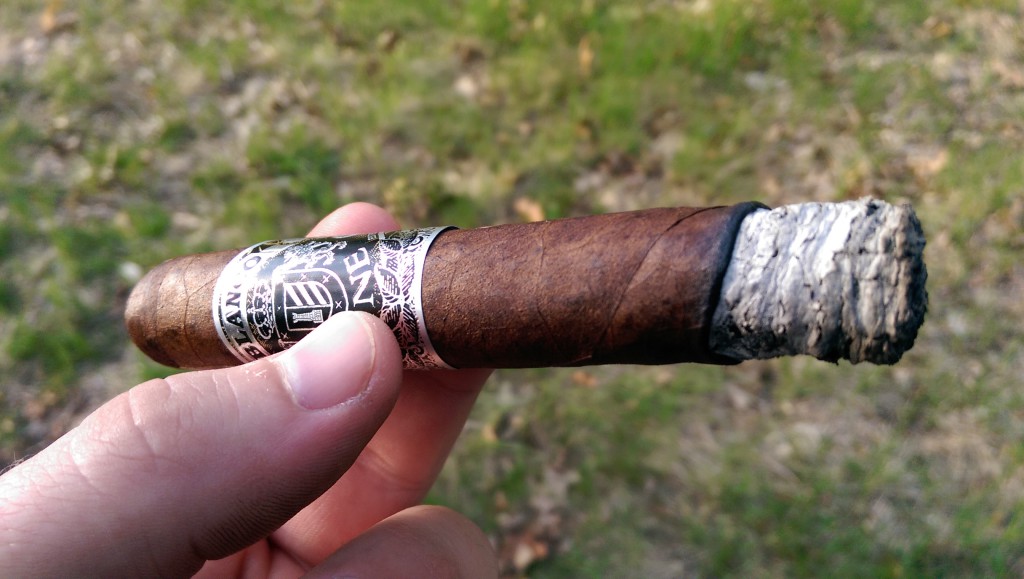 Draw:
I prefer a punch when cutting my cigars, and the NINE seems to as well. Throughout the entirety of the burn we experienced a steady draw that felt slightly restricted, yet produced incredible smoke. The restricted draw in our opinion also allowed for a longer burn than you might expect from a robusto.
Burn:
On average we were able to drag on the robusto NINE for 1 hour and 52 minutes. This cigar is a great size for relaxing the afternoon away or jumping from tee to tee on the golf course while producing some hefty white/blue-ish smoke clouds. The burn line was a little wavy for the most part, but self corrected nicely throughout the burn. Only once did we need to touch it up – which was half way through the last 3rd of the cigar on one occasion.
Aroma:
Pre-lit:
Tobacco

Coffee
Cocoa
Wood
Lit:
Earthiness
Spice
Lingering Coffee
Some Chocolate
Flavor:
Marketed as a full-bodied cigar, the Blanco NINE is an intriguing one. It's not going to knock your socks off with spice or complexities – nope, this cigar is actually very well balanced and even delivers some creaminess along the way that was very well received by our testing crew. In fact, we found the NINE to be a great example of a medium/full flavored cigar.
Throughout testing we most notably picked up on flavors of coffee and earthy tones. Then bits of cinnamon and leather as we continued smoking. A combination that is very nice. While the NINE didn't express too many complexities, we did however experience some twists and turns in the last 3rd to our delight, which made smoking this stick all the way to the nub an easy task.
Paring: after a few minutes it became very clear, this medium/full bodied stick deserves a full flavored drink to compliment it – and we knew just the right scotch… we're talking about the Cigar Malt Whisky from The Dalmore. This robust highland scotch whisky isn't reserved only for cigar smokers, though we quickly discovered puffing on a Blanco NINE while sipping was a excellent choice. At nearly $130 a bottle this isn't the most budget friendly paring we could have landed on, but it is strictly delicious if you're a fan of scotch whisky.
Value:
Priced for any man on any budget, the Blanco NINE is a great value at just $6 to $7 per stick at your local cigar shop. If you're looking for a cigar that delivers some decent spice, intriguing complexities and smoothness at a decent size the robusto Blanco NINE is a great choice. The burn time is fantastic and flavors are delightful, well worth the money if you're looking for something new to pick up.
Blanco NINE: Cigar Review