The experiences and the memories made along a road trip with friends and family are priceless. So naturally when Toyota reached out to Busted Wallet inviting us to take the 2018 Toyota Camry on a Southern Road Trip through Charleston, Savannah, and St. Augustine we jumped at the opportunity. REAL southern food?! Rich history?! Stunning landscapes?! Getting to drive the new Camry?! Let's go places!
Key Features & Specs:
All-new exterior design
3 available powertains to choose from
Bird's Eye View Camera
Intelligence clearance sonar
Blind spot monitoring
JBL premium audio system
Standard Toyota Safety Sense P
Pre-collision system
Lane departure alert w/steering assistance
Dynamic radar cruise control
Entune 3.0 system
8 inch multimedia touch-screen
MPG: 29mpg/41mpg highway; Hybrid: 51mpg/53mpg highway
Our road trip begins in Charleston, SC where we were greeted at the Wentworth Mansion with stunning accommodations, top-notch Southern hospitality and of course our first glimpse of the 2018 Toyota Camry. Sitting outside of the Mansion was the 2018 Camry in Blue Streak Metallic. It's a much sportier looking Camry than previous versions and we couldn't wait to get behind the wheel. However, that would have to wait until the morning because we had less than 24 hours to take in the sights of Charleston before continuing our road trip to Savannah.
We walked the cobblestone streets of Charleston past incredible mansions, towering churches, and gated gardens. We instantly fell in love and knew we'd have to come back again someday. Our only evening in Charleston was topped off with a horse drawn carriage ride to dinner at the Charleston Grill.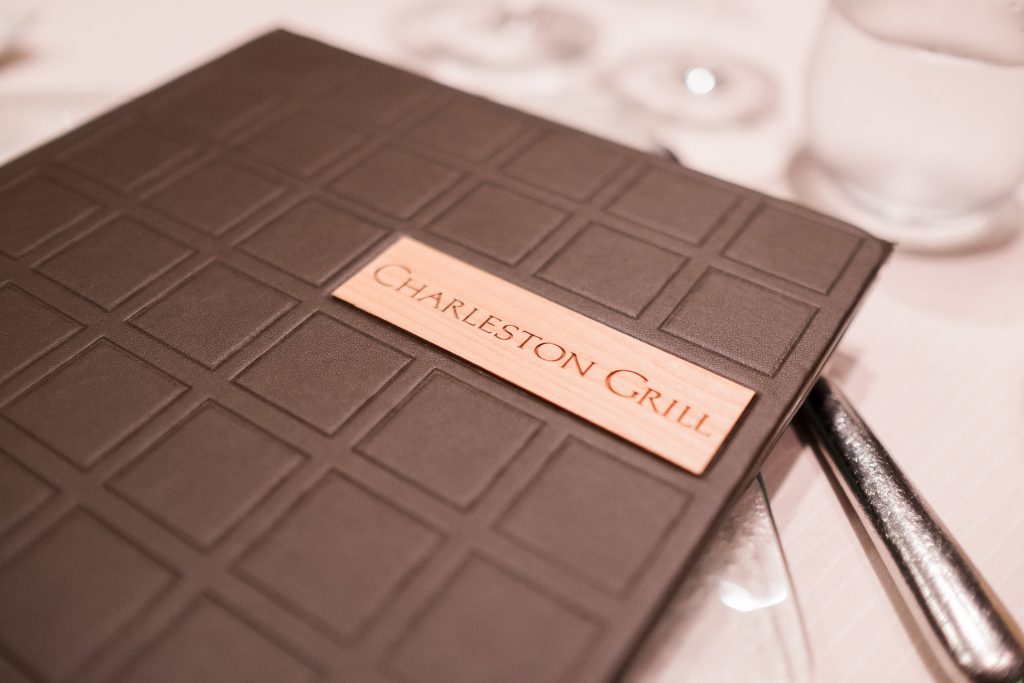 After departing the Wentworth Mansion, we took the Camry to the Charleston Maritime Center for a historic (and choppy) boat tour of the Charleston harbor. In town, the Camry's pre-collision system with pedestrian detection, intelligence clearance sonar, and bird's eye view camera are really useful – especially when you are in unfamiliar surroundings. We were sad to leave Charleston so soon but we had more stops to explore on the way to Savannah, GA including the Old Sheldon Church Ruins and Tybee Island.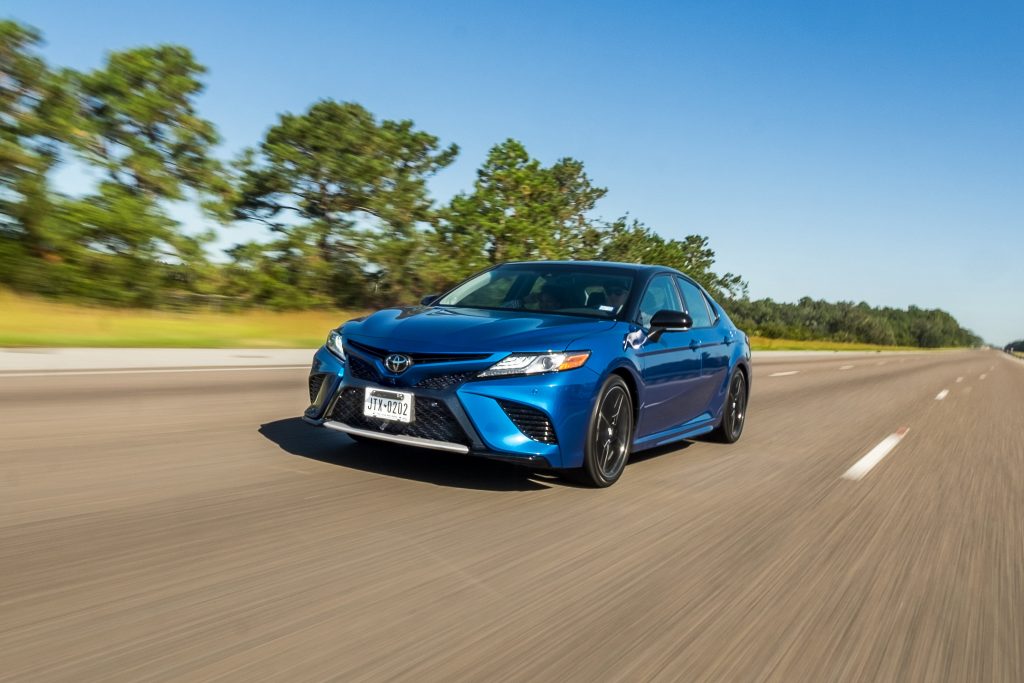 Once hitting the open road on our way to Savannah we were really able to get familiar with the new Camry. It was during this time we discovered some of our favorite features. With its driver focused design, everything is at your fingertips and quite user friendly. The 8-inch Multimedia touch-screen is your command center with access to new Entune 3.0 system, Scout GPS Link App and of course music. The WI-FI Connect Powered by Verizon can support up to five devices which is key for any road trip. While driving, the 10-inch Head-Up Display projects important info such as your speed and turn-by-turn directions right onto the lower part of the windshield so that you can keep focused on the road. The Blind Spot Monitor and Lane Departure Alert with Steering Assist are there to help when needed. If you drift a little bit out of your lane, audio alert will go off and a small corrective steering mechanism will safely bring you back into your lane. Pretty amazing! The Camry is equipped with Dynamic Radar Cruise Control (DRCC) which takes traditional cruise control to the next level. DRCC uses vehicle-to-vehicle distance control, which adjusts your speed to help maintain a preset distance from vehicles ahead of you. Once you input a maximum speed and it locks onto a car in front of you, your speed will adjust as that car speeds up or slows down – all while maintaining a safe distance between the two of you. A handy feature for long road trips.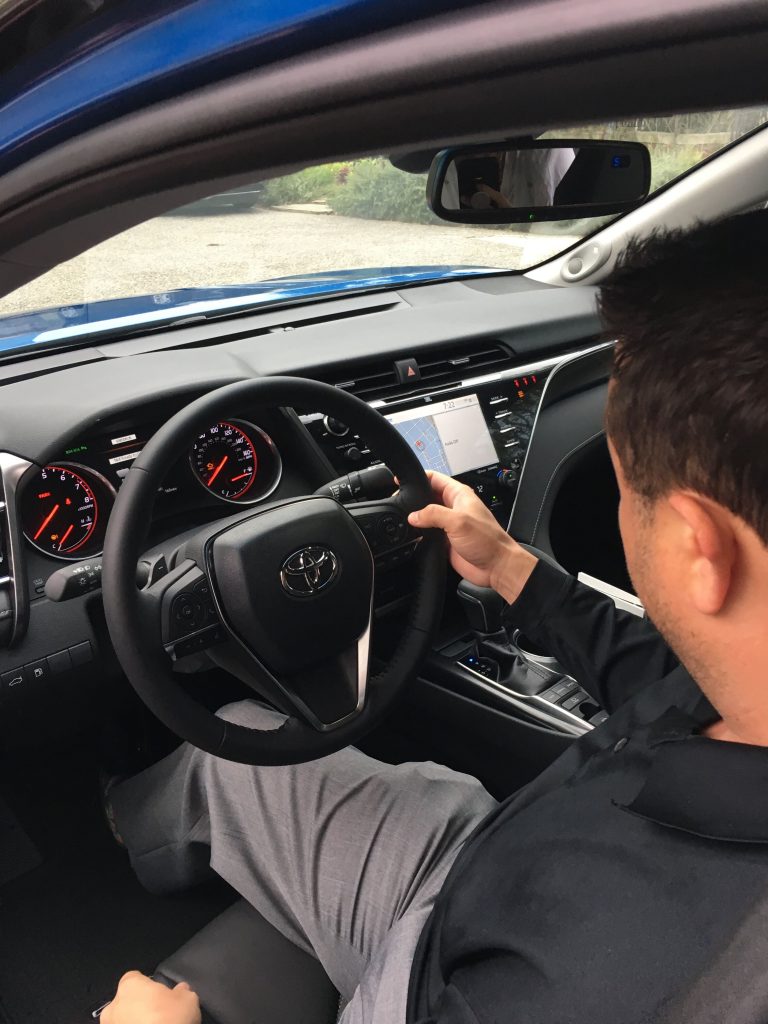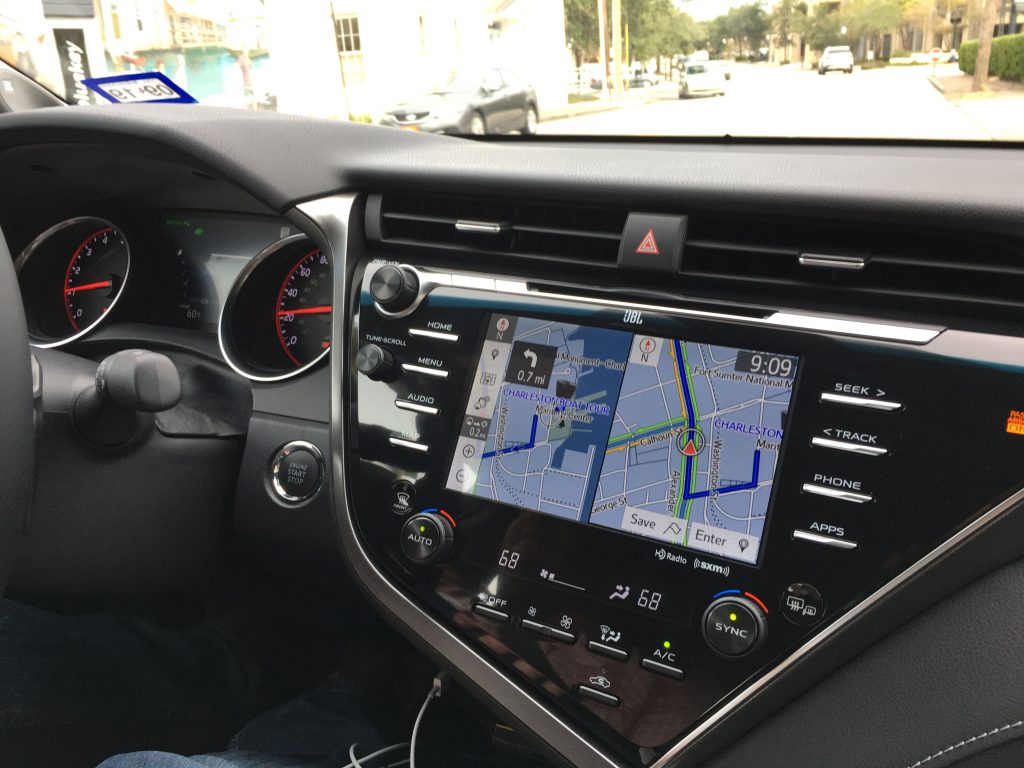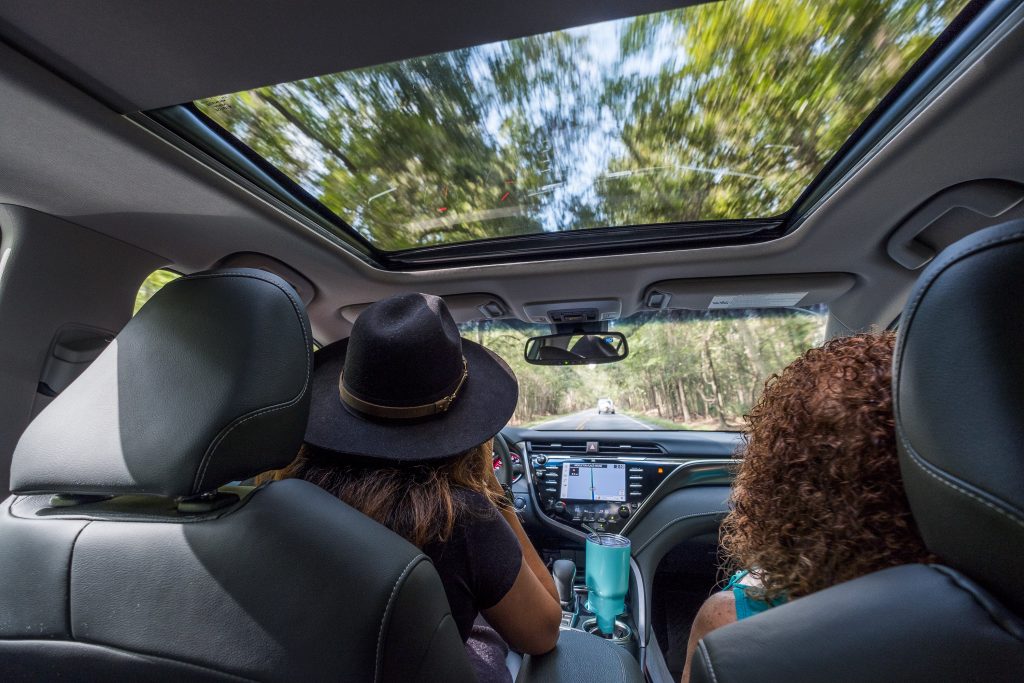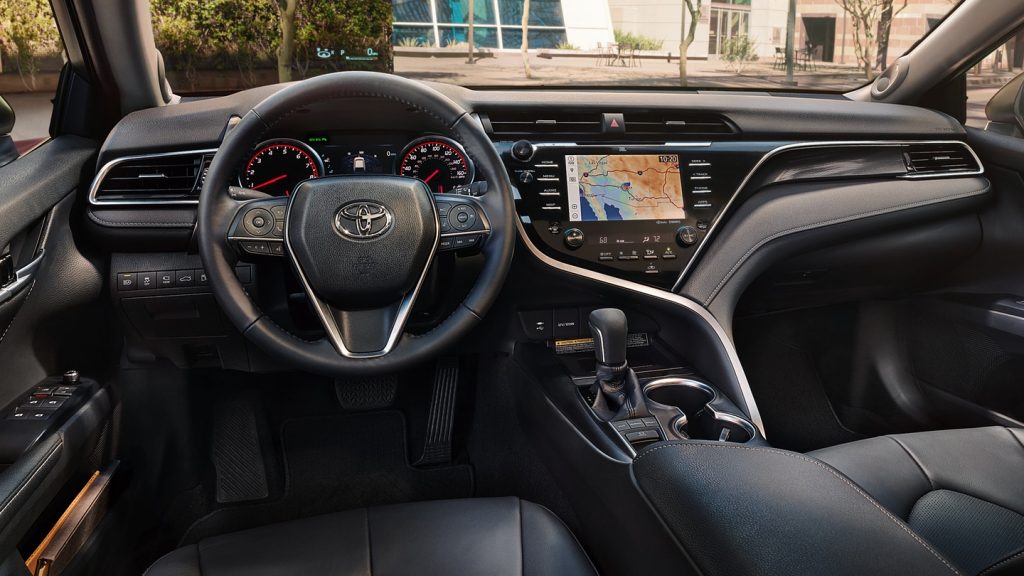 While road tripping from Charleston to Savannah we were impressed with the Camry's handling and overall comfort. Sitting low to the ground this vehicle's stance had us feeling connected to the road. The steering is quite responsive and easy to handle. While the 2.5-Liter V4 powerplant wasn't much to write home about in terms of horsepower, we thought the Camry was rather peppy! If you're looking for more power Toyota's XSE V6 model comes standard with a 3.5-Liter V6 motor pumping out an impressive 301 hp.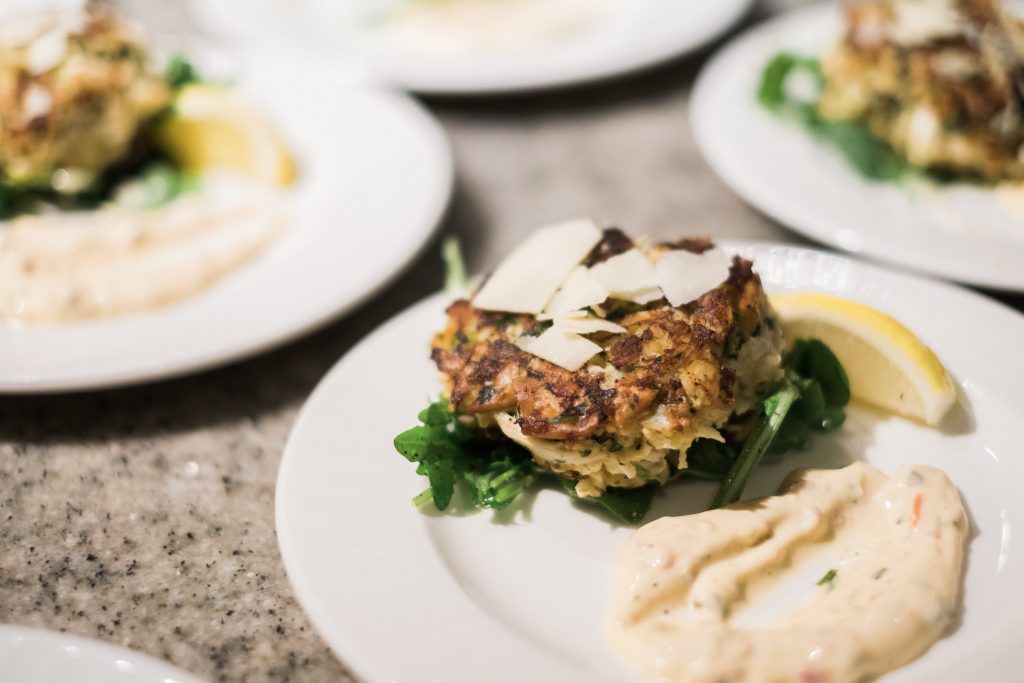 Savannah is about a 100 miles south of Charleston and it too carries its own unique history. It's also referred to as one of the most haunted cities in America. After driving past gorgeous town squares (they have 22) and under Spanish moss covered trees, we arrived at the Mansion on Forsyth Park. That evening we enjoyed wine tasting while learning about Savannah's rich history. We had an interactive dinner at the Mansion's Cooking School with a true southern menu including crab cakes, gumbo, fried chicken, shrimp & grits, and of course Savannah's famous Leopold's ice cream on top of peach cobbler.
The next morning we opted to test drive the new Camry Hybrid for our excursion from Savannah to Saint Augustine, Florida. The hybrid essentially comes with all of the great features as non-hybrid, but you of course get better gas mileage – an EPA-estimated 53 highway mpg. Before rolling out of Savannah, we enjoyed a fascinating tour of Bonaventure Cemetery and took quick drive down River Street and past the town square the famous bench scene from Forest Gump was filmed. On our way to Saint Augustine, we stopped for some chicken fried chicken at Barbara Jean's on Saint Simmons Island and a glimpse of the towering  St. Simmons Lighthouse. Again the Bird's Eye View Camera and Intelligence Sonar came in handy on the island because it was crawling with people.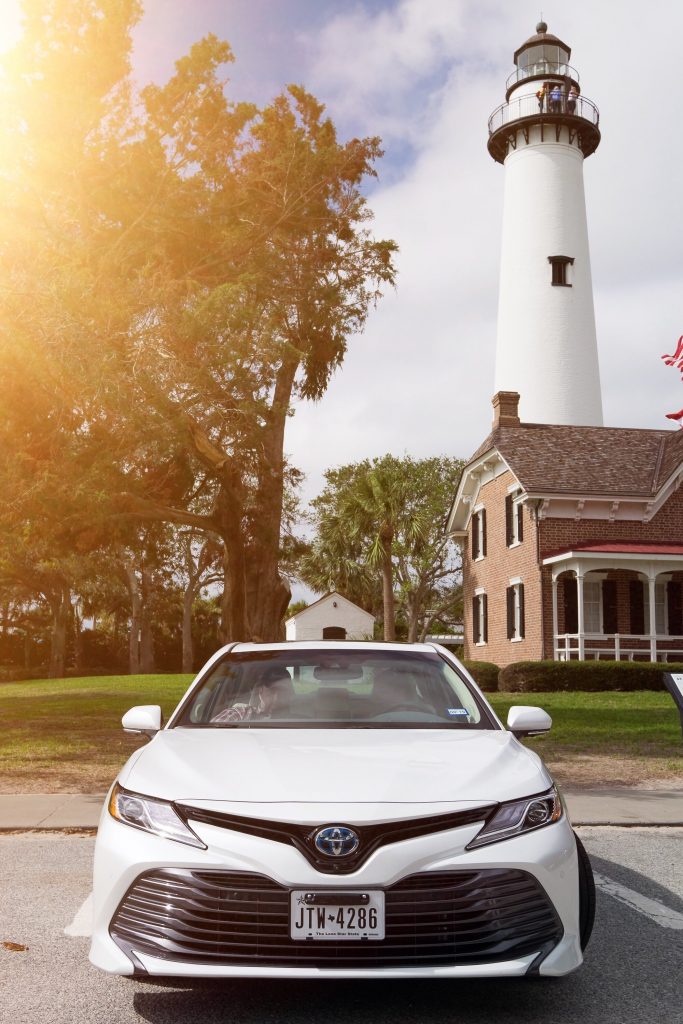 As we drove into Saint Augustine, we went past the absurd entrance of the Fountain of Youth, sprawling Castillo de San Marcos, Pirate & Treasure Museum (Pirates? Really?) and the iconic Bridge of Lions. Like most road trips, we arrived a little later than planned at the towering Casa Monica Resort. The helpful staff happily brought our bags to our room so that we didn't miss our historic walking tour. with Captain Jackie who was of course in full pirate garb. We learned that as America's oldest city (it's over 450 years old!) it was constantly raided and set on fire by pirates. The fort and pirate museum now make sense.
Following a good night's sleep at Casa Monica Resort, our final excursion of our Camry Southern Road was an amazing boat tour along the Saint Augustine harbor complete with a rainbow and dolphin sightings.
After spending 4 days and driving over 300 miles in the new 2018 Toyota Camry, we definitely could envision ourselves owning one. Its sporty styling, safety features, and innovative technology make it appealing for young professionals as well as families. Also if you're in the market for a road trip, you can't go wrong taking the same route we did. Just give yourself a little more time to explore their rich history and culture.
Behind the Wheel - 2018 Toyota Camry
If you're in the market for an affordable 4-door that delivers on comfort, design and performance the 2018 Camry is worth a look. Currently Toyota has three models to choose from, including the XSE V6, L and LE. Each of which are fun to drive and make for the perfect road tripping vehicle.
The Good:
Stylish and sporty exterior
Embedded technology that helps keep you safe on the road
JBL sounds system sounds great
The Not So Good:
Not a fan of the built in navigation app.