Spring season skiing/snowboarding is on its way full steam!  That means it's time to crawl out of your down jackets and get back to layering your way into shells.  It also means it's time to embrace the fact that the fluffy powder is going to be turning into a wide range of precipitation that could include rain.  While shell jackets by design are just stripped down jackets, there is still a full spectrum to choose from with even more features than their fluffier counterparts!  We took the Arc'teryx Iser jacket out for a few on-piste laps and have found ourselves ready for everything!
Key Features:
Waterproof, windproof, breathable
Taped seams
WaterTight™ zippers
Die-cut Velcro® cuff adjusters
Helmet compatible DropHood™
Recco® reflector
3L GORE-TEX® fabric
GORE® C-KNIT™ backer technology
Trim, athletic fit
Micro webbing zipper pulls
Internal chest pocket
Two hand pockets
Internal mesh dump pocket
Powder skirt with gripper elastic and snap closure
Arc'teryx Iser Gear Review Breakdown
Design:
The Arc'teryx Iser was built for the skier/snowboarder that will be charging hard while in bounds at their favorite ski resort.  No strangers to high end features and ultimate survivability, Arc'teryx packed the Iser full of all they could to keep you comfortable in the elements.  But since the Iser is built for the in-bound lift ticket buyer, its features are more tailored to get you through a day on the slopes instead of a week on a glacier.
Although you will wear this jacket on the groomers, it's good to always be prepared when in the mountains and that includes avalanche protection.  The Iser is fully fitted with the RECCO avalanche reflector system.  The beacon is placed in the back collar where it is most likely to get the best reception if you were ever buried in a slide.  It also is out of the way and doesn't seem noticeable during normal wear.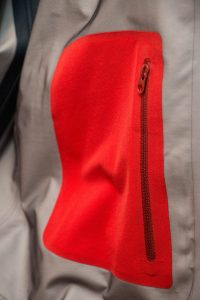 The textiles that make up the Iser are the primary focus of design.  Featuring 3L Gore-Tex with C-KNIT backing, the groundwork for a high performance jacket is unquestionably present. Fully taped seams, WaterTight zippers, and a Arc'teryx Nu water repellent treatment all add to an already highly respected waterproofing platform.
Usually pockets are pretty limited when it comes to shells, but the Iser has just the right amount.  On the outside, there are 2 front hand pockets and one arm located stash pocket.  With no flaps on the zippers, all 3 have the Arc'teryx WaterTight treatment to help keep water out through the usually vulnerable zippers.  They say that these are "highly water resistant" and in extremely wet conditions, you may find water sneaking in, but nothing too significant.
On the inside, the pocket menu includes a big mesh, open top stash pocket and 1 zippable pocket that is made from a bit of a stretchy material.  The zippable pocket is the perfect size to fit a standard size phone if you have no case or a slim case.  However if you have a larger phone or a larger case, you will have to use the mesh pocket due to the size.
No matter where your phone ends up, I found that I was easily able to pack my phone, an energy bar and a few cards without noticing too much bulk.
The hood on the Iser is ample in size and designed to fit over any helmet with ease.  In fact there is so much room that without a helmet, I actually have a hard time keeping the hood up without using the well-designed draw cord system that doesn't seem to pull into my face at all.  A few tugs of the auto locking elastic cords and I was able to get a perfect fit without getting too much of that 'head shrink wrapped in fabric and elastic' look.
Performance:
This is what the jacket is all about.  This jacket is designed as a shell so there is no insulation to keep you warm and you will want to layer as needed for that aspect.  But what this coat is built to do is to keep the wind, rain and snow away from you while letting your body heat and moisture out in extremes.  And it does an excellent job at that.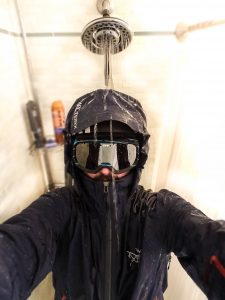 The combination of 3L GORE-TEX with GORE C-KNIT backer and the Arc'teryx Nu water repellent treatment makes this jacket waterproof and windproof, yet noticeably breathable.
Lots of jackets claim to be waterproof but it often comes down to a question of 'how waterproof is it?'  Well, I thought about a time when I was caught mid-mountain in a torrential downpour.  The only option was to point it downhill and hope I got to the bottom before hypothermia got to me.  To recreate that dramatic decent, I took the Iser into my shower.  After 10 minutes in the shower, pretending to be ripping at full speed, my shirt stayed totally dry and the contents of my pockets don't even have a drop on them.
After some hard riding in colder temperatures, I also didn't notice any significant moisture buildup inside which indicates that there was excellent breathability.  Even if I did warm up, there are 2 side zippers that open fully to let some fresh air in.  Being used to 'pit-zips' I also like that these are not full pit zips that often cause the jacket to balloon open on the shoulders and then get jammed in my armpits while zipping.
Comfort:
The Iser is made with a trim fit.  This was a little different to me because I am used to skiing/snowboarding shells being on the larger side of the sizing charts.  Not the case for the Arc'teryx Iser.  It does fit more like an athletic jacket would fit.  As a result, I did size up from the rest of my Jacket collection to ensure I had room for the necessary layers a shell will require.  I tend to fit between sizes so my recommendation would be to size up if you are an in-betweener like me.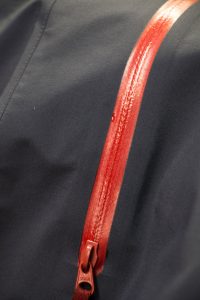 The notable fit difference in the trim fit style seemed to be in the hips, actually.  This jacket tends to fit very straight from chest to hip and almost feels as though there is a bit of a taper towards the hips, even. It is a different feel that will definitely keep snow from entering the bottom of the jacket, but you might want to try it on first or buy from an online vendor that will do free exchanges.
Once dialed in on size, this jacket is quite comfortable.  Ample room through the shoulders and down the arms means that it tends to move with you and never binds your movements or starts to ride around on you.
The cuffs have ample room if you choose to wear your sleeves over the glove and a nice die-cut Velcro system that will help cinch them in if you want to wear your gloves over the sleeves.
The most notorious place for a jacket to become uncomfortable is at the top of the zipper where your face meets the jacket.  The Iser doesn't seem to fit too snug against the face and also includes a very soft flap to protect your already chapped face from the zipper.
Style:
Arc'teryx offers the Iser in 5 different color combinations that are sure to match your own personal style.  They range from wild neon's, right through the basic colors and into plain black.  For our tests, we had the "Admiral" color and I found it to be a very attractive shade of blue with nice coordinating pops of red and silver.
The Iser also has that streamlined look that a shell offers and with the added 'trim fit' of the jacket makes this a very clean and snug fitting jacket that could very easily be worn out on the town without looking like you just came down from Everest.
Durability:
In the world of shell jackets, there is a hardshell and a softshell.  The softshells are usually water resistant or temporarily waterproof thanks to a fabric coating.  The softshells though are usually very comfortable because they will have a little stretch in the fabric and a less 'plastic-ey' feel.  Hardshells are extremely durable, totally waterproof but tend to sacrifice comfort.

The Iser is an amazing blend where a hardshell has seemingly kept its top traits while picking up what a softshell also excels.  The result is an extremely durable, totally waterproof jacket that actually does have a little bit of stretch and a softer feel thanks to the GORE C-KNIT technology.
C-KNIT is essentially an inner layer that is made with very thin nylon woven in circles.  This is a pretty big departure from what it meant to be a waterproof textile. C-KNIT makes the jacket more supple and smoother. It actually eliminates that crunch in GORE-TEX and is really nice next to skin and slides well on base layers.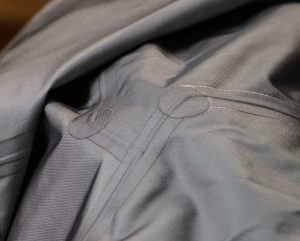 The icing on the cake is the 3L GORE-TEX.  In this newer generation of GORE-TEX, all 3 elements that make up the GORE-TEX fabric are laminated together into a single fabric.  This means that as you move, there is no rubbing of the membranes happening that could cause pre-mature failure of the waterproofing.
To ensure the rest of the jacket keeps up with the revolutionary fabric, you will find that all seams on the Iser are fully taped and reinforced on the inside for ultimate longevity.  Arc'teryx also fully backs up their product and promises to replace the item that might fail due to workmanship issues for the life of the product.  Even if there is an issue due to wear and tear, they have a repair service available also to make this jacket part of your collection for years to come.
Value:
The Arc'teryx Iser is an expensive jacket.  It is near the top of the price list when looking at ski/snowboard shells.  But the performance of this jacket is simply hard to beat.  It is packed full of the latest and greatest to give you the most comfortable day on the slopes.  Don't buy this jacket just because of the name on it or because you like the color.  You should buy this jacket because you are going to get out there and shred.  That is who this jacket is made for and that is how the jacket is priced.  If you aren't shredding, you can wear it around town and you still won't be let down because at the end of the day, this really is an amazing jacket.
Buy Now: $549 from Arcteryx.com
Arc'teryx Iser Jacket - Gear Review
The Arc'Teryx Iser is a sleek fitting, stylish shell jacket that will keep you comfortable in the elements even if it is in high winds, torrential downpours or heavy snow.
The Good:
Excellent Waterproofing
Incredibly Breathable
Very Lightweight
The Not So Good:
Snug in the hips
Zippers may leak, just a little
Higher price for a shell