If seeing the snowfall outside your window sends a signal of pure excitement to your brain, then chances are, you're snowboarding/skiing junkie.  Congratulations, you've come to the right place.  We here at Busted Wallet believe the proper fix for this ailment is the right gear so you can thoroughly enjoy your time in the snow.  This season we bring you Arc'teryx's Fissile jacket.  The proper cure for this year's cold weather.
Who better to bring you the cure for this year's cold weather than a company located in the Canadian Coast mountain wilderness?  Arc'teryx is a well known name and recognized for their technical high-performance outerwear.  This company believes in evolving their gear so much that they named their company after the first reptile to develop feathers for flight (ARCHAEOPTERYX LITHOGRAPHICA).  Wearing this jacket will not give you wings, but it will give you some amazing comfort, warmth, and protection while you are out there in the elements.
Key Features:
Waterproof, Breathable, and Insulated
Down Composite Mapping
Coreloft™ synthetic insulation
Down Contour LT™ is compressible while adding thermal value
Gusseted underarms
Articulated fit for better dexterity
Laminated brim
Adjustable hood drawcords
Insulated, helmet compatible StormHood™
WaterTight™ Vislon front zip
Pit zippers with PowderGuard™ mesh backing, for easy venting
Die-cut Velcro® cuff adjusters reduce bulk, and won't catch or tear off
Adjustable hem drawcord
Sleeve pocket with WaterTight™ zip
Two hand pockets with WaterTight™ zippers
Internal chest pocket with zip
Two internal mesh dump pockets
WaterTight™ zippers
Slide 'n Loc™ snap closures on powder skirt
Arc'teryx Fissle Jacket Review
Design: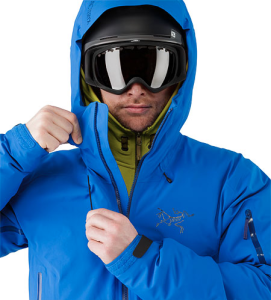 Their focus on increased range of comfort in a variety of conditions make wearing this jacket easy and durable enough to wear every day (and I have for the last 30).  Although it is a relaxed fit, it still conforms close enough to the body to trap the heat closer to your core.  Built with Down technology, the jacket is highly compressible and has a high warmth-to-weight ratio.
One of the best safety features in this jacket is the integrated Recco® reflector.  If you're in the backcountry where it is easy to get lost, it's nice knowing that the Arc'teryx's Fissile jacket is equipped with the RECCO® Advanced Rescue System.  This system is used to pinpoint your location in the case of an Avalanche.  It requires no maintenance and has virtually unlimited lifespan.  In this jacket, the Recco® reflector is located behind the zipper on the upper left sleeve.  You wouldn't even know it was there unless you were actually trying to find it.
Comfort: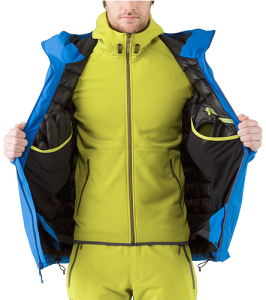 As mentioned above, the Arc'teryx's Fissile jacket is a relaxed fit and is geared toward comfort and mobility.  There is room for a base layer (or two) and has a soft to the touch lining that can be worn with just a t-shirt underneath.  Built with premium goose down, the Fissile is actually one of the warmest jackets that Arc'teryx has to offer.  It really is built for all scenarios during your time out on the slopes.  Whether I was resting, ascending, traversing, or descending, the Fissile kept me warm all day and night. The Fissile also has N70p 3L GORE-TEX fabric that helps seal out the snow and wind for another layer of added protection and comfort.
Performance: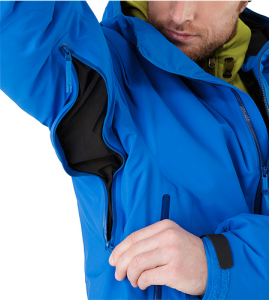 Aside from keeping you warm and dry, the 
Fissile
 also keeps you cool when you get too warm.  The more active you are, the higher your body temp will rise.  So in order to help keep your body temp where you are comfortable, the 
Fissile
 has mesh backed PowderGuard™ vents under the arms to help circulate heat without accumulating any snow.  Pair that with the Lofty 750 fill power goose down and Coreloft® synthetic insulation, and you have several features that help protect the areas where moisture might occur.  The Down Composite Mapping™ is strategically placed in areas to help maximize insulation while also improving mobility.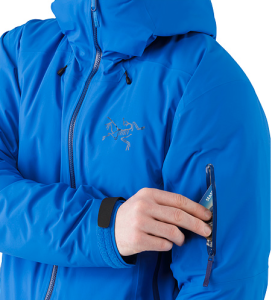 Every zipper is watertight and easy to access.  I used to toss my phone into a plastic bag for added moisture protection, but with the watertight zippers on these pockets, my phone and wallet stayed nice and dry.  The helmet compatible Stormhood is a nice feature to have but I rarely used it while on the slopes.  I did however use the cinch cords to tighten down (without a helmet) when we hit the backcountry for some snowshoeing.  The tall collar is really nice to have, especially when the wind and snow are hitting you hard.  The only feature that I would have liked to see integrated into this jacket would be a pair of wrist gaitors.
Style:


Looking good on the slopes can very from person to person.  If you're doing double backflips in the terrain park, then you can wear whatever you want, but for the rest of us, looking good can definitely help boost your confidence.  Luckily the 
Arc'teryx's Fissile jacket
 is one slick piece of gear.  The simple look is actually very functional.  As they say on their website, "Minimalist design for maximum performance".  We agree.  The 
Fissile
 comes in four different colors: Carbon Copy, Diablo Red, Echo Blue, and Hinto (the color we tested).
Value
In the world of winter jackets there are many brands to choose from and the prices very quite a bit.  However, with any product, you get what you pay for.  If you've ever tried an 
Arc'teryx
 jacket then you know they are worth the money.  However, if you haven't tried an 
Arc'teryx
 jacket before then we recommend the 
Fissile
 as your first.  We're are pretty confident that it won't be your last 
Arc'teryx
 jacket you buy.  The price is a bit steep, but if you have the cash, it's worth the upgrade.
Arc'teryx Fissle Jacket - Gear Review
Arc'teryx is one of the leaders when it comes to winter gear for good reason. This jacket proves it. Although it may have a big price tag, you get what you pay for.
The Good
Super Comfy
Waterproof, Breathable, & Insulated
Recco Reflector