Coming from Buffalo, NY, I often encounter two very distinct groups of people that are very passionate about their opinion: those that love winter and cold weather, and those that hate it. The most common complaint I hear from people that hate winter is that they have to spend the entire winter inside, otherwise they will be cold. If you tell them to dress warmer, they insist that regardless of what they wear, they are cold.
The good news is, regardless of which group you fall in, the Arc'teryx Ceres is here to help. If you are one of those people like me that loves being outdoors in the winter, the Ceres offers a minimalistic design with exceptional build quality that will suit your needs regardless if you are hiking, climbing, snowboarding, or just enjoying the outdoors. If you are one of those people that insists you are always cold and that there is nothing that will help, this is the warmest jacket Arc'teryx has to offer. I dare you to complain you are cold in this jacket.
We wore the Ceres in everyday use in cold winter weather in Buffalo, national forests in Pennsylvania, as well as in the high peak wilderness in the Adirondacks as we hiked Dix Mountain. How did the jacket hold up? Read below to found out.
Key Features:
Down Composite Mapping: 850-fill European Goose Down to keep your core warm, and Coreloft™ synthetic insulation in moisture prone areas
Windproof
Expedition fit, which allows for easy layering
Insulated, helmet compatible StormHood™ with drawcords
Elastic cuffs
Adjustable waist drawcord
Adjustable hem drawcord
External: 1 chest pocket, 2 hand pockets
Internal: 1 secure zip pocket, 2 mesh pockets.
Stuff sack included.
Ceres Jacket Review Breakdown
Design:
The design of the Ceres jacket clearly shows how much thought and care Arc'teryx puts into their products. While some companies offer jackets with a long list of features which sound too good to be true, Arc'teryx takes a minimalistic approach and delivers each feature with exceptional quality.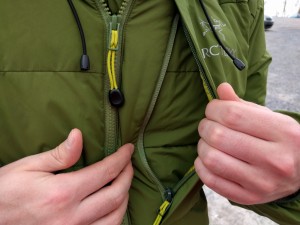 First, let's start with the inside construction of the jacket. The Ceres jacket uses a Down Composite Mapping. The core of the jacket is filled with 100% 850-fill European Goose Down down, which offers exceptional loft, is incredibly light, and most importantly, keeps the core of your body warm. Arc'teryx then places its synthetic Coreloft™ insulation in areas which are prone to moisture, such as the hood, collar, hemlines, and cuffs. This synthetic layer is uses a variety of fibers in mixed sizes to trap air and retain warmth, even when wet.
The outside of the jacket is made of Gore-tex N40p WINDSTOPPER® material. This material is a 40-denier nylon woven in a plain weave pattern, which prevents fibers from breaking down and becoming weak. It is important to note that although this material is 100% windproof, it is not 100% waterproof, which is why Arc'teryx went with a Down Composite Mapping.
The hood is insulated, and is large enough to fit over a helmet comfortably. There are two drawcords on both the left and right side that are easy to adjust, even with gloves on. The jacket also features drawcords on the waist and hem, allowing you to tighten the jacket where needed and maximize your comfort level.
The Ceres offers a large chest pocket, two hand pockets, two internal mesh pockets, and also an secure zippered internal pocket. This is the first jacket I've owned that is not missing a pocket that I wish I had.
Finally, there is a stuff sack connected to one of the internal mesh pockets, allowing you compress the jacket for storage.
Comfort:
The Ceres is classified as "Expedition Fit", which means that the jacket is designed to fit over a base layer and multiple thicker mid-layers if needed. I am 5'11'', 150lbs, and wore a size small. I've worn this jacket with only a baselayer underneath, as well as with a base layer and mid layer, and it fits and feels great. Even with multiple layers on, the jacket does not feel too tight or restricting in any way.
As noted above, the Ceres has several drawchords, which allows you to tighten the jacket where you need to. If you are only wearing a baselayer, you might tighten the hem drawchord to keep the jacket tight around you and keep heat in. If you have multiple layers on, it is just as easy to loosen this drawcord. When we got to the summit of the mountain, I tightened both of the drawchords on the hood to keep the hood in place and secure to my head. Regardless of your body type, the numerous drawcords should make it is easy to configure this jacket to fit your body and stay comfortable.
Performance:
Arc'teryx states that this is the warmest jacket in the Arc'teryx Essentials collection. I haven't worn every jacket in this collection, but let me stress this point: this jacket is warm. It will keep you warm in very, very, very cold conditions.
I wore this jacket on the summit of Dix Mountain, which was frigid and blustery. When we reached the summit, before I took the Ceres out of my pack and put it on, I could feel the wind hitting my body (I didn't have a shell on). As soon as I put the Ceres on, my upper body immediately felt warm, and the wind was no longer an issue. The WINDSTOPPER® material claims to be 100% windproof, and it sure felt like it.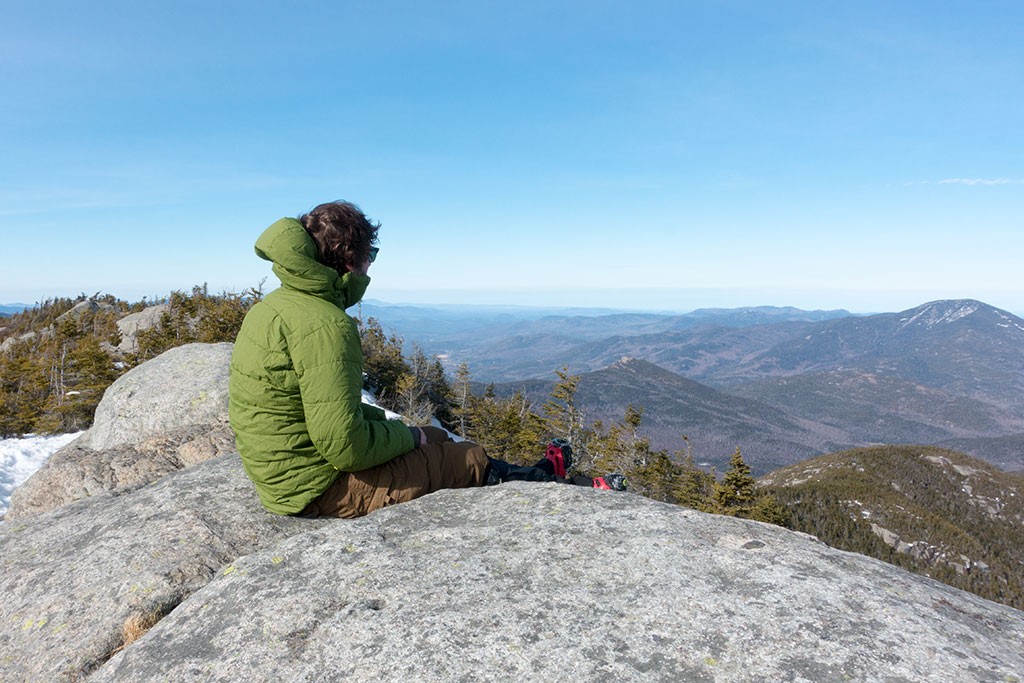 I've also worn this jacket around town, in freezing cold Buffalo, NY winter weather. Sub-zero temperatures? Negative degree windchills? Not a problem. This jacket kept me warm.
The pockets are plentiful and large, and allow you to easily store and access items such as a map, compass, or snacks.
The only issue I've had with the Ceres is the main zipper. On several occasions, I had trouble getting the zipper attached at the bottom. I noticed that the bottom zipper was getting caught on something, and I had to force it down slightly in order to get the zipper through both the top and bottom zipper tabs. This did not happen every time, but it happened enough times that I noticed it.
Style: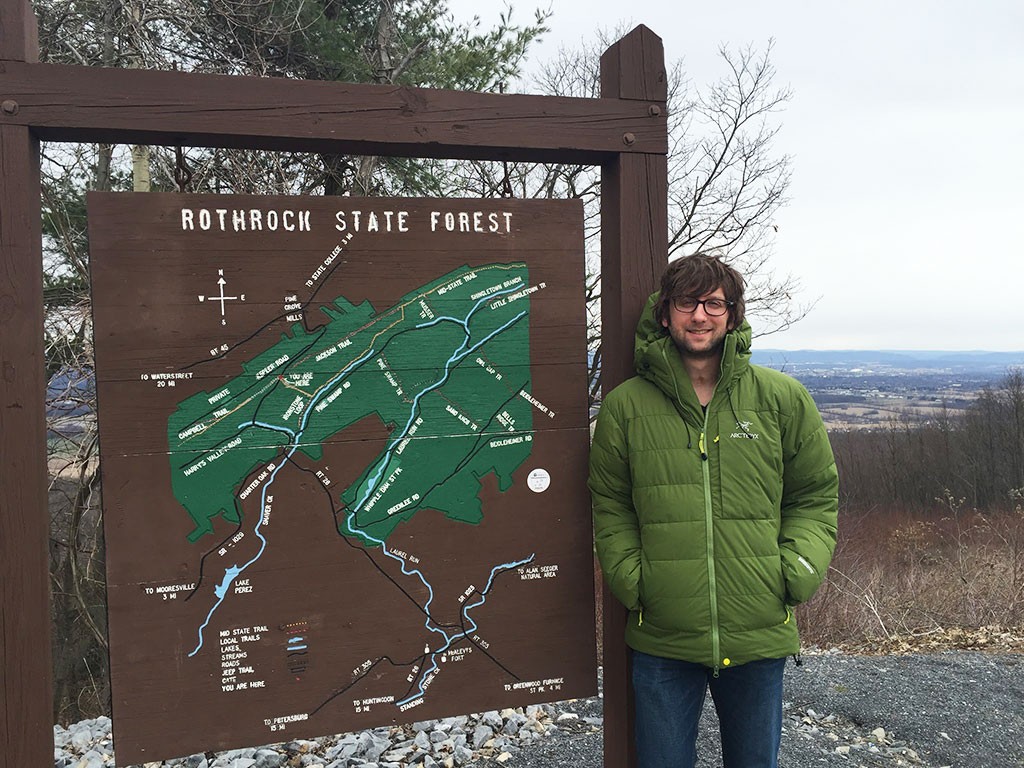 The Ceres is classified as "Expedition Fit", which means that the jacket is designed to fit over a base layer and multiple thicker mid-layers if needed. If you are worried that this adds excess bulk to the jacket, let me assure you that it does not. I've worn the Ceres on long mountain hikes, as well as around town without feeling out of place. I have a slim figure, and think it fits great, even with a few layers on underneath. When I first started wearing it around, a friend mentioned how well the jacket fit, and was noted that it was not as bulky as the down jacket that they owned.
We received the Twinleaf color Ceres, and speaking as someone whose favorite color is green, I think it looks pretty awesome.
Value:
With an MSRP of $749.00, the Ceres is not a cheap jacket. I've gotten by in cold weather with other cheaper jackets. However, the Ceres is easily the warmest jacket I've ever owned. It is extremely warm, it is comfortable, it is lightweight, it will block the wind, it has plenty of storage, and it provides all of these great features while still looking stylish. I can't think of a single reason why I would ever need another winter jacket. If you are willing to make an investment and buy a great jacket for cold weather, this is definitely the jacket to purchase.
Buy Now: $749.00 or to learn more, go to: Arcteryx.com
Arc'teryx Ceres Jacket - Gear Review
Based on the design, comfort, performance, and style, it is clear that Arc'teryx put a lot of thought into the Ceres jacket. Bottom line: this jacket will keep you warm and is designed to last.
The Good:
Did we mention that this jacket is warm? It is incredibly warm.
A warm hood
Plenty of pockets that are easily accessible and provide excellent storage space
The Not so Good:
The cost may be high for some, but you are getting a high quality jacket with simple features that have been perfected.
Main zipper would occasionally give me problems. Enough that I noticed it.