Every cigar collection deserves a good home – because the key to keeping your stogies tasting great and ready to smoke at a moment's notice is proper storage, but buying a humidor can be a tricky business as anyone who's every forked over the cash can attest. Especially if you're a first timer! Why does one humidor cost you upwards of $900 and another only run you $50? Well, there's a lot of factors at play here… including brand name, volume, construction and technology. For my money a classic Spanish ceder lined box with a tight seal and an accurate hydrometer has been the trusted method of storage my cigar collection for a number of years. And will likely continue to be, because it's down right fool proof!
That's why when we were recently given the opportunity to test and review a new humidor from Quality Importers we instantly gravitated towards their Admiral Humidor. Not only is it one of the most handsome humidors we've ever laid eyes on, but it's a very simple and effective design that is capable of handling up to 120 cigars – enough to keep any cigar aficionado more than pleased.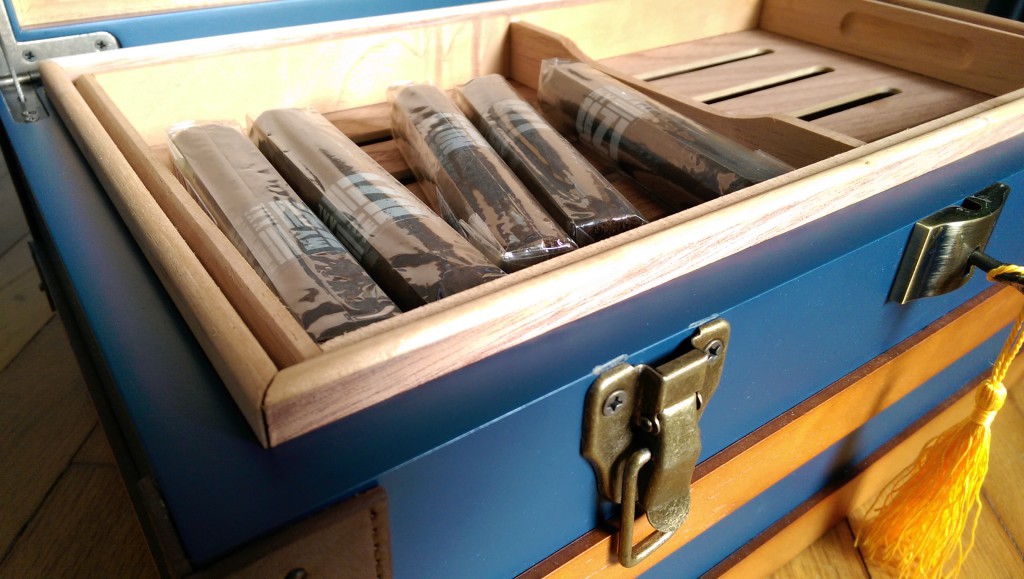 As the folks at Quality Importers will tell you – the single most important design attribute of a humidor is its ability to hold humidity. Humidors by Quality Importers are produced using their trademarked SureSeal Technology standard which insures the lid always seals properly. Every humidor goes through a proprietary inspection process on the production line before it receives the SureSeal stamp of approval. These tests are executed across their entire product line to make sure each humidor will function properly and preserve your cigars for years to come.
Admiral Key Features:
Lined with Spanish Cedar
Quadrant Hinges
Brass Hardware
Lock & Key
Leather & Wood Accent
Comes With:
Rectangular humidifier
Glass hygrometer
Spanish cedar divider tray
Admiral Humidor Review Breakdown
Design:
As we mentioned earlier, the Admiral is  one of the most handsome humidors we've ever seen. The stained wood, brass hardware and leather accents are bold and nothing short of nautical. This is a humidor any cigar smoking pirate sailor can appreciate.  But beyond its physical good looks this humidor is just down right solid. With a capacity of 120 cigars, its 16″ x 9″ x 6″ foot print is large, but not so big you can't find a place to display it easily.
Some key aspects we grew to like during our time spent testing this humidor were the smooth quadrant hinges, the brass clasps and lock. The lock and key are ideal for keeping the kids out of your stash and a must-have if you've got teenagers running around the house! One other nice touch is the magnetic mounting of the hydrometer and humidifier. This makes it especially easy to remove the humidifier and refill it when needed.
Build Quality:
Other then a few tiny aesthetic miscues on the brass and leather accents we found the build quality of the Admiral Humidor to be outstanding. The box itself is hefty and feels solid. The hardware and hinges are also quite beefy. On the inside of the humidor the Spanish ceder is flawless!
The hydrometer and humidifier are nice and proved to be quite accurate as well. All-in-all, this is a well built humidor that will last a lifetime if cared for properly.
Functionality:
As we tested the Admiral over the course of a month we are now walking away very happy customers! The hydrometer and humidifier seem a little cheap at first glance, but actually work amazingly well together. After just a sort time were were able to obtain an optimal humidity level of 69-70% – making my ever growing cigar collection quite happy.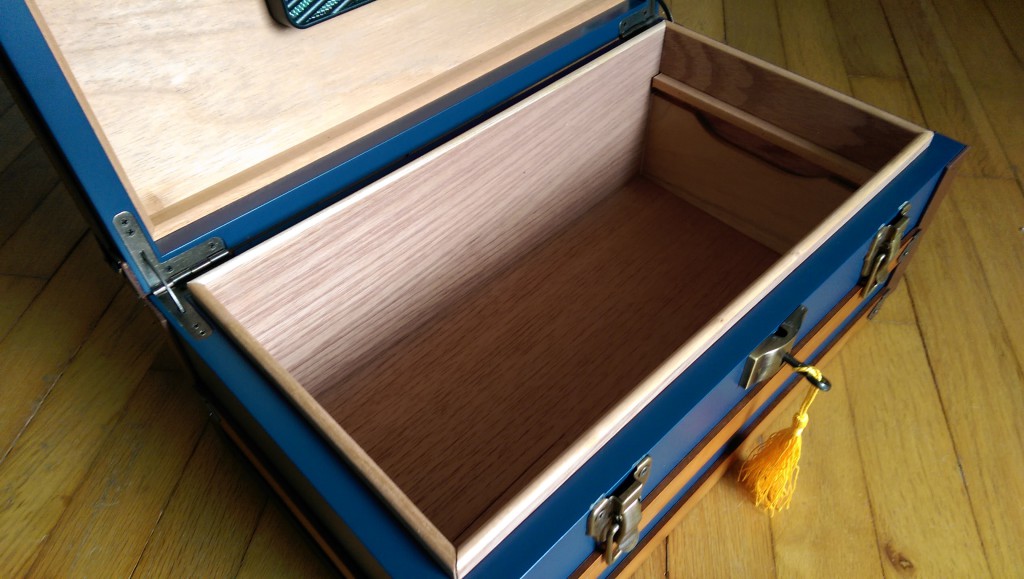 While the hydrometer and humidifier worked nicely we must mention the SureSeal system Quality Importers outfitted this humidor with. Just looking at the humidor you cannot see anything special about the seal, but when we tested its seal in the dark with a flash light around the seams it was easy to see that no amount of light or air was entering or escaping the humidor. I can't stress enough how important this is to keeping your humidity levels consistent.
Value:
Running a cool $170.00 on Amazon currently, the Admiral Humidor is a solid value for anyone looking to step up their cigar collection. As we mentioned in the opening you can spend your paycheck on an over priced humidor with gimmicky technology or a fancy brand name, but for our money you only really need 3 things…. a solid built box with a Spanish ceder lining and a nice hydrometer/humidifier combo. All of which the Admiral comes equipped with (and more) at a reasonable price point.
Admiral Humidor Review
Overall, the Admiral Humidor is fantastically built with some major eye-appeal. Not only does it look handsome, but it's easy to operate and dial-in ideal humidity levels without any trouble. With a lock and key this humidor is perfect for households with children and cigar smoking parents. If you're in the market for a new or your first humidor we strongly suggest you consider Quality Importer's new Admiral model, it's everything you need and nothing more.