The last time we hopped on an Indian Chieftain motorcycle was on the west coast back in 2017. While that trip was a blast, we decided to step it up a notch and really test out the new Indian Chieftain and Springfield Dark Horse in our territory on the "third coast", west Michigan. We toured beautiful back-country-winding roads wrapped in sun-kissed fall colors to beach side roads with amazing views of Lake Michigan. How well did these bikes and us riders perform? Short answer, we survived and had one hell of a time! However, you'll definitely want to keep reading for an  in depth look into each of these bikes and our epic adventures while riding these beasts.
Let's begin with the Indian Springfield Dark Horse.
Indian Springfield Dark Horse
Design: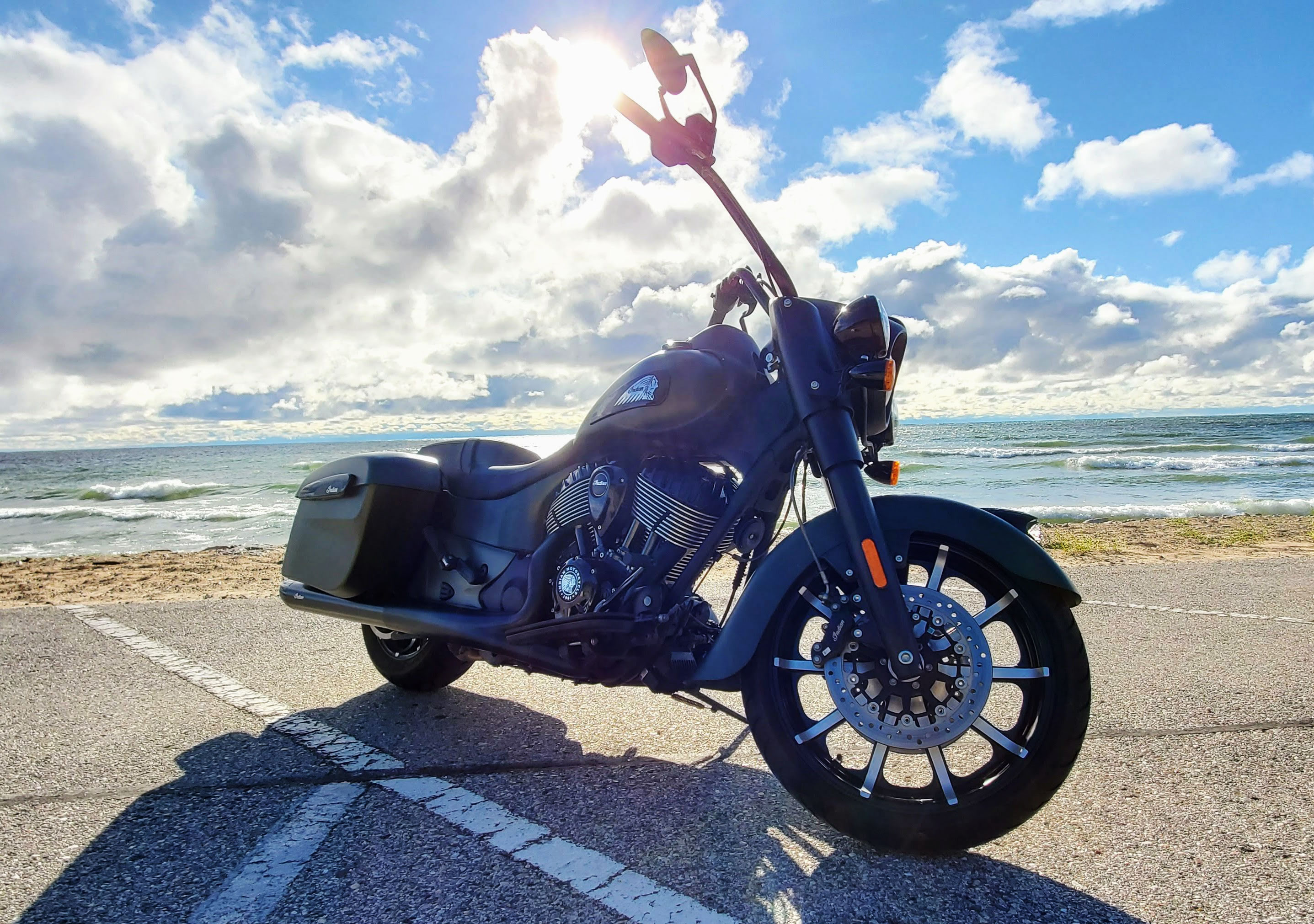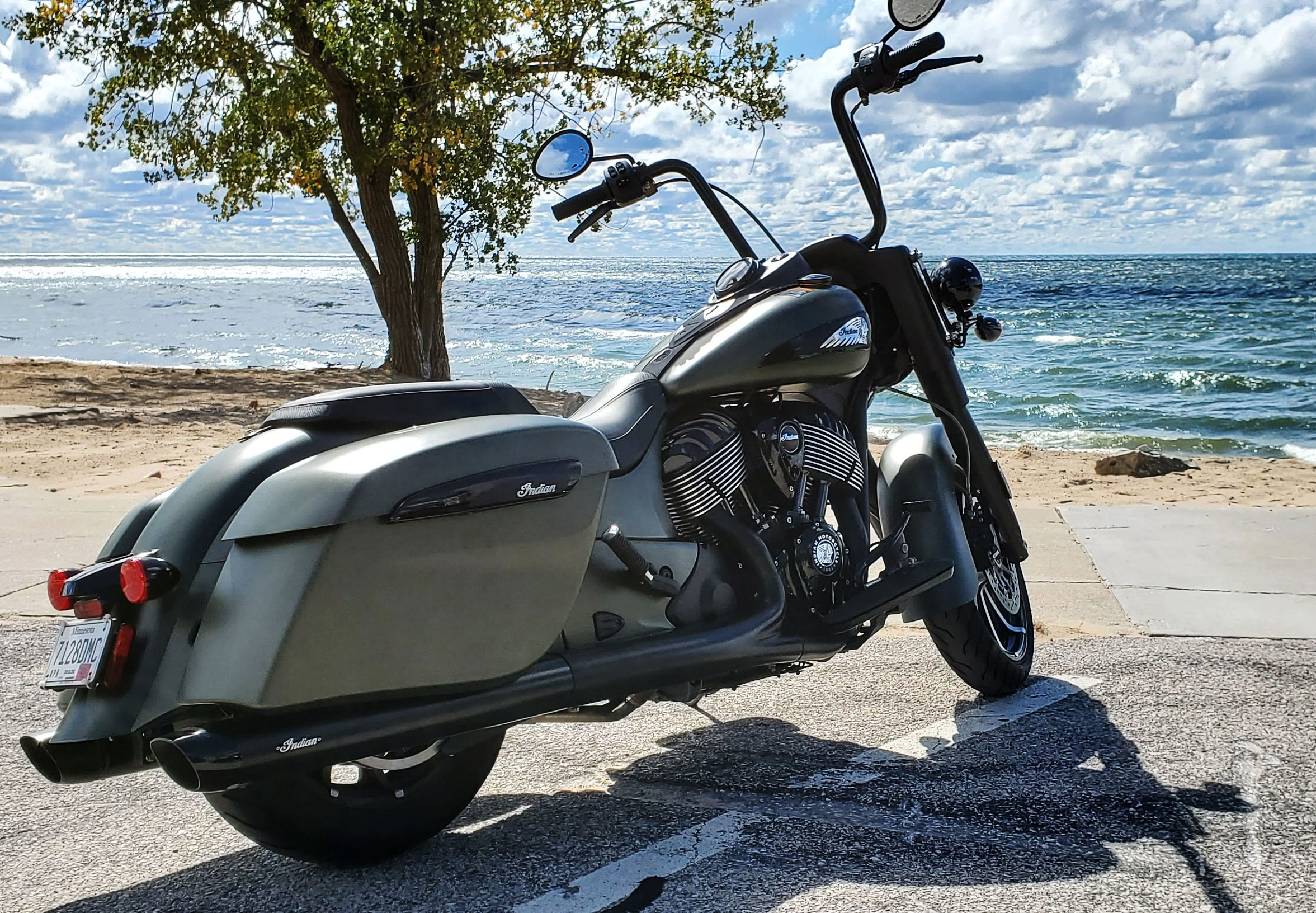 Right away you can see how badass this bike looks. It screams "I'M A BEAST"! It also rides like one too, but we'll get to the performance side of things shortly. From the premium matte finish with gloss details front-to-back, to the mid-rise handlebars, slammed bags, and open front fender with the 19″ 10-spoke contrast-cut front wheel, this bike has that "edgy" look packed in a premium and reliable build.
Grabbing onto the mid-rise handlebars, one can't help but sport a mischievous grin. Couple that with a twist of the throttle and you instantly feel like a modern day outlaw riding a dark horse that can roar. The V-twin engine with a streamlined stance gives it that "sinister" styling that demands attention. Never have I seen so many people stop and stare as I rolled through on this bike. Each stoplight there was sure to be someone tossing me a thumbs-up and barking out "That bike is bad-ass"!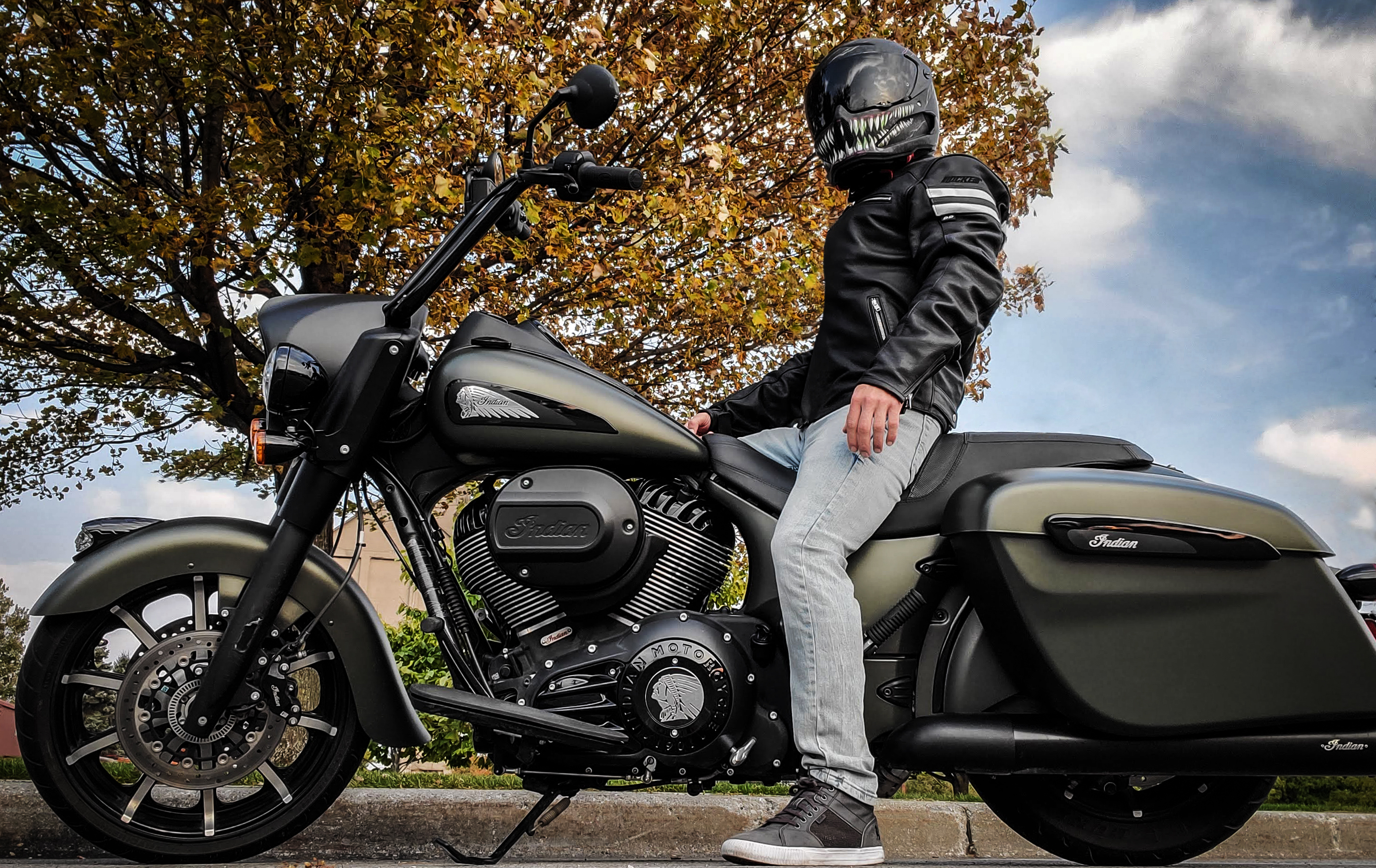 Aside from the unmistakable style, there are other design features that make this bike an easy ride and practical vehicle for an every day commuter. The slammed bags not only look great, but they have plenty of storage space for a weekend getaway and they come equipped with a remote-locking feature to secure your goods.
One thing I love is symmetry and this bike has it. From the duel pipes to the gas tank caps, the design and power is very well balanced. The floorboards and ergonomic seat make it a comfortable ride and the cruise control is definitely one of my favorite design features. This bike comes standard with the mid-rise handlebars. If those aren't high enough for you, there is the option to install the 16″ Ape Hanger Handlebar kit. In my opinion, the mid-rise is just the right amount of comfort mixed with the cool factor. However, it does wear your arms down after 30 minutes of riding. Having that cruise control option is great for letting your arms back down and to gain some blood flow back.
Performance: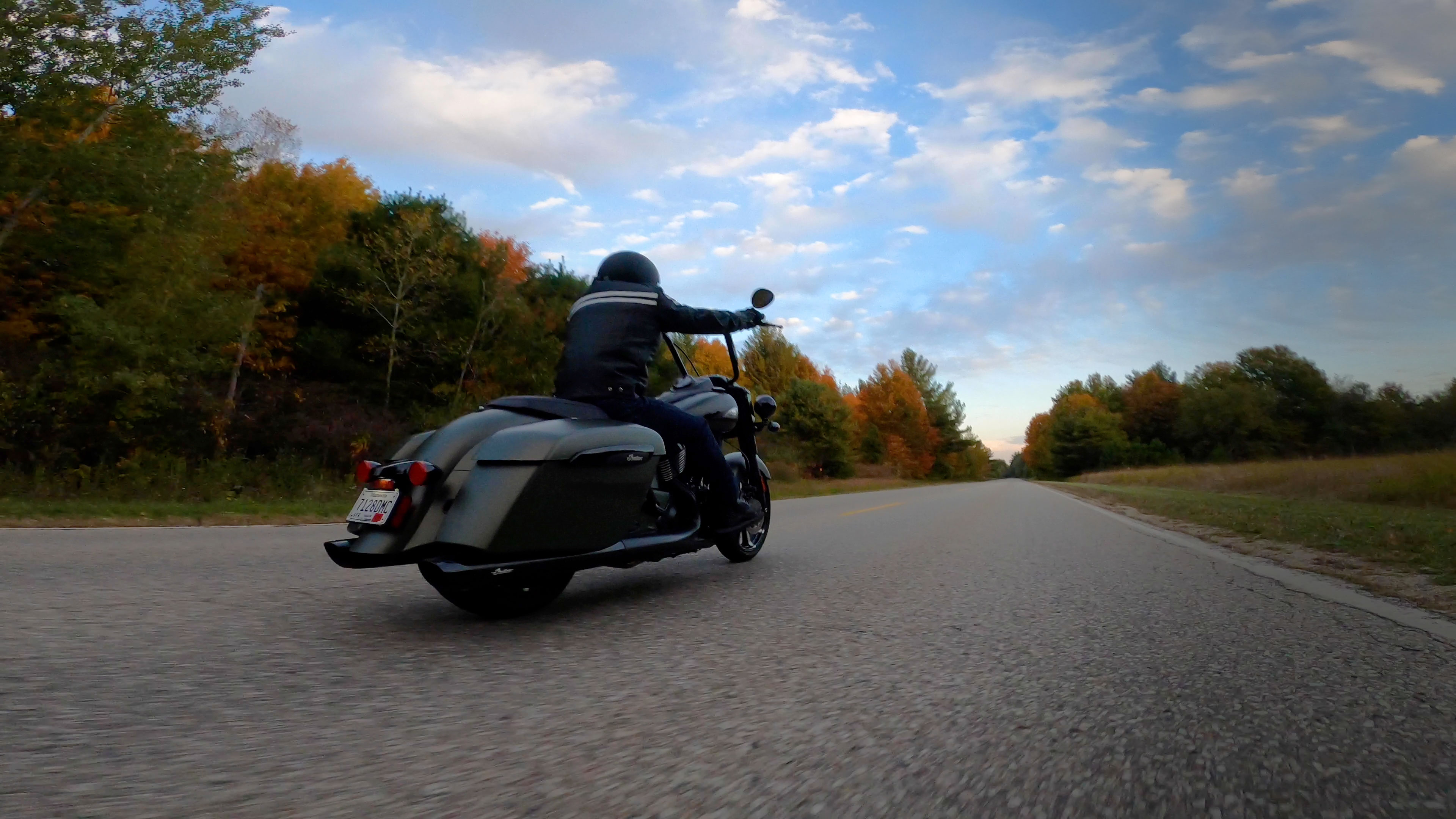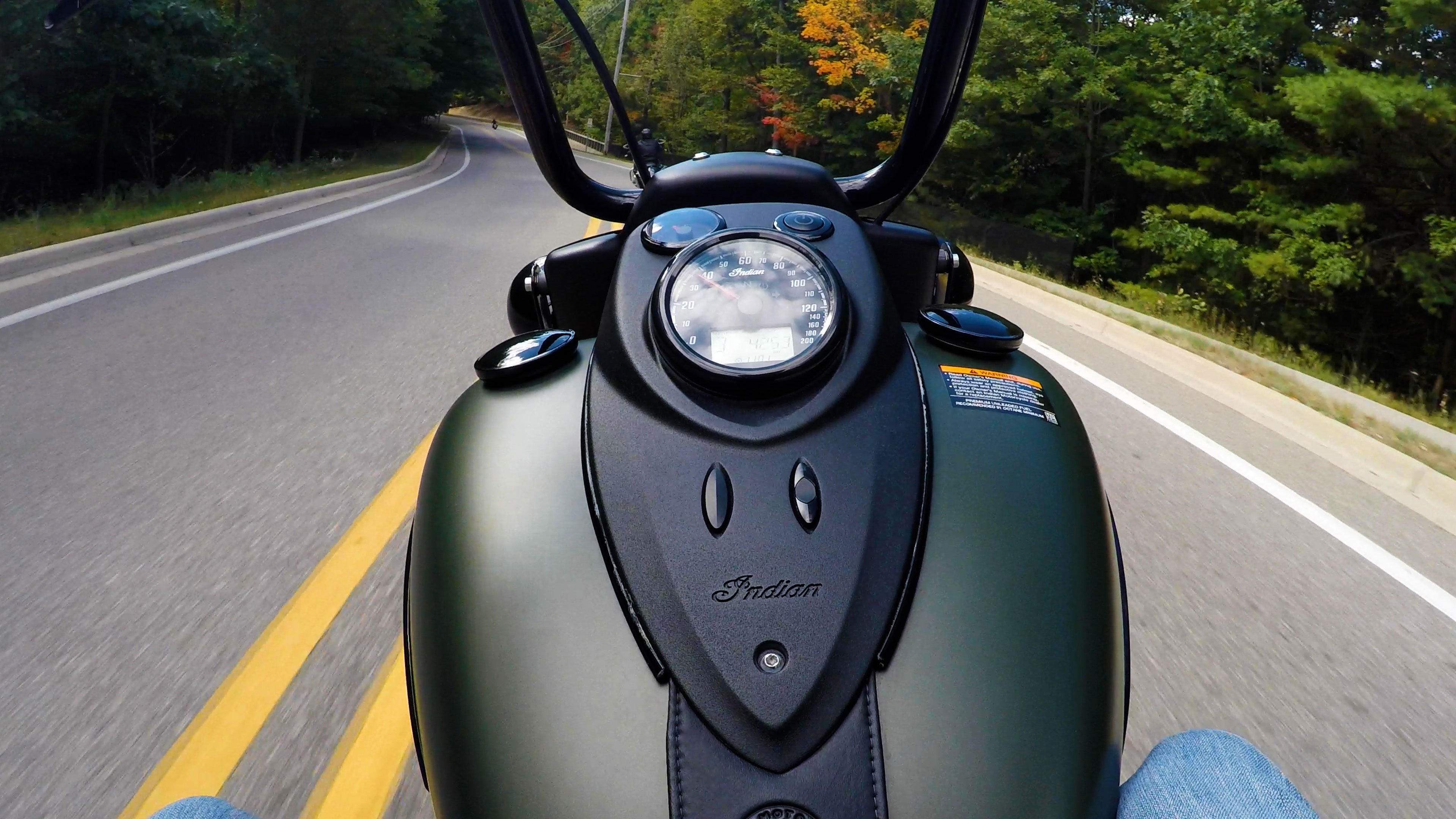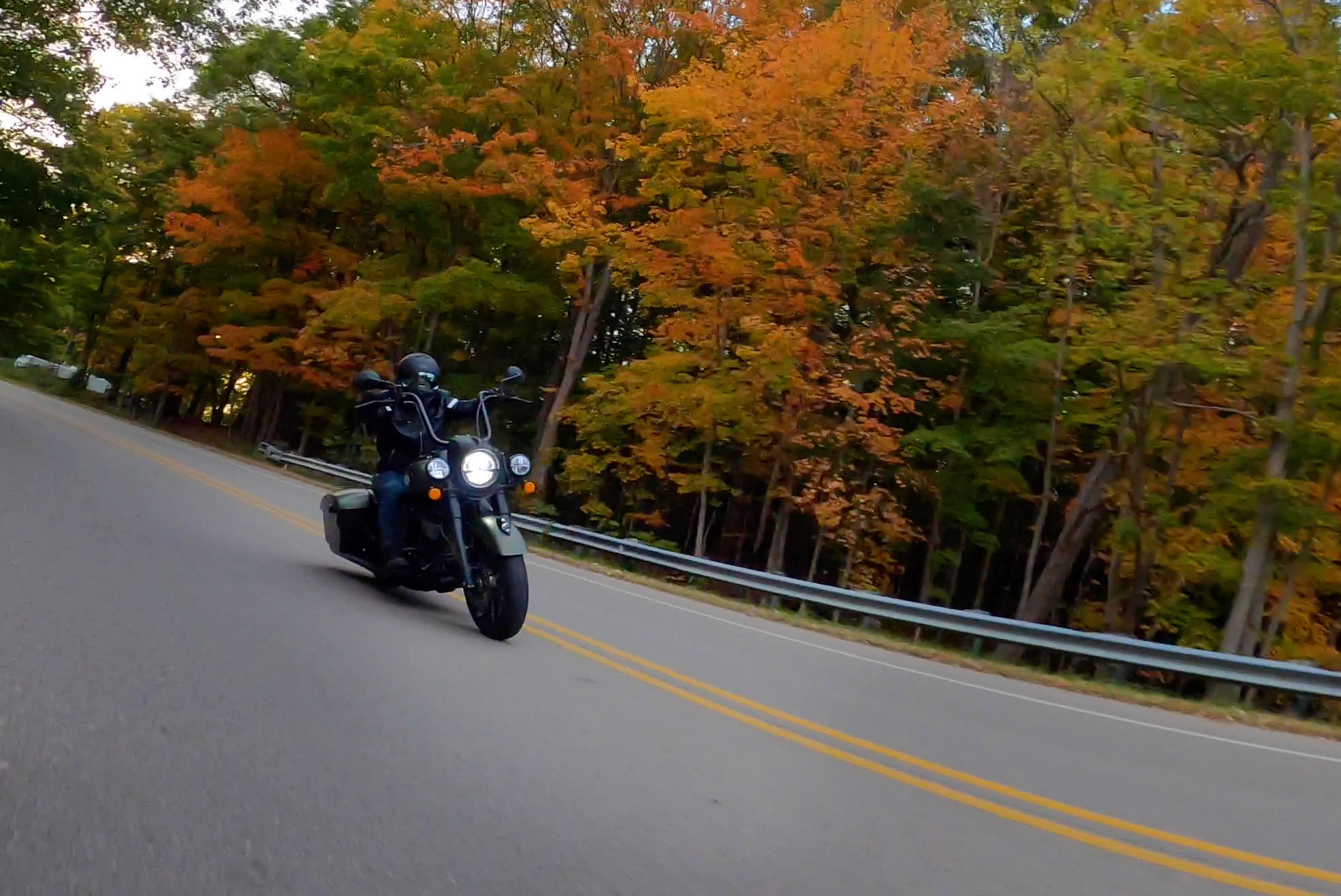 The thunderstruck 116 V-twin engine featuring state-of-the-art design produces a massive 126 ft-lb of torque at just 2900 rpm. It was bred to go fast. If you want a fun ride that has power (and control) you can feel, this is it! Right off the line it feels like a "dark horse" that bucks out of the gate and kicks you back while you hold on for dear life. I was taken back the first time I really twisted the throttle back, but after that, I craved more. Once you know what to expect, it became much easier to control even with that much torque. Even the sound of the pipes were loud enough to compliment the power of the V-twin engine, without being obnoxiously overbearing.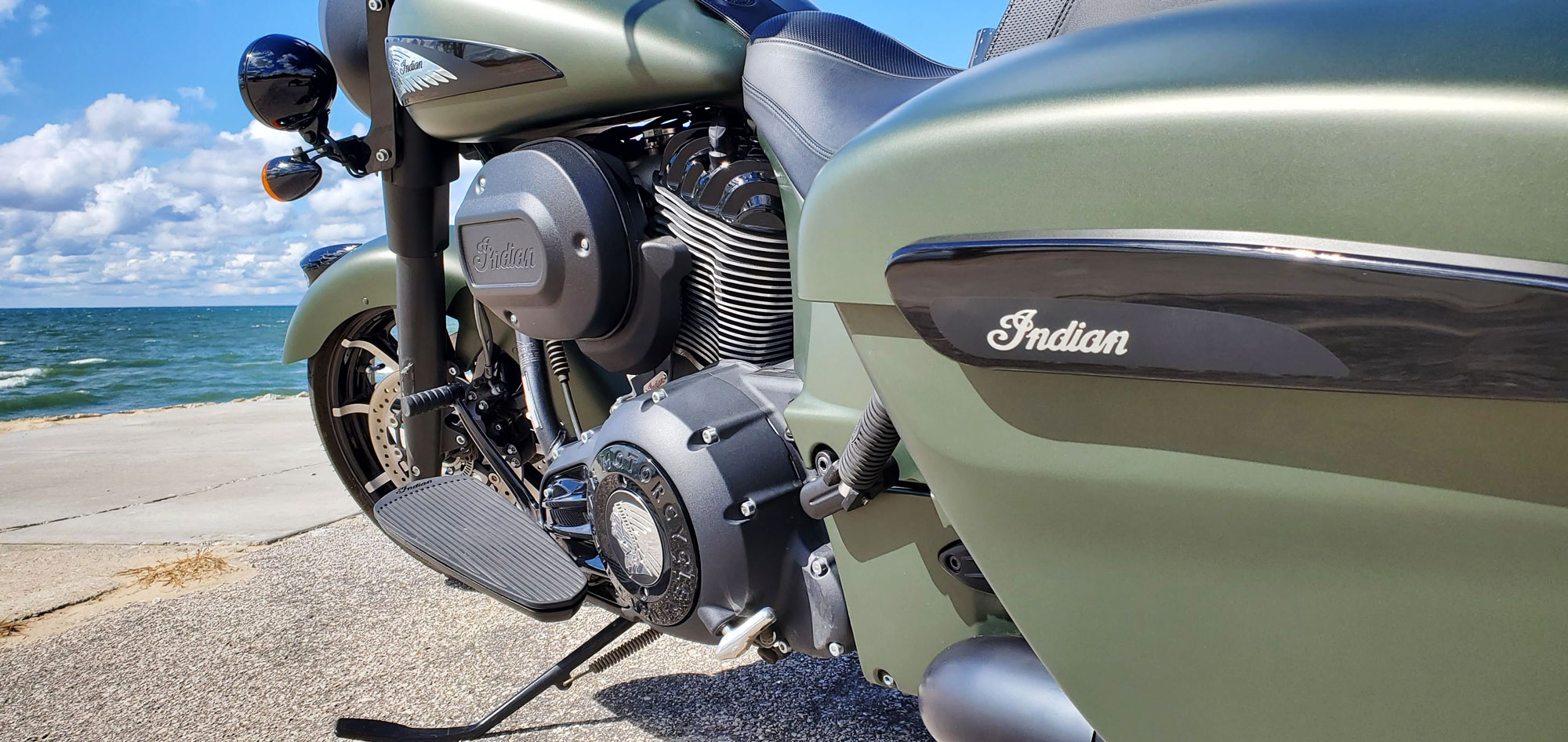 The 6-speed gearbox has three distinct ride modes that you can tailor to best suit your needs. It also comes ready with a rear cylinder that deactivates automatically when the bike is stopped for more comfort in slow-moving traffic. This feature helps to improve comfort and fuel economy. But it REALLY kicks in when you hit the throttle. It takes a lot (not for the bike, but for your own will power) to get up to 6 gear on this bike. There was so much power in each gear, but if you get it up to 6th gear, do yourself a favor and get a windshield… trust me.
At 92 horsepower (or one extremely powerful "dark horse"), this bike weighs in at 790lbs (with fuel) and measures 99.3″ in length, 39.4″ in width, and 49.6″ in height. It looks like a big bike, but it still felt comfortable, even for a small guy like me (5′ 6″ and 145 lbs).
Technology:
Although the Springfield Dark Horse doesn't have as many features as the Indian Chieftain Elite, it still packs in just enough to make things easy and convenient. However, if you love the look and specs on the Dark Horse, but want more "luxury" features, check out the Roadmaster Dark Horse or the  Chieftain Dark Horse.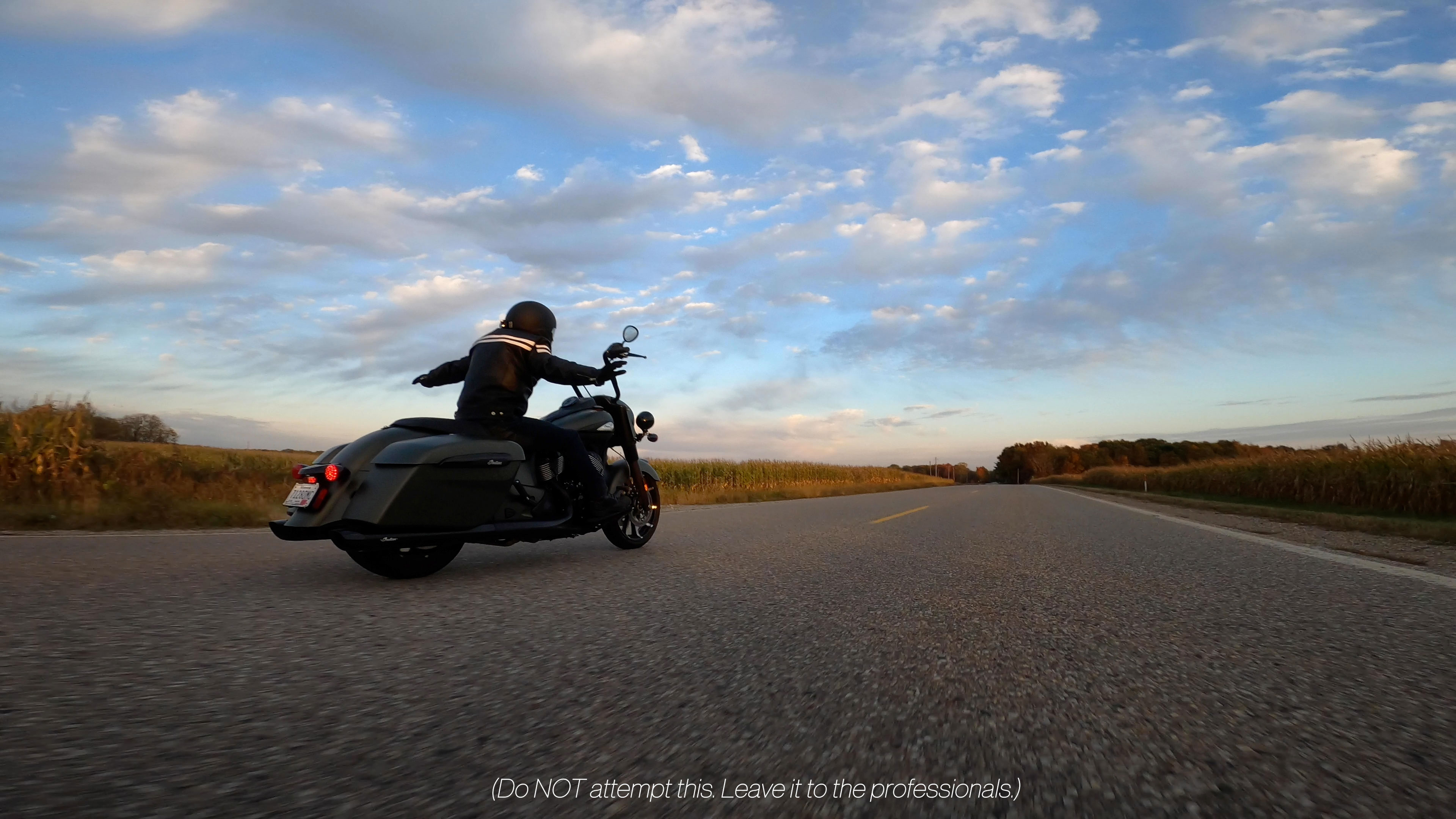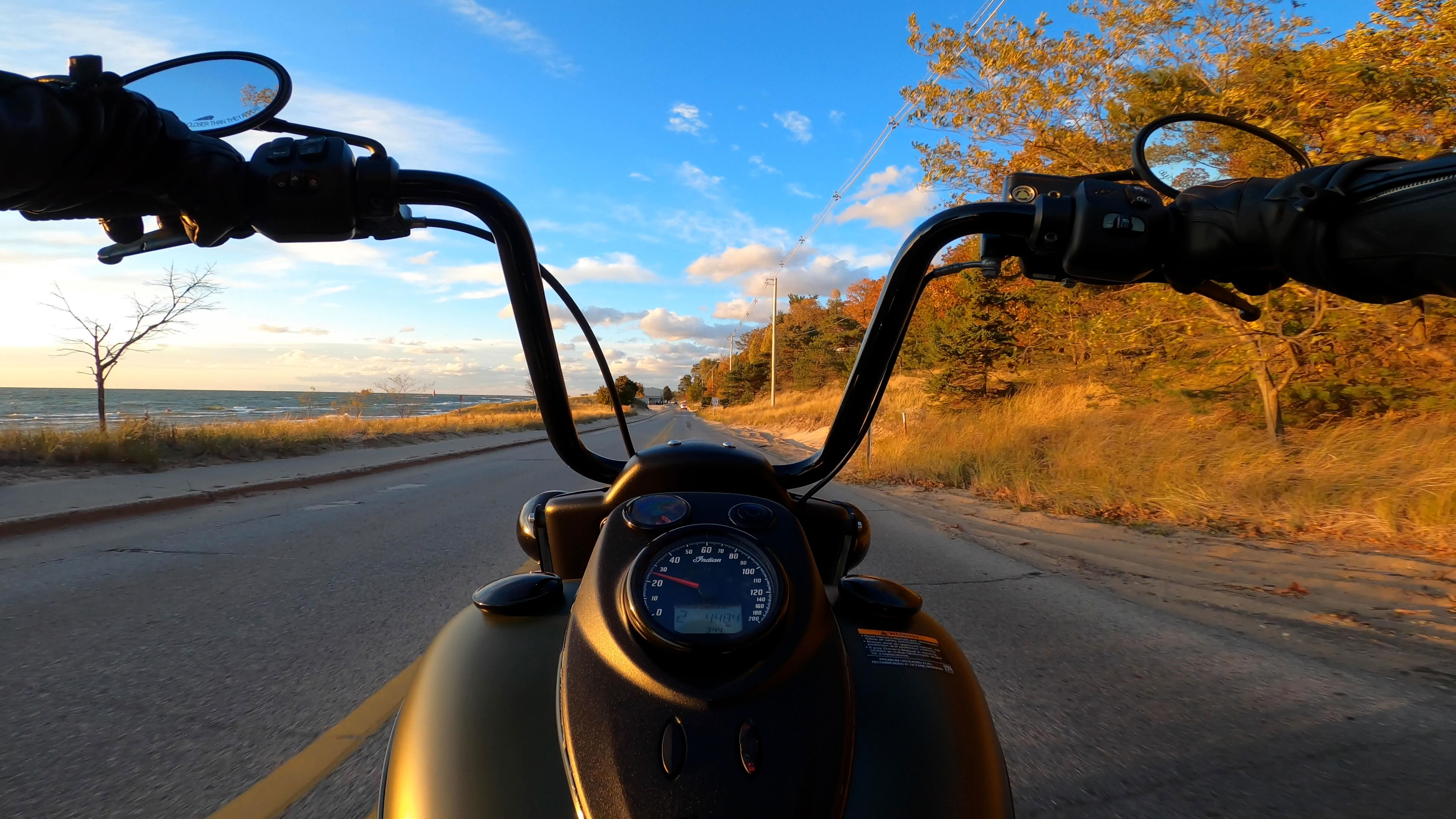 The tanks display host's some enhancing features that you can toggle through, such as tire pressure, total and trip mileage, time, temperature, speed, and the three ride modes "Tour", "Standard", and "Sport". You can conveniently toggle through the display and the riding modes by tapping the buttons located right behind the handlebar grips on each side. This bike also comes ready with keyless ignition and a remote key fob that locks and unlocks the saddlebag compartments.
Overall:
We were blown away by the performance and style of the Springfield Dark Horse. With an MSRP of $22,499, it is a motorcycle worth the money. The wonderful feeling I got the first time I griped and ripped the throttle never diminished the entire time we had this bike. I still get excited just thinking about opening the garage door to see this Dark Horse staring back at me. From the spectators to us riders, we couldn't help but stare in awe as this Dark Horse came riding through.
Design: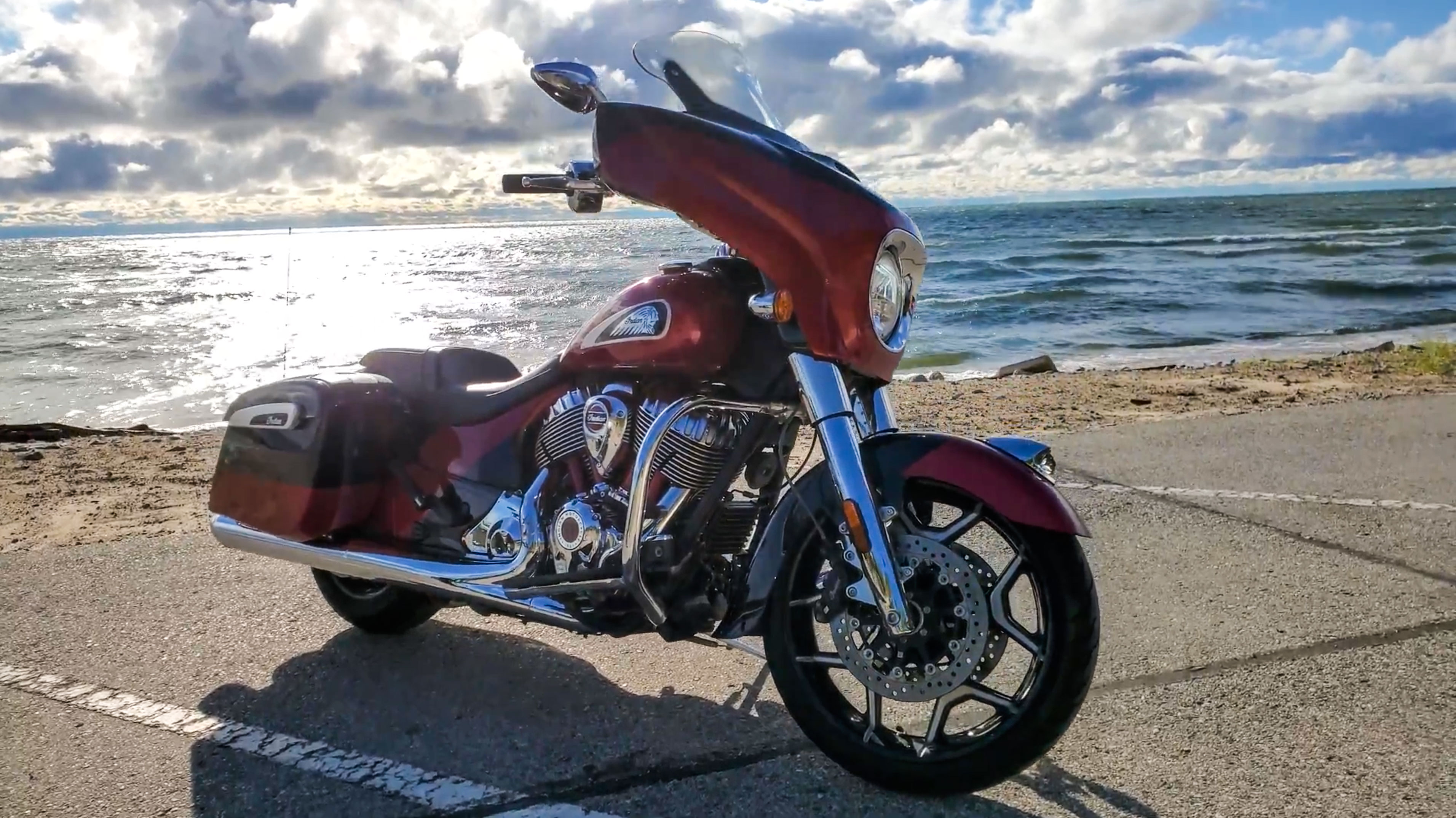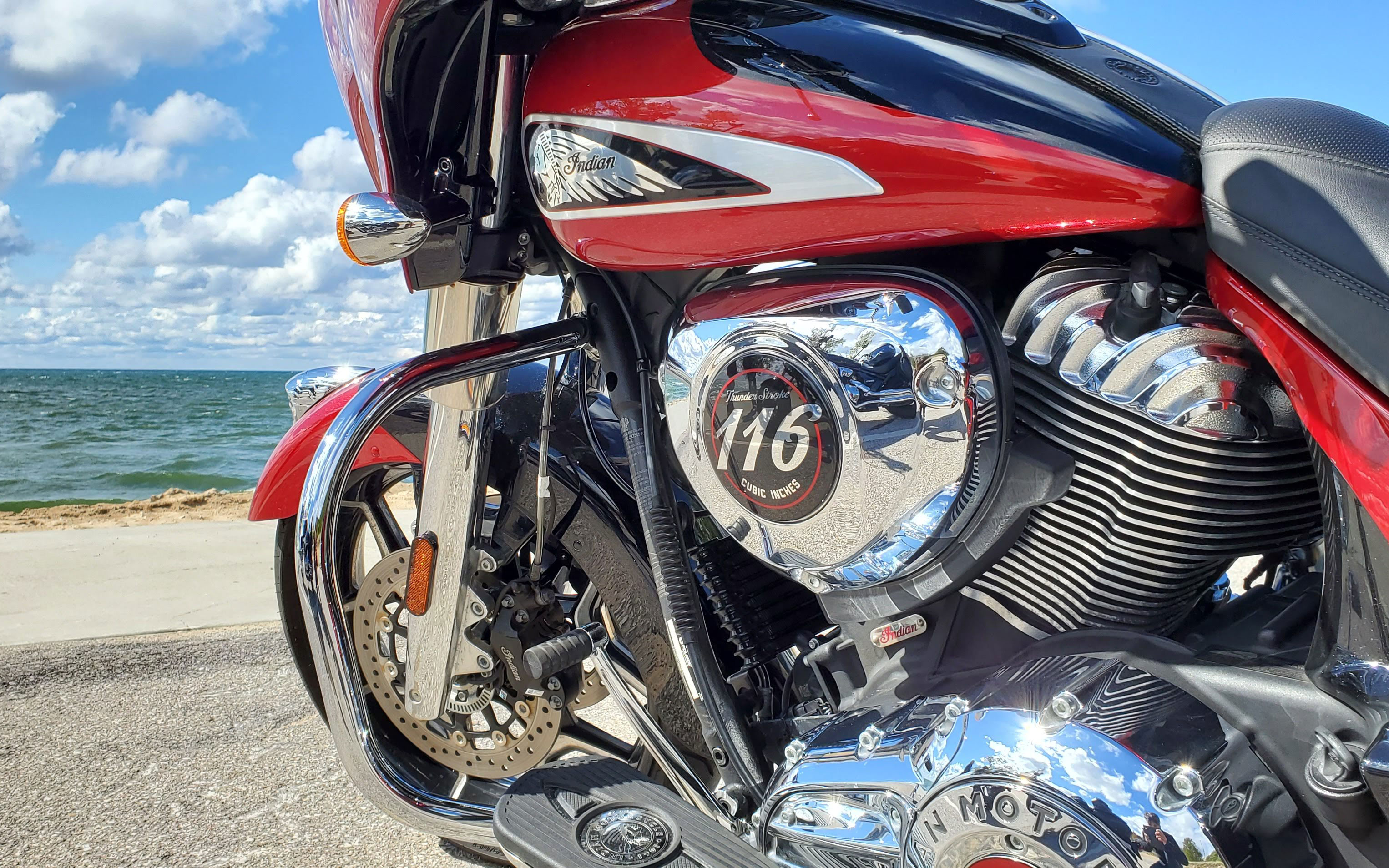 If you're looking for a top of the line motorcycle with all the latest and greatest features, style, performance, and comfort, then the Indian Chieftain Elite should be at the top of your list. I never really cared for the look of any "touring" bike, especially when I first entered the Moto world. However, after years of riding and taking longer trips, the look of these bikes became much more appealing and practical. You only need to ride it once to realize just how nice these bikes are for taking longer trips.
The Indian Chieftain Elite that we tested had the Thunder Black Vivid Crystal/Wildfire Red Candy Trim & Color. What makes these bikes look so good is that every stroke of paint is done by hand. That's right… no two bikes look the same. Indian has a team of experts that handle a two-toned, candy paint design for each bike that comes out of their shop.
The Indian Chieftain Elite is loaded with premium style. From the slick paint job, strong edges, and superior silhouette, to the pinnacle mirrors, aluminum billet floorboards, and Rogue two-up seats, this bike is streamlined from top to bottom and front to rear. The placement of the handlebars as well as all of the premium controls are very well balanced. This bike even comes ready with a push-button power windshield that raises and lowers to the preferred position.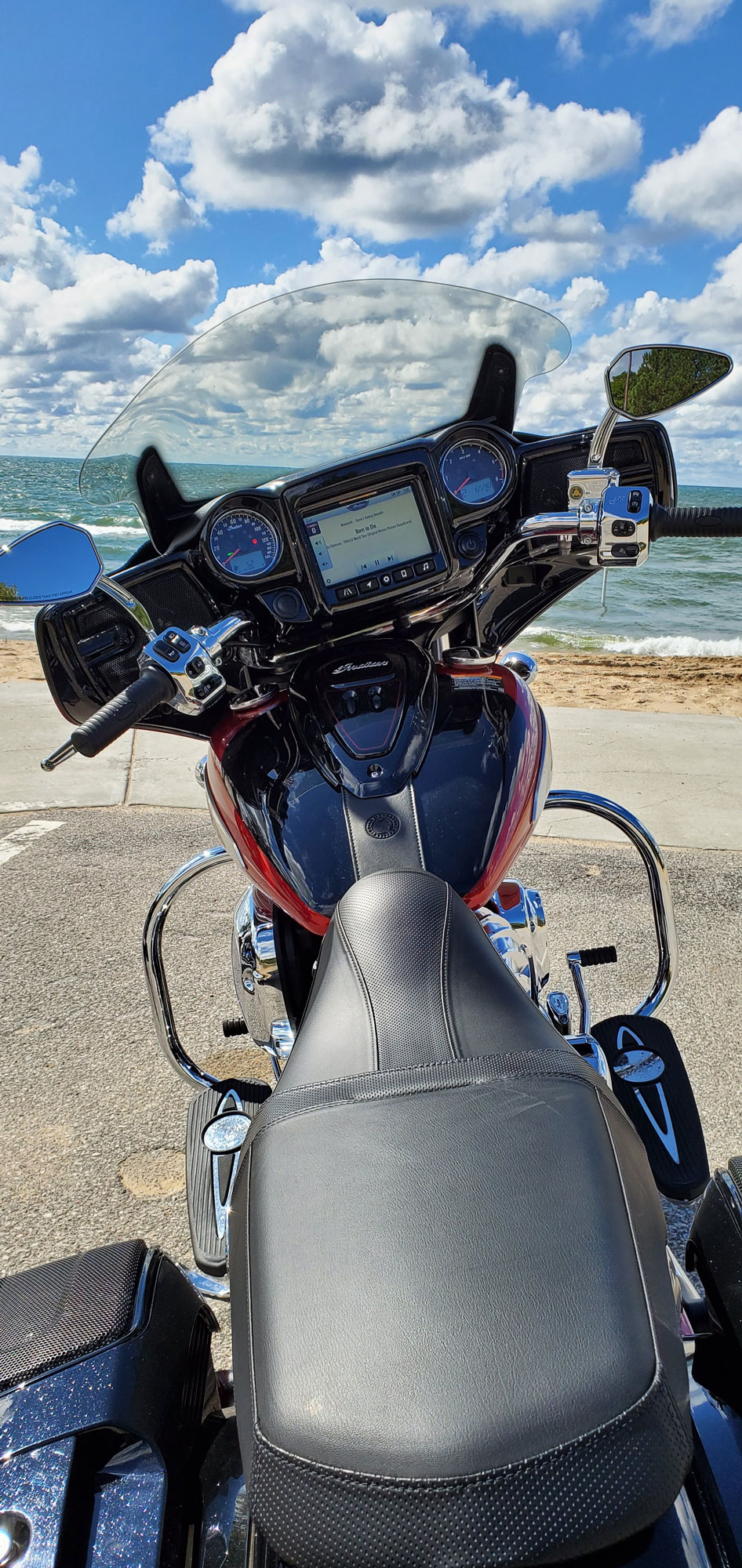 Like the Dark Horse, the Indian Chieftain Elite is also a keyless bike and is equipped with remote-locking hard saddlebags. You can lock and unlock the saddlebacks with the key fob or the console-mounted button on the tank. The saddlebags themselves are very spacious. They're also weatherproof so you can be sure your precious cargo will be safe and dry.
The front 19″ wheel with open fender was inspired by the Indian Motorcycles from the 1920s and 1930s. The fender helps highlight the 10-spoke, precision machined wheel while carrying the headdress for that custom Indian look.
Performance: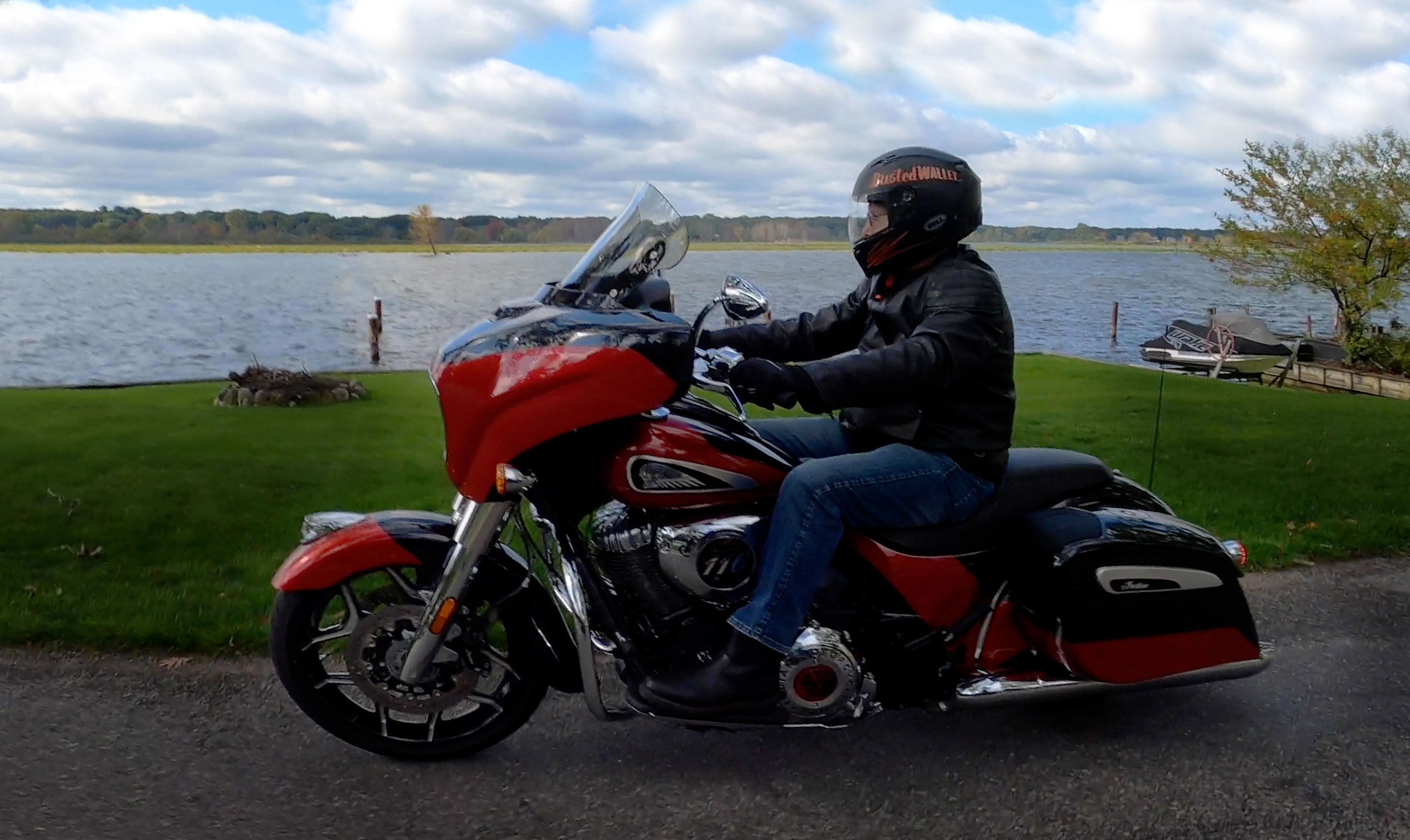 The Indian Chieftain Elite is built with an award-winning V-Twin engine that has 126 ft-lb of torque. There is plenty of power to spare in this beast. One twist of the throttle in any gear and you could feel the power. It wasn't as aggressive as the Dark Horse but it still had plenty of power to push the envelope for this type of "Elite" build.
With that much power, you need reliable handling. Even at a whopping 836 lbs, it was very easy to handle this beast (especially at higher speeds).  Even in tight cornering, it seemed very well balanced. The Indian Chieftain Elite is made to perform for the highway. I never felt as comfortable cruising high speeds like I did when riding the Indian Chieftain Elite.
Technology: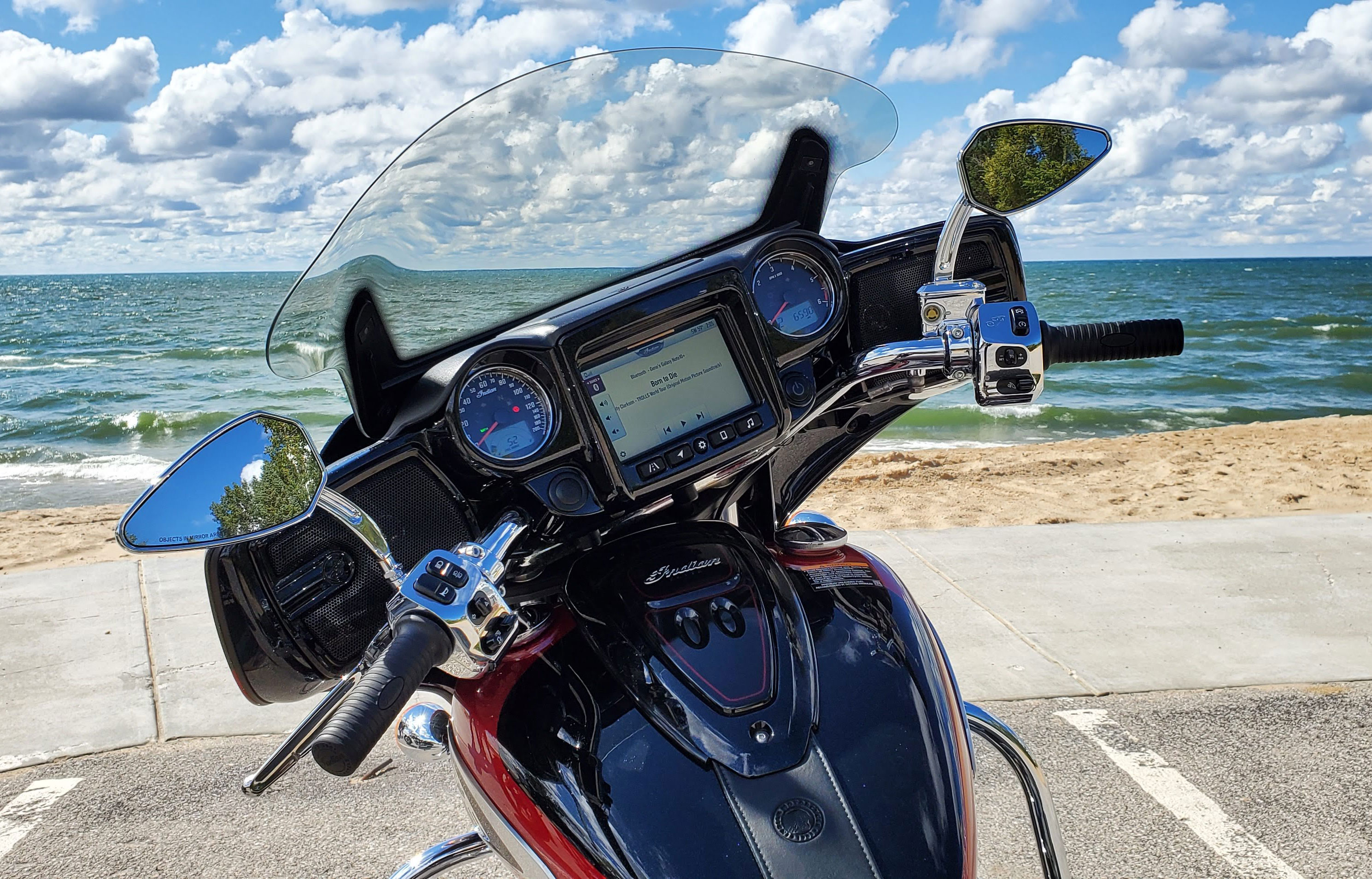 When it comes to the technology, there is plenty to play with on the Indian Chieftain Elite. The gauges sport a fairing-mounted instrument cluster display that showcases the following: analog speedometer, tachometer with fuel gauge, range, odometer, current gear, cruise control, neutral, high beam, turn signals, ABS, check engine, low tire pressure, battery, low fuel, security system, low engine oil, and MPH. Then there's the "Infotainment" that packs in Ride Command with connected services. This feature allows you to connect your phone via bluetooth so you can crank up the tunes on the 400 Watt Audio System. The 7″ touchscreen display offers GPS navigation with real-time traffic and weather as well as real-time clock, ambient air temperature, heading, audio information display, bluetooth status for phone and headset, and vehicle status (tire pressure, voltage, engine hours, oil change, speed, fuel range, RPM, gear position).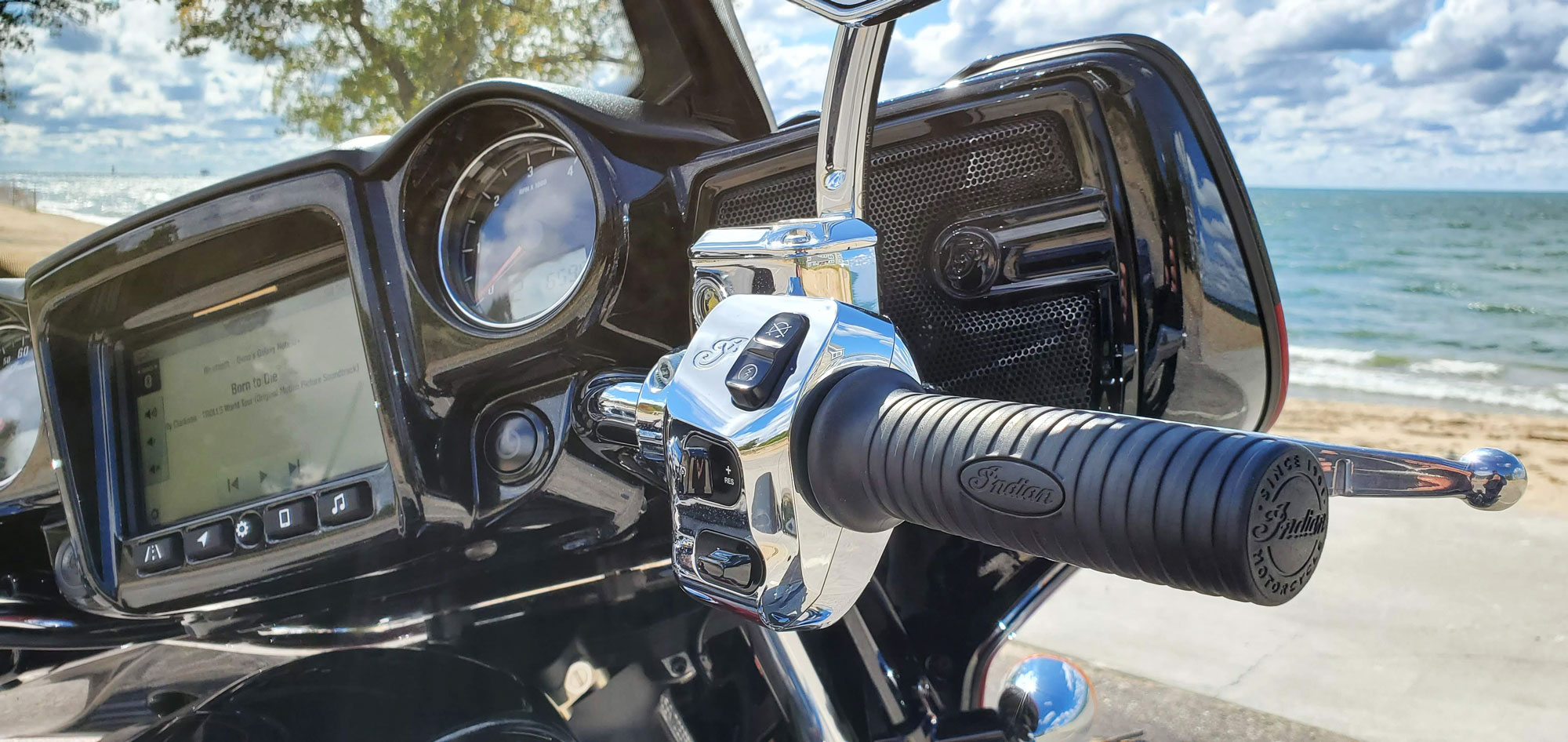 Overall:
The Indian Chieftain Elite has the legendary power, superior technology, and premium style one would expect in an "Elite" motorcycle. Made for the rider that is ready to "level-up" and cruise in comfort and style. From the custom-inspired paint to the 400-Watt audio system and 7″ touchscreen display, the Indian Chieftain Elite has class and comfort wrapped up in one powerful package. Starting at $34,999 US MSRP.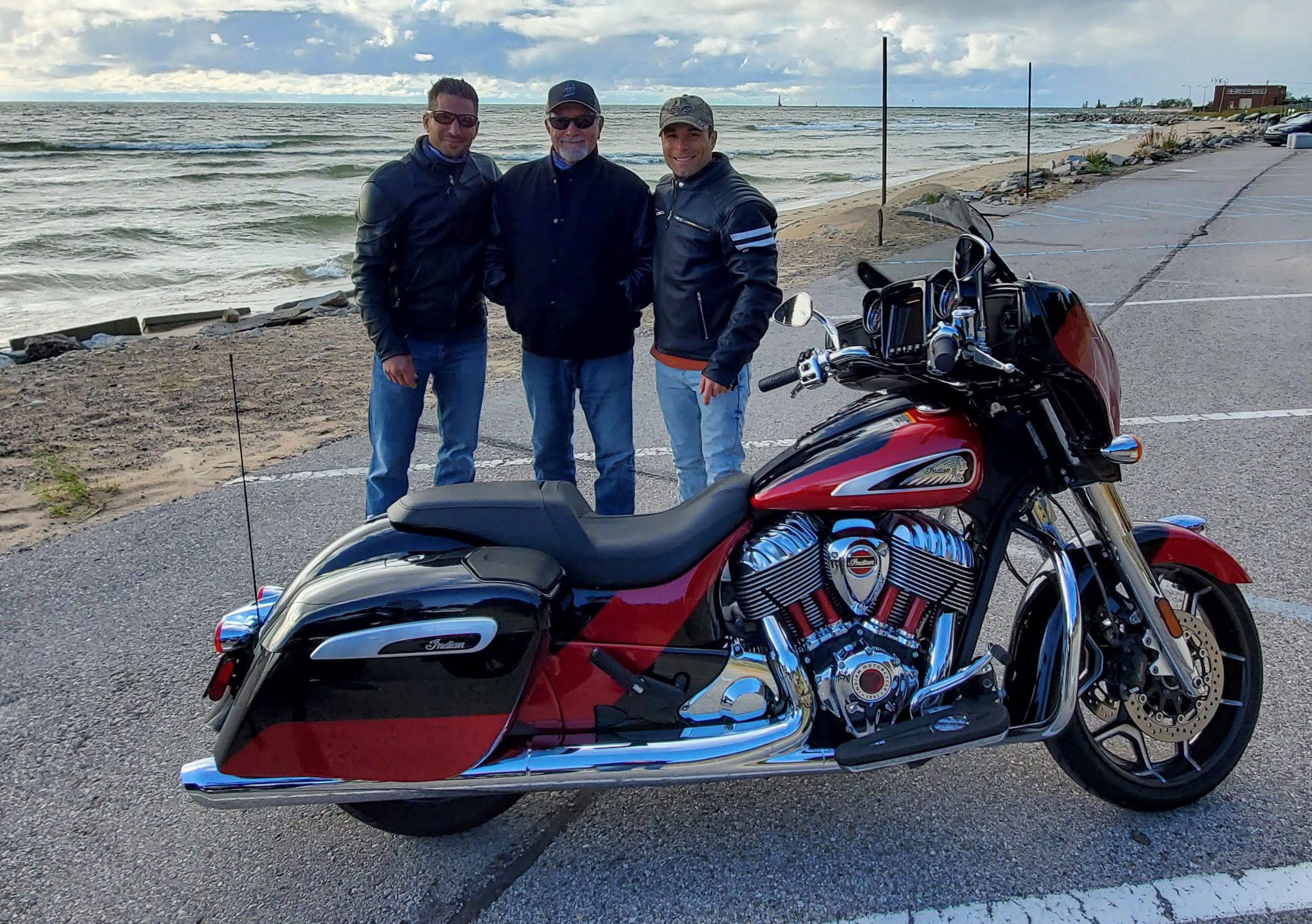 2020 Indian Motorcycle Road Trip
These bikes are made for the rider that is ready to "level-up" and cruise in comfort and style with the power that is sure to put a giant smile on your face.
The Good
Power when needed and power to spare
Stylish & comfortable
Tech that makes things easy and convenient