In today's modern society, everything is about getting results and feedback quickly.  We have grown impatient waiting for responses and results.  The folks at Zepp have catered to this mentality with their product line of swing analyzers.  Zepp is a powerful training platform that includes a multi-sport sensor and free app. Earlier in the Spring, we gave the golf swing analyzer a test run and were impressed with the real-time coaching and analysis.  Recently, they sent over the Zepp Baseball/Softball swing analyzer for us to try out.  Zepp allows hitters to get immediate feedback on their swings, and set goals to improve. Hitters can see results and make instant adjustments to their mechanics. Often times hitters walk away from a bad swing or at-bat trying to figure out what they did wrong in their head.  Now, instead of guessing, hitters get to look at real data, on-demand.  To find out how the product works, we sent it out to baseball diamond and batting cages to get to the facts.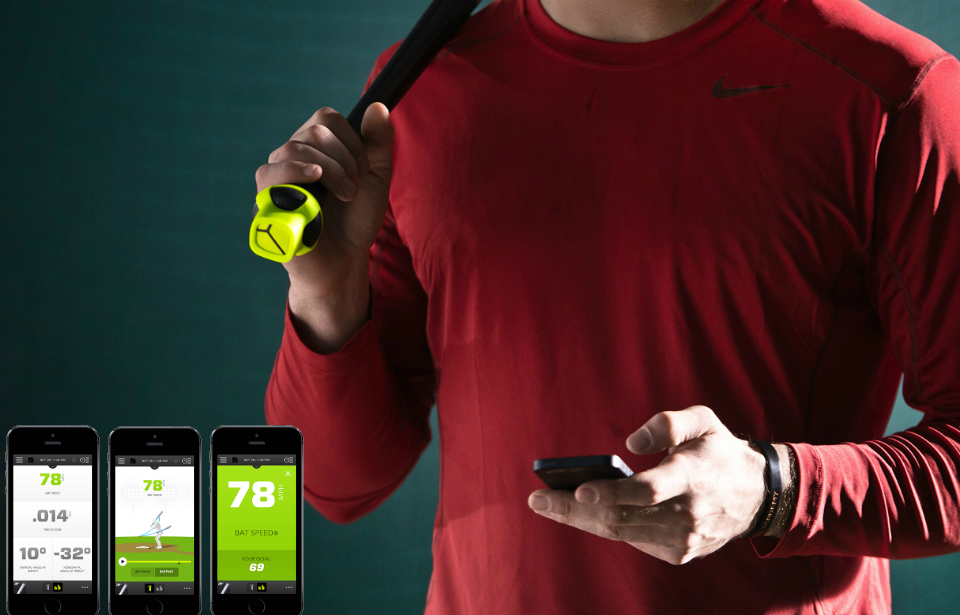 Not only has Zepp designed their swing analyzer to improve the cuts of beer league champions like ourselves, now they even have big league stars like Mike Trout and David Ortiz rocking their technology. Check out the embedded video below to see what the pros have to say about Zepp…
 Tech Specs:
Size & Weight: Mount

Height: 0.4in / 11mm
Length: 1.1in / 28mm
Width: 1.1in / 28mm
Weight: 0.27oz / 7.7g

Size & Weight: Mount

Height: 1.7in / 43mm
Length: 1.3in / 33mm
Width: 1.3in / 33mm
Weight: 0.46oz / 13.1
Dual accelerometers Sensor
3-axis gyroscope Sensor
Flash Storage (holds up to 2,000 swings)
Bluetooth 2.1 connectivity that save swings wirelessly to your iPhone, iPad, iPod touch or Android device
2.5 hour full charge cycle on built-in rechargeable Lithium Ion battery
Zepp Baseball/Softball Swing Analyzer Review Breakdown
Setup:
Designed to be a simple and efficient setup process to get you practicing immediately, the designers at Zepp did not disappoint. To get started, go into iTunes or Android Play Store on your device and download the free Zepp app.  Then simply attach the mount to your bat and insert the sensor and connect wirelessly via Bluetooth to start seeing your swing data.  We found the setup to be simple and easy.  We do recommend making sure you have a full charge before you setup.  This will ensure you have the full power and Bluetooth capability ready to go upon first use.  Once you are connected via Bluetooth take a few calibration swings to get the app in tune with your swing.  You are ready to start swinging within 5 minutes of opening box.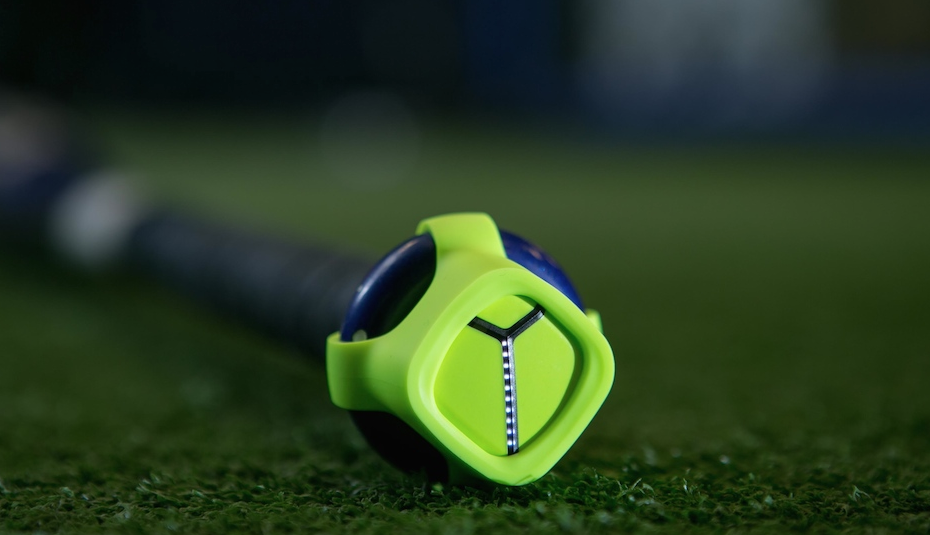 Design:
As a hitter you are constantly concerned about reducing resistance in your swing.  With the goal being a smooth efficient swing to drive your hands through the zone and get the barrel of the bat to the ball for solid, consistent contact.  Our initial concerns with the Zepp was that it attached to the end of the handle on the bat and the added weight and size could get in the way of our swing. Upon initial setup these fears were quickly put to rest.  The mount and sensor weigh in at a combined .73oz, so it added minimal weight to the bat.  If you prefer your hands lower on the handle you will notice the rubber mount but it is small and we did not notice much impact.  Built with dual accelerometers and a 2-axis gyroscope sensors, the Zepp sensor has enough firepower to really analyze and track the swing and is impressively accurate when you view your results.  The device also features a flash memory that will allow you to hold up to 2,000 swings, which is more than enough.
App:
The Zepp App is one of the more impressive apps that we have come across in a long time.  You will find yourself obsessing over your results and analyzing the statistics for hours.  Gathering information from the sensor, the app will measure the most important aspects of your swing, then analyze and improve each one. You can even compare your swing to the pros. While watching a pro softball players swing in slow motion one our editors noticed how the pro brought his hands back to load-up right before starting the swing.  The app allows you to record your own swing, so our player started incorporating these movements into his swing and was able to analyze his new swing to the pro player's. This comparison process allowed him to fine tune his swing within a matter of hours. In his first game with the new swing, he promptly hit two runs in his first two at bats.  The instant feedback and analysis is what really makes this an impressive app.  The app will give you results on bat speed, hand speed, time to impact, attack angle, and vertical angle.  You can choose to focus on anyone of these areas and set goals for yourself to achieve.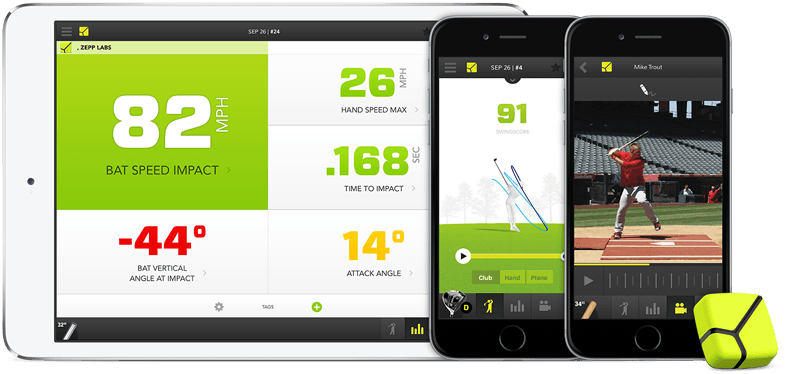 Value:
Priced at $149.99, we found the Zepp to be more than worth the price.  Given its functionality, design, and app features, the Zepp Baseball/Softball sensor is a great addition for anyone looking for some extra coaching and improvement.  What the Zepp sensor really encourages is practice.  Once you get addicted to the features and functionality of the app you will find yourself hitting ball after ball in pursuit of the perfect swing.  Now endorsed by Mike Trout, David Ortiz, Jennie Finch and other major league players the Zepp is starting to gain traction all factions of the baseball and softball communities.
Zepp Baseball/Softball Swing Analyzer
With the holiday season fast approaching, the Zepp Baseball/Softball Kit would be a great gift to give your favorite family member who happens to love baseball or softball. They will really enjoy the instant feedback and coaching sessions. Given the numerous indoor batting cages they will have no problems logging the hours this winter to improve their swing for the upcoming seasons. The Zepp product family is dedicated to providing coaching and improving swings in a variety of sports and you will not be disappointed with results. Enjoy!