Though you probably don't think about it that often (or ever) – your foot is incredibly flexible and impressively maneuverable. In fact, believe it or not – the human foot is comprised of 33 individual joints and 26 bones! The ASICS GEL-Cirrus33 2 running shoes were crafted to go the distance and were specifically designed with each of your 33 joints in mind… hence the name "Cirrus33".  I had been an avid ASICS fan for a number of years and switched to another brand-which-shall-not-be-named here to try something new . . . well, I'm sad I ever made that switch and I am back to ASICS!  The GEL-Cirrus33 2 is super comfy, trendy with its bright colors (but not over-the-top with the neon), and lightweight.

Take a moment to scroll over the image below to see all of the features the ASICS GEL-Cirrus33 2 running shoes has to offer!  
ASICS GEL-Cirrus33 2 Key Features:

– Asics GEL-Cirrus33 2 Review –
Comfort: 
(8 out of 10) This is a difficult category to review because everyone's feet, body build, and running style are different, so what is super comfortable for me, may not be for the next person.  Therefore, my review of this category will be based on me – a 5'7" female, 32 years old, narrow size 7 foot with a very narrow heel.  I used to run a lot, now I'm limited to the treadmill a few days a week for 20-60 minutes due to an Achilles tendon injury that I can't seem to fully recover from and am afraid to reinjure.  However, I do still exercise 5-7 days a week for an hour plus – plyos and weight training mixed in with my treadmill time.   I give this an 8 out of 10 rating because they are extremely comfortable shoes from the moment you tighten down those laces, but the first weeks spent breaking them in caused me a little bit of discomfort.  It took me about three weeks to get these broken in to the point where they weren't rubbing me the wrong way and causing some irritation.  However, none of that irritation consisted of the typical "breaking in" pains – not one heel blister, no sore toes from the foot shifting and ramming into the front of the shoes, and no arch pain.   One of the first things I noticed when I picked them up out of the box was that they were considerably lighter than my current pair of non-ASICS shoes.  Weighing in at 9.6 ounces they are not as light as the ASICS Kayanos, which only weigh 8.9 ounces, but light enough that you can tell these are not your every-day cross training shoe.  Weight is a big deal if you're a distance runner, and these will not disappoint!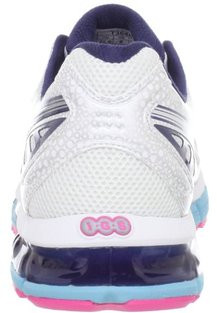 As I mentioned above, these puppies are super comfy!  The first thing I thought when I put them on was that it was like standing on a firm mattress.  They boast the largest volume of GEL in ASICS history with both Rearfoot and Forefoot GEL Cushioning Systems.  I have HORRIBLE circulation in my phalanges (both hands and feet), so breaking in new shoes is generally difficult.  With my last pair of running shoes, I was getting numbness across the entire bottoms of my feet after about 5 to 10 minutes on the treadmill; I'm happy to report with the ASCIS GEL-CIRRUS33 2 I had only very slight tingling on the bottom of my feet, and that didn't start until 45 minutes of running on the treadmill!  This was very exciting for me because as any runner knows, it's important to be able to feel your feet hit the ground!   These shoes are super flexy, and very breathable.  There is a very light mesh covering across a majority of the top of the toes, which allows for a great flow of air to get in and keeps your feet from getting too hot.   Finally, they fit my foot like a glove and offer great arch support.  The ASICS GEL-Cirrus33 2 running shoes wrap around my foot perfectly, the heel cup fits just right, and there is no shifting or sloppy feeling.  This is huge for me as it can be difficult to find a shoe that fits a narrow foot comfortably.  
Design: 
(10 out of 10) What do you get when you cross minimalist barefoot shoes with the extreme high impact running shoes?  The ASICS GEL-Cirrus33!!  These were designed to be lightweight and super flexy, like the minimalist shoes, yet they were designed for high impact training with the tons of padding and cushioning from the GEL support.     I covered a lot of the really awesome and technical features in the "Comfort" section above.  However, there are a couple little things that make a BIG difference to me!!  A main design feature that I noticed and that I love (which is funny because for most people this is probably not an issue . . . at all . . . ever!) is that the tongue of the shoe is small and thin . . . it literally is just there to add a layer of padding between your foot and the laces.  It's not obnoxiously large, you're not trying to figure out where the heck to put it when lacing up, it's not slipping off to the side, it's just right!!  Like I said, silly thing to comment on maybe, but it made a difference to me – sometimes it's the little things that make a difference when you're trying to decide which shoe will be your next!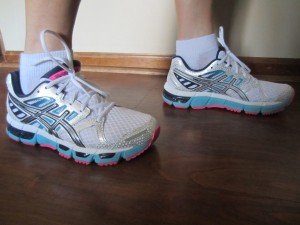 Another small feature that makes a big difference is that the laces are the type that you don't have to double knot, and are not ridiculously long. I've had some really long laces, and seen others with some that were so long they could wrap them around the middle of the shoe, or had to double or triple knot just so that there wouldn't be excess on the ground. These are just the right length to tie with one knot – and one knot is all you need (THERE CAN BE ONLY ONE – random Highlander reference . . .) because these laces stay put!   On top of everything else, these shoes are just fun!  The pair I tested were the "White/Lighting/Navy" – little bit o'neon pink on the bottom and few highlights throughout, majority white with light blue and navy accents.  This is perfect for me – I love blue, the little bit of pink makes them a bit feminine but it's not so overpowering that you feel like you just looked at the sun when you look away from them.  There is also a reflective sliver/white bubble/circle pattern throughout, which add a really cool texture to the shoe.  
Traction: 
(8 out of 10) I put these to the test in weight training, treadmill running, plyometrics, and aerobic classes (i.e. cardio kick, total body workouts), and never was concerned with a lack of traction.   However, that being said, I did not use these outside, nor did I test them out in the rain or on wet surfaces. They were a bit smoother than some of the other running shoes I've had, which could pose a problem if you plan to do any trail running – but as I said, I didn't try that.  The bottom of the shoe look like a pretty basic running shoe in that it has treads and a good rubber grip, but I wouldn't suggest taking these shoes for a mud-run!  
Durability: 
(9 out of 10) I've only had the shoes for about three weeks, but I have worn them 5-7 days a week for at least an hour each day doing high impact activity and they still look like new.  I gave these such a high rating based on my past experience with this brand . . . I am still wearing ASICS that I bought 3 years ago to go on walks, or just to wear around town – they are still in good shape, no fraying or holes, and no sole separation.  I do not wear the old ASICS to do high impact activity only because they have so many miles on them.  
Value: 
(9 out of 10) You get what you pay for.  While they are a little pricy, they are likely to last you a lot of miles, and will provide plenty of comfort the whole time.  I docked this category a point because they are a fairly expensive running shoe, and they are the same price as other ASICS running shoes that are lighter.  I have not had the chance to test out those other running shoes, however, so do not how they match up with support, cushion, or other features I've highlighted.  
The Bottom Line

:
The ASICS GEL-Cirrus33 2 is a great running shoe with copious amounts of cushioning and no crazy gimmicks.  No shocks, no pumps (ha! remember those?!), no lights or other flashy gizmos tempting you to buy them because this shoe just does not need that – it's a great running shoe that stands out on its quality, construction, and has a reliable brand name behind it.   Buy Now: $150 or go to: ASICS.com