The Vasque Coldspark Ultradry is a boot designed all around to be a cold weather hiking boot.  But it's not just about staying warm in the Coldspark Ultradry, Vasque is a company known for its 50+ years of experience in making footwear that is designed specifically for the trail.  Being no exception, this boot is made to be an athletic boot that will actually make your snowy hike easier and much more enjoyable.  Aimed specifically for those hiking around in snowy terrain and on frozen tundra, the design elements provide what you will need to go wander all day in a winter wonderland and not worry about if your feet will hold up to the journey.
Key Features:
UltraDry™ Waterproofing System
200g 3M™ Thinsulate™ Insulation
Molded Rubber Heel Kick
Gaiter D-Ring
Fleece Collar
ColdHold Dual Density winter sole compound
1.8mm Waterproof Leather
Molded EVA Midsole
TPU Midfoot Stabilizer
Vasque Coldspark Ultradry Review Breakdown
Design:
The Coldspark Ultradry is a lightweight boot purpose built for winter hiking activities and from the bottom to the top is packed with design features to support this.
The outer-sole is designed with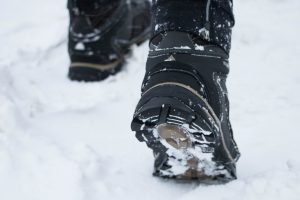 Vasque Monolith ColdHold compound.  Thisis a type of rubber designed specifically for winter use.  It stays supple in cold temperatures and features big, flexible lugs that provide phenomenal grip in loose snow and also solid ice.  There is ample spacing in the lugs that I found not only grab the trail, but also ensure that packed snow does not accumulate under foot and falls clean on each step.
The mid-sole is made of EVA.  This is typically found in athletic and running shoes to achieve an athletic feel under foot.  Also in the mid-sole is a stiffer TPU midfoot stabilizer to achieve better performance and support while hiking on rough terrain.
In the heel, you will find very nicely molded TPU to keep your heel locked in place for excellent stability without relying totally on laces to do all the work.  On the outside of the heel, there is a high grip finish combined with a small lip that protrudes out to give a nice positive lock for a snowshoe binding.  This area protects your heel and holds the binding strap in place perfectly.  While snowshoeing for miles, I never once had to readjust the strap and even when fully tightened, I never felt the strap on my heel.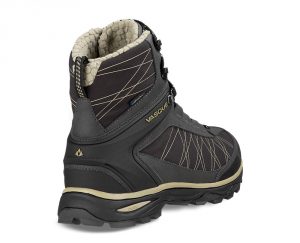 Moving to the boot's upper, there is a leather and breathable fabric combination.  Underneath this is 200g of 3M Thinsulate and the Vasque UltraDry waterproof membrane.  I found the insulation to be the perfect amount to stay warm, yet breathe.  The waterproof membrane was also perfect for snowy hikes.  However, this is a boot that is made for hiking in snow and that should be remembered.  I found that while in extremely wet slush or even in watery/rainy conditions, water did find its way in.  I never had a problem when temperatures were below freezing, but I would likely not want to walk around in extremely wet conditions in this boot and would certainly want to avoid trails that involved water crossings unless I also added some type of external waterproofing to the outer fabrics.
The lacing system on the Coldspark is very solid and features 1 row of speed lacing over the instep with 2 rows of a quick release style at the top.  This combination of lacing provides extremely good ankle support with the flexibility needed to not impede on your hike.   The top row of quick release is very high up and actually also helps provide a solid seal keeping snow from working its way into the boot through the opening.
Before the boot was broken in, the laces did seem rather short.  I could barely pull them tight enough to get them to reach the top row out of the box.  But after they had some time to stretch and the shoes time to settle, I now find that the laces are the perfect length to do the job, without any excess.
A final design element for winter hiking is down at the end of the laces where a D ring has been sewn into leather upper.  This provides a perfect connection point to use gaiters if you are really in deep snow.  The sole also is set up for gaiters by providing a lug-less smooth spot right in the midsole for a strap to pass through.
Comfort: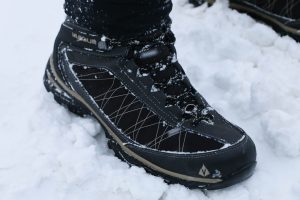 When I first put on the Coldspark, I knew that this was a real hiking boot.  How did I know, you ask?  Well, honestly because it was pretty uncomfortable, but in a good way.  Most hikers know that for any hiking boot worth its salt, the first step of making it yours is to break it in so the boot learns how your foot moves.  As you work through that break in period, things come to life and settle into place.  The Coldspark did exactly that.
Although it is made from breathable and softer materials, it is not exempt from typical break in procedures.  You will want to get out and walk before you plan on an extended trip.  For me, I started noticing a big difference in comfort once I got about 10 miles into them.  After that point, the Coldspark Ultradry started feeling less like a bulky boot and more like a supple, agile, athletic platform.
Other elements to boost the comfort come from fit and finish.  I found the boot to be very well constructed inside and lead it to fit securely all around.  The soft textiles used are extremely comfortable and the fleece upper provides a little extra warmth and snow protection without being abrasive.
Warmth:
In a winter boot, the obvious key to comfort is warmth.  I tried to find the coldest temperatures I  could and have yet to have an issue with warmth in the Coldspark.  The most extreme of these conditions was experienced in the backwoods of Michigan's Upper Peninsula where I did a 5 mile showshoe in 9 degree temperatures while being misted on by a large waterfall.  My face was certainly cold, but my feet were perfect.
Warmth can cut both ways, however.  While some is good, too much causes sweating and discomfort.  I found the Coldspark to be Goldilocks warm.  Not too hot.  Not too cold.  It was just right.
Style: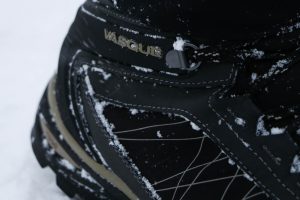 Usually in a purpose built shoe, the style can often times be ignored in favor of functionality.  The exception to this rule is when the purpose built elements are worked into the design and highlighted.  This is exactly how Vasque seemed to approach the design of the Coldspark Ultradry.
First off, you have a choice from 2 color options: Beech/Flame Scarlet and Jet Black/Chinchilla.  I went with the Jet Black/Chinchilla because it was a little different than the typical leathery earth tones you usually see in hiking boots.  (By the way, it's not actually made of Chinchilla, it's just tan colored polyester fleece.)
Overall, I would say the Jet Black/Chinchilla is a very unassuming color combination that is clean with just a little tan accent.  I find it to be a sharp look that wouldn't be out of place for cold urban hiking or a little hot-footed nightlife in a mountain town.  But shoes and style are all personal, so don't be surprised if you see me tromping through the woods with some "aftermarket laces" that give these boots a little pop of color, just for fun.
Value:
The Vasque Coldspark Ultradry is an athletic hiking boot that is made for winter exploration.  While this is likely an overkill choice of footwear for daily indoor wear, it is a highly recommended choice for the winter explorer that is well worth the reasonable price tag.
Buy Now: $139.99 Vasque.com (Can be found for as low as $85 after a little shopping around)
Vasque Coldspark Ultradry - Gear Review
Vasque's Coldspark Ultradry is a purpose built winter hiking boot that is packed with features to will make your day exploring in a winter wonderland comfortable and enjoyable.
The Good
Perfect amount of warmth
Excellent snow & ice traction
Extra features for showshoeing
The Not So Good
Not entirely waterproof
Don't forget to break in
Laces are a bit short at first