Here we are again in the midst of another white winter. This time of year, it can be really easy to just shut ourselves in, curl up under a blanket, and patiently wait out those bitter cold months all the way to spring. But if you're anything like us, that kind of behavior just isn't gonna fly, and you want to experience the season as aggressively as possible by taking advantage of all the activities the snow has to offer. No matter what the winter activity you're after, you have to dress properly to avoid the bite of the winter cold, and the right winter boot is on the top of the list of gear you'll need. Whether you just need something to wear to and from your winter destination, or you prefer the pristine solitude of nature during a long distance hike, the right boot is essential to protect your feet from the elements. This year, Vasque has brought us the Arrowhead Ultradry insulated winter hiking boot, designed with the conditions of winter specifically in mind so that our feet remain protected on all of the adventures we choose to embark on this winter.
Key Features:
UltraDry Waterproofing System
200g 3M Thinsulate Insulation and Reflection Lining
Antimicrobial Lining
Water Resistant Zipper
Speed Lacing
Molded Rubber Heel Kick
Snow Shroud
Fleece Collar Lining
Specs:
WEIGHT : 2 lbs. 12 oz. (1256g)
LAST : Perpetuum
UPPER : 1.6mm Waterproof Leather, Softshell
FOOTBED : Dual Density EVA
MIDSOLE : Molded EVA and TPU Shank
OUTSOLE : Vasque Venture with ColdHold Compound
Arrowhead Ultradry Review Breakdown
Comfort: 
The Arrowhead Ultradry boot, developed primarily for hiking long distances in the harsh conditions of winter, would not be suitable if it didn't fit snug throughout. We were very pleased to discover that thanks to the innovative Kevlar speed lacing system, the fit of the boot is distributed remarkably well from the toe to the shin. The structure provided by the molded TPU heel gives the boot a stable fit whether it is fully laced or completely loose, so if your outdoor activities involve frequent removal of your boots, they still remain a secure fit in the case you don't want to go through all the trouble of re-lacing them over and over. While the solid inner construction provides for a secure fit, the outer softshell material provides the extra give necessary to add comfort to stability. When optimal stability is essential, the speed lacing system does provide a secure fit all the way to the very top of the boot, but we did notice some slight discomfort in the front of the shin after a long day of having these boots fully laced. However, the final lace at the top of the boot is optional, so avoiding any such discomfort is no problem and the boot remains a very stable and comfortable fit.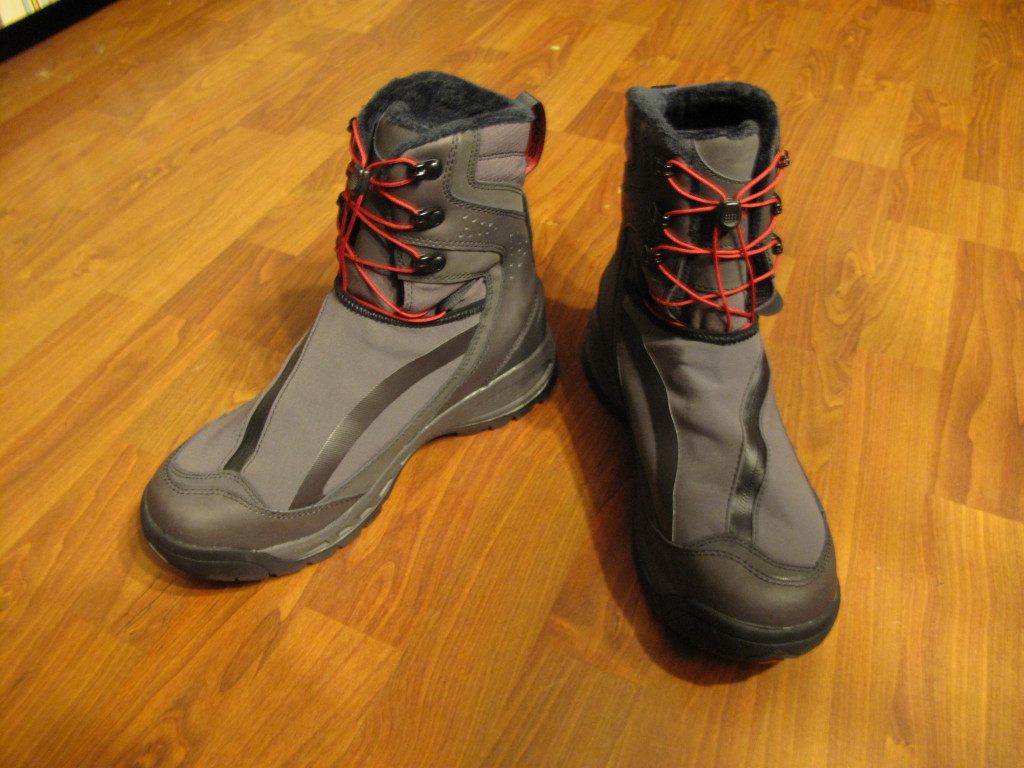 Design: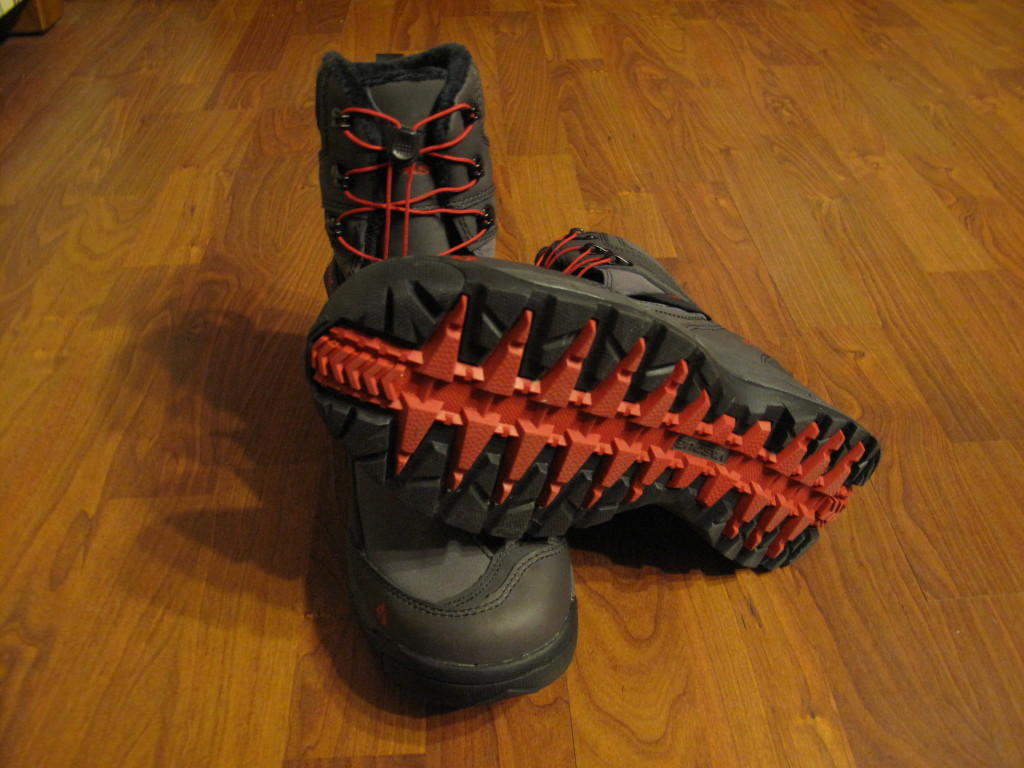 With warmth, comfort, and waterproofing in mind, the Arrowhead Ultradry boot's design is very well thought out indeed. The single pull, fast lace system is truly innovative, making the act of tying up efficient and simple. Once tightly laced, the excess lace can be tucked comfortably under the leather upper and secured with a single zipper pull. The softshell upper adds that extra barrier that protects the foot from any excess water or snow that could get in, and we've had absolutely no complaints with the water tightness of these boots.
Beyond the testing we did under the conditions of the typical winter hike, we also had the opportunity to take these boots out into the back woods with snowshoes. We discovered quickly that because the lacing system is concealed below softshell upper, there is an added benefit of accessing our snowshoes. The smooth, lace free upper made any difficulty of getting laces caught on the snowshoe binding system impossible, so getting going was the easiest experience we've ever had with our snowshoes.
From a visual standpoint, the Arrowhead Ultradry boot is definitely something different to look at. We've gotten a lot of comments while wearing these boots about how the laces are fully contained and out of sight. Although these have the appearance of a more mature cousin of the children's moon-boot of yesteryear, this design choice is obviously more about functionality than style, but they're still not bad to look at by any means.
Insulation:
A winter hiking boot's ability to regulate temperature is on the top our priority list. After all, frozen toes miles into the wilderness can be about as bad as it gets when you're trying to get the most out of your winter fun. Fortunately, the 200g 3M Thinsulate insulation that lines the Arrowhead Ultradry does this very well, and after a few hikes and some snowshoeing we didn't at any time feel the urge to stuff a bunch of uncomfortable heat pads into our boots. Needless to say, avoiding such modifications has really made a difference in making our outdoor excursions free of discomfort. If you plan on spending a lot of time indoors between activities, the soft exterior is still somewhat breathable, so there isn't that risk of your feet freezing in sweaty socks when eventually going back outdoors.
Traction:
We've already established that the Arrowhead Ultradry boot provides its wearer with a secure fit, and when trying to keep traction in winter conditions this is a very important element. Thanks to the compression molded EVA midsole construction, a smooth and comfortable hike is pretty much guaranteed. But to maintain stable traction in the snow, a good outsole is even more important. The Vasque Venture outsole utilizes a dual density rubber compound, ColdHold Technology, which adheres to cold surfaces consistently. Whether trudging through miles of wilderness, or just shoveling the driveway, the Arrowhead Ultradry boot has held us firmly to the ground and we've remained upright consistently and without issue.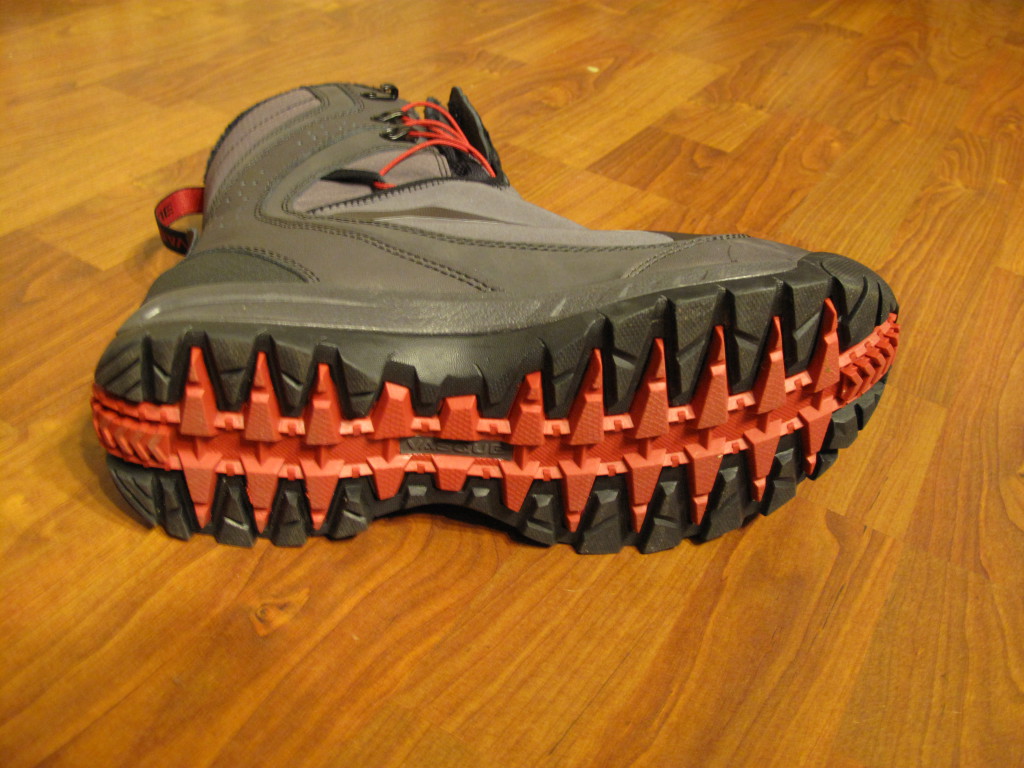 Value:
At $169.99, the Arrowhead Ultradry boot is somewhere in the middle to high end of the winter snow boot price spectrum. But with this boot, the value is obviously understandable when considering functionality and design. The Arrowhead Ultradry boot was developed to fit comfortably, hold traction, and stay warm and dry over long periods of time. Considering Vasque's success in developing a boot that accomplishes all of this and more, we have no reason to take issue with the price point.
Buy Now: 169.99 or, to learn more head over to Vasque.com
Vasque Arrowhead Ultradry - Gear Review
The Arrowhead Ultradry winter hiking boot is exactly the piece of gear any outdoor enthusiast will be pleased with. Whether you're snowshoeing, hiking, or just going out to scrape the ice off your windshield, these boots will keep your feet warm and dry in any conditions. On top of having top-notch functionality and some of the most impressive traction in the market, this boot is highly accessible thanks to the fast lace system. Whatever winter adventure is next, we highly recommend lacing up with the Arrowhead Ultradry boot, and you will achieve what you want to with comfort and style for the entire winter.
The Good:
Supurb insulation that keeps feet warm in any conditions.
Double layer upper that provides effective waterproofing.
Innovative Kevlar speed lacing system makes access fast and easy.
The Not So Good:
While fully laced, the boots became uncomfortable on our shin
Visually different than traditional lace-up boots, so style might be an issue.