Looking for the perfect gifts to blow away your friends and family this holiday season? Or maybe you're looking for a few last minute must haves for your very own wishlist? Well, either way… you're in luck, because this year your friends at Busted Wallet have got your back with a slew of great products that we've personally tested and reviewed throughout the year – and now compiled into an easy to consume holiday gift guide. The products you'll find below were some of our staff's personal favs from 2014 and include everything from bluetooth speakers to sunglasses to coffee makers, and much more.
Now we could continue to ramble on and on about how awesome our gift guide is, but why don't we just cut to the chase and give you what you came for… THE LIST… enjoy!

– TECH GIFTS –
Costing just $99 the Fire TV is the perfect gift for anyone looking to cut the cord and go digital. The software and hardware are robust and impressive. Considering all of the streaming devices on the market today, Amazon Fire TV stands out as a top tier piece of equipment.
The potential for this device is high, with strong features like the voice control we feel like it's a game changer. Compared to the Roku and the Apple TV, it is a step up. If you already own a gaming system like Xbox, PS4 or other devices like Chromecast that stream media, then it may not be worth jumping ship unless you simply want another streaming device for a separate room. However, if you are new to the game of streaming media and do not own a device yet, then we would opt in and purchase the Amazon Fire TV above it's competitors
Bushnell NEO XS GPS Watch
Ahhh, the golf GPS… a finicky device with many iterations to choose from. Some golfers love em', while others can't stand to use them, or simply don't trust the yardages. But today with so many options on the market you'd have to be living under a rock not to have tinkered with one yourself or played with someone who was. Until recently golf GPS's were designed in rather bulky sizes and were required to be left in the golf cart or attached to your hip (like a 90's Nokia cell phone) while taking a swing. Making them neither convenient nor comfortable to carry on the course. Leaving us asking all too obvious question "what's the point?!"
Today, that has all changed with the introduction of the NEO XS from Busnell. If you're in the market for a golf GPS watch, you've found what you're looking for. The Bushnell NEO XS allows you to play golf at a quick pace by delivering accurate distances and an easy to operate interface – giving you more time to concentrate on your next shot – or that freshly opened cold-one. The fact that it's impressively comfy to wear and is feathery light weight is a bonus in our book. If you're serious about dropping some dough on a golf GPS watch this season, do yourself a solid and make sure to consider the NEO XS. It's our clubhouse leader in 2014.
The new Pill XL from Beats by Dre is the biggest and baddest bluetooth speaker the (recently Apple acquired) company has launched to-date. In fact, the Pill XL is nearly double the size of the original Pill and pumps out shockingly loud audio. Geared for low-end acoustics and bass you can feel, the Pill XL is a monster when it comes to Pop and Hip Hop music.
We've had our Pill XL on-hand in the BW Offices for a few weeks now and the consensus is… this thing is ridiculously loud for it's size! In the world of bluetooth speakers this device is a beast, but in the world of home audio it still rather small. We actually found the footprint of the this speaker to be pretty nice. It's portable enough to bring with you to the beach, pool or gym – yet still has enough juice to power 4 drivers and a bass radiator.
With features you'd expect like volume, play/pause, skip track and power on/off integrated into the Pill XL itself this speaker pretty much does it all. You can also use it to charge your phone in a pinch. The on-board battery is equipped with 15 hours of life so partying all day and into the night is never an issue. If you're in search of a powerful speaker that you can control from a distance (up to 30ft) and hear from the neighbors house, we highly recommend checking out the Pill XL for that music junkie on your holiday list.
Face it. Our days and lives are getting too long and too full for our phones to handle on their own. As phone users, we all have 3 basic fears – #1 Dropping our phone and shattering the screen, #2 Running out of storage space to capture that amazing life moment, #3 A dead battery. In the past, the only solution out there to solve only one of these fears was a durable phone case. But now, thanks to the geniuses at Mophie there is a solution for all three – the Mophie Space Pack.
The Mophie Space Pack is the world's first battery case with built in storage. Not only is the Space Pack a sleek, durable phone case but it contains a 1700mAh battery and up to 64GB of additional storage. Simply slide your phone into the case, charge the battery by using a universal USB (you are no longer at the mercy of Apple's proprietary USB when on the go), and download the Space app. Once charged, the battery contains enough juice to bring a dying phone battery back up to 100%. Simply flip the switch on the back of the case and your will start to come back to life. This is enough power to give your phone up to 8 hours of talk time, 10 hours of video playback, and 40 hours of music playback. With the help of the Space app, you can quickly sync your phone's files and access them anytime using the app or by connecting your phone to your computer. Once your files are synced to the app, you no longer have to use up precious storage on your phone. With the Space Pack you can store up to 32,000 photos, 28 hours of video, 18,000 songs, documents, and more. For us, it's the most valuable phone accessory on the market.
The Mophie Space Pack comes in 5 different colors and 3 different storage sizes: 16GB, 32GB, and 64GB.
SOL PUNK Wireless Speaker
Thanks to the awesomeness of smartphones, iTunes, and music apps like Spotify everyone has access to basically any song ever created. However, most cell phone speakers don't carry the umph to project the quality sound and volume you're looking for when you want to fill a room full of music. Because of this, a Bluetooth speaker is going to be on every music lover's wish list this year. For these people on your list, we highly recommend the SOL Republic PUNK Wireless Speaker.
The SOL Republic PUNK Wireless Speaker may fit in the palm of your hand, but it carries a punch. The PUNK is louder than you would expect based on its compact size making it perfect speaker to take on road whether it's to the office or to the beach. This compact speaker is also built to be mighty. The PUNK is water, shock, and dust resistant so it is ready to go where ever you want to take it. It carries a battery life of 8 hours so you'll probably have to recharge before it does. Unique to the PUNK is that it easily pairs with any other Bluetooth device and can connect to your home or car stereo through the 3.5mm jack becoming a Bluetooth hub. This allows you to control any stereo wirelessly from up to 60 feet away. The SOL Republic PUNK comes in 7 different colors and with a one year warranty.
BACtrack Mobile Smartphone Breathalyzer
Tis the season to be jolly, deck the halls, and to spread holiday cheer with your friends and family at various holiday parties from now until well into the new year. We all indulge during this time of year with a glass or 5, but it's important to keep the spirits bright while also being safe this holiday season. Santa won't be bringing you gifts this year if you end up in a jail. It's kind of an automatic ticket onto his 'Naughty' list. Thanks to the innovators at BACtrack, they've made testing your alcohol level easy with the new BACtrack Mobile Smartphone Breathalyzer so that you can stay on Santa's 'Nice' list.
BACtrack is the most trusted breathalyzer brand on the market and the BACtrack Mobile Smartphone Breathalyzer is the world's first smartphone breathalyzer. The BACtrack connects seamlessly with your phone via Bluetooth and the BACtrack app. The breathalyzer is compact so it can easily go with you anywhere. The BACtrack's internal air pump ensures precise, consistent results while the proprietary Xtend Fuel Cell Sensor technology provides professional-grade accuracy. Once blowing into the breathalyzer, the app quickly provides your BAC (Blood Alcohol Content) level as well as an estimate on when you will return to 0.00%. Through the app, you can track your BAC over time from the last 6 hours to as far as the last 14 days to help you gain a better idea of how your body processes alcohol. The BACtrack even has the ability to log your drinks, capture photos, and share your results if you feel so inclined. The BACtrack Mobile Smartphone Breathalyzer is a lot of fun and a life saver at the same time.
Available in a dozen colorways, the Solo² Headphones from Beats by Dr. Dre deliver dynamic acoustics and clarity that simply must be heard to truly appreciate. We've had the privilege to test and review our fair share of high-end headphones over the years… the Solo² is truly impressive from a technical standpoint as well as eye appeal and ridiculous comfort. Whether you're into hip-hop, heavy metal, jazz, electronic, or country these headphones don't disappoint.
For those of you who were fans of the original Solo headphones, it may be time to upgrade, because the new Solo² headphone maintains the same sleek, streamlined aesthetic as the iconic Beats Studio with fast flowing curves and no visible screws. Starting at the center of the flexible headband, the frame of the headphone has been curved like never before, giving the Solo² a custom-fit feeling. The earcups have been ergonomically angled to complete this natural fit, with pivots for optimal comfort and sound delivery. Finally, the earcups' premium material helps dissipate heat and minimize sound leakage.
For the price, these headphones are some best on the market – delivering a great fit for most heads, slammin' audio and portability that's great for everyday use and travel.
– FITNESS GIFTS –
With this new system, Tony Horton and his crew have attempted to combine the muscle confusion strategy of the original P90X with the muscle integration strategy of the P90X2. They tailored what was learned in the previous systems, and developed a hyper-intensiveworkout routine that takes only 30 minutes a day as opposed to the hour plus from the previous systems. With the addition of a basic nutrition system that is included as reading material, and available supplements, the Beachbody crew are providing a full scale attack on the body to get you in the best shape of your life fast.
One should realize before getting started that this is not a system anyone can just jump into. You need to be in somewhat capable physical condition just to do the program in the first place, and you better be prepared for some real intensity and discomfort, especially during those first 30 days. The P90X3 is by far the best edition thus far. One of our editors (Brad) cut weight with ease and in half the time he was used to. With the added benefit of the included nutrition guide, we can only give high recommendations about P90X3 to anyone who wants to get in serious shape within the comforts of their own home.
Not only do they look fast, but they are fast! The new Wave Rider 18 is designed to maximize and balance forward momentum, for a smooth flowing ride. The Wave Rider 18's are also loaded with features that make them functional and comfortable. On our road tests (which surpassed 40 miles now) we found these shoes to be incredibly comfy with very little break-in time required.
Most impressively the Wave Rider 18's feel extremely durable while remaining shockingly light weight. They are very stable and give you a sense of security while pounding the pavement. If you're in search of a running shoe to impress the runners on your gift list this holiday season you'd be hard pressed to find another trainer more equipped for the long haul than the Wave Rider 18.
Nothing is relaxing about the community mats at the gym or yoga studio. Nothing. Once you're on one, you start to think of just how many other bodies have also stood, sat, sweated, and coughed on that mat. Gross. If you're already making the commitment to be a healthier you, you really need to start with the basics – like getting your very own yoga mat. Lucky for you, Manduka carries the perfect starter set aptly named the New To Yoga kit.
The Manduka New To Yoga kit comes complete with their best products for beginner yogis including a mat, carrier strap, and hand towel. The Manduka eKO Lite Mat is 4mm thick and offers an unparallelled grip to help pull off any move and helps you stay put even in the sweatiest of conditions. This high quality mat is also eco-friendly and made from biodegradable, non-Amazon harvested, natural tree rubber. The Commuter strap is designed to easily fit around your mat so that it's easily accessible and ready to carry anywhere. The New To Yoga kit is made complete with the eQua Hand Towel which is a perfect companion for when you work up a sweat. The kit is customizable with a huge variety of available color options. With the Manduka New To Yoga, you can focus on your zen and not who was doing what on the mat before you.
– OUTDOOR GIFTS –
Built rugged and billed as the first and only pocket tool available with assisted opening blade technology, the Gerber Crucial F.A.S.T. (Forward Action Spring Technology) was engineered to easily and quickly deploy a specially designed blunt tip blade. In the wild or around town, the lightweight Crucial F.A.S.T. offers maximum utility in a minimalist package.
Not to mention, it houses 8 components including:  Half Fine/Half Serrated Bladem, Long Medium Flat Head Driver, Long Square Cross Driver, a Bottle Opener, Needlenose Pliers, Regular Pliers, Pinch Style Wire Cutters.
Priced at $58 this multi-tool is a great piece of kit that would be a welcome addition to any outdoor person's everyday carry.
Small but mighty, the YETI Roadie 20 has got to be one of the very best personal coolers we've ever laid eyes on. Built with the same hardy one-piece construction and ice-retaining insulation Yeti's Tundra ice chests, this small personal cooler is equipped with a heavy-duty stainless steel handle for excellent portability. The Roadie is even grizzly proof, just like its larger Tundra cousins. Take this sturdy little portable cooler with you to the job site, or play hooky and head down to your favorite fishing hole. It's also right at home in a campsite, kayak, canoe, ATV or golf cart. Hitting up a BYOB party, barbecue or restaurant? The small Roadie cooler is the ideal size to BYOB, and the No Sweat Design prevents any embarrassing messes. The unbreakable, self-stopping hinges keep the lid propped open while you fish around for the perfect pairing. What beer goes best with venison sausage?
OneLink Sleep System – SingleNest
If you're looking to pack ultra-lite, yet stay fully protected from the elements, ENO's line of OneLink Hammocks are simply one of the best options available. Weighing in at just 20 oz, ENO Hammocks are designed to sleep one or two people (single nest / double nest) with a carrying capacity of 300 to 400 lbs. Recently we had an opportunity to put the OneLink SingleNest system to the test ourselves and came away very impressed.
With the Onelink system you can leave your tent and sleeping mat at home creating more room in your pack for gear, food and essentials. The hammock itself takes up hardly any space in your pack folding up into the size of a softball – while the additional rain fly, bug net, straps and stakes take up very little room themselves. As far as sleeping in a hammock goes, we love it. Like a baby you can rock yourself to sleep. If you're camping and the threat of rain is something you worry about, the ENO rain fly will keep you high and dry – and when mosquitoes are buzzing your tower you can zip up the bug net.
Overall, this is a great setup for camping when comfort and cargo space is at a premium. ENO Hammocks keep you up off the ground away from the critters and has to be one of the more comfortable ways to rest while camping.
This jacket is lightweight. It also compresses down very small, making it a great addition to any backpacker's pack. The zippers are easy to zip/unzip, and feel durable.
Overall, we were incredibly impressed with the Nano-Air Hoody from Patagonia. The lightweight, compressible material makes it a great addition to any backpackers pack, and it will keep you warm in cool conditions. If you are facing very cold weather, you might want to consider getting something with a little more insulation, but for those cool spring/summer nights, and cool fall days, this jacket will provide you with both style and warmth.
Produced in the USA and built to last, you're looking at one of the most durable and dependable soft-sided coolers on the market. The Brute Softpak not only looks bad-ass, but it's designed to store ice for up to 24 hours in 120 degree heat. Yup, that's right! 24 hours of ice retention in a soft cooler. How do they do it? Well, with twice the insulation of traditional soft coolers the Softpak is simply a beast.
When you consider the Brute Softpak is built from 1000 denier vinyl, which is tear resistant up to 375 pounds and has been outfitted with military inspired MOLLE webbing- I think you can understand this is by no means your average soft cooler.
Able to hold a 12pk of brews and 5 lbs of ice, this cooler is ideal for day trips, lounging at the pool or tailgating. And as an added bonus, each Softpak come outfitted with a bottle opener on the main zipper.
Made from 18/8, food-grade stainless steel, Kleen Kanteens are safe, eco-friendly alternative to plastic and lined aluminum bottles. This year Klean Kanteen is keeping it fresh with new matte color ways and a new 64oz version of its best-selling bottle: the Classic. The new matte Classics are an ideal hydration companion, not only are they stylish, but they keep you healthy and help offset the epidemic of single-use containers one bottle at a time. They come in 27oz, 40oz, and 64oz sizes and have interchangeable cap options.
If you find yourself out on the trails our in the back country often, it's time to ditch the plastic disposable water bottles and start cleaning up your act. The Kleen Kanteen is an affordable, durable and environmental friendly way to stay hydrated. We've had ours in the office now for over 3 months and it's changed the way we consume water… and take out the trash!
– HOME & BATH –
Designed by Australian sports podiatrist, Phil Vasyli, Vionic's Barrow indoor-outdoor slippers incorporate patent-pending Orthaheel Technology. This cutting edge technology helps mold to the foot and shape feet into proper alignment to increase support and reduce and prevent pain in feet, ankles, knees and backs. Not only do they save feet with pain reducing support, but in the true holiday spirit of giving, Vionic gives a portion of proceeds to charity.
Dr. Squatch Soap Co. Gift Pack
Dr. Squatch is a soap company not only has the best brand name we've heard of in years, but they also sell 8 different types of soap in manly scents like pine tar and gold moss scrub. These soaps are a great gift idea for guys at an affordable price – $6 per bar or $30 for a gift package of 4 bars in a fancy cigar box – which we had the pleasure of testing ourselves!
To produce their soaps Dr. Squatch uses simple and natural ingredients, which they've perfected by using five base oils that feel right. The idea behind Dr. Sasquatch is simple… create a natural and manly soap, with simple ingredients from mother earth, carefully chosen just for your body.
After showering with Dr. Sasquatch soaps for the past three weeks, we are hooked. These soaps leave you smelling fresh in a way you didn't know was possible. The bars even seem to last longer  than traditional store bought bars. We highly recommend the gift pack this holiday season, but if you're looking to buy just one bar we can't recommend the pine tar scent enough!
Keurig 2.0 550 Brewing System
Coffee makes the world go 'round. Most people start their day with a hot cup of coffee – or a full pot. The single serving coffee brewer isn't a new concept but it has had its limitations compared to a traditional coffee machine. The main difference being that one could not brew a full pot of coffee if they wanted. Well the folks at Keurig have taken note and now offer up a pretty slick alternative – the Keurig 2.0 Brewing System.
The Keurig 2.0 Brewing system is the first Keurig system that can brew a cup or a carafe of coffee at the touch of a button. It still uses the traditional K-Cup pack we all know and love, but now has the option to use the new K-Carafe pack to brew the perfect carafe of coffee. The new Keurig 2.0 Brewing Technology has the smarts to be able to read each portion pack lid to brew the best cup or carafe every time. The K550 has all the bells and whistles including an 80 ounce water reservoir, a 32 ounce Keurig carafe, a 2.8 color touch display, programmable clock, auto brew  and out off option, 10 different brew sizes, and beverage strength control. This beauty even has a customizable nightlight and display color wallpaper options.
Take a moment and think about the amount of money you spend on carbonated beverages each year. Also think of how many plastic bottles and cans you go through along the way. Yeah, not a pretty numbers to think about. Plus think about what all goes into those carbonated drinks – just some water, carbonation, and flavoring. That's it! Kind of a rip off right? Take this knowledge and free yourself by getting your hands on the Sodastream Play.
The Sodastream Play turns water into sparkling drinks in 30 seconds. Simply fill the included 1 liter carbonated bottle with tap water, insert the bottle into the Play, press down using the automatic slider to add the desired amount of carbonation, release and remove the bottle, and the Sodastream beverage mix of your choice. It's that easy and it's so much cheaper than buying bottles and cans at the store. Also it's healthier for you than the store bought beverages – Sodastream drink mixes have no high-fructose corn syrup and there is no aspartame in their diet flavors. The number of flavors they have available rivals any large chair grocery store. Drink up!
– VICES – 
Johnnie Walker Blue Label
The creme of the crop in the scotch world, Johnnie Walker Blue Label is one of the most sought after… and expensive Scotches on the market today. In fact, each bottle is so rare and special the distillery individually numbers each bottle to recognize the rarity of the liquid within. And if that weren't enough to give you pause, you should also know that every bottle of Blue Label is produced with whiskies that come from distilleries that no longer exist, making this rare blend even more special. It's been a bucket list scotch for us to taste and review over the years, and this holiday season we were given our chance.
So how does it taste? Well, we're glad you asked… On the nose Blue Label delivers has hints of smoke, wood and dried fruit, while the body is soft and mellow with sherry, honey and vanilla notes. It has a bold intensity of peatiness with dark chocolate overtones. There's only one way to enjoy Johnny Walker Blue Label and that's neat. No water or ice necessary -simply sip, swirl and repeat.
Crafted in celebration of seven decades of tequila making expertise and innovation, Don Julio 70 is classified as an "Añejo Claro" tequila, which may sound contradictory to most tequila aficionados and a little different than the traditional tequilas you'll find on liquor store shelves… and that's because it is! You see, typically Añejo tequilas have a golden or slightly brown complexion while blanco (or silver) tequilas remain completely clear due to the fact that they're un-aged.
Don Juilo 70 is one of the easiest drinking tequilas we've sipped in a while. On the nose it's everything you'd expect from and Anejo – although your senses are thrown for a bit of a loop because your eyes tell you this is a blanco. Once you get past that initial switch-a-roo and take a sip this tequila truly shines.
We found this tequila to be very inviting. In fact several members of our tasting panel who weren't what you'd call "fans of tequila" came away with a new appreciation for the spirit. While Don Julio 70 sips fine it's really at home as the base for a truly delicious cocktail.
Innovated for simplicity, top quality taste, and ultra convenience – Stack Wine delivers single-serving wine portions that come packaged in shatterproof containers that can be thrown away at the end of the night. Each bottle of Stack Wine consists of four individually sealed glasses of premium California wine. Sold in 4-packs, each Stack Wine package holds 750 milliliters (187mL per cup). Whether you're headed to the beach or simply relaxing at home, indulging in a delicious glass of wine has never been this easy.
Stack Wines are available in your choice of Cabernet Sauvignon, Red Blend, Chardonnay and Pinot Grigio for just $12.99 per 4-pack. Recently we had the opportunity to taste and review both the Cabernet Sauvingnon and Chardonnay. And we have to say, they were both delightful. The portability and convenience is what sold us on Stack Wine, but the delicious vino within is what kept us coming back glass after glass. Best of all no corks to mess with or slow us down!
As the story is told, in 1987 Thomas Bulleit, Jr was the keeper of an old family bourbon recipe and decided to give up on his day job as an attorney and he opened Bulleit Distilling Company. With the recipe developed by his great-great-grandfather Augustus Bulleit who made high rye whiskey. As legend has it, one day Augustus was transporting barrels of bourbon from Kentucky to New Orleans, he vanished and to this day, no one knows what happened. While the recipe that Augustus developed is different then what they are producing today, it set the frame-work for a great tasting and smooth drinking whiskey.
This is an easy to drink bourbon that offers a taste of creamy vanilla, pickling spices, and buttery pralines. We were concerned that the high rye content was going to be overpowering but instead added a subtle taste that was very well appreciated. What we found with Bulleit is really no need to mix it with anything as the unique recipe offers a taste that will make a a traditional cocktail taste than you are used to with a traditional bourbon.  We really enjoyed this on the rocks with a splash of orange bitters which helped extenuate the light toffee flavor and bring out the spices a bit more.  Bulleit is aged for at least 6 years and a recipe that has evolved over 175 years, you are getting a quality, mature tasting bourbon that any bourbon drinker will enjoy.  We have found this to this to be a go-to drink on our shelf when we are the mood for a good sipping bourbon.
– STYLE –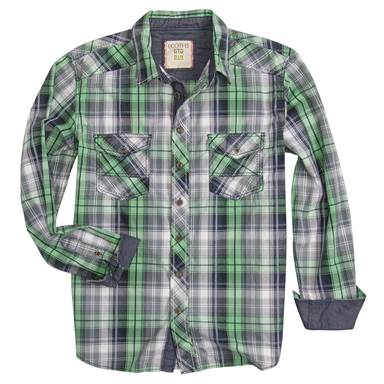 Produced from 100% organic cotton, the Bentley Long Sleeve by Ecōths delivers that traditional plaid look that is perfect for Winter. Not only does this shirt look the part, but it's actually impressively comfortable as well. The Build quality is top-notch as well.
As a group of guys who've worn our fair share of plaid over the years, the Bentley has to be one of the best looking and feeling we've buttoned up. Tipping the scales at around $75 this is a masculine shirt that will keep you warm and stylin' throughout the cold months of Fall and Winter.
Looking for some instant karma? Well, here you go… for each garment Ecōths' sells, 3 meals are donated to local food banks around the country. Since their launch in the Spring of 2014, Ecōths has donated over 15,500 meals and they are slated to donate over 60,000 meals for all of 2014!
Often times we find ourselves forking over cash to buy sunglasses with superior optics, a comfortable fit or sports inspired functionality, but sometimes you just need a pair to get buck wild in! That's where the Neff Brodie sunglasses step in. They're a serious statement piece that come in your choice of three outrageous colors (Wild Tiger, Static, White) and are shipped with with two interchangeable poly carbon lenses to keep the party rockin' double-time.
The Ridgemont Mesa is a new twist on a classic mid-top chukka. What makes it special is that Ridgemont used a high quality oiled suede to make sure that, even though it looks unassuming, it will take whatever you throw at it. The Mesa also features hi-density 100% rubber, lugged vulcanized outsole, a gusseted tongue and Ortholite innersole, making The Mesa a truly, all-terrain vehicle.
These shoes are a dual threat… they look great on the streets dressed up in jeans or trousers and can keep up off the beaten path to no-mans-land. Not to mention their surprisingly comfortable. Available now in three colorways, the Mesa is a stylish mid-top from an up and coming brand. And at just $99 they're a damn good value.
The best gifts you can buy for someone is something they wouldn't usually splurge on for themselves. For ladies it's jewelry, lingerie, spa treatments, and high quality sunglasses. Everyone has that fear that if they invest in some quality eyewear that they will scratch, break or lose them one second after they purchase them. So this fear makes them the perfect gift to give and Spy Optics carry some of the best on the market today. Right now we are totally digging the Spy Optic Honey sunglasses.
The SPY Optic Honey sunglasses are the chic shades that can go with any outfit and can go anywhere – from a day of boutique shopping to mountain biking in the woods. They are down for anything and will make you look good while offering supreme eye protection from the elements.  The Honey is made from custom-built high quality propionate and comes in 7 different color schemes. The ARC lenses are a 6-base polycarbonate and offer 100% UV protection. The Spy Optic Honey is the perfect gift for the lady on your list.
Teva De La Vina Low Leather Boot
For the ladies, the winter the fashion staple of the season is by far the leather boot. Worn with skinny jeans or leggings, a great pair of leather boots can help you achieve that casual or edgy style you're looking for with your outfit. Best of all, they are highly practical for the season protecting your feet from the elements and keeping you warm on those frostbite kind of nights on the town. The Teva De La Vina low leather boot is the perfect gift to add to any girl's closet this holiday.
Teva is best known for its highly popular line of sandals and flip flops but it continues its legacy of quality footwear with shoes and some pretty excellent leather boots. Our choice this season is the De La Vina low leather boot. These waterproof ankle boots are made with high quality leather that is ready to battle whatever weather Mother Nature cares to throw at them this winter. The side zipper allows you to put them on and take them off quickly while the adjustable strap adds to the boot's style while giving you a custom fit. The De La Vina's Spider 365 rubber sole is ready to stomp the elements and the Mush Infused Insole helps keep your feet warm and comfortable. The Teva De La Vina stylish, but it means business.
One of Under Armour's most fashion forward shades to-date, the UA Align is built on ultra-light ArmourFusion frames, which are constructed from a combination of titanium & Grilamid to deliver superior strength & flexibility. While you might not think of Under Armour as your go-to sunglasses manufacturer, they actually put together a really nice pair of shades – and these are no exception!
Over the years we've had the opportunity to test several models of sunglasses from Under Armour, each pair purely sports inspired. The UA Align is a hybrid of sorts, with a clear focus on style these shades are capable of hanging on tight even when sweat begins to pour, and look damn good all the while. For our money, the UA Align is the perfect blend of style and sport.
Water resistant up to 165ft, the Knoxx Watch by Neff is built with a ABS Case and silicane strap for durability and comfort. Available in three colorways (black, red and white) this watch is an affordable eye catching timepiece.
Great for everyday activities Neff designed the Knoxx to be lightweight, rugged and comfy. After spending a couple months with this watch it's hard to believe it's only $40. Free from all the tech and gizmos – the Knoxx tells time and looks good doing it.
For our money the black on black on black version is the hottest colorway. If you're searching for a timepiece that will make their eyes light up and keep your wallet in-check, we definitely recommend snatching up the Knoxx this holiday season.
Men who know what's up,  know that SPY Optics are one of the top dogs in the game. Delivering serious style that is both sports inspired and fashion conscious, SPY is worn the world over by surfers, skaters, snowboarders and celebrities. Recently we had the privilege of testing out their new Cyrus shades… and we were floored. These sunglasses are simply some of the most comfortable around. With no padding at the ears or nose this was kind of a surprise, but their light weight design kept them feeling great even for all day wear.
Equipped with SPY's "Happy Lenses," the Cyrus actually maximizes the transmission of the sun's "good" rays—while still blocking out its "bad" rays—which studies suggest fosters an uplift in mood and alertness. And who couldn't use a boost every now and again?! The Cyrus is available in 9 different colorway/ frame options to fit any taste.
A great golf shoe must have a few distinct qualities. For starters it must be comfortable. Next it must deliver stability and grip. Finally, you know it has to look good. Because next best thing to playing great golf is simply looking good doing it. The new Tour 360 X from Adidas has it all. From box to foot, the first time you lace these bad boys up – they are extremly comfy. What else would you expect from a company that's been making sneakers since the early 1900's?!
Launched November 1st, the new Tour 360 X footwear collection from Adidas Golf represents the next generation of the popular Tour 360 franchise. This collection of golf shoes features clean, streamlined designs incorporating 360WRAP technology for an aesthetically pleasing, tour performance golf shoe with outstanding comfort for all golfers. These golf shoes are being offered in six colorways and starting December 1st you can get your hands on the Tour 360 X with the BOA system integrated into the laces.