I have a terrible case of wanderlust. I spent most of my twenties as a vagabond drifting from Arizona to California and backpacking my way across Europe.  Over the years (I won't tell you how many), I have learned that carrying the right gear is just as important as traveling with the right companion. For me, that means carrying a purse that keeps my personal belongings safe and secure. When I was searching for a new travel purse, I had no idea that I would stumble upon my new favorite everyday tote: the Travelon Anti-Theft Heritage Tour Bag.  Seamlessly combining physical security features (locking zippers) with RFID blocking technology, the Anti-Theft Heritage Tour Bag is the perfect accessory for ladies on the go!
Key Features:
Locking zippers, slash proof strap, and zippered RFID blocking pocket
Side mesh expansion pockets ideal for water bottles and umbrellas
Easy access front and back pockets… So. Many. Pockets.
Tethered LED light and key clip
On-trend canvass exterior with cute suede detailing inside and out
Available in three neutral colors
Travelon Anti-Theft Heritage Tour Bag – Review Breakdown
Security Features:
When I sought out the Heritage Tour Bag for a trip that I will be taking to Europe this coming spring, I had no idea that I would end up using it as my everyday purse. From the grocery store to concerts and Broadway shows, I felt that my wallet (and my identity) was safe and secure when carrying this bag.
The first line of defense is the locking zippers and slash-proof strap.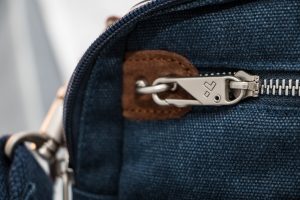 The zippers on the exterior of the bag operate like carabiners and lock onto integrated metal loops. The locks are relatively simple to operate, but it does take a couple extra moments to open the bag. The slash proof strap is made of a soft, tightly woven cotton and has larger locking hardware on each side. I love, love, love that the strap hardware spins 360°, meaning that you never have to worry about the strap twisting or tangling.
The sec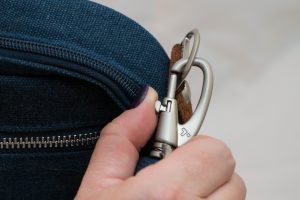 ond line of defense is the interior RFID blocking zipper pocket. I am not a techie, so I did have to educate myself on the value of having an RFID blocking pocket liner. RFID stands for Radio-Frequency Identification. According to  Wikipedia, RFID uses electromagnetic fields to automatically identify and track tags attached to objects. These "tags" contain personally linked information and can be found on items as your credit and debit cards. One swipe of a cheap RFID reader and a thief can capture all of your credit card information! Scary, right? The Heritage Tour Bag's RFID blocking pocket stops thieves from being able to steal your credit and debit card information! That means you can travel, shop, dance, spectate, and generally carry on with your day knowing that there is a mini-Fort Knox protecting your personal financial information. Fist bump to Travelon!
Style & Comfort:
Alright ladies, time to get down to brass tacks: this bag is cute! I cannot tell you how many compliments that I received toting this little beauty around town. The saturated color canvas exterior is spot-on trend. I carried the Heritage Tour Bag in a lovely shade of indigo blue that worked more as a neutral. The suede leather detailing around the zippers adds contrast and texture, elevating the canvass look to a new level.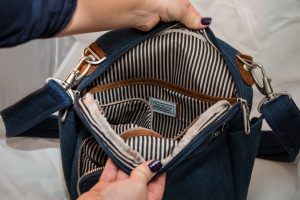 As for the interior, it is perfectly appointed with blue and cream pinstripe lining that is soft as silk. All of the pockets are lined and pipped with suede; finishing that adds just the right touch of luxury to this everyday tote.  I found that both the exterior canvass and interior lining resisted stains and stayed fresh and crisp looking even after weeks of heavy use.
So, its cute, but is it comfortable to carry? You betcha! The wide banded strap is super soft and evenly distributes the weight of the bag across your body. This means that you can finally say goodbye to sore shoulders! Can I get an Amen?!?
At this point you are surely asking if this is the *perfect* bag. The answer is: nearly. After extensive investigation there are only two shortcomings that I could identify. First is the weight of the bag. Even empty, this bag is hefty. Add a water bottle and your personal necessities and you have yourself a pretty substantial payload. Spare yourself the backache and be judicious in what you pack.
Second (and this really is the darndest thing) the zipper head on the back pocket (the pocket that lays against your body) has a nasty little habit of hooking onto belt loops. Once your belt loop is caught in the zipper head you will need a friend or two to set you free; otherwise you will suffer from purse-butt the rest of the day. Its awkward to say the least. My permanent fix was to fully close the zipper head with a pair of pliers (Note: this solution is probably not recommended by Travelon, and the risk of breaking the zipper is high).
Storage:
Travelon deserves a standing ovation for designing a bag so intuitively functional. After a week of toting the Heritage Tour Bag around, it became part of me. Here's why…
Travelon incorporated not one but two front locking-zipper pockets. The larger pocket is awesome for necessities like mints, lip gloss, and hair accessories. The smaller pocket is a perfect catchall for change and pesky receipts (no I will not be returning the coffee and croissant I just gobbled… or the six pair of shoes I just bought). On the flip side, there is a third pocket that I found convenient to store my phone.  Each side of the bag features expanding pockets for water bottles or an umbrella.
The interior of the bag is no less impressive. The main compartment is bottomless. Like Mary Poppins, you can stash all your worldly treasures in this cavernous bag. Think you can fill it up? I dare you. I was able to carry two cans of soda, my phone, sunglasses, a bag of snack mix, and my wallet all in the main compartment and still had room for more. Speaking of wallets, yours will feel right at home in the RFID proof zipper pouch. My wallet, which is truly more of a clutch, is massive but still fit safe and secure in this thief-repelling super shelter. A second pocket in the back, which functions more as a divider, helps keep everything in place.
If you like to live on the edge and let your valuables free-float, worry not. Just use the handy LED flashlight (clipped to the inside of the bag) to find what you are looking for. Never a lost tube of lipstick again!
After carrying the Heritage Tour Bag, it is a rough transition to anything else.  And if that doesn't deserve a standing-O, I don't know what does!
Value:
Whether you are running errands around town or soaking in the sights on vacation, the Travelon Anti-Theft Heritage Tour Bag will keep your personal items safe and secure for the reasonable price of $65.00. Compared to other name-brand purses (without crime-fighting technology), the Anti-Theft Heritage Tour Bag is a fantastic buy!
Buy Now: $65 or to learn more, head over to: TravelonBags.com
Travelon Anti-Theft Heritage Tour Bag
Travelon's Anti-Theft Heritage Tour Bag is perfect for travel or day to day use. It keeps your personal items safe and secure with locking zippers and an RFID blocking pocket and is cute to boot!
The Good
RFID blocking pocket stops thieves in their tracks.
Ridiculous number of pockets and storage options.
Locking zippers make the bag secure and difficult to open.
The Not So Good
It is heavy, even when empty.
The back zipper tends to get caught on clothing.
This bag is difficult to open!