Bow season is upon us and our pals over at Timber Hawk are at it again… this time with the new and improved Gut Hook hunting pack! It's been re-engineered specifically for bow wielding hunters who demand maximum storage space in a lightweight comfortable pack. Praised for its hands-free capabilities, the Gut Hook is said to be ideal for extended hikes and warm weather stalks. Recently we were given an opportunity to put the Timber Hawk Gut Hook hunting pack through the paces ourselves on a heated White Tail hunt in depths of  the Northern Michigan wilderness.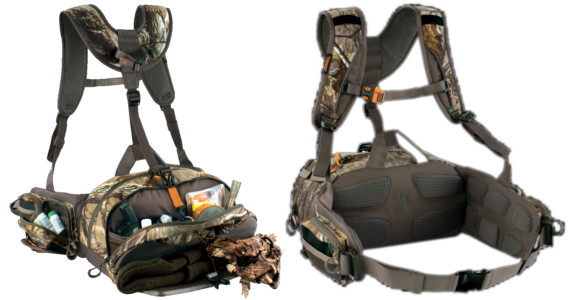 First developed in Salt Lake City, Timber Hawk packs are the brain-child of life-long friends and Michigan transplants, Mike O'Reilly and Paul Thomas. By 2005 Mike and Paul were officially testing out the first sample run of Timber Hawk prototypes in the hills of Emigration Canyon just outside Salt Lake City. There, where the wide-open, sage covered terrain offers little to conceal one's outline or movement besides clusters of impenetrable scrub oak, they realized that their initial design incorporated far too much black fabric. A few rounds of samples later they had what would become the first Timber Hawk lineup, and soon after went into full production the following spring. Today the Timber Hawk lineup includes an assortment of day packs, multi-day packs and of course waist packs like the Gut Hook… which are not to be confused with fanny packs! Timber Hawk's motto – "More Bag for your BUCK."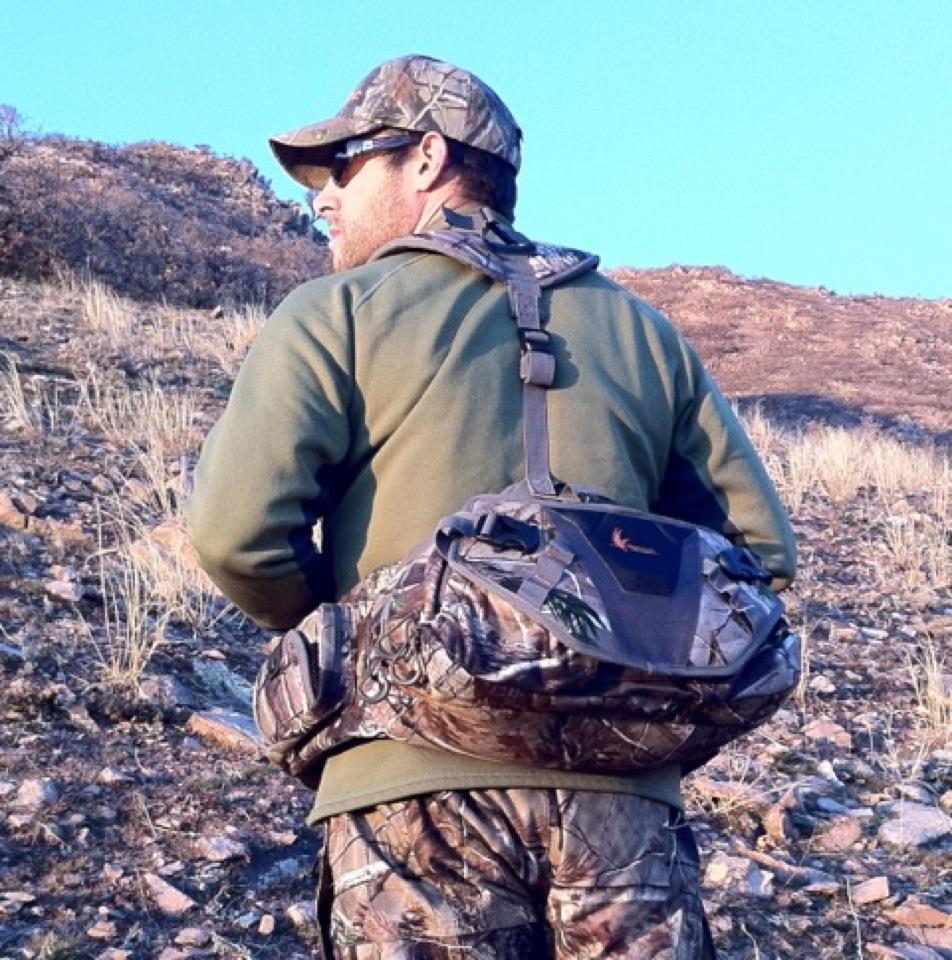 Key Features:
1,500 cu in of storage space
Securely carries a bow for hands-free movment
Yoked shoulder harness system supports the pack's weight
Roomy main compartment with three interior accessory pockets
Lined with ultra quiet durable twill fabric
Left & right side compression
Convenient padded front stash pocket for quick access gear
Padded front organizer compartment with two accessory pockets and key clip
Hip belt spot for bear spray, pistol, etc.
High density breathable foam padded waist belt.
Three waist pockets to store small digital gear, calls & ammo
Large loop zipper pullers allow for easy use with gloved hands
Webbed accessory loops to attach extra gear
Timber Hawk Gut Hook Review Break-down
Comfort:
When  fully packed with gear and necessities the Gut Hook hunting pack remains shockingly comfy even on distant treks. The shoulder harness and hip belt are nicely padded and provide a decent level of breath-ability. We found that the open back design cuts back on sweating which helps to keep you cooler and scent-free all the way to your blind and back. The hip belt feels great and is critical for support on longer hikes. Using the hip belt will drastically cut back on shoulder strain, so buckle up! For maximum comfort make sure to adjust the pack to your torso and whenever possible remember to utilize the hip belt in conjunction with the adjustable sternum strap.
Design: 
Though it may resemble a fanny pack with shoulder straps, the Gut Hook is so much more! It's ability to securely transport a compound bow hands-free is truly impressive. To load a bow, simply slide the bottom cam of your compound bow into the outside pocket of the pack, then secure your bow with the provided strap near the middle shoulder harness and tighten down. This hands-free system makes long hikes less miserable and climbing in and out of tree stands an absolute breeze. Beyond that Timber Hawk has outfitted the Gut Hook with a handy emergency whistle integrated into the sternum strap as well as an array of pockets, zippers and accessory loops which make it extremely versatile and ideal for bow hunting all day.
Storage:
For its somewhat diminutive overall size, Timber Hawk has packed an impressive amount of storage space into the Gut Hook… 1,500 cubic inches to be exact. With that storage space also comes a wide selection of compartments, zippered pockets and bungees for an excellent level of organization. The three largest storage compartments are located at the back of the pack and are big enough for binoculars, calls, flashlight, and more. The smaller zippered pockets around the hip belt are very easy to access and can be used for a variety of smaller devices, scents, equipment and anything else you need quick access to while you're on the move.
Durability:
Every single zipper, clip, and strap used to produce this pack is of extremely high quality. This stitching is fantastic and the twill fabric is highly durable and conducive to trudging through thick brush on a consistent basis. In our opinion the Gut Hook is a highly durable pack that will provide it's owner many years of rugged back country hunts or possibly a lifetime of less rugged abuse.
Value: 
Priced just $5.00 above the hundred dollar mark, the Timber Hawk Gut Hook is a fantastic buy for arrow slinging hunters who require ample storage without compromising comfort. On top of it's great value TimberHawk will repair your pack for any reason – free of charge, for any damage or defect found on their products. If they're unable to perform a quality repair, they will send you a new one.
Timber Hawk Gut Hook Hunting Pack
The Timber Hawk Gut Hook Hunting Pack is ideal for archers who are looking for a serious waist pack that provides impressive storage, organization and comfort. The support the shoulder harness and hip belt supply is perfect for day hunts that require covering large distances or hunts in warm weather. It's hands-free capabilities make it exceptional for climbing tree stands and traversing rugged terrain. If you're in the market for a new pack this season we strongly suggest your give the Timber Hawk Gut Hook some serious consideration!
The Good:
Easily Transports Your Wepon
Comfortable to Wear on Long Treks
Surprising Storage Space
The Not so Good:
When Your Weapon is Holstered it can Make Hiking through the Brush Difficult. Especially Under Low Hanging Branches