Outfitted with 250 grams of foot simmering low-loft Thinsulate insulation, the Chair 5 boot is Teva's newest lightweight waterproof solution built to combat Old Man Winter's cruelest conditions. The Teva Chair 5 boot is actually two boots in one. Weeeell, sort of… let me explain. You see, Teva created the Chair 5 boot specifically to be both lightweight and extremely pack-able. To achieve this, they produced the inner liner (where all the warmth and insulation is stored) to be easily removable from the boot itself. When the liners are removed the boots becomes shockingly "scrunch-able" (a term we don't use lightly) and easy to pack. Additionally the inner liners are equipped with rubber outsoles to provide traction and can be worn casually as slipper-booties while kickin' in the lodge.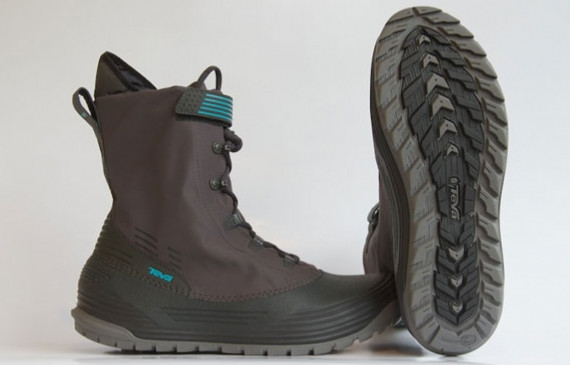 So, two pairs of boots for the price of one? You gotta love that, but that's just the tip of the innovation iceberg when it comes to the Teva Chair 5 boot. To give you a full explanation of what exactly makes this Teva's most winter-capable boot to-date we'll pass the mic to Teva Designer, Randy Puzzitiello and Product Guy, Chris Hillyer who'll get all technical on your ass in the embedded video below… Over the holidays our good friends at Teva presented our team with an opportunity to test and review a couple of their latest and greatest innovations, including the Chair 5 boot. After almost a month of winter abuse and testing them inside and out… 

literally

, we're happy to share the results with you! But before that, here's some additional impressive features this versatile boot has to offer.  
Chair 5 Key Features:

T.I.D.E. GRIP:
Teva's White Spider Rubber sole will help keep your face a safe distance from the ground when the temperature drops.
A nylon shank keeps the foot stable and in control.
T.I.D.E. HYDRO:
Waterproof upper materials can handle getting wet.
Seam sealed to keep you dry.
T.I.D.E. COMFORT:
Super light EVA foam is waterproof and insulative to keep you warm and dry.
Removable boot liner.
250 grames of 3M Thinsulate LiteLoft insulation feels like a sweater for your feet.
Approximate shaft height: 8″.
Approximate shaft circumference: Adjustable 12½".
– The Review –
Comfort: 
(8 out of 10) We found these boots to be quite comfortable overall. The inner liner is very soft and has the feel of a quilted down jacket. The insoles are amazing and make long treks easy on your tootsies. We can't say they're the most comfortable boots we've ever laced up, but they're nothing to scoff at either. To be blunt, Teva's got a down right comfy boot in the Chair 5 and we're sticking to it!
Design: 
(9 out of 10) The Chair 5 is an incredibly versatile boot. We were most impressed with its ability to quickly shift from one solid boot into a bootie-slipper and then back again. I'm telling you, it's really nice to be able to kick off your snow covered boots while keeping your feet toasty warm and protected from snow melt at the door! Additionally we were truly surprised with the overall lightness (1.3 lbs) of these boots, which makes them very easy to pack. A great design overall that's very practical.
Insulation: 
(9.5 out of 10) Though 250 grams of insulation may not sound like much in the realm of winter boots which commonly exceed 500 grams, these boots proved to have more than enough to keep our feet warm for hours on end even at bone chilling temperatures. We experimented with the Chair 5 boots in all sorts of conditions (snow, slush, ice, etc..), but at the end of testing we happy to find that our feet remained the same as they started… dry, warm and comfy.
Traction: 
(9 out of 10) The white spider rubber Teva has equipped the Chair 5 boots with is truly fantastic in snowy conditions. It won't keep you from slipping completely, but it is in fact an improvement over most outsole compounds we've tested. Not only is the white spider rubber extremely grippy, but the aggressive tread pattern which covers the outsole also helps to keep your feet very stable and in contact with the ground at all times. Where we noticed this most was when hiking though Northern Michigan's winter wonderland over the holidays. While others (without white spider rubber) were at times struggling to traverse the hilly snow/ice covered trials, I myself hardly noticed the slick trails. After changing back to my regular boots the advantage to white spider rubber became very apparent, quickly!
Value: 
(8 out of 10) At $170 you won't find these boots in the bargain bin at your local Walmart, but if you're looking for a highly durable boot that'll be sure to keep your feet warm and cozy throughout the long winter months, we think the retail price is understandable for the service they provide. They become even more justifiable if you're a traveler who frequents cold environments, due to their light weight pack-ability. No more over-weight baggage fees my tundra loving buddies!
The Bottom Line:
We highly recommend the Teva Chair 5 boots to any man with two feet and a need to keep them warm. These boots aren't only extremely comfortable, but they're also quite stylish, versatile and exquisitely stable in snowy conditions. During our time testing these boots we received nothing but compliments on their appearnace and ability to tranform from boot to slipper. If you're in the market for new boots or need a gift to add to the #1 spot on your wish list we'd suggest you make it the Chair 5 from Teva.

Buy Now: $170 or go to: Teva.com